Moron
Join Date: Feb 2017
Posts: 2,770
Points: 10,327
Re: The Pirate Princess: Kairi Sane Thread
---
Wrestling fans never learn
Join Date: Nov 2004
Location: Look behind the mirror, I'm lost in the Twilight Hall. Once I'll be back for a moment in time, that's when the mirror's falling down...
Favourite(s): Asuka, Bray, Joe, Owens, Jericho, Mox, MJF, WALTER
Posts: 95,516
Points: 81,510
Re: The Pirate Princess: Kairi Sane Thread
---
Wrestling fans being wrestling fans again. *sigh*
---
SUBSCRIBE TO THE GOAT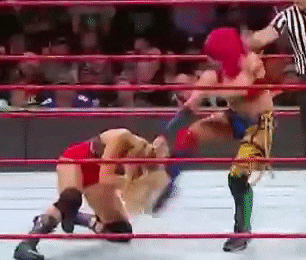 Join Date: May 2017
Location: Arena México
Favourite(s): Bryan, Thatcher, Riddle, Sakaguchi, Momo Watanabe
Posts: 13,553
Points: 40,609
Re: The Pirate Princess: Kairi Sane Thread
---
*Sigh* Wrestling fan are the worst.
---
All Time Favourites:
Kazuchika Okada, Stone Cold Steve Austin, Eddie Guerrero, Toshiaki Kawada, Daniel Bryan, Kensuke Sasaki & Shinya Hashimoto

I write things sometimes. Always Wrestling related, obviously.
Re: The Pirate Princess: Kairi Sane Thread
---
Anyone else notice how Renee pronounces Kairi's name? She gets the R in her name perfect. Surprised for someone who to my knowledge has no knowledge of Japanese
---
Blazin'
Join Date: Apr 2012
Location: V
Favourite(s): NAITO! NAITO! NAITOOOOO!
Posts: 3,550
Points: 12,673
Re: The Pirate Princess: Kairi Sane Thread
---
Humans by the nature are vile. Racism is apparent in pretty much every sport fandom and corner of life. This isn't something only in wrestling fans.
---
There's wifi in the air but I've got nothing to do with it.
- Jim Cornette
Re: The Pirate Princess: Kairi Sane Thread
---
I know very little of Kairi Sane (my wrestling exposure is now limited to this forum, I probably consider myself a "lapsed" fan), but that spear someone posted is a thing of beauty... not to mention that elbow
---
Future of Mafia 2017


Join Date: Feb 2018
Posts: 6,170
Points: 18,725
Re: The Pirate Princess: Kairi Sane Thread
---
It's good that this is finally coming out but I'm also not surprised that it took until people starting doing it to Kairi when fans finally made a big deal about it. Itami, Asuka, Nakamura and Tozawa are and were subjected to this stuff in NXT house shows in the past, but they were only acknowledged by fans in passing (I guess also we're in an environment now where we're more aware of it and willing to call it out too). Asuka still routinely gets tons of racist crap on her social media even today.
---
Last edited by llj; 02-23-2018 at

12:11 PM

.
Custom User Title
Join Date: Sep 2017
Posts: 5,886
Points: 17,938
Re: The Pirate Princess: Kairi Sane Thread
---
For those interested, here is Kairi's win loss record for this weekend's tour...it's not inspiring or encouraging at all.

Three losses, one win.

Two of her losses were via DQ to Shayna, and her latest one (which was tonight at Indy) was a clean submission loss to Shayna. Cagematch has the Detroit (Royal Oaks) match result reversed. Her one clean win was against Lacey Evans. I'm honestly starting to lose faith in WWE handling her properly. It's okay for her to lose every once in awhile, but she has looked exceptionally weak as of late. I'm feeling like she's probably just going to become a jobber to the stars. Her win/loss rate in 2018 is only one loss off from becoming 50/50.

It doesn't help that she didn't get much offense in tonight either. I know people claim she's an underdog, but there is a REALLY fine line between being an underdog and being a jobber. And I'm starting to think WWE wants to portray her as a loser/jobber.

I fucking hate what the NXT Women's Division has become. Shayna's only getting this push because she's connected to Ronda. I seriously doubt she would be pushed this hard otherwise. And how does WWE push her? By having her kill the babyface division. I really hope when/if she wins the title soon, they cool off on her push.
---
Last edited by Reil; 03-04-2018 at

07:39 PM

.