*Video Package*
The screen is a dark black shade before the face of VINCE MCMAHON promptly fills the screen.
Vince McMahon:
For twenty-five years, the Superstars of the WWE have all come together at one extraordinary event.
Shots of legendary Superstars making their entrances at past Survivor Series events; THE LEGION OF DOOM, BRET 'THE HITMAN' HART, 'STONE COLD' STEVE AUSTIN. We now see 'The Hitman's face on the screen.
Bret Hart:
We've spilled blood...
Ted DiBiase:
...Sweat...
Shawn Michaels:
... Tears.
'HBK' celebrating after being victorious at Survivor Series 1996 against SID.
Booker T:
It has not been for nothing.
Mick Foley:
The pain... The suffering...
Road Warrior Animal:
We had a goal which we achieved...
Bret Hart:
... We survived.
Shawn Michaels:
Now... its your turn!
Suddenly the rock intro of 'You're Going Down' by Sick Puppies plays in the background as we see some glimpses of the destruction caused by the World Heavyweight Champion MARK HENRY in the recent months. He breaks BIG SHOW'S ankle and ploughs SHEAMUS through the stage at Night of Champions before we see him beating his chest on top of the Hell in a Cell. We now see his angry face fill up the screen.
Mark Henry:
I will survive...
Some quick flashes of Henry's opponent tonight JOHN MORRISON hitting Starship Pain onto various Superstars and him raising his arms into the air after defeating THE GREAT KHALI on Smackdown.
John Morrison:
I will survive...
KEVIN NASH clotheslines CM PUNK at Summerslam and then costs him matches on Raw, Night of Champions and Hell in a Cell; delivering Jacknife Powerbombs to Punk each time.
Kevin Nash:
I will survive...
We cut to CM Punk, declaring it 'Clobberin' Time' and celebrating at Summerslam pre-Nash attack. Now we see Punk brutalizing him with a steel chair at the first chance he got his hands on Nash on Raw.
CM Punk:
I
will survive...
DANIEL BRYAN makes CHRISTIAN tap out to the LeBell Lock at Night of Champions, followed up by the devastated Christian following losing the World Heavyweight Title to RANDY ORTON mere days after winning it.
Daniel Bryan:
I will survive...
Christian:
I will survive...
We now see various shots of the competitors in the 12 Man Elimination Match all inflicting damage to each other over the past few weeks; BRODUS CLAY powerbombs XAVIER WOODS, KOFI KINGSTON nails R-TRUTH with Trouble in Paradise, DREW MCINTYRE celebrating after winning the US Title from DOLPH ZIGGLER, TRIPLE H being knocked out cold on the go-home show by BIG SHOW.
Brodus Clay:
I will survive...
Kofi Kingston:
I will survive...
The Miz:
I will survive...
Drew McIntyre:
I will survive...
Dolph Ziggler:
I will survive...
Big Show:
I will survive...
Triple H:
I will survive...
Cody Rhodes:
I will survive...
All World Promotions:
We will survive...
Zack Ryder:
I will survive...
Randy Orton:
I will survive...
Sin Cara:
Yo sobreviviré...
Wade Barrett:
I will survive...
John Cena:
I WILL SURVIVE!
Mark Henry:
COS' THAT'S WHAT I DO!
John Morrison:
Because I
do
have the heart of a champion!
Kevin Nash:
Because I deserve respect.
CM Punk:
Because I'm THE BEST IN THE WORLD!
Daniel Bryan:
Because I've came too far to fail now.
Christian:
Because I just need one...more...match.
Brodus Clay:
Because I can't be stopped.
Kofi Kingston:
Because I can stop him.
The Miz:
Because I'm AWESOME!
Drew McIntyre:
Because I'm a champion.
Dolph Ziggler:
Because perfection doesn't get it wrong.
Big Show:
Because I want my revenge!
Triple H
:
Because that's what is best for business!
Cody Rhodes:
Because it is in my blood.
All World Promotions:
Because we will dominate.
Zack Ryder:
You know it!
Randy Orton:
Because this is my show.
Sin Cara:
Porque tengo que luchar por mi herencia.
Wade Barrett:
Because I was born better.
John Cena:
... Because I don't have a choice.
Cena looks dead into the camera but it quickly fades out to a young man named ROCKY MAIVIA running down to the ring at the 1996 event and then hitting a Shoulderbreaker on GOLDUST to win the match and be the Sole Survivor for his team. Now to 2001 when the same man is the Sole Survivor once again to save the WWE frmo The Alliance. Back to the black screen it is now taken up by THE ROCK and the music quickly cuts out before he speaks.
The Rock:
I will survive... Again.
His words resonate as the screen descends to black in front of a very determined 'Great One'.
*End Video Package*
THE 25th ANNUAL SURVIVOR SERIES
20 NOVEMBER 2011
MADISON SQUARE GARDEN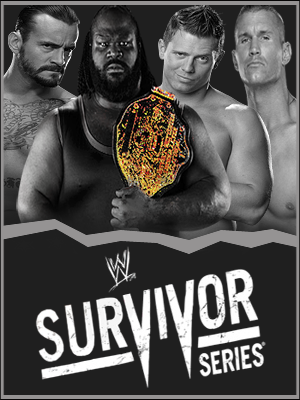 Following the video package, we're transported straight into a packed Madison Square Garden and a brilliant pyrotechnic display by the stage which is just able to drown out the sounds of the enthused fans in the arena. After some more sweeping shots of the crowd showing off various signs ("TAP OR SNAP!" "IF YA SMELL" "SHUT UP AW" and "KELLY + EVE = RATINGS") The camera now cuts to the announce table and the three-man commentary team of MICHAEL COLE, JERRY 'THE KING' LAWLER AND BOOKER T.
Michael Cole:
Ladies and Gentlemen, please allow us all to welcome you to the twenty-fifth annual Survivor Series event LIVE from the most famous arena in the world - Madison Square Garden! I'm Michael Cole, and I'm joined by my Monday night Raw partner Jerry 'The King' Lawler and Booker T! What an occasion tonight is going to be!
Jerry Lawler:
I can't put into words how great it is to be here and be part of this historic event! The Survivor Series is one of the most celebrated events and one of the most important dates on the WWE calendar. Tonight is a fantastic opportunity for the men and women of the WWE to show everyone what they've got on one of the biggest stages of them all!
Booker T:
Dis is ma first Survivor Series on dis side of the table - an' I can tell ya how pumped up each and every one of those people in the back are. Dey know dat careers can change in seconds in dat ring right dere ta-night!
Michael Cole:
Careers
will
change tonight, Book, because life in the WWE will never be the same again after tonight's man event match where a team led by the WWE COO Triple H takes on a team composed by the Raw General Manager John Laurinaitis and either the COO or the Raw General Manager will be losing their job tonight!
Jerry Lawler:
If we just take a moment to think about who will be in that match though - Wrestlemania opponents, the WWE Champion John Cena and THE ROCK will be on the same team tonight! We're going to see The Rock in action for the first time in over seven years!
Michael Cole:
There's no love lost between those two and the question on everyone's lip is "Can John Cena and The Rock work together?"
Jerry Lawler:
For the sake of Triple H and the company as a whole; I hope they can.
Booker T:
We're also gonna determine if John Morrison will be the man to end the destructive reign of the World Heavyweight Champion, Mark Henry! Henry's not beaten Morrison one-on-one an' I think JoMo could win da big one ta-night!
Jerry Lawler:
Also, months and months of hatred will come to a head tonight as Kevin Nash and CM Punk will finally get the chance to get their hands on each other and end the other in a LAST MAN STANDING MATCH!
Michael Cole:
As well as the World Heavyweight Championship, we're going to see the Intercontinental, Divas and WWE Tag Team titles all defended in Madison Square Garden!
*RIDE OF THE VALKYRIES*
The fans suddenly come UNGLUED and are on their feet as the camera pans down from them to the stage and DANIEL BRYAN walks out onto the stage with his Money in the Bank briefcase in his hand and he holds his finger in the air as he jogs down to the ring, full of smiles.
Booker T:
AWWW YEAH, MY MAN D-BRYAN!! Dis man has a guaranteed shot in dat briefcase for the World Heavyweight Championship! He's leadin' his team out ta-night against Christian's boys an' dis is the best chance for Daniel Bryan to finally get Christian outta sight so he can move on to thinkin' about cashin' dat baby in!
Michael Cole:
The thought of Daniel Bryan being the World Heavyweight Champion makes me feel sick!
Jerry Lawler:
I don't understand your problem with Daniel Bryan, Cole. He's one of the best wrestlers we've ever seen in this company and he deserves to be the World Heavyweight Champion!
Bryan slaps hands with a few fans in the front row before jogging up the steps and into the ring to pose on the top turnbuckle, grinning as he holds his briefcase in the air. 'Ride of the Valkyries' fades out and Bryan jumps down and begins the process of removing his jacket.
*REGALITY*
A good reaction, but nothing on Bryan's, greets the arrival of WILLIAM REGAL; adorned in an elegant purple robe. The Englishman smirks and nods to appreciate the positive reaction whilst Bryan applauds his team mate from inside the ring.
Booker T:
Dis is the man who was partly responsible fo' trainin' Daniel Bryan an' I think it was a great thing fo' D-Bryan to include his mentor on his team.
Michael Cole:
William Regal will be relishing the chance to shut Christian and Tyson Kidd up tonight, especially after the weeks of name-calling and making fun of Regal's age - this is his chance to show that there is still some more in the tank.
Regal wipes his shoes on the apron as a usual part of his pre-match routine before he lays his robe across the top rope for a stage hand to put away. Upon entry to the ring, he shakes hands with his captain and the two old friends share a laugh as the focus turns back to the stage once again.
"OH AY OHHH... OHH AYY OHH!!"
*POWER*
The exciting JUSTIN GABRIEL quickly jogs out onto the stage and leaps into the air and a blast of blue pyro shoots upwards from upon the stage upon his landing. He doesn't waste time jogging down the ramp and sliding into the ring.
Jerry Lawler:
Even though I'm on on Smackdown every week, I have seen on TV how well Justin Gabriel has developed in the past few months on Smackdown... he hasn't lost a singles match in how long?
Michael Cole:
Over three months. This is the man who has the chance to steal the show with a strong performance tonight, and Daniel Bryan will need one from him.
Gabriel congregates with his teammates and his music fades out to reveal a very familiar chant as the fans make it clear who they want to come out next...

"WE WANT RYDER!"
*CLAPCLAPCLAP-CLAPCLAP*

"WE WANT RYDER!"
*CLAPCLAPCLAP-CLAPCLAP*

"WE WANT RYDER!"
*CLAPCLAPCLAP-CLAPCLAP*
"WHERE ALL MY BROS AT?"
*RADIO*
A MASSIVE cheer goes up inside of MSG as the Downstait version of the theme song blares out over the sound system and ZACK RYDER comes out onto the stage to another loud pop. Ryder looks extremely hyped up and is recording himself as he walks down to the ramp, taking some time to take a selfie with his father.
Jerry Lawler:
Zack Ryder has described this match as the "most important" in his life in front of his hometown fans and said that being a part of Survivor Series inside Madison Square Garden is the highlight of his career so far.
Booker T:
I love Zack Ryder - he made all of dis fo' himself an' I hope he does well in dis match.
Michael Cole:
Ryder and Team Christian's Jack Swagger have had an ongoing dispute for months on Raw and somehow this goof has managed to beat a former World Heavyweight Champion on several occasions!
Ryder slides into the ring and takes another selfie with William Regal, who can't help but chuckle after warming to Ryder's antics over the past few weeks. Ryder shakes hands with Gabriel before hugging Daniel Bryan and thanking him once again for the opportunity to be on his team. Another rather long pause as anticipation builds up again for the final member of Team Bryan.
"I HEAR VOICES IN MY HEAD!"
*VOICES*​
MSG is filled by cheer again, this time predominantly female, as the most accomplished man in this match - RANDY ORTON - makes his entrance onto the stage. Orton nods and grins as he soaks in the atmosphere and tries not to take too long in getting to the ring.
Michael Cole:
It was the inclusion of Wade Barrett on Team Christian that led Randy Orton to join Daniel Bryan's team by way of delivering an RKO to Christian two nights ago on Smackdown. Randy Orton has guaranteed that he will be on the winning team tonight.
Jerry Lawler:
Randy Orton has been the sole survivor on his team twice in his career and we could well see him survive once again tonight.
Orton enters the ring and climbs up onto the turnbuckle and strikes his 'Destiny' pose before he slaps hands with the rest of his team. With Team Bryan completed in the ring, all five men are now looking in the way of the stage for their opponents - one of which they do not know the identity of.
"GO!"
*JUST CLOSE YOUR EYES*
A close up shows that Daniel Bryan's expression immediately turns to one of focus mixed with anger as we hear the music of his opposite number. CHRISTIAN walks out onto the stage with a surprisingly focused look on his face to match Bryan's. He is accompanied by his 'apprentice' TYSON KIDD and the Canadian pairing make their way down to the ring in a no-nonsense fashion.
Michael Cole:
Christian knows that his journey back to becoming the World Heavyweight Champion could be over tonight as I'm sure that Teddy Long and Edge are out of chances for him. Christian needs to lead his team to victory tonight.
Booker T:
If he can't get it done ta-night, dat's gonna be one too many losses to Daniel Bryan an' he'll prolly never get anotha' chance to be at da top again, dawg. I think ta-night could be the beginnin' of the end of Christian.
Kidd goes to enter the ring, but Christian puts a hand on his shoulder to stop him and tells him "if anyone has the numbers advantage its us." Bryan relaxes his stance and smirks at Christian backing out and Christian sarcastically smirks back at him before waving him off to turn and wait for his team.
*GET DOWN ON YOUR KNEES*
Some pretty strong heat - which could be due to his rivalry with Zack Ryder - signals the entrance of JACK SWAGGER. 'The All-American American' looks fired up and he stomps on the stage and smacks himself in the chest to fire himself up before going to meet Christian and Kidd at the base of the ramp.
Michael Cole:
Christian enlisted Jack Swagger after Zack Ryder joined Team Bryan on the Raw Supershow last month, and the former World Heavyweight Champion is desperate to 'embarrass' Ryder in front of his hometown crowd.
Jerry Lawler:
Jack Swagger is no doubt a brilliant athlete, but he's lost focus during his matches recently and lost those matches as a result. He may turn out to be a liability for Team Christian.
Michael Cole:
He wasn't for me at Wrestlemania!
Christian pats Swagger on the back, and the Oklahoman wears an intense look as he and Zack Ryder eyeball each other through the ropes.
"I'VE HAD ENOUGH... I'LL MAKE 'EM SEE!"
*END OF DAYS*
The loudest heat of the bunch is saved for WADE BARRETT, who shoots his arms up into the air once he's on the stage causing his jacket to fall to the floor. Randy Orton is shown smirking in the ring as he watches his longtime rival saunter down the ramp. Barrett shakes hands with Christian once the Englishman reaches the base of the ramp. It is to be noted that Christian now has a microphone which he holds in the air to stop Barrett's music.
Christian:
Before we get down to business, I have something to say. I want Teddy Long
and
Edge to take note of this match and watch how Team Christian systematically destroys Team Bryan tonight!
There is a lot of heat in the arena for Christian's cockiness.
Christian:
When my team wipes the floor with this 'team' in the ring, Teddy Long will have no choice but giving me one...more...match against you, Bryan, and this time that briefcase will be coming home with me!
The fans join in with the 'One More Match' but then boo the end of the sentence. Christian suddenly starts to chuckle and holds his free hand up in the air.
Christian:
Actually... what the hell am I talkin' about? It's not going to be up to Teddy Long if I get my match or not because once John Laurinaitis gains control of this company later tonight, Teddy Long isn't going to be Smackdown GM anymore! His ass is gettin' fired on Friday night, playa!
The disdain of the fans is mirrored in the faces of Team Bryan, and the captain especially looks like he wants to tear Christian's head off at the moment.
Christian:
But back to the matter at hand... for those of you who have problems counting
(Christian shoots a look at Randy Orton)
my team is a member down! In fact, finding a fifth man to be on my team at such short notice was something of a
problem
. Luckily for me... I have a Problem Solver.
*PROBLEM SOLVER*
A portion of MSG understood who Christian was hinting at but there isn't much of a reaction to the unfamiliar theme music, but that is until the hulking figure of TOMKO walks out onto the stage!! The fans give a mixed reaction as most do recognize him as Christian's former 'Problem Solver'. The camera's catch a slight look of concern on the face of Daniel Bryan, but he quickly shakes it off and reassures his team.
Michael Cole:
That's Tomko! Christian's former 'Problem Solver'! We've not seen him in about five years!
Booker T:
I remember dis guy! Tomko is one mean dude, dawg! He's all 'bout da ground an' pound; he'll know 'bout ten diff'rent ways to kick yo' ass at once!
Jerry Lawler:
This is definitely a game changer, guys. I don't think anyone was expecting Tomko to be Christian's last man and he's an unkown quantity to most of Team Bryan. Only Randy Orton and William Regal were in WWE last time Tomko was here; and I don't think either of them ever faced him!
Christian looks pleased with himself and wears a shit-eating grin as he pats Tomko on the chest before now he leads his team up onto the apron and then into the ring. With all ten men now between the ropes, the official for this match, Chad Patton, gets in between both teams and speaks to the captains and tells them to decide who will be getting things started for their teams. Once again, a booming "WE WANT RYDER!" once again fills up the Garden so Bryan hods his head to Ryder and says "You're up." Upon watching this, Jack Swagger immediately makes the decision and ignores Christian's huddle to step into the middle of the ring to signify he's starting this for their team. Once it has been established that the two Raw men will start, the other eight are ushered onto the apron so the match can begin!
TRADITIONAL 5-ON-5 SURVIVOR SERIES ELIMINATION MATCH
TEAM CHRISTIAN
(Christian, Tyson Kidd, Jack Swagger, Wade Barrett & Tomko)
VS.
TEAM BRYAN
(Daniel Bryan, William Regal, Zack Ryder, Justin Gabriel & Randy Orton)
The bell rings to signify the PPV truly getting started, but it is just about heard under the rousing "LET'S GO RYDER!" chants and Zack grins at the overwhelming support and starts pumping his fist into the air! Ryder screams "WOO WOO WOO!" but before the "YOU KNOW IT" can come back from the fans SWAGGER TAKES RYDER OUT WITH A SHOULDER TACKLE! Swagger's football background shows as he tries his best to ignore the boos from the fans and watches as Ryder makes his way back up to his feet using the ropes. Swagger tries to speed to process up but Ryder breaks the hold and jacks Swagger with a right hand to the jaw! This sends Swagger stumbling back into the centre of the ring and Ryder sends him into the ropes but Swagger turns it around and Ryder goes against the ropes. Swagger tries a Back Body Drop but Ryder kicks him square in the face! Swagger falls right back onto his backside and slumps against the bottom turnbuckle in the corner. The fans cheer at the positioning and Ryder notices it too before he pumps his fist with a "WOO! WOO! WOO!" before he charges in and delivers the BROSKI BOOT TO SWAGGER!!
Ryder is off to an electric start in his home state and there is already a look of worry etched on Christian's face. Ryder removes his boot from in between the ropes and backs up holding the 'LI' sign up with his fingers. Swagger slowly makes his way up and Ryder quickly charges in and goes to finish off Swagger with the ROUGH RYDER – but Swagger catches him and places him up on the top turnbuckle! Quickly able to recover as he's from a higher standpoint, Ryder hits another right hand to Swagger's face and tries to hit Swagger with a Diving Crossbody but he crashes and burns on the mat as Swagger moves out of the way! Ryder lands hard on his stomach and Swagger takes the opportunity to tag in one of his partners and he chooses the returning Tomko. Ryder is trying to get over to his team to get out of the match and he's inches away from tagging in Daniel Bryan but Tomko grabs his leg and pulls him towards the middle of the ring and delivers a hard stomp right onto his midsection which he just hurt falling from the top.
Grabbing Ryder by his prided hair, Tomko lifts him up and drops him right down onto his knee and Ryder is on the mat holding his stomach in agony. Tomko goes to keep things moving by Irish Whipping Ryder into the corner and following in to drive his knee right into the mid-section!! The harsh blows have already seemed to start taking their toll on Ryder and he desperately reaches for his team but there's nothing they can do. Tomko pulls Ryder back along to his team and holds out an arm to Tyson Kidd and 'The Apprentice' quickly enters the ring after tagging in. Tomko holds Ryder out with his mid-section exposed and Kidd delivers a sharp kick which seems to have winded Ryder. Kidd shows off his submission expertise and quickly slaps on an Abdominal Stretch and Ryder winces in pain. Kidd screams as he tries to make it as uncomfortable for Ryder as possible, but the recurring booming chants encouraging Ryder means that 'The Ultimate Broski' starts to try and manoeuvre himself out of the hold. Ryder is able to unhook Kidd's arm and them take him over with a Hip Toss!! With the opening clear, Ryder quickly stumbles in and tags the nearest man to him – which happens to be RANDY ORTON!!!
There's a big pop as Orton enters the fray and Kidd is up just in time to eat a massive Clothesline from 'The Viper', which is followed by another one! Orton tries to pick up the pace again and he whips Kidd into the ropes and catches him when he comes back to hook him up for his INVERTED BACKBREAKER!! Kidd is contorted into a horrible position and Orton quickly turns him over onto his back to make the first cover of the match!
…....One.......
….............
…Two...
The pin is broken up by WADE BARRETT!!!
Big heat for the Englishman as he prevents Orton from possibly eliminating Tyson Kidd, and Barrett is able to get some shots in on Orton before Team Bryan comes in to clear Barrett from the ring – and Team Christian join them!! There's suddenly a frenzy as everyone starts pairing off and all hell starts to break loose. William Regal and Justin Gabriel attack Barrett and fend him off whilst Jack Swagger sends Ryder out of the ring and continues working over his mid-section out on the floor. Daniel Bryan tries his best to get to Christian, but 'Captain Charisma' evades him and exits the ring leaving Tomko to club Bryan from behind!! The big man starts laying into Bryan with some stomps to the back, but Bryan is able to fight his way back up to his feet and he dodges a right hand from Tomko to hit him with a stinging kick to the side and then another on to the head – which sends Tomko spilling out onto the floor! 'The Problem Solver' lands on his feet but Bryan is already running the ropes and he leaps through the top and middle rope to finally take Tomko out with a SUICIDE DIVE!!!
'Mr Money in the Bank' gets a big reception for his efforts but now with everyone else outside the ring, Tyson Kidd is left waiting over a recovering Randy Orton. Once Orton is up, Kidd sends him straight back down to the mat with a Spinning Heel Kick! With Orton down on the mat, Kidd quickly retreats to the apron and Springboards himself into the ring and he's able to connect with a SPRINGBOARD DIVING ELBOW STRAIGHT TO ORTON'S CHEST!! The crowd show come concern as Kidd connects with one of his finishing moves and the young Canadian hooks Orton's leg!
…....One.......
….............
…Two...
ORTON KICKS OUT!!!
Kidd holds his head in total shock that he wasn't able to put away the former World Heavyweight Champion, but he quickly gets up and stands over Orton's legs and picks them up... Kidd is trying to apply the SHARPSHOOTER!! Orton sees the move coming though and uses his leg strength to prevent Kidd turning him over and Orton kicks him away! 'The Viper' gets up to his feet quickly and Kidd swings for a right hand on Orton, but Orton ducks it and NAILS KIDD WITH THE RKO OUT OF NOWHERE!!! The fans pop loudly and Orton hooks Kidd's legs once again!
…....One.......
….............
…Two...
…..
Three!
ELIMINATED: TYSON KIDD BY RANDY ORTON (5.28)
(Christian, Swagger, Barrett, Tomko,
Kidd
vs Bryan, Regal, Ryder, Gabriel, Orton)
There's a big pop for the first elimination of the night and Kidd being eliminated suddenly draws everyone else's attention back to the ring as Orton stands back up and looks around as to which member of Team Christian is going to face him next. Christian himself starts to walk up the steel steps which causes Orton to smirk, but he's suddenly taken out at the knee from behind by Jack Swagger with a Chop Block! Christian laughs at Orton falling for the little trap and doesn't pay much attention to Kidd being helped to the back after rolling out of the ring. Swagger takes hold of Orton's knee and stomps on it and he keeps the pressure on it as he reaches out to the slightly depleted team on the apron and Wade Barrett gladly accepts the tag from Swagger. Swagger keeps Orton on the mat by keeping his weight on Orton's leg, leaving a free pass for Barrett to drop an elbow down right across Orton's chest! Barrett senses the opening and delivers another one before grabbing Orton's arm and lifting him up off of the mat.
Barrett lifts Orton onto his shoulder and tries to charge forward but Orton slips off of his back! Barrett stops on the spot and Orton takes him down with a Clothesline! Orton now takes the chance to tag Daniel Bryan into the match for the first time! Bryan gets a big cheer as he enters the ring and he immediately lights Barrett's chest up with a Knife Edge Chop ("WOOO!") and the Englishman backs into the corner which isn't a good position when facing Daniel Bryan, and the captain starts to unload with a series of chops again to Barrett's chest which sends the crowd into a frenzy and Barrett stumbles out of the corner into a Drop Toe Hold from Bryan and Mr MITB runs off of the ropes and delivers a dropkick to the side of Barrett's head!! Bryan now turns Barrett over and hooks the inside leg.
…....One.......
….............
Barrett is able to power out easily!
Bryan stays on Barrett and doesn't let him move anywhere following the kick out and the captain and tries to bring him up to his feet, but Barrett knocks him away with a well-placed right hand to the chin. Once he's back up, Barrett Irish Whips Bryan into the corner and follows him in, but Bryan runs up the turnbuckle and back flips straight over Barrett's head! The Englishman has to stop himself running straight into the turnbuckle and once he turns around he's pummelled in the chest by a running dropkick from Daniel Bryan!! The impact does extra damage as Barrett is propelled into the turnbuckle. Bryan looks over to Christian and smirks at his opposite number before he turns his attention back to Wade Barrett. Bryan charges in and drives his knee straight into Barrett's face before he screams out to the fans – and then is taken out by Christian!!
Christian wipes Bryan out to massive heat from the fans and outrage on Team Bryan. Patton immediately expels Christian from the ring with a stern warning. Using his captain's distraction to buy himself some time, Barrett crawls over and reaches out to tag Tomko back into the match and the big man quickly prevents Daniel Bryan tagging one of his men into the match with a well placed elbow to the small of the back. Tomko aggressively drags Bryan up and lifts him and throws his opposing captain clean overhead with a FALLAWAY SLAM!! It is a nasty landing and Tomko shoves Bryan onto his back and covers him, driving the forearm into the face.
…....One.......
….............
Bryan gets the shoulder up!
The kickout angers Tomko and he frowns at the referee whilst Bryan starts to get himself back up to his feet and the big man sits Bryan up and drives his forearm straight into the back of Bryan's head which makes a dull thud and sends Bryan slumped onto the mat. Christian claps his hands and then holds his arm out for Tomko to make the tag and Christian enters the ring to make his first official involvement in the match. Bryan has started to pull himself up using the ropes and Christian quickly grabs him and forces his throat across the middle rope! Bryan splutters and Christian makes it evern worse by standing up on Bryan's back and pulling the top rope upwards! Patton is quickly over again and administers his five count which Christian abides to. Once he's off of Bryan's back, Christian runs towards him and leaps over the top rope out onto the floor and slaps Bryan across the face! It was a hard shot which sends Bryan flying back and Christian laughs to himself as he gets up onto the apron and nods his head at his team as he enters the ring. Once he's through the ropes, Christian turns back around and is taken down by a clothesline from Justin Gabriel!!
In all of his showboating, Christian didn't realise that Bryan had made the tag to the South African! Christian is taken down by a flying forearm once he's back up which is followed by a Running STO! Gabriel doesn't waste time in sensing that Christian is down and he quickly scales the turnbuckle and climbs up on the top rope! The fans get on their feet as they know what is coming but Christian instinctively rolls away and tags Jack Swagger back into the match! Swagger quickly comes into the ring and runs at Gabriel but the South African jumps over him and lands on his feet. He's able to kick Swagger in the gut with a Savate Kick and the run off of the ropes. He runs at Swagger and climbs up his body and snaps him off with a Hurrincanrana! Swagger is sent through a loop and stumbles up into the Team Bryan corner. Gabriel looks around at his team to decide who to tag and sees that Zack Ryder is jumping up and down ready to get going so Gabriel makes the tag to a rousing ovation from MSG!
Ryder takes a quick shot at Swagger before he tries to bring him out of the corner but his rival shoves him away – and quickly drives his knee into Ryder's gut once 'Long Island Iced Z' comes running back at him. The damage previously done to Ryder's mid-section resurfaces and Swagger grabs him around the waist and drops him back down onto his front! Swagger showcases his amateur wrestling background but doesn't break his grip around Ryder's ribs and he squeezes them tight from behind to keep Ryder grounded and wear him down further. Christian looks nervously on the apron as he demands for Swagger to break his ribs and the former World Heavyweight Champion tightens his grasp further and Ryder is literally struggling for breath as Swagger's giant arms are securely clamped around him. For the second time in the match the MSG fans are chanting their home state hero's name to spur him on and Ryder is insistent that he isn't going to let Swagger finish him here and he starts getting to his feet and he backs right into the turnbuckle to break Swagger's hold!
Both men take a few seconds to try and recover after having a heavy involvement in the match so far but Swagger is the first to move and he plucks Ryder off of the mat into a Gutwrench position and he hoists him up and is set for the GUTWRENCH POWERBOMB – BUT RYDER COUNTERS IT!!!
INTO THE ROUGH RYDER!!!
There's a massive roar from the crowd and Team Bryan jump into their air in celebration as Ryder slowly crawls over to Swagger and drapes his body on top of his arch nemesis for Patton to make the count!
…....One.......
….............
…Two...
…..
Three!
ELIMINATED: JACK SWAGGER BY ZACK RYDER (11.42)
(Christian, Barrett, Tomko,
Swagger, Kidd
vs Bryan, Regal, Ryder, Gabriel, Orton)
The crowd is whipped quickly into a frenzy and Ryder is ecstatic as he slowly gets up to his feet after putting Team Bryan to a 5-on-3 advantage. He's visibly showing the effects of the targeted attacks from Team Christian to his mid-section and he turns to the three remaining opponents and dares the captain to get into the ring with him. Christian initally looks to Tomko but then decides to go for it himself. Ryder signals that he wants to lock up and Christian goes to oblige but then pokes him straight in the eyes! Christian ignores Patton's scolding and the loud boos to run against the ropes and he CUTS THE BLINDED RYDER IN HALF WITH A SPEAR!!! BIG TIME heat for the Canadian as he casually hooks the leg, knowing that given the damage to the ribs Ryder doesn't stand a chance.
…....One.......
….............
…Two...
…..
Three!
ELIMINATED: ZACK RYDER BY CHRISTIAN (12:11)
(Christian, Barrett, Tomko,
Swagger, Kidd
vs Bryan, Regal, Gabriel, Orton,
Ryder
)
Just like that, all of the life has been sucked out of the arena as Christian gets up onto his knees following the pin fall, and once it has set in the entire crowd of New Yorkers start shitting all over the Canadian and he laughs along with the rest of his team. Christian doesn't have too long to enjoy the moment though because William Regal has quickly entered the ring to resume the match. Regal connects with a stiff forearm to the side of Christian's head and he starts pummelling him in the face to avenge his recent and unlikely friend in Ryder. There is a cheer from the fans as Ryder starts making his way back up the ramp. Regal has Christian in the corner and starts lighting him up with chops to the chest! Christian tries to kick him away with his left leg, but Regal holds the leg up high and throws him overhead with a REGALPLEX!! Quickly into the cover..
…....One.......
….............
…Two...
…..
Christian kicks out!!!
The first real threat to the captain is survived and Regal aggressively brings him back up and connects to Christian's chin with a European Uppercut! The knock puts Christian into the Team Bryan corner and Regal slaps Christian across the chest again and tags in Randy Orton to a massive pop! Orton grins at the chance of getting his hands on Christian and he goes to Irish Whip him across to his own team's corner but he brings him back and takes him down with a Clothesline! Orton keeps the grip on Christian's arm and pulls him up and into a second Clothesline! Orton grins as he plucks his former rival off of the mat again and looks for a third Clothesline, but Christian ducks and breaks the grip and takes Orton down with a Reverse DDT! Christian looks as if he's going to tag out but tries his luck with a pin on Orton instead!
…....One.......
….............
…Two...
Not enough to put 'The Viper' down!
Now Christian sees this as an appropriate time to get over to his corner and he makes the tag to Wade Barrett who gets into the ring and gets down onto the recovering Orton and starts driving his elbow right into Orton's head!! Barrett looks like he's out to KILL Orton with the blunt blows and Orton's guard for the hits fades as the former Bareknuckle champion breaks through the feeble attempt to block the repeated elbows. After landing in plenty of hits, Barrett gets off of his prey and casts a look at a concerned Daniel Bryan on the apron before he throws Orton over the top rope and onto the apron. Barrett pulls Orton through the ropes in a similar fashion as Orton likes to do to his own opponents – but instead of dropping Orton with a DDT Barrett holds Orton's head in place and starts sinking his knees into Orton's face! The modified version of Orton's offence quickly causes 'The Viper' to slump and Barrett drops him onto the mat in a heap. Barrett isn't done and he STOMPS right on the back of Orton's head!! It is a sick move which gets a gasp from the fans and Barrett smirks without a hint of remorse before arrogantly tagging Tomko back into the match.
'The Problem Solver' grins at the chance to punish Orton and slowly climbs through the ropes to stalk his prey and he pulls Orton off of the mat and stands behind him and pulls his arm through his own legs to bring him up and power him down with a Pumphandle Slam!! Tomko covers Orton following the power move
…....One.......
….............
…Two...
…..
Orton rolls the shoulder up!!!
This pisses Tomko off no-end and he is right back up to start mugging Orton and putting the boots to him and has to be pulled away by the official. This gives Orton a momentary chance to try and recover but Tomko is right back on him and he forces him into a neutral corner and drives his forearm repeatedly into Orton's head before taking a few steps back and coming in for a huge Corner Clothesline – but Orton dodges it! It was more of a slumping down onto the mat than an evasive move but it causes Tomko to floor himself after coming in with such velocity.
However everyone knows that Orton is going to struggle to muster the power to make a tag, but the former World Heavyweight Champion is trying his hardest to push himself back to a vertical base and the booming chants of the fans and the outstretched hands of his three remaining team mates start to will him on and sure enough he's starting to straighten up. Orton makes it to his feet after a great effort and starts stumbling towards his team with an arm out and he's within a fingertip of Daniel Bryan as TOMKO CONNECTS WITH A SICK RUNNING BIG BOOT TO THE BACK OF ORTON'S HEAD!!!
All of the excitement is again wiped from the arena as once again Orton is lying flat on his face following that horrible kick from Tomko, whose inclusion by Christian is starting to look like a master stroke and Christian's smug grin means that he is thinking the same thing. He barks for Tomko to carry on and finish him off so Tomko starts to pluck Orton off of the mat but instead puts him in a Rear Naked Choke!! Tomko shows an unexpected technical element to his game and Bryan looks frustrated as he is as aware as anyone as to how dangerous this particular hold is. It brings some fight out of Orton, who tries his best to fight it and break the grip but soon starts to succumb to the extreme pressure of being trapped in the hold. Tomko obviously shows no sign of breaking his grip but Orton somehow digs deep down to give himself a second wind and he's now starting to prise Tomko's fingers apart and is eventually able to break the hold!!! Tomko is up to his feet just as Orton is up to a knee and the big man runs against the ropes... RIGHT INTO A POWERSLAM FROM ORTON!!!
Both men are now down and the crowd finally sense the chance for Orton to make the much needed tag but for several seconds neither man makes a move until Orton starts to turn himself over to be in a better position to crawl to his corner and he begins the arduous task of clawing his way over to his team as Tomko is stirring on the mat and starts to get to his feet as Orton inches closer to the outstretched hand of Daniel Bryan...
Tomko gets to his feet and sees that Orton is agonizingly close and goes to stop him...
BUT ORTON MAKES THE TAG!! HERE COMES DANIEL BRYAN!!!
There's a massive pop as the captain is in the ring and he charges into action, ducking a Tomko Clothesline and continuing his sprint to knock Christian off of the apron to another big cheer! Bryan keeps the rapid pace up to duck another Clothesline from Tomko and come back off of the ropes with a flying Clothesline of his own! Both men are right back up and Bryan goes straight for Tomko's leg with a stiff kick which takes that leg out and then another to chop the big man down onto his knees! With his opponent left open, Bryan starts to lay into Tomko's chest with a barrage of kicks!!! The shoot kicks all find their mark and Bryan roars out to the fans before cracking Tomko in the side of the head to put him down onto the mat! Bryan screams out to the fans again and he heads to the corner with Tomko down on the mat and quickly scales the top rope... and comes off with a beautiful DIVING HEADBUTT!! Bryan is right back up but clearly dazed by the move after taking the impact to his own head and he uses the chance to tag the very fresh Justin Gabriel into the match.
Gabriel slingshots himself over the top rope and into the ring where Tomko is again picking himself back up and he leaps into the air to cut him off with a Spinning Heel Kick that sends him into the ropes – where Wade Barrett reaches over from the corner and slaps Tomko on the back to tag himself into the match – but Gabriel hasn't realized the tag was made and registered by the referee! Tomko stumble back towards Gabriel and the South African drills him with a SUPERKICK!!! Tomko is down near the corner and Gabriel senses his chance and along with the will of the crowd he scuttles up the turnbuckle and steadies himself before CRASHING DOWN WITH A 450 SPLASH!!!! Gabriel hooks the leg and the crowd start to count but the referee doesn't – trying to tell Gabriel that Tomko isn't the legal man!!
There's some confusion on the face of the South African as he tries to hear what Patton is saying but he can't so he turns around – RIGHT INTO THE BULLHAMMER FROM WADE BARRETT!!!!
Gabriel drops to the mat in an instant whilst Christian is back up and applauding Barrett's sly move as Bryan and Regal can only watch as Barrett cockily hooks the leg of his former Nexus colleague.
…....One.......
….............
…Two...
…..
Three!
ELIMINATED: JUSTIN GABRIEL BY WADE BARRETT (20:36)
(Christian, Barrett, Tomko,
Swagger, Kidd
vs Bryan, Regal, Orton,
Gabriel, Ryder
)
AGAIN Team Christian seize the opportunity created by their wiliness to level it up to 3-on-3! Gabriel rolls out of the ring and Christian waves as he is helped up the ramp and Barrett couldn't look happier with himself but he's quickly grabbed and turned around by William Regal who connects with a European Uppercut to startle Barrett into the corner! Regal follows up with some more powerful Europeans and Barrett tries to push him away for Regal to grab his arms and turn him around to drop him with a HALF NELSON SUPLEX!! There's no holding back from the Englishman against his compatriot and Barrett crawls into the opposite corner and tries to bring himself up again but Regal charges in and Barrett can only bring his leg up to protect himself – only to fall into the same trap that Christian fell into earlier and get caught and thrown overhead with a REGALPLEX!!! The veteran is quickly down to cover the former Intercontinental Champion.
…....One.......
….............
…Two...
…..
Not enough to put Barrett away just yet!
Regal grits his teeth at his inability to put away the true stand-out player in the opposing team but he back up into the corner and removes his knee pad which gets the crowd excited as Barrett starts to get back up and onto one knee so Regal bounds towards him looking for the KNEE TREMBLER – BUT BARRETT COUNTERS IT INTO THE WINDS OF CHANGE!!! Regal is planted on the mat but Barrett doesn't waste any time in plucking the veteran off of the mat and he hoists him up onto his shoulders and ROARS out to the crowd before slamming Regal onto the mat emphatically with the WASTELANDS!!! Daniel Bryan on the apron bows his head down in admission as Barrett again hooks the leg of one of his downed team mates.
…....One.......
….............
…Two...
…..
Three!
ELIMINATED: WILLIAM REGAL BY WADE BARRETT (22:21)
(Christian, Barrett, Tomko,
Swagger, Kidd
vs Bryan, Orton,
Regal, Gabriel, Ryder
)
Wade Barrett has eliminated TWO members of Team Bryan in just as many minutes! Bryan starts to step through the ropes to confront the man mowing through his team but suddenly Randy Orton slides into the ring, recovered, and he starts taking it to Wade Barrett!! Orton unloads on the brash Brit and Irish Whips him into the ropes to knock him back down to the mat with a Dropkick to the face! Orton is right back up and Barrett rolls onto the apron but Orton still has some work to do as TOMKO comes sprinting out of the corner but Orton uses his momentum against him to send him flying over the top rope and to the outside!! Turning his attention back to Barrett, Orton puts him through the ropes and drags him towards the middle of the ring to plant him on his face with the ROPE HUNG DDT!!! The fans are in a frenzy as Orton flops down onto the mat and starts pounding it to bring Barrett up but Christian charges in and stomps on the back of Orton's head!!!
There's big heat for that cheap shot and Christian looks happy with himself until he notices that DANIEL BRYAN has charged out of his corner, coming straight for his opposite number! Christian gets out of dodge straight away and slides out of the ring to join the recovering Tomko but Bryan is already charging against the ropes and he wipes Christian and Tomko out with a SUICIDE DIVE!!
Bryan's move gets everyone on their feet again but they're soon turning their attention back to the ring as Christian's interference seems to have bought Barrett enough time to get himself back up to his feet because he is in the corner winding that elbow up again, salivating at the chance to finish Orton off once and for all. Orton stirs himself up to his feet and Barrett comes in looking for the BULLHAMMER!!!
--- BUT THE LIGHTS GO OUT IN THE ARENA!!!!
There's a pop from the crowd but within seconds they're back on, with everyone pondering what just happened. Orton is still trying to steady himself but Barrett is confused as anything, looking around the arena for anything unusual. With a shrug of the shoulders, the Englishman gets himself back into the zone and he scoops the groggy Orton back onto his shoulders and delivers another loud roar just like when he put William Regal away and Orton could be caught with the WASTELANDS!!
--- THE LIGHTS GO OUT AGAIN!!!!!
But just like before, everything is as it was prior to the darkness and Barrett is quite clearly annoyed by this now and he drops Orton to the mat to confront Chad Patton, demanding that he "SORT THIS BLOODY MESS OUT!" but the referee says he doesn't know what is happening and the commentary team apologise for the "technical production faults" currently being experienced in MSG. Barrett throws his hands up into the air in frustration and turns around to try for a third time to put Orton away for good... RKO OUT OF NOWHERE!!!!!
ORTON SURPISES BARRETT WITH THE RKO – AND HE'S STRAIGHT INTO THE COVER!!!
…....One.......
….............
…Two...
…..
Three!
ELIMINATED: WADE BARRETT BY RANDY ORTON (25.34)
(Christian, Tomko,
Barrett, Swagger, Kidd
vs Bryan, Orton,
Regal, Gabriel, Ryder
)
What a massive elimination! Barrett, the star performer in the match thus far is taken down by his long-time rival Orton but under shady circumstances due to the lighting issues! Orton seems like he was none the wiser to the lights going out twice but he gets back up to his feet and exits the ring to meet up with his captain and they agree that they want to get rid of Tomko next so there is a combined effort to roll him into the ring as Orton slides in after him and Bryan gets up onto the apron. Orton tags Bryan in and the Washington native climbs up onto the top rope and waits for Tomko to get to his feet and delivers a pinpoint MISSILE DROPKICK right to Tomko's face!! Bryan is immediately on top of him to cover the big man!
…....One.......
….............
…Two...
…..
Tomko kicks out!
The impressive return of 'The Problem Solver' continues after showing some good resiliency but Bryan doesn't give him a chance to recover and is right on top of him. Bryan slaps on a front facelock and drags the broad frame of Tomko back towards Randy Orton and 'The Viper' slaps his captain on the back to come back into the match and the two show some good teamwork to lift Tomko up and take him over with a Double Suplex!! Bryan gets back onto the apron and Orton skulks back down onto the mat as he tries to draw Tomko in and the fans are all waiting in anticipation as Orton pounds the mat defiantly but as Tomko stirs, Orton gets distracted-
By Christian yanking Daniel Bryan off of the apron!!!
Bryan lands down on his left leg and it looks like his knee totally buckles under his weight but Christian laughs at his rival before walking back around the ring towards his corner. Orton points at him and tells him that he is next and he turns his attention back to Tomko. 'The Problem Solver' gets back to his feet and Orton goes for the RKO – TOMKO PUSHES HIM AWAY!! Orton turns around RIGHT INTO A RUNNING BIG BOOT!!! Orton's head bounces horribly off of the canvas and he doesn't move at all as Tomko saunters over to the ever-smug Christian who sarcastically holds his hand out and Tomko slaps it casually and Christian takes his sweet time in approaching Orton and lifting him up by his chin and he looks right into his summer rival and shouts "WRONG CHOICE!" before turning him around and planting him to the mat with the KILLSWITCH!!! Christian grins whilst turning Orton onto his back and hooking the leg.
…....One.......
….............
…Two...
…..
Three!
ELIMINATED: RANDY ORTON BY CHRISTIAN (27.05)
(Christian, Tomko,
Barrett, Swagger, Kidd
vs Bryan,
Orton, Regal, Gabriel, Ryder
)
The fans are totally deflated following Orton's elimination, leaving Daniel Bryan all alone against two men. Cole quickly points out that Christian's strategy for this match has been masterful, playing him up as the superior captain for installing the opportunistic approach in his team and he looks certain to beat the injured Daniel Bryan with Tomko's help. Christian instructs Tomko to roll Bryan into the ring for him and a few moments later Christian finally has the balls to face Bryan in this match once he has the numerical advantage and Bryan is much more concerned about his knee. The submission specialist is almost unaware of Christian's presence and he hasn't realised that 'Captain Charisma' has taken his place in the corner and he's lining Bryan up!! Bryan starts to get to his feet using the ropes and Christian charges in, looking to finish this one with a SPEAR – BRYAN DODGES!!!!
Christian stops himself from colliding with the corner at the last second and he jumps up onto the second rope and jumps back, bringing Bryan into a Sunset flip pin, but Bryan rolls through back onto his feet – and cracks Christian in the side of the head with a stiff kick! He was like a sitting duck! If Bryan dodging the Spear didn't give MSC some hope, then that counter definitely did! Bryan, however, takes almost an ages to crawl himself back over to Christian after collapsing to the mat but he is able to lean back over Christian's chest to try and eliminate his opposing number!
…....One.......
….............
…Two...
Christian rolls his shoulder up!!
It is safe to say that Christian is the freshest man left in the match by a long way after having minimal involvement in the early stages, another part of the plan most likely. This means that he doesn't have much problem in being able to get over to Tomko in the corner and bring 'The Problem Solver' back into the match again, who stomps over to Bryan and lifts him up. Tomko shakes his head to tell the fans not to bother cheering any more as he brings his arm down and underneath Bryan to try for another Pumphandle Slam like we saw earlier, but he obviously doesn't realise that is a very stupid place to be because Bryan is able to pounce on it and before Tomko realises it, HE'S CAUGHT IN THE LEBELL LOCK!!!! ANOTHER BRILLIANT COUNTER BY DANIEL BRYAN!! Tomko groans as he tries to hold on, but he is unable to withstand it for much longer and he TAPS OUT!! ITS BRYAN VS CHRISTIAN!!!!
ELIMINATED: TOMKO BY DANIEL BRYAN (28.46)
(Christian,
Tomko, Barrett, Swagger, Kidd
vs Bryan,
Orton, Regal, Gabriel, Ryder
)
MSG ROAR at the elimination and Tomko rolls out of the ring for Bryan to bring himself up to his feet but he turns right around into a SPEAR FROM CHRISTIAN!!!! The tactic that eliminated Zack Ryder could have won Christian the match! The Canadian hooks both legs tight!!!
…......One.........
….................
…..Two.....
…....
BRYAN KICKS OUT!!! BRYAN KICKS OUT AFTER THE SPEAR!!!
The fans are on their feet and Christian is STUNNED that his method of eliminating Zack Ryder didn't work against Bryan. Bryan starts stirring after kicking out purely from instinct but Christian keeps him on his back and he is attempting to hook Bryan's legs around – HE'S GOING FOR THE CLOVERLEAF!! Christian returns to his vow of making Daniel Bryan tap out but he's having some trouble getting it in because Bryan is proving to be a tricky customer. With some kicks to Christian's ribs with his free leg, Bryan is able to knock 'Captain Charisma' off of him momentarily but Christian comes right back at him with a boot to the side of the head to knock Bryan back down onto the mat. The kick hit its mark and Mr Money in the Bank is sprawled across the centre of the ring so Christian decides to head to the corner and sets himself up to take flight with the FROG SPLASH – NO ONE HOME!!! DANIEL BRYAN MOVES JUST IN TIME!!
Holding his stomach and gritting his teeth, the former World Heavyweight Champion squirms on the mat but he rolls a little too close to Bryan because the submission specialist draws him in like a trapdoor spider and TRAPS CHRISTIAN IN THE LEBELL LOCK!!!!!!
A surge of energy brings MSG to life as Christian struggles with all of his might to try and get himself out of this hold. Bryan cranks it back to the point where he is almost pulling Christian's head clean off of his neck and the Canadian's eyes bulge to convey the obvious pain that he must be feeling. Bryan demands that Christian tap out, but it is the turn of the heel to show some signs of inner strength and Christian somehow begins to muster up some form of second wind and he starts clawing his way over to the ropes!
………….
………….
Bryan pulls back even farther, but Christian is still fighting through!
………….
………….
Christian is within inches of the ropes!!
………….
………….
He extends his fingertips
………….
………….
………….
AND GETS THERE!!
Bryan retains his hold until the referee's count reaches four, and after that he lets Christian go but Chad Patton takes him to one side to tell him that he has to break the hold once Christian has got hold of the ropes. Meanwhile, Christian has pulled himself up using the ropes and is in the corner opposite the discussion between Bryan and Patton, and he is starting to unhook the turnbuckle pad! The fans start booing as Christian is literally doing anything he can to win but Patton glances over at him and catches him in the act! There's cheers as the official admonishes Christian now and starts fixing the pad back onto the steel ring and Christian is complaining whilst he does it but Bryan grabs him from behind and looks set to hook him up for a German Suplex… but Christian cocks his right leg up backwards – LOW BLOW TO BRYAN!!!
There's a lot of heat again and Bryan keels down holding his balls and Christian is quick to turn him around and hook him up – AND THE KILLSWITCH CONNECTS!!!!! There's no response from Bryan and the fans voice their displeasure as Patton corrects the turnbuckle just in time for Christian to get down onto the mat and hook Bryan's leg!
………………….
…......ONE.........
….................
…..TWO.....
…......
THREE!!!
ELIMINATED: DANIEL BRYAN BY CHRISTIAN (31:00)
(Christian,
Tomko, Barrett, Swagger, Kidd
vs
Bryan, Orton, Regal, Gabriel, Ryder
)
WINNERS: TEAM CHRISTIAN (31:00)
CHRISTIAN IS THE SOLE SURVIVOR
*JUST CLOSE YOUR EYES*
Christian gets up onto his knees and he looks relieved to have finally gotten one over on Daniel Bryan, although there were obvious shenanigans involved in the finish. It doesn't bother him one bit and he has his arms raised and smirks out to the fans.
Booker T:
Aw man, you gotta be kiddin' me! Ma boi D-Bryan was screwed, dawg!
Michael Cole:
What. A. Performance. THAT is what you call leading by example! Christian eliminated three members of Team Bryan, including both Bryan himself AND Randy Orton! He played that match to perfection! I cannot pick one single fault with Christian's game plan heading into this match!
Jerry Lawler:
How about that he cheated to win? That was a blatant low blow right there at the end on Daniel Bryan!
Michael Cole:
Choosing Tomko worked in a big way as his fifth man and Wade Barrett was another excellent choice. He installed the 'ultimate opportunist' philosophy used by his former friend-now Assistant General Manager, Edge, into his team. It worked!
Booker T:
Cole, you might choose to ignore dat he cheated, but Teddy Long aint gonna!
Michael Cole:
I have received word from the back and I would like to apologize for the technical issues we had during that match regarding the lighting in the arena during that last match. It is a problem we are looking to resolve and I can say in confidence that we should not be experiencing any further technical difficulties for the remainder of tonight's show.
With Bryan still down on the mat, Christian exits the ring and walks over to the timekeeper's area and he snatches Bryan's Money in the Bank Briefcase away and slides back into the ring with it. He looks at it and then places it down on Bryan's chest and tells him to "hang on to it for a little longer." before he sarcastically slaps him on the cheek and then turns to make his leave up the ramp.
​
We head backstage from ringside and there is very loud shouting from someone in the corridors. The camera finally catches up to them and it is WADE BARRETT. The Englishman is furious as he stomps his way around backstage, not wholly sure where he is going. He suddenly grabs a random worker he comes across.
Wade Barrett:
WHO'S IN CHARGE OF THE BLOODY LIGHTS?!
Worker:
I-I-I don't know! I g-g-gues it'll b-be someone in the production truck.
Barrett releases the helpless randomer and he quickly scuttles off. Barrett calms down slightly and breathes deeply.
Wade Barrett:
The production truck…
A grin flashes across the still irate Barrett's face, but he walks away from the camera looking a lot more composed than he did thirty seconds ago. We're now shot back to the arena with a shot of our commentators all sitting at the desk with Cole and Booker in suits and Lawler in one of those impeccable t-shirts.
Michael Cole:
Wade Barrett clearly isn't happy with what happened to the lights in our opening contest, although we have been told that it was simply a technical failure. Do you think there could be something else in it, King?
Jerry Lawler:
I'm not too sure, but Wade Barrett certainly thinks there is!
"WE ARE ALL WORLD PROMOTIONS"
*MAKIN' MOVES*
The lights in the arena dim down slightly, and the five-strong contingent of ALL WORLD PROMOTIONS all walk out onto the stage, lead by AW. MAGNUS looks intimidating but is dressed in ring gear, despite not competing tonight. DAVID OTUNGA talks some tactics with MIKE HENNIG who is holding RAQUEL DIAZ's hand. AW has his mouthpiece attached to his face and holds his arm up to signal for the music to stop. He holds his arms out into the air and looks around the arena, beaming.
AW:
Good evening, Madison Square Garden! How y'all doin' tonight?
Despite the brash attidtude, the fans give a cheer.
AW:
That's good to hear that y'all are doin' good, because I am doin'
really
good! If there's any of y'all out there who don't know who I am - My name is AW.
Some slight boos there, and but the manager turns around to the other four on the stage. He puts a hand on Magnus' shoulder and the British brute looks at it with a little disdain unnoticed by AW.
AW:
This brute right here is Magnus! I found this man outside one of my clubs and I saw him kickin' seven colours of crap outta this guy and I knew that I had a prime fighter on my hands... that is why he is my Head of Security. He costs a damn lot but he is worth every cent... or as he prefers, penny. Haha!
Mangus doesn't react to the cheesy joke and moves along to Diaz, holding her free hand and kissing it, which makes her blush. Hennig doesn't mind.
AW:
Enchanté! We have the elegant Rrrrrrrraquel Diaz... My man Mikey did himself good, right? Right?! Wooooweee!
AW looks out to the fans and starts cackling to himself again and Diaz looks flattered by the compliments and smirks at some wolf whistles from the fans. AW moves along and pounds fists with Hennig and Otunga, both men looking focused.
AW:
Now... let me introduce to you, the real stars of the show! Ladies and gentlemen, the NEXT WWE TAG TEAM CHAMPIONS... DAVID OTUNGA AND THE SON OF MR PERFECT HIMSELF, MIKE HENNIG!
Hennig roars out to the fans upon his introduction and Otunga coolly raises his arm into the air to a mixed reaction from the fans.
AW:
Mike and Dave are gonna run straight through those jokes, Santino and Kozlov! I wouldn't go an' get your snacks or popcorn now, this isn't gonna take long so I don't want any of y'all to miss us wipin' the floor with those two 'champions'.
Heat now for slating off the popular tag team champions.
AW:
In fact, if Santino and Kozlov can even last ten minutes in the ring with the Mike and Dave, I'll give 'em TEN THOUSAND DOLLARS...EACH!
WOW! The fans pop for the money being thrown in to the match.
AW:
It gets better... if they can somehow pull of a miracle and leave MSG with those titles... I'LL DOUBLE IT! TWENTY THOUSAND DOLLARS EACH! OH YEAH!
AW has the fans cheering loudly now, as he's willing to put up to $40,000 on this match. He's that confident.
AW:
Of course, that ain't gonna happen.
Straight back to the boos again.
AW:
I'm an honest man, I'll stick to my bet... but y'all think they'll actually win money from me! HAHAHA! HAAAAAAAA!
There are laughs between the whole group now and AW has actually dropped to one knee with his laughter. He wipes a tear from his eye and then composes himself again, fighting back some more giggles.
AW:
Once we've got those titles back where they belong around the waists of Mike and Dave, we'll move on and beat those little jumpin' beans Los Aviadorrrrrrres AGAIN and then there will be NOTHIN' stoppin' us gettin' to the top!
There's a much more serious vibe now and AW stands silently with a very determined look on his face.
AW:
WE ARE ALL WORLD PROMOTIONS and WE ARE THE FUTURE.
*MAKIN' MOVES*
AW raises his arms in the air and grins whilst leading All World Promotions down to the ring and they all show that they're here to take the titles.
Jerry Lawler:
Strong words from AW! He is literally putting his money where his mouth is!
Booker T:
I don't know whether to think dis guy is really smart or jus' plain stupid.
Michael Cole:
AW has a very high confidence in his team, so much that he is willing to part with forty thousand dollars if they lose! I don't see it happening though, since Mike Hennig and David Otunga have returned along with this group, they have been impressive. They are the only team to date to defeat Los Aviadores - the new
#1
contenders.
Jerry Lawler:
These guys need to forget about Los Aviadores for tonight though, Santino and Kozlov have been nothing but fighting champions. They've beaten Curt Hawkins and Primo as well as The Awesome Truth!
The whole group enter the ring even though the majority of them aren't even competing. AW gives some encouragement to Otunga whilst Hennig and Diaz share some niceties.
*LA VITTORIA É MIA*
There's a big pop in the arena as SANTINO MARELLA and VLADIMIR KOZLOV, THE ODD COUPLE, burst onto the stage. Both have their titles strapped around their waists and Santino leads the fans in the air trumpet before the WWE Tag Team Champions high-five before marching down to the ring; Santino doing a beautiful power-walk.
Jerry Lawler:
Do you reckon these two are even more motivated to win knowing that they could take $20,000 of AW's own money each! They only have to last 10 minutes and they're both $10,000 richer!
Booker T:
Can you imagine what Santino will buy wit' all dat money?!
Michael Cole:
I hope he'll buy himself a spaceship and get the hell off of this planet! Tonight we will finally see some credibility at the top of the tag team division!
The champions slap hands with the fans down the aisle before sliding into the ring and climbing up the turnbuckles and motioning to their belts. They jump down and Kozlov glares at AW, who is trying to stifle his laughter, and the Russian makes a step over to the cocky manager but Magnus steps in front of him. There's a staredown between the two larger men but Santino backs Vlad away. Referee John Cone tells Magnus, Diaz and AW to get out of the ring.
WWE Tag Team Championships:
The Odd Couple (Santino Marella & Vladimir Kozlov) © vs. All World Promotions (David Otunga & Mike Hennig)
The bell rings and it is decided that Otunga will start the match with Santino. AW is already telling his client to "end him" four seconds into the match and Otunga lunges in to grab Santino but the Italian moves quickly out of the way, catching Otunga with a jab to the cheek! Santino holds his fists up and dares Otunga to come at him again, but again Marella shows off his agility and connects with another quick jab! Santino follows up this time with another and then another to send Otunga scrambling onto the ropes but when Santino comes in to follow up, Otunga lifts him up and Flapjacks him across the top rope! Santino clasps for air on the mat following that and Otunga now uses the ropes for extra leverage as he drives his knee across Santino's throat. Of course Cone doesn't stand for that and administers his 5 count which Otunga takes heed of and he gets off the Italian. Quickly getting back to his feet, Otunga reaches out and Hennig slaps his hand to get into the match.
The third generation star enters the ring as Otunga uses his allotted time to get Santino back up to his feet and Irish Whips Marella towards Hennig, who catches him with a scintillating Dropkick right to the face! Hennig pushes Santino's shoulders down to the mat but Cone waits for Otunga to get back to the apron before he makes the count!
……………….
….One….
……….
Santino rolls his shoulder up!
Santino isn't given a chance to breathe after escaping the pin fall as Hennig quickly slaps on a headlock. Hennig gets onto one knee and Santino starts trying to force him away but the third-generation star has control of the situation and he shifts his weight for a Headlock Takeover, bringing Santino down onto the mat again. Showing he isn't a total slouch, Santino scissors his legs around his opponent's head to force Hennig to roll back and release him. Both men spring up and Hennig lunges for Santino again but the Italian dodges it and tries to send Hennig into the corner, but Hennig drops his weight down low and sends Santino into the corner and follows him in. Santino floats over, causing Hennig to run into the turnbuckle… Santino drops down and rolls Hennig back with a Schoolboy roll-up!!
……………….
….One….
……….
Hennig escapes quickly!
Angered by being caught by something like that, Hennig gets up full of rage and goes for Santino again, but the Italian is already halfway across the ring and gets over to make the tag to Vladimir Kozlov! The Russian comes in to some minimal fanfare and he dares Hennig to come in and lock up with him. Hennig feigns going in and grabs Kozlov's burly leg but is unable to take down the bigger man and Kozlov grabs him around the waist and slams him over his head onto the mat!! Hennig scrambles into the corner and brings himself back up. Kozlov comes in but eats Hennig's boot in a good show of speed from the third-generation star. The momentum doesn't stay in Hennig's favour as he tries to follow up with a double-axe handle from the second rope but Kozlov drives his head right into Hennig's chest! It's a bumpy landing and Kozlov gets straight down into a cover!
……………….
….One….
……….
Two
….
Otunga has to come in and break it up!!
The fans aren't happy with the interference, which doesn't stop right away as Otunga starts hammering away on Kozlov at AW's request; "Get him, Dave! I ain't partin' wit' 40 G's!" The referee threatens the challengers with a disqualification if Otunga doesn't leave the ring, and it finally at this warning that AW calls his man off. During the commotion, Hennig was able to reach his team's corner and Otunga is readily available to enter the match legally as soon as he reaches the challenging team's corner. Otunga sneers at Cone as he passes before driving his boot into Kozlov's head and then running off of the ropes and dropping an elbow across his chest. He gets up and flexes his muscles, with the rest of All World Promotions (bar Magnus) laughing at the control of the match (without realising they now only have just over six minutes to put it to bed.) Kozlov is starting to make his way back up and Otunga runs off of the ropes again and leaps into him with a Shoulder Tackle, knocking the big man down again, and he rolls out of the ring. Otunga goes out to follow up but Santino drops off of the apron and gets in between Otunga and his partner. Seeing this, AW orders Magnus to go over, and the Brit's presence alone is enough for Santino to back away.
Otunga smirks and hoists Kozlov off of the floor and drives him into the ring apron, causing the Russian to groan loudly in pain. Otunga does it again, and with the referee's count reaching six, he now rolls Kozlov back into the ring. Sliding into the ring to follow up, Otunga doesn't give his opponent one second and drops another elbow on Kozlov, but his time on his back, to target that particular area. Again yanking Kozlov up to his feet, Otunga uses all of his weight and strength to power him into the corner; the force of hitting the turnbuckle being another strong blow to Kozlov's back. Otunga is quick on the scene again and he turns Kozlov around so he is facing the turnbuckle and he drives three stiff forearms into the small of Kozlov's back and hoists him up into the air to drop him with a Back Suplex! Cole comments on the improvement in Otunga's in-ring ability since All World Promotions burst onto the scene a few weeks ago.
The challengers share a knowing nod and Otunga makes his way over to Hennig and brings him back into the match and the two men grab Kozlov and pick him up… only to bring him straight down onto their knees!!! Kozlov's back contorts horribly and Otunga quickly clears the ring and Hennig hooks the leg, with four minutes to go until AW's wallet will start to get a little lighter!
……………….
….One….
……….
Two
….
Kozlov is just able to power out!
AW slaps his hand against the mat in frustration and he orders Hennig to "Go for the kill!" with Hennig nodding in response. He backs up into the corner as Kozlov uses the ropes to bring himself to his feet and Hennig charges in and hits him with the McGillicutter!!!! His former alias's finishing move has Kozlov grabbing his neck in pain and sensing he could have it, Hennig closes his eyes as he lays back, hooking the leg!
……………….….
…...ONE……
……….…..
..TWO..
…….
THREE-NO!!
Kozlov's foot was on the bottom rope – BECAUSE SANTINO PUT IT THERE!!!
John Cone saw Kozlov's left boot on the rope, but didn't see the Italian place it there – the champions aren't out of this one just yet! Magnus, AW, Diaz and Otunga are livid and Magnus starts marching around the ring to confront Marella. Santino starts pleading his case as the referee has to come out and intervene to cool things off. Hennig slides out of the ring to air his grievances to Cone as well, and now the entirety of All World Promotions are arguing with the referee, whilst Santino cowers behind the official. After around thirty seconds of arguing (bringing the timer down to two-and-a-half minutes left on the clock), Cone orders everyone to back off and Otunga slides into the ring and he is met with a rejuvenated Kozlov! Otunga shakes his head as he tries to take a shot at the Russian but he is caught and KOZLOV POWERS HIM TO THE MAT WITH THE IRON CURTAIN!! The exact move that won The Odd Couple the titles at Night of Champions is suffered by Otunga again and Kozlov gets down and hooks the leg……
BUT THE REFEREE IS STILL ARGUING WITH AW ON THE OUTSIDE!!
Frustrated that the tables have turned on the champions, Kozlov's booming voice is heard above all of the commotion and he demands that the official gets into the ring. Discussions finally end at ringside and All World Promotions return to their half of ringside and Santino climbs back onto the apron. With Otunga starting to get back to his feet following Kozlov's finishing move, Santino gets the tag into the match and he reaches into his singlet… and pulls the glove puppet out!! The fans clear as Santino fumbles whilst putting the glove on but gets it on eventually and cranks his arm up and is joined by MSG with a loud cry of "COBRA!"… THE COBRA STRIKES ON DAVID OTUNGA!!! There's just under a minute left on the clock and the champions could be walking away with their titles intact and twenty thousand dollars each and Santino hooks both legs!!!
THE REFEREE DOESN'T COUNT – AS RACQUEL DIAZ IS ON THE APRON!!!
The plot thickens and Diaz is arguing with Cone about something and there's a loud thud heard around the arena – Vladimir Kozlov being flung into the steel steps by Mark Magnus!! Santino is distracted by the sound and he turns around from the ensuing argument on the apron RIGHT INTO THE PERFECTPLEX FROM HENNIG!!!! Hennig, the legal man, had been biding his time outside the ring before sneaking back in and hitting Santino with the Bridging Fisherman Suplex and now that his has happened, Diaz gracefully leaves the apron and Cone turns around to see Hennig holding the bridge in place and realising that he is still the legal man in the match, he gets down to make the count!!
……………….…...
…….ONE…….
……..….…..
...TWO...
………
……
THREE!!!
NEW CHAMPIONS!!!
WINNERS AND NEW WWE TAG TEAM CHAMPIONS: ALL WORLD PROMOTIONS (9.36)
*MAKIN' MOVES*
AW's face is a mix of emotions; mainly joy and relief. He was twenty-four seconds away from losing $40,000. Once that emotion has passed, he is all grins again as he makes his way over to the timekeeper's area and snatches the titles and slides into the ring, where the rest of the crew are already waiting. Magnus roughly pulls Otunga up to his feet and Hennig kisses Diaz but catches AW with the titles in the corner of his eye and leads his girlfriend over to them and takes his half of the championships and Otunga is handed his. The quintet all stand in the ring in a line, just like they did on the stage before the match and grin out to the crowd - this is a big win for AW, and he knows it.
Jerry Lawler:
You've got to give credit to Santino an-
Michael Cole:
Shut it, King! He's about to talk!
AW audibly clears his throat and the music fades down as a result, allowing him the capacity to talk without interruption.
AW:
What did I tell y'all? WHAT DID I TELL YOU?
The fans boo at the almost aggressive tone. None of the five people in the ring care, though.
AW:
Get used to this sight - GOLD around our waists. In fact, whilst y'all are at it, imagine even more gold on top of the tag team titles! We are taking over, an' there ain't nothin' any o' y'all can do about it!
There's a much more intense feel about AW's lecture than the one before the match - the adrenaline is pumping through him.
AW:
WE ARE ALL WORLD PROMOTIONS! WE ARE THE FUTURE!
*MAKIN' MOVES*
AW tears his headset off and puts it into his suit pocket before he leads his group out of the ring, demanding Magnus to hold the ropes open for him and Diaz. The feisty manager starts to cool down and he shares a bro-hug with Otunga and slaps Hennig on the back. The fivesome make their way up the ramp after one more look at the sullen Odd Couple. Santino is crying.
Michael Cole:
That, right there, is what you call pure emotion!
Booker T:
Yeah, you can really see how much those titles meant to Santino, dawg.
Michael Cole:
I was talking about AW! What you saw right there was a man who has realised his dream of being a success in the WWE! His dream has came true tonight!
Jerry Lawler:
You heard what he said - this is just the start. He's already got the WWE Tag Team Championships in less than a month and if we see that unit work as cohesively - albeit illegally - as that again, I think his prediction of more championships could become a reality.​


WRESTLEMANIA 28
APRIL 1, 2012


"ONCE IN A LIFETIME"

Following the short promo clip for Wrestlemania, we cut to the car park and a silver car pulls into an empty bay which is marked 'reserved'. Suddenly, SCOTT STANFORD is seen running into shot towards the car, severely out of breath. The car door opens and a giant mixed reaction can be heard in the arena as one of the men who will be competing in the 'Once in a Lifetime' match at Wrestlemania and a member of Team Triple H in tonight's main event, the WWE Champion JOHN CENA steps out of the driver's door! He has his title in his hand and reaches across the front seats to grab his bag and as soon as he slams the door shut, Stanford is right in his face.

Scott Stanford:
John, how are you doin'? The last we saw of you on Raw on Monday night, you were clearly unhappy about your Wrestlemania opponent, The Rock, being part of Team Triple H, along with yourself tonight - you seemed more concerned for the safety of the WWE Championship. Can I get your thoughts?

Cena seems a little agitated that he's been confronted and he starts to walk away towards the arena as he replies.

John Cena:
I'm here to do a job tonight in that ring, I'm not here to talk. You can wait for The Rock if you want an interview.

With that, Cena is through the large doors into the arena to prepare for his match and Stanford turns towards the camera, looking dismayed and full of questions for the WWE Champion.

Scott Stanford:
I'm sorry folks, it seems that John Cena- Hey! watch out!

Standford is barged out of the way as WADE BARRETT marches straight through his shot!! The cameraman shows no sympathy for Stanford and follows Barrett - with the production truck in clear view! The Englishman is still on the warpath following the incident with the lights earlier on, but as he gets closer to the truck, there's a mob of security guards fronted by the Smackdown General Manager THEODORE LONG, and the worker that Barrett confronted earlier. Spotting the worker, Barrett makes a beeline for him.

Wade Barrett:
YOU!

Within seconds, the worker darts behind the security, who reach out and grab Barrett!! He's being restrained!

Theodore Long:
Now playa, I think you know I can't let ya in there.

Wade Barrett:
What are you talking about?! Get these idiots off me!

Theodore Long:
I can't have ya jeapardisin' one of tha biggest shows of tha year, Wade. You're leavin! One way or anotha, ya feel me? I'll see ya Friday, playa.

Teddy isn't playing games this close to his Performance Evaluation on Friday - one of his Superstars ruining the show will do him no favours, regardless of the COO. The security now start to pull Barrett out of sight, and the former Nexus leader isn't going quietly!

Wade Barrett:
YOU AND ORTON ARE IN ON THIS TOGETHER! I KNOW IT!! YOU'RE NOT EVEN GOING TO HAVE A JOB ON FRIDAY, LONG!!

Those words seem to remove Long's confidence and he closes his eyes and shakes his head, knowing that this could be his last PPV in charge of the blue brand.

Back into the arena now and to the commentary team who are looking excited, but there's an air of intrigue after what we just witnessed.

Michael Cole:
And Wade Barrett is exactly right, folks - Teddy Long will NOT be in a job from this Friday night on Smackdown after his Performance Evaluation!

Booker T:
What da hayell does Wade Barrett know?! Teddy Long ain't goin' nowhere!

Jerry Lawler:
What about what we saw from John Cena? The WWE Champion does not seem to be in the mood for playing around tonight - he means business. That can only mean trouble for Team Johnny.

Michael Cole:
I don't think so, King... Do you really see John Cena and The Rock being able to work on the same team tonight?

*ONLY ONE CAN JUDGE*

A rather negative reaction comes from the fans as the Intercontinental Champion CODY RHODES walks out onto the stage, his hooded jacket covering his face - sans plastic mask which was banished a few weeks ago on Smackdown as part of the Intercontinental Championship Challenge which concludes tonight. The stipulations of the match is explained by the ring announcer as Rhodes walks down the ramp, his snarl just visible from under the hood.

Michael Cole:
Tonight we're going to see the end of a rivalry that has spanned for months on Smackdown, over the Intercontinental Championship. Cody Rhodes and Sin Cara have taken part in the Intercontinental Championship Challenge over the past few weeks, with Sin Cara winning the first two matches to save his own mask and cause Cody Rhodes to lose his, albeit with some help from Rhodes' estranged buddy, Ted Dibiase...

Booker T:
I aint sayin' I agree wit' DiBiase interferin' in dose matches, but Cody weren't no friend of his. Sin Cara woulda won dose matches anyway, dawg.

Michael Cole:
We'll never know, but Rhodes beat DiBiase in a Street Fight two nights ago on Smackdown to put those demons to rest - he has the chance to do the same with Sin Cara tonight. Remember, the loser of this match cannot challenge for the Intercontinental Championship whilst the winner is the champion. That could leave either one of these men out in the cold for some time on Smackdown.

Rhodes enters the ring and breaths in deeply before he dramatically flips his hood back, initially recoiling due to the exposure of his face but he recovers and snarls as he removes the jacket. He stares into the championship and holds it to his cheek before handing it over to the referee.

*ANCIENT SPIRIT*

The lights dim as the music starts and there's a decent pop for the arrival of the challenger, SIN CARA. The Mexican wears a blue mask and matching jacket, which he removes. With a signature POINT(~!) towards Rhodes in the ring, Cara charges down the ramp and does his usual leap over the top rope to set off his pyro. He adjusts his mask into position and looks at Rhodes, and points at the IC Champion one more time before he climbs up the turnbuckle to appeal to the fans.

Jerry Lawler:
I love it when Sin Cara jumps over the top rope like that - he's amazing!

Booker T:
Hands down one of da most entertainin' Superstars to watch in da ring in da bi'ness today! Dis guy can do thangs I aint ever seen befo'! He can win dis title, TA-NIGHT!

Michael Cole:
I'll give it to Sin Cara that he's by far and away one of the most athletic Superstars we've ever seen in the WWE, but we have seen the shift in Cody Rhodes in the ring since that mask came off - he's been impressive.

Booker T:
Sin Cara has Cody's numba, dawg! You forget who caused dat mask to come off in da first place?

Michael Cole :
Yeah, Sin Cara and Ted DiBiase - and we saw what Cody did to DiBiase on Friday...

Intercontinental Championship:
~ LOSER IS BANNED FROM CHALLENGING FOR THE INTERCONTINENTAL CHAMPIONSHIP WHILST THE OTHER IS CHAMPION ~
Cody Rhodes © vs Sin Cara

The bell rings and both men charge straight out of their respective corners – and are going at it straight away!! Rhodes has hold of Sin Cara's head and starts pounding him with overhand rights with his free hand, whilst Sin Cara can only manage to reply with stiff body shots!! Rhodes drives his knee into Sin Cara's gut, but at the same time, the Mexican sweeps Rhodes' supporting leg to take him down onto the mat! Sin Cara now mounts the champion and tries to land punches to Rhodes' face, but the champion's block is good and he's able to turn the tide and roll over. With Sin Cara now on the defensive, Rhodes tries to take advantage but the Mexican pushes him away with his feet. Sin Cara gets back up and is forced into the corner by Rhodes, who drives his shoulder into Cara's ribs, but Sin Cara hits a double sledge to the top of Rhodes' back and pushes off of the turnbuckle to get back on top of Rhodes.

Both champion and challenger are now rolling around on the floor on the mat like schoolchildren in a petty scrap, and the action eventually spills underneath the bottom rope and down onto the floor! Both men land with a thud on the floor, which breaks them up. Rhodes is the first one up and he tries to stomp on Cara, but it is evaded by the luchador. Cara tries to land a mean right hand to Rhodes' face but it is again dodged, and Rhodes uses Cara's momentum against him and sends him straight into the steel ring post!! Cara is spread on the floor and Rhodes picks up to roll him into the ring. Once Cara's in, Rhodes follows him in and hooks the leg – looking to wrap this one up early!
……………….
….One….
……….
Cara rolls his shoulder up!

This doesn't sit well with Rhodes, who proceeds to spring to his feet and start stomping through Sin Cara's chest and head, before he backs into the ropes and comes back to drop a knee across his face! Rhodes doesn't hold back after that and just flails his arms into Sin Cara whilst both men are on the mat to cause as much damage as possible. Cara backs up into the corner and Rhodes comes in with more stomps whilst he's down in the corner, so the referee is forced to intervene and pull Rhodes away due to the rope break. Cody accepts his scolding and brushes back past the official to drive his knee right into Sin Cara's face!! Rhodes glares out into the crowd and frowns, finally taking a moment to cool himself down following the physical opening to this match.

With a much more methodical demeanour than any other we've seen so far in the opening moments of the match, Rhodes slowly brings Sin Cara to his feet and attempts to Irish Whip him across the ring into the opposite corner, but Cara shows some life and turns it around to send Rhodes for the ride, but the champion keeps his grip on Sin Cara's arm and pulls him in towards him to flatten him with a big Clothesline!! Rhodes dropped to his knees to add in the extra power, and watched on as Sin Cara landed hard on the back of his head. Rhodes lifts him up once more and places his leg in between Cara's and throws him back for a Russian Leg Sweep! Another impact on the back of his head leaves Sin Cara hurting, and Rhodes tries for another pin attempt!
……………….
….One….
……….
Two- Sin Cara kicks out!!

The kickout leaves Rhodes with the sour look on his face we have become accustomed to since he lost his own mask a few weeks ago, and he grits his teeth before aggressively bringing Cara back up to his feet and he takes his position behind him – he's going for the CROSS RHODES – but Sin Cara is able to turn out of it and shove Rhodes into the corner! Rhodes shows that his aggression got the better of him as he tried to prematurely hit his finishing move, which Cara will be well aware of, considering that he has been on the receiving end of it on more than one occasion in the past few months. Cody is shoved into the corner by his challenger, and Cara follows him in – dodging Rhodes' attempt to catch him in the face with his boots – and elevates the champion onto the top turnbuckle. From his seated position above Cara, Rhodes tries to land a punch, but he is caught off guard by Sin Cara using the ropes to propel himself up and kick Rhodes in the side of the head!

The connection rings around the arena to a cheer from the MSG faithful, and also sends Rhodes into a lull. Sin Cara climbs the turnbuckle and the fans start to cheer again as Cara nods and lifts Rhodes up onto the top rope alongside him. Just as Sin Cara was, Rhodes is aware to what is going on and he delivers an elbow to Sin Cara's head, which unsteadies him, but Sin Cara is trying to fight back with an elbow of his own… the two men start to wobble whilst they tussle for position – AND THEY BOTH SUFFER A FALL FROM THE TOP ROPE DOWN TO THE FLOOR!!!

There's concern from everyone at the ringside area and the arena is hushed as no one is sure whether that was SUPPOSED to happen. (It was. No botches here.) The referee is out of the ring to check on both men, and whilst replays show that the landings for both men were worse than originally thought. Rhodes landed on his arm and is shaking it and complaining to the official, and Sin Cara appears to have caught the lip of the apron on his way down, and is on the floor trying to recover himself using the apron. The referee, despite Cody's protests, deems that both men are okay to continue and slides back into the ring. Rhodes follows him into the ring and continues his argument, allowing Cara to recover and enter the ring and sneak up behind Rhodes and kick him in the arm that he just landed on! Outraged, Rhodes turns around and is dropped by a dropkick to the chest from Sin Cara, and the Mexican now goes for his first cover of the match!
……………….
….One….
……….
Not good enough to win the title!

Sin Cara doesn't let it bother him, and he takes hold of Rhodes's arm and brings him up off of the mat and wrings it out. Rhodes winces in pain and tries to roll out of it, but as soon as he does, Cara wrings it again. This time he uses his free arm to punch Rhodes in the elbow joint and transitions into a Hammerlock. Using his position, Sin Cara forces Rhodes into the corner and wrings the arm out once more. Cara climbs the turnbuckle and balances himself on the top rope, but Rhodes is unable to yank him down, so Sin Cara jumps down and takes Rhodes over with an elevated Arm Drag from the top rope! Rhodes rolls around on the floor as the fans cheer the impressive lucha style. With Rhodes taking a moment to get back to his feet, Cara scurries up the turnbuckle once more and bides his time whilst Rhodes eventually stands up and turns around – AND SIN CARA WIPES HIM OUT WITH A DIVING CROSS BODY!! Sin Cara hooks the leg, trying to put Rhodes away once more!
……………….
….One….
……….
Two- Rhodes kicks out!!

Not wanting to lose momentum and with the fans cheering him on, Sin Cara keeps the pace going as he's right back up to his feet and running against the ropes – landing an impressive Flip Senton across Rhodes' chest! Rhodes sits up and appears slightly winded from the impact, but Cara is up again and runs against the ropes once more and comes back to crack Rhodes with a low dropkick – right in the mouth!! The champion screams in agony and perhaps fury that his face was struck, and is much quicker in getting to his feet this time. Sin Cara waits for Rhodes to make his way back up before heading to rebound off of the ropes once more – but Rhodes grabs the top of his mask and uses it to yank him back down onto the mat!!

It's a cheap tactic which buys Cody some time and ends Sin Cara's momentum instantly, and he tries to smirk past his anger before gritting his teeth and laying a big stomp across Sin Cara's chest. Rhodes picks his challenger off of the mat and places his hand around Sin Cara's neck and goes to throw him over the top rope, but Sin Cara lands on the apron! Rhodes, unaware of this, barks for the referee to start counting him out, but he turns around – right into a shoulder to the gut through the ropes from Sin Cara! The fans cheer as Cody groans and Cara stands back up on the apron and slingshots himself over the ropes and grabs Rhodes around the waist and he tries for a Sunset Flip and tries to roll Rhodes back into a pinning position but both men roll until they are at a full 360 and Rhodes back on his feet, allowing him to get a proper grip and fling Sin Cara forward into the ALABAMA SLAM!!!! There are even some cheers from the fans as Rhodes showed great awareness to hit the biggest move of the match so far and he is quickly down to try and wrap it up with that one!
……………….
….One….
……….
..Two..
…….
Sin Cara kicks out!!

Rhodes has his head in his hands following yet another kick out before once again letting off his frustrations against the referee. This wastes valuable seconds, ending in Rhodes telling the official "You disgust me." The champion turns towards the turnbuckle and starts to climb up it, facing away from the ring. Rhodes reaches the top rope and the fans start to cheer in anticipation for Rhodes to fly with a MOONSAULT – BUT THERE'S NO ONE HOME!!!!

The bickering with the referee costs Rhodes big time as Sin Cara rolled in towards the corner, leaving Rhodes to land flat on his chest! The champion is clearly hurt and Sin Cara is aware of this, so he tries to pull himself up onto the turnbuckle from which Rhodes just crashed and burnt from. Cody is now flat on his back, looking up at the lights and holding his chest as he tries to catch his breath. There's an even louder noise emitting from the crowd as the face Sin Cara is now scaling the turnbuckle after going through the ropes onto the outside. Sin Cara is able to balance himself on the top rope before he POINTS(~!) at Rhodes again and he leaps from the top with a DIVING FLIP SENTON…. BUT THIS TIME IT IS RHODES WHO AVOIDS THE IMPACT!!!

Sin Cara hits the mat this time, hard on his back. Cole puts over how well these two know each other now after months of battling over the Intercontinental Championship. Rhodes is not as quick at getting back up as Sin Cara was after the Moonsault miss, but soon enough both men are on their way back up to a vertical base. Both men look at each other as they are getting up, and Rhodes makes the first strike with a right hand to the face, and Sin Cara replies with a kick to the side of Rhodes' leg, which staggers the champion. Sin Cara then runs off of the ropes and comes back to Rhodes and climbs up onto his back and hooks both of his arms to get him trapped in a Crucifix pin!
……………….
….One….
……….
Two
Rhodes powers out!!

At once, both men are back up, with the speed of the contest increasing once again. Sin Cara is looking for the ropes again, but Rhodes smartly trips him to boos from the crowd and charges to the ropes himself and leaps from the second rope and looks for the DISASTER KICK!!!! SIN CARA DUCKS IT!! Rhodes lands and tries to steady himself and the speedy Mexican is able to get his rebound from the ropes and he latches onto the champion's body and rotates himself around and catches Rhodes with a headscissors and brings him down but as he does he grabs the arm Rhodes injured and drives it into the mat and then yanks it back into a Fujiwara Armbar to complete LA MISTICA!!! The commentators note that this move won Sin Cara many moves back in Mexico as Rhodes yells in agony and Sin Cara pulls back even harder to try and finally end this rivalry. Rhodes shakes his head vehemently as the official asks him if he gives up.

The fans are willing Sin Cara on as Rhodes holds his free arm up in the air as if he is thinking about tapping out to La Mistica but he grits his teeth and tries to drag himself and Sin Cara towards the ropes and appears to be doing so with some success, that is until Sin Cara quickly transitions the hold into a Crippler Crossface, with Rhodes' arm in between his legs. Cody's eyes flare up at the thought of Sin Cara's hands across his face and he desperately tries to reach the ropes but there is no moving with the Mexican on his back. The hand is raised into the air once more as Rhodes contemplates tapping out once more, but instead of that he tries to loosen Sin Cara's grip on his face, but he can't break it. Seeking no other alternative… Rhodes BITES SIN CARA'S FINGER!! (Not off, obviously.) That breaks the hold instantly and Sin Cara rolls on the floor holding his finger, and there are smears of blood on the mat around Sin Cara and an especially gruesome image of Rhodes with blood around his mouth is shown to the disgust of the fans.

Cody gingerly brings himself to his feet as Sin Cara is still shaking his hand out and holding it to his stomach to try and alleviate the pain. Rhodes takes a deep breath and jogs past Sin Cara and onto the middle rope and he catapults off of it and SCORES WITH THE DISASTER KICK!!! Both men are down after the impact and Rhodes holds his arm to his side, the damage done to it by Sin Cara taking its toll. With the challenger landing on his front, it takes an extra effort for Rhodes to get Cara into a viable pinning position, but once he uses his good arm to roll Sin Cara over, Rhodes lays his arm across Sin Cara's chest for the referee to count!
……………….
….One….
……….
..Two..
…….
Thr-NO!!!

As we have seen recently, Rhodes reacts very negatively to his opponent kicking out and he pounds his hand against the mat and blames the referee again. Once he has said his piece to the ref, Rhodes turns back to Sin Cara and starts stomping through Sin Cara's chest again and getting right down on top of him to plough some heavy right hands to the face. Rhodes has to almost be pulled away, but not before he stomps right across Sin Cara's fingers!! That draws more jeers from the crowd and Rhodes looks disgustedly at his opponent before making his way towards the turnbuckle once again and he climbs up onto the second rope, but suddenly Sin Cara springs into action and uses the ropes to pull himself up and kick Rhodes in the side of the head!!! Sin Cara drops to the mat and staggers as he tries to land on his feet, and Rhodes slumps back on top of the turnbuckle. Sin Cara mounts the turnbuckle and stands on the top rope, using Rhodes for support and then pulling the champion up onto the top rope with him.

The fans let out a big cheer as Rhodes is in no condition to even try and counter the move this time, and once Sin Cara steadies himself he leaps backwards, taking Rhodes with him to HIT THE MOONSAULT SIDE SLAM!!!!

Everyone is on their feet as Sin Cara is now just three seconds from winning his first championship in the WWE, but he isn't able to capitalise due to the impact he suffered from hitting his finishing move on top of everything else Rhodes has put him through in the match so far. Both men are spread-eagled in the middle of the ring and Madison Square Garden are in full voice, willing Sin Cara to make the few movements and finally see this feud ended. After a few seconds, Sin Cara puts his head up and realises where he is in relation to Rhodes and starts the massive effort to drag his body around and he is able to lay his arm across Rhodes' chest, the fans bellow along with the referee's count…
……………….
….ONE….
……….
..TWO..
…….
NEW CHAMPION!!?!

NO!!!!! RHODES ROLLS HIS SHOULDER UP JUST IN TIME!!!

There's a cheer from the fans as most expected it to be over right there and then, but then there are gasps of disbelief as the realisation that Rhodes was able to survive following that. Sin Cara has his face buried to the mat as he appears to just be thinking what he could possibly do to put Rhodes away after his biggest move was unable to do the job. Rhodes almost can't believe it himself and he looks around like a deer in the headlights around the arena, the most human and vulnerable he has looked in months. The champion starts to bring himself back up to his feet but Sin Cara beats him to it and grabs onto his arm and pulls him up and tries to Irish Whip him into the corner, but Rhodes stands strong and yanks Sin Cara back – and delivers a HEADBUTT to Sin Cara, which knocks the Mexican back onto the mat.

Rhodes doesn't look to follow up from the brutal move, instead he closes up, putting his hand to his face. He checks his hand for blood and there is some on his hand, but the shot reveals that there is no blood on Rhodes' face… the champion clearly not making the connection that the blood is actually from Sin Cara's hand. Rhodes gasps in horror, proving that he isn't over the loss of his protective mask and his eyes bulge out and he grabs Sin Cara off of the mat and NAILS HIM WITH THE CROSS RHODES!!! Rhodes shoves Sin Cara on his back and hooks the leg with a cold look on his face, the fans are quieter this time as the official is down to make the count
……………….…...
…….ONE…….
……..….…..
...TWO...
………
……
THREE!!!

RHODES RETAINS!!!

WINNER AND STILL INTERCONTINENTAL CHAMPION: CODY RHODES (13.12)
Sin Cara can no longer challenge for the Intercontinental Championship whilst Cody Rhodes holds the title
​
*ONLY ONE CAN JUDGE*

The fans pop in appreciation for the contest that they just witnessed as Rhodes is handed his championship from the official, but he snatches it and leaves the ring before his arm can be raised. Rhodes continually stares at the blood on his hand and keeps trying to check his face. Suddenly, he focuses on the Intercontinental Title and stares at his face in it... noticing that there is no blood. Rhodes looks back at his hand and then to the ring where Sin Cara is being attended to and his fingers being bandaged and the blood cleared up from them. Upon seeing what actually transpired, Rhodes starts to laugh!! He grins at his reflection in the title before chuckling some more and making his way up the ramp.

Michael Cole:
We've seen many great matches for the Intercontinental Championship in WWE history, but what we just saw was one of the best I can remember in recent years.

Jerry Lawler:
You have to give full credit to Sin Cara and as much as I don't like to, Cody Rhodes, as both of these young men put on a great match.

Michael Cole:
It appears that Cody Rhodes got the win tonight by almost tricking himself into a frenzy! We know he has these image issues and the thought of his face bleeding caused him to go out of control and find what he needed to end this match with the Cross Rhodes. Now that he knows that the blood wasn't his... he's happy. Could Cody Rhodes be over his problems?

Booker T:
I don't know, Cole, he could be, dawg. He's definitely over Sin Cara though... I feel sorry for ma boy. Seconds away from becomin' a champion.

Michael Cole:
Sin Cara will have to take some time to rethink what his plans are on Smackdown now as he is frozen out of the Intercontinental Championship picture. He could decide to form a tag team or even challenge for the World Heavyweight Championship? John Morrison is the man who will be challenging Mark Henry, which we will see later on tonight.​
We head backstage from the arena and there's heat from the fans as we can see an EXTREMELY smug-looking CHRISTIAN walking down a hallway, flanked either side by TYSON KIDD and the returning TOMKO. His face suddenly drops through as he hears a familiar voice, and a very flustered TEDDY LONG appears in the screen.

Theodore Long:
CHRISTIAN! I have been looking for you, playa! Y'all got some serious questions ta answer.

Christian:
What, Teddy? What did I do?

Theodore Long:
Don't you dare play tha fool wi'me, Christian. You low blowed Daniel Bryan, an' you know it!

Christian opens his mouth out wide and puts his hand over it in "shock". He even pretends to wipe a tear away from his face.

Christian:
I... I can't believe that even you would accuse me of doing such a thing! I am the Sole Survivor at Survivor Series. You.. you should be REWARDING me.

Theodore Long:
You'll get a reward, playa. I've had enough of you-

???:
Is something the problem here?

Everyone turns around and there's loud jeering from the fans as the Raw General Manager JOHN LAURINAITIS arrives on the scene! Long looks dismayed as his counterpart, but Christian, who Laurinaitis has previously build rapport with on his recent visit to Smackdown, eagerly holds his hand out and the Raw GM accepts the handshake.

John Laurinaitis:
Christian, congratulations on your hard-fought win out there tonight. Being a Sole Survivor is a big accomplishment and it won't go unnoticed when I become responsible for both Raw and Smackdown when my team defeats Triple H's team tonight.

Christian:
Thanks, Mr Laurinaitis, I very much look forward to working with you. I'll get out of your way and allow Teddy and yourself to discuss Smackdown's future.

John Laurinaitis:
Thank you, Christian, it was great to see you.

With a beaming smile following another successful ass-kissing mission, Christian leads his troupe away from the two General Managers and continues down the hallway. Once they've left, Laurinaitis takes a step closer to Long.

John Laurinaitis:
Teddy, I'd just like to remind you that your Performance Evaluation will be taking place this Friday on Smackdown, regardless of who the COO is after tonight.

Theodore Long:
I'm aware, John.

John Laurinaitis:
That's good, because there's something you need to know. When I become COO, I'm not going to apply the same soft touch Triple H has with you. Let me put it this way... if I'm not confident that you're the right man for the job and if I'm not impressed with what I see on Friday... I will fire you.

Laurinaitis almost spits the lasts words out and Long's face drops. Noticing now that people are around and could be watching, Laurinaitis suddenly beams out and nods his head in someone's direction and pats Teddy on the shoulder.

John Laurinaitis:
Great talk, Teddy! I'll see ya around!

Laurinaitis leaves the scene after that and the camera focuses on Long looking concerned and like a man who is on the verge of desperation...

The camera shifts to the interview area and a very excited MATT STRIKER is standing by with a microphone.

Matt Striker:
Ladies and gentlemen, please allow me to introduce you to my guest at this time... Mister C...M...Punk.

A ROAR from the fans as CM PUNK walks into the shot!! He has a smile on his face and wears a hoodie over a bare chest.

Matt Striker:
Punk, your Last Man Standing match with Kevin Nash is up next and tonight is your first real chance to get your hands on the man who has plagued you for months. How do you feel ahead of a match of this magnitude?

CM Punk:
Tonight I finally get the chance to take that old horse round the back of the barn and put a bullet in the back of its head. But of course when I say "bullet", I mean a steel chair.

Cheers, Striker smirks.

CM Punk:
That giant freak has been on my radar for months. He screwed me out of the WWE Championship THREE times! Because of those actions we had to endure an Alberto Del Rio reign, which was certainly not "great" and now the man I BEAT at Summerslam, John Cena!

A mixed reaction for the mention of the current WWE Champion.

CM Punk:
Nash said he came back to stop me from hurting the WWE, but because of his actions, the WWE Championship has not been around the waist of the best wrestler in the world.

Punk is all serious tonight.

CM Punk:
After tonight that is gonna change. I'm not lookin' to beat Kevin Nash tonight, I'm going to end him. That's right, say your goodbyes to "Big Sexy"! He's not going to even want to go near a ring again when I'm finished with him tonight!

Punk waves at the camera and mouths "See ya!"

CM Punk:
And I don't care who wins the control of the company tonight, because either way I'm comin' for the Laurinaitis Administration next. Truth, Miz, even that fat piece of crap Brodus Clay... I'm takin' them all OUT. I'll lay John Laurinaitis out myself just to get his stupid face out of my life. Anyone else that even DARES to get in my way will be brushed aside never to be seen again until it is just me... and John Cena. Try and duck me then, Cena! Look past me and straight to Wrestlemania for your match with Dwayne. If I have ANYTHING to with it, that "Dream Match" being for the WWE Championship AIN'T HAPPENING!!

The fans cheer as Punk becomes more and more fired up.

CM Punk:
So you ask me how I feel, Matt? I feel ready. I feel ready to take the first step to the top tonight. I feel ready to KICK ASS!!

Punk grabs the camera lens and pulls it right up close to his face.

CM Punk:
IT'S CLOBBERIN' TIME!!

He throws the camera down onto the floor and there are audible groans from the unseen production crew. Striker bends down into the shot.

Matt Striker:
Back to you, guys.

*ROCKHOUSE*

Back into the arena and the fans are on their feet to mark out to the old nWo theme but they quickly voice their disdain towards "Big Sexy" KEVIN NASH. Nash is dressed in all-black garb and moves slowly down towards the ring, he holds his hand up in the Kliq pose as Justin Roberts announces the fact that this is going to be a Last Man Standing Match to the cheers of the crowd.

Michael Cole:
We all just heard CM Punk and what he intends to do to Kevin Nash tonight, but we have gotta remember that Kevin Nash isn't going to just let him – he might not be in the prime of his career any more but this man is as tough as they come.

Booker T:
We go back a long way, me an' Big Kev, but I really wish he didn't accept this match, dawg. I can't say I agree wit' what he's been doin' of late but I think he's bitten off more than he can chew against CM Punk.

Jerry Lawler:
And remember, this is going to be one-on-one! Nash has always had the element of surprise or the numbers game with the Laurinaitis Administration – that won't be the case tonight! They're all in the back getting ready for the main event!

Nash climbs onto the apron and steps over the top rope before powerfully raising his arm in the air. Making some final adjustments to his elbow pad, he and everyone else turns their attention to the stage in anticipation for the arrival of Nash's opponent…

*CULT OF PERSONALITY*

Madison Square Garden ROARS at the sound of Living Colour, and after a few seconds CM PUNK APPEARS ON THE STAGE!!! Taking a moment to grin at the reception, Punk then checks the imaginary watch on his hand and is joined by the whole arena for the scream of "IT'S CLOBBERRRRINNNNNN TIIIIIIIIIMMME!!!" Appearing not to want to waste any time, PUNK SPRINTS DOWN THE RAMP AND SLIDES INTO THE RING-

-AND LANDS A RIGHT HAND STRAIGHT TO THE UNSUSPECTING KEVIN NASH!!!

THE BELL RINGS AND WE ARE UNDERWAY!!!

Last Man Standing Match
Kevin Nash vs CM Punk

The crowd are cheering and willing Punk on as he lands bow after blow on Nash's head and he pummels him relentlessly into the corner. When there, Punk smashes Nash with several more hard right hands, left hands, forearms, headbutts and almost anything else he can think of. Nash tries to shake him off, but Punk doesn't allow it and continues his assault on the big man. Resorting now to kicking the famously-weak knees of Nash, Punk allows his opponent an opening and Nash takes it and elbows Punk in the side of the head, staggering him back a few paces. Punk is right back at him though, this time not giving Nash an inch and mounting the bottom rope for extra alleviation and drilling Nash with hard right hands to the top of his head. Nash shoves Punk back down to the mat and grabs him and shoves him against the turnbuckle and drives into him with one of his famous elbows and Punk slumps down slightly. Nash follows it up with a high knee to the gut and another elbow before he takes a step back and dives in with an elbow – but Punk moves and Nash clatters into the top turnbuckle.

Nash grimaces and Punk takes a couple of steps back before running into the corner and delivering his signature high knee to the face!!! The fans cheer at Punk going for his big moves within the opening moments of the match but when Punk tries to follow up with the Bulldog from the corner, Nash shoves him away and across the ring. Punk turns around and comes back at Nash but he is met with a Big Boot right to the face from the seven-footer!! This kills the crowd and Punk's opening momentum totally and Nash grabs Punk by the arm and pulls him up, only to knock him back down with a Short-Arm Clothesline. Nash backs up against the ropes and tries to drop an elbow across Punk's chest, but the 'Rightful WWE Champion' rolls out of the way and Nash meets nothing but canvas to the cheers of the crowd. Punk rolls back towards Nash and gets on his knees to deliver strong, close-fisted right hands to his adversary's face until Nash piefaces him and forces him away.

Punk uses the prolonged period of time it takes Nash to get up as a chance to get straight back on him and kick him in the ribs and drill him with several more right hands and forearms but Nash punches him once again in the gut to create space. Nash uses the ropes to get onto one knee and Punk runs at him from the other side of the ring and dropkicks him in the side to knock him back down on the mat and Punk rebounds off of the ropes again for a Baseball slide that sends Nash dropping to the floor, but he is able to stay on his feet. He uses the moment he gets to check his ribs from the dropkicks but as soon as he turns around he is met with a SUICIDE DIVE FROM CM PUNK!!!

The impact knocks Nash off of his feet and slamming back first into the barrier, left in a seated position. Punk takes a couple of seconds to get up as well, selling the effect that the move had on him. Punk curses at Nash as he stomps him into the barricade, and drives his shin across Nash's throat. With Nash down and hurting, Punk holds his arms out to a big pop from the fans and now Punk tries to slowly lug the mass of Nash off of the ground and once Nash is on a knee, Punk grabs him by the neck and tries to pull him towards the steel steps, but Nash shoves Punk back – and straight into the steel steps!! Punk holds the back of his head after the impact and Nash takes a second to breathe before he follow up by grabbing Punk and nonchalantly flinging him into the barricade! Nash quips to everyone and mainly Punk "You thought this would be easy, didn't you?! I've been round the block more times than you can count, boy!"

Nash now scoops Punk up from the ground and puts him up across his shoulder and walks him over to the Spanish announce table – and drops him so Punk's face lands right across the table!! The top cover comes off and the two Spaniards immediately flee from the vicinity. Punk stumbles back up to his feet and Nash picks up the table cover and charges at him and uses it as a battering ram to knock Punk down on the floor! Punk's head slams on the ground again with a loud slap and Nash now goes to work pulling the monitors from the table and discarding them from the area. He reaches into the hole and pulls out a long wire which he brings over to the downed Punk and he wraps it around his neck!!! We're not even five minutes into this match and Nash is already trying to choke Punk out with the monitor cable! Punk splutters and gasps as Nash doesn't hold back, screaming "WHO'LL BE EATING THROUGH A STRAW NOW?"

Despite knowing that this could incapacitate Punk and win him the match, Nash relents and drops Punk back to the floor, mumbling to himself "Too easy." He now picks Punk up and drags him over towards the announce table and places his head in between his legs. Cole and King state that we know this all too well, and Nash lifts Punk up and is going for a JACKKNIFE THROUGH THE SPANISH ANNOUNCE TABLE – BUT PUNK IS FIGHTING BACK!! With rapid punches to Nash's head, Punk is able to delay the Release Powerbomb and he unhooks his legs from Nash's shoulders and stands above Nash on the table and kicks him in the head to knock him back which enrages Big Sexy but Punk reaches down and grabs on of the Spaniards' water and throws it in Nash's face! With Nash distracted, Punk leaps from the table and Lou Thesz Presses him down onto the floor and rocks him with some more forearms. Punk gets up from the floor and Nash does (just not as fast), giving time for Punk to reach under the ring… and he pulls out a SINGAPORE CANE!!!

There's a big pop from the fans as Punk stalks Nash as he gets up… and cracks the cane across his back!! That brings a big pop from the fans and Punk shrugs and starts FUCKING UNLOADING WITH THE CANE ALL OVER NASH'S BODY!!! Nowhere is spared from the assault and Nash screams with each shot and manages to shuffle up into the ring, clearly hurting from the stiff strikes with the weapon. Punk drops the cane on the floor and leaves it outside the ring as he climbs up onto the apron and waits for Nash to get up. "GET UP YOU OLD BASTARD!" is Punk's demand and Nash slowly brings himself up to his feet and Punk propels himself onto the top rope and flies at Nash with a SPRINGBOARD CLOTHESLINE!!! Nash is down and Punk rolls through to a cheer from the fans and Punk now barks at the official to being counting Nash out!

……….

"ONE"

……….

"TWO"

……….

"THREE"

"OH SCREW YOU, TOO SLOW!"

Punk interrupts the count and stomps on Nash's chest before leaving the ring and heading over to the timekeeper's area and ordering the runners to move out of the way and he grabs two STEEL CHAIRS to another raucous cheer and throws each of them into the ring! Punk smirks and gets into the ring and goes to pick a chair up but Nash is up and he runs through Punk with a big Clothesline!! Nash winces as he connects and he is then able to successfully connect with the elbow drop that he attempted earlier on in the match. Nash pulls Punk up and Irish Whips him against the ropes and scoops him up on his return and powers him into the mat with a SIDEWALK SLAM!!! Punk's back arches as he hits the canvas and Nash brings himself up and grabs one of the steel chairs, but instead of using it to attack Punk, he wedges it in between the top and middle turnbuckles for later use. Nash now picks up the other chair and advances towards Punk with it in-hand. Nash puts his foot on Punk's chest and straightens the chair out and he drives the edge of the chair down but Punk is able to squirm free before he chair is driven across his throat!

The fans pop as Punk is back up to his feet and Nash swings at him with the chair, but Punk ducks it and is able to kick Nash in the back of the head!! The impact causes Nash to drop the chair and stumble back towards the turnbuckle and he holds his head as he leans against the corner. Punk takes a second to get back up and charges at Nash, but runs right into a raised knee to the gut!! This causes Punk to keel over holding his stomach and Nash grabs him by the trunks and neck and sends him HEADFIRST INTO THE STEEL CHAIR LODGED IN THE CORNER!!! The fans gasp at the sound of the crunch against the chair and Nash doesn&#1 46;t waste any time in grabbing Punk from the wreckage and lifting him up onto his shoulders and dropping him down to the ground with a JACKKNIFE POWERBOMB!!! Boos ring out the arena for the move that has cost Punk the WWE Championship on several occasions, and Nash lulls against the ropes and demands for the referee to start counting!

……….

"ONE"

……….

"TWO"

……….

"THREE"

Punk is still flat out on his back and it becomes clear that he has started to bleed from when he was driven into the chair; the crowd starts a loud "C-M-PUNK" chant.

"FOUR"

………..

"FIVE"

Finally starting to stir, Punk brings his head up and looks around and starts to bring his shoulders up off of the mat.

"SIX"

Punk rolls onto his front and brings himself onto a knee…

"SEVEN"

…And then up onto his feet! He's safe!

A cheer of relief fills MSG but Nash kills it off quickly by ramming another stiff knee into Punk's ribs as soon as he is up, and this one causes 'The Straight Edge Saint' to fall down to ringside! Punk lands in a heap on the hard floor but uses the ring apron to start to pull himself up. Nash groans and reaches down through the ropes but he doesn't realise that Punk has retrieved the Singapore cane he used earlier and he SMASHES THE CANE OVER THE TOP OF NASH'S HEAD!!! Nash staggers back and falls into a corner, using the turnbuckle to keep himself on his feet in fear of going down and being counted out. Punk throws the splintered cane down again and rolls into the ring and places himself in the turnbuckle opposite the one Nash is positioned in and charges across the ring to deliver the Running High Knee in the corner and this time he is able to follow it up with the BULLDOG!!

Nash flops onto his back following the move and Punk, high off of the adrenaline boost, quickly gets up and climbs onto the top rope! The fans cheer as Punk steadies himself and pays homage to 'Macho Man' Randy Savage by raising his arms into the air before he takes flight and lands a PERFECT MACHO MAN ELBOW DROP TO NASH'S CHEST!!! Punk takes a couple of seconds to get back up to his feet and once he does he looks down at Nash with disgust and motions for him to get back to his feet and the big man starts to stir back up onto one knee. Punk clasps his hands against his face and signals for the GTS!! The commentators doubt whether Punk could get Nash up, but he tries… and Punk has Nash up on his shoulders! Punk screams out and then DELIVERS THE GO TO SLEEP ON KEVIN NASH TO A HUGE POP!!! Punk drops to the mat from the exhaustion and Nash slumps to the ground and rolls underneath the bottom rope and lands on the floor! With both men down… the referee begins to count!!

……….

"ONE"

……….

"TWO"

……….

"THREE"

……….

"FOUR"

Nash is motionless on the outside and Punk grabs onto the bottom rope and begins to pull himself up!

"FIVE"

……….

"SIX"

The fans cheer loudly once Punk has heaved himself up using the ropes and the referee declares that he is back to his feet and now the attention turns to Nash, who is only just starting to come back to.

"SEVEN"

………...

Nash reaches up and gets a hold of the ring skirting and yanks on it to begin pulling himself back to his feet.

"EIGHT"

………..

He grits his teeth and pulls himself up onto his knees!

……….

"NINE"

……….

With his hands now on the bottom rope, Nash desperately pulls…

……….

AND HE IS UP!! JUST IN TIME!!!

The instant that Nash is up on his feet he has to have his guard up because a refreshed CM Punk is straight out of the ring and in Nash's face to deliver punches, kicks, chops, backhands, elbows, forearms and even headbutts to try and wear Nash down again. Punk, bloodied face and all, doesn't hold back, and this time when he grabs Nash by the head and sends him towards the steps, there's no resistance this time and Nash's head bounces off of the steel steps! Punk immediately grabs him and sends him back towards the announce tables and Nash is slumped against the previously uncovered one as Punk walks over to the timekeeper and demands a chair, which is provided to him. He stares at the chair and then at Nash with a smirk on his face and he waits for Nash to get up and turn around and when he does PUNK HITS NASH IN THE HEAD WITH THE STEEL CHAIR!! Nash slumps back down against the table and Punk lines it up again and connects with a SECOND CHAIR SHOT!! THIS TIME NASH IS BUSTED WIDE OPEN!!!

Nash falls onto the table and the majority of his face is covered in his own blood from the sick chairshots and Punk drops the chair on the floor and looks him straight in the eyes, and smiles. Punk chuckles to himself at the sight of Nash incapacitated on the announce table and he turns around and picks the chair back up and heads towards the ring. He climbs on the apron and then onto the top rope, still in possession of the steel chair. The fans cheer at Punk looking over Nash and he takes a deep breath and holds the chair under his arm and PUNK DIVES FROM THE TOP TURNBUCKLE OUTSIDE ONTO NASH AND DRIVES THE CHAIR INTO NASH AND BOTH MEN CRASH THROUGH THE ANNOUNCE TABLE!!!!

"HOLY SHIT" chants ring around the arena and neither man has moved a muscle and surrounded and covered by wreckage from the table. The ref gets straight on the scene and with no other choice but to begin to count both men out!

……….

"ONE"

……….

"TWO"

……….

"THREE"

……….

"FOUR"

……….

"FIVE"

There is some movement in debris of the table…

……….

"SIX"

………

"SEVEN"

The steel chair is thrust up from the ground and CM PUNK EMERGES FROM THE WRECKAGE!! Punk raises his arms in the air and Nash still hasn't moved an inch since being put through the table.

"EIGHT"

……….

"NINE!"

……….

"TEN!!!"

IT IS OVER!!

WINNER: CM PUNK (11.53)

*CULT OF PERSONALITY*

The fans cheer and instead of celebrating, Punk looks down at Nash with a smirk and looks on as the medic team rushes down to ringside to tend to Kevin Nash. Punk has his arm raised by the referee and checks his head for the blood and smiles to himself, knowing that "the Kevin Nash problem" is finally not a problem any more.

Michael Cole:
That was probably one of the most violent matches in recent memory here in the WWE - CM Punk and Kevin Nash did not hold back and I think CM Punk might have lived up to his promise...

Jerry Lawler:
I think so, too. Kevin Nash has not moved since being put through that table.

Michael Cole:
It makes me sad that Punk felt like he had to go to these extremes, he could have ruined this man's livelihood.

Booker T:
Nash knew what he was gettin' in to, Cole.

As replays of the big moments in the match are broadcast to the fans at home and on the 'Tron, Punk observes the medics now loading Nash onto a stretcher. There isn't any of the usual fanfare when Nash is carted out, just the crowd cheering at Punk's antics as he sarcastically waves Nash out of the arena and out of the WWE.
​
A monitor backstage shows CM Punk in the arena playing to the crowd following Nash's departure and we can see that it is being watched by JOHN LAURINAITIS, and we hear the commentators talk over the shot.

Michael Cole:
John Laurinaitis knows that tonight when he becomes the WWE COO, he is going to have to deal with the threat that is CM Punk - he has just showed what he is willing to do-

Jerry Lawler:
Cole, I wouldn't count your chickens just yet because are you getting this? Quick, get a camera in the parking lot!

The cameraman in the parking lot is running around and the shot is shaky until we reach a car that has just pulled in to a vacant space. Once the engine has been turned off, the driver's door opens and THE ROCK STEPS OUT OF THE CAR!!

Michael Cole:
Ladies and gentlemen, The Rock is here!

The fans in the arena go wild as Rock picks his bag up from the back seat and starts making his way towards the arena, wearng shades and an 'I BRING IT' vest, looking business and he pushes through the door into the backstage area. Back into the arena, and the fans are still cheering loudly for The Rock's arrival.

*SOME BODIES GONNA GET IT*

A mixed reaction from the fans greets the entrance of 'The World's Strongest Man', the World Heavyweight Champion, MARK HENRY. The camera shows a shot from over his gigantic shoulder with the title draped over it. Henry scowls as he walks down to the ring and rests a hand on his title, trying not to let any of the fans at ringside get a touch of it.

Michael Cole:
The Rock may be here, but we still have not one, but two championship matches to come before the match that will decide all of our collective futures in the WWE. Up first, this man, 'The World's Strongest Champion' is going to defend his title against John Morrison!

Booker T:
Mark Henry has been impressive since he won dat title at Night o' Champions!

Michael Cole:
He's defended that title against the former champion Randy Orton, Sheamus in a Hell in a Cell match and then again on the Raw Supershow in a Fatal 4 Way Match including the man who he is defending his title against tonight, John Morrison.

Booker T:
John Morrison was seconds away from becomin' the World Heavyweight Champion dat night!

Michael Cole:
But tonight he has to face this man, who has been unstoppable for months, one-on-one.

Henry enters the ring and lifts the championship from his shoulder and lifts it up into the air to another mixed reaction, but mainly verging on cheers. The Three Six Mafia track fades from the background and the fans turn back to the stage.

*AINT NO MAKE BELIEVE*

There's a good cheer from the fans as JOHN MORRISON walks out onto the stage dressed in a white fur coat and shades and he walks onto the ramp in slow motion and smiles out to the crowd.

Michael Cole:
I still don't think John Morrison has a leg to stand on when he said he was about to become the champion - we don't know if Wade Barrett was going to kick out, and I think he was going to!

Booker T:
We saw it, Cole! He wasn't gonna!

Jerry Lawler:
I was there, Cole, if Henry had't have pinned Randy Orton, John Morrison would have won.

Michael Cole:
Shut up, Jerry! Your opinion on Smackdown matches are irrelevant! John Morrison is on his way into the Hall of Pain tonight!

Morrison hands out his shades to a young child in the front row at ringside before he turns his attention to Henry in the ring and removes his jacket before sliding in under the bottom rope. Henry tries to walk up to him when he enters the ring but the referee blocks his path so Morrison can mount the turnbuckle and pose for the fans. He jumps back down and Henry is standing in the centre of the ring and stares him down. Morrison doesn't flinch but the staredown is broken up by Charles Robinson who then takes the title from Henry and raises it up into the air with both men gazing at it from their respective corners.

World Heavyweight Championship
Mark Henry © vs John Morrison

The bell rings and both men march towards the centre of the ring and Henry immediately swings for Morrison with a clothesline, but Morrison ducks it and waits for Henry to turn around and he starts to fire away with clubbing blows to Henry's head and chest! The speed of Morrison's strikes means that he can get a couple of shots in before he is beaten away by Henry into the corner, but Morrison comes straight back out and starts striking away at Henry again! Morrison ducks an attempted elbow from Henry and the champion appears to already be getting frustrated with the constant flurry of strikes. He reaches out and grabs Morrison with both hands around the neck and attempts to throw him away from him, but Morrison is able to twist in mid-air and land on his feet in impressive fashion! Henry marches over to Morrison, who meets him with a kick to the gut and now JoMo backs against the ropes and tries to charge at Henry with a Shoulder Block, but Henry doesn't budge. Encouraged by the fans, Morrison runs against the ropes to come back and try again but this time Henry stands firm and knocks Morrison down with a Shoulder Block of his own!

Henry picks Morrison up from the floor and flings him into the corner, and meets him before he can get away. With his opponent trapped between the turnbuckle and himself, Henry starts to strike Morrison with alternating right and left punches to Morrison's midsection in an attempt to wind and wear down the challenger. Henry grabs Morrison by the neck again and launches him towards the middle of the ring and this time Morrison lands hard on his back. Henry lifts him up again from the mat and kicks him in the gut and tries to scoop him up onto his shoulder, but Morrison slides off of his back and waits for Henry to turn around and when he does Morrison swings with a haymaker and connects with Henry's jaw!! The champion is rocked by that one strike alone and he staggers back a couple of paces. Morrison appears to be slightly stunned himself that he rocked Henry with that hit and doesn't take advantage and only watches as Henry's body fills with anger.

The champion shakes his head at the challenger and grabs him by the head and connects with a strong headbutt which immediately floors Morrison. With both hands around JoMo's neck, Henry pulls him up to his feet and props him up and tries to knock him down with a clothesline, but Morrison ducks again and runs against the ropes and dropkicks Henry in the knee! This drops the champion down onto that knee and Morrison runs off of the ropes again and connects with a dropkick to Henry's chest!! This knocks Henry back onto his backside and Morrison is again coming off of the ropes and he aims for Henry's head with that strong running knee strike, but Henry is able to catch Morrison's leg and block the move completely! With Morrison's leg in hand, Henry gets back to his feet but before he can do anything, Morrison nails him with an Enziguiri with his free leg!! This does not down Henry and instead knocks him into the ropes. Morrison comes in fast but is elevated over the top rope, only to land on the ring apron and balance expertly.

Henry turns around and tries to grab his challenger, but Morrison quickly ducks and shoulders Henry in the gut, knocking him back a couple of paces. Morrison now slides under the bottom rope and through Henry's legs on the mat, before quickly pouncing back up to his feet behind the champion. Before Henry can even turn around, Morrison drills him with a stiff kick to the side of the leg, and follows up with several more. The fans cheer once they can see the kicks are starting to make their mark and Henry stumbles into the corner. Morrison continues to lay into Henry's massive legs with the kicks, that is until Henry puts his hand in Morrison's face and shoves him away. Morrison rolls back up onto his feet and Henry is standing on one leg in the corner. Quickly shaking the cobwebs, Morrison charges back at Henry and again dodges the big paw and slides onto the mat and under the bottom rope to the outside, grabbing Henry's standing ankle as he does and this causes Henry to fall onto the mat, flat on his face!!

The fans cheer for that one and the commentators play up Morrison's parkour style whilst JoMo climbs quickly back up onto the apron and he grabs hold of the top rope and slingshots himself over and hits a Leg Drop to the back of Henry's head, crushing his face against the mat!! Morrison uses all his might and strength to roll Henry onto his back, but this take some time before Morrison is actually able to get Henry onto his shoulders for the pin.

……..….

One!

……..

Henry elevates Morrison at least four feet into the air as he powers out!!

Morrison lands on his front and holds his stomach after the impact as Henry grabs hold of the ropes and uses them to pull himself up. Morrison though is up quickly again and he exits to the apron and runs to the corner where Henry is and climbs up it. Morrison grabs Henry by the head and kicks off from the turnbuckle and goes for a TORNADO REVERSE DDT – BUT HENRY STOPS HIM! Henry stands his ground and Morrison is stuck clinging onto Henry's neck and shoulder but Henry grabs him and slams him down to the mat with a RUNNING POWERSLAM!!! The fans are silenced as Morrison's period of control comes to a hard and abrupt end. Henry looks down at his handiwork and slowly walks over to the pained Morrison and places his foot across his chest and WALKS over Morrison's body, placing all of his 400+ pounds onto Morrison's chest!

Henry plucks Morrison from the mat and throws him into the corner, with no complications this time. Henry waits a couple of seconds and charges into the corner – crushing Morrison against the turnbuckle! He doesn't allow Morrison to flop to the mat and instead picks him up and turns towards the centre of the ring and Scoop Slams him down hard onto the mat! Morrison sits up on the floor and Henry grabs his trapezoid muscle and applies a Nerve Hold! Morrison screws his face in pain and the fans start clapping, trying to get Morrison back into contention. Henry's response is to tell the fans to "SHUT THE HELL UP!" which gets some heat from the fans. The champion then turns his attention back to Morrison and tightens his grip in the nerve hold. The claps continue and a "MORR-I-SON" chant echoes around the arena, much to Henry's chagrin. Morrison winces in pain and he tries to fight his way out of the hold. This causes Henry to bend down to put even more of his weight into the hold, and Morrison uses this chance to kick Henry in the head!

Morrison uses his flexibility to kick Henry in the head again, and again, causing Henry to break the hold!! Morrison slowly gets up to his feet after escaping the submission attempt, but when he does Henry floors him with a big Clothesline!!! The champion opts not to cover Morrison and instead lifts him up and above his head into a Military Press position. Henry walks around the ring with Morrison above his head, showing no signs of tiring so far. Morrison wriggles and is able to loosen Henry's grip on him and Henry drops him to the above his head, showing no signs of tiring so far. Morrison wriggles and is able to loosen Henry's grip on him and Morrison lands on the floor in front of the champion. Henry goes for another Clothesline, but this time Morrison ducks it and runs to the ropes. Henry turns around as Morrison back Springboards towards him and connects with the FLYING CHUCK KICK!!! HENRY IS KNOCKED CLEAN OFF OF HIS FEET!! The fans cheer the move, but Morrison stays down after his landing and now both men fight to get back to their feet.

The challenger is the first one back up to his feet and Henry has only managed to sit up, leaving him in prime position for Morrison to run against the ropes and drive his KNEE INTO HENRY'S FACE!!! There is a big cheer now as Henry lays flat on his back in the corner and Morrison looks around the arena and nods to the fans and jumps into the air and HITS STARSHIP PAIN ON MARK HENRY!!! THIS IS IT!!! MORRISON WITH THE COVER!!!!!

…………

ONE!

……..

TWO!!

…..

HENRY KICKS OUT!!!

Morrison sits up IN SHOCK. The fans were ready to cheer Morrison's victory but it is not to be! Henry stirs after the move and once JoMo comes to terms he drives his knee into Henry's head to knock him back down onto the floor. Morrison then climbs up the turnbuckle and waits on Henry to get back to his feet. This takes some time as Henry sells Morrison's previous attacks. Henry turns around and Morrison flies off of the turnbuckle looking for a CROSS BODY – BUT HENRY CATCHES HIM!!!! The World Heavyweight Champion ROARS out loud and goes for the WORLD'S STRONGEST SLAM – BUT MORRISON JUMPS OVER HIS HEAD TO GET OUT OF IT!!! Again, Morrison is able to evade a Henry lifting move and the champion turns around right into a SUPERKICK FROM MORRISON!!! Henry is stunned by the move, but not knocked down on the floor – so MORRISON SUPERKICKS HIM AGAIN!!! This time Henry is on the floor, and Morrison is already ready to go for another STARSHIP PAIN…. HE HITS IT!!!!!

The fans POP again but the ref doesn't count because Henry SITS UP, HOLDING MORRISON!!! Henry quickly stands up and walks to the centre of the ring, making sure that he doesn't allow Morrison to escape again and hits him with the WORLD'S STRONGEST SLAM!!!!!! Morrison is crumpled on the mat and Henry glares at the camera before he pushes all of his weight down onto Morrison's shoulders for the referee to count!

…………

ONE!

……..

TWO!!

…..

THREE!!!!

HENRY RETAINS!!

WINNER AND STILL WORLD HEAVYWEIGHT CHAMPION: MARK HENRY (10.28)

*SOME BODIES GONNA GET IT*

Henry quickly gets back to his feet and stomps over to the corner and demands for his championship ("GIMME MA DAMN BELT!"). The champion shrugs the referee off and heads out of the ring and immediately makes his way up the ramp. Morrison starts to stir in the ring, and once he does, he puts his head in his hands at the realization that he came so close to winning his first major championship.

Michael Cole:
Just let that go to show you - Mark Henry is a fighting champion. He took a lot from John Morrison in that match, but he is still leaving tonight as the World Heavyweight Champion.

Booker T:
John Morrison gave it everythin', man! He came real close to finishin' Mark Henry off and pullin' off the upset, dawg..

Michael Cole:
Even though I can't say I share you affinity for John Morrison, Booker, I will agree that he took Mark Henry to the limit tonight and it did look like Mark Henry's championship reign was all but over.

Booker T:
I think dat John Morrison achieved one of his goals, I think dat people will have no choice other than to take him seriously now. He's a contender, and ta-night he proved it.

Morrison is now standing up in the ring, trying to console himself following the tough loss. He stares at Henry and the title over his shoulder and the champion notices this as he plods up the ramp. Henry turns around at his defeated challenger, and NODS. This brings a wry smile to Morrison's face , who indicates with his fingers that he was "that close", and Henry cracks a small smile before he turns around and continues on up the ramp.

Booker T:
And dat's it right there, Mark Henry acknowledgin' dat Morrison almost had 'im. Mark Henry is da kind of man who appreciates a challenge, an' he got one from John Morrison.

With Henry out of the scene, Morrison exits the ring and starts to make his way out of the arena. The camera cuts away as he high-fives several of the young fans in the front row...

(Here is when I lost momentum - Welcome to Recap City!)

Beth Phoenix retains the Divas Championship against Eve @8.57 after hitting her with two Glam Slams. Eve is upset after the match and Kelly Kelly appears to come out and console her but instead lays out the woman she claims to love with her K-2 Legdrop.

The main talking points of the main event are:
- Triple H eliminates R-Truth after only two minutes, but is then eliminated himself after Brodus Clay Powerbombed him following a KO Punch from Big Show.
- Kofi Kingston impressed by eliminating Alberto Del Rio and almost pinning Brodus Clay.
- Tension between Del Rio and Ziggler lead to Ziggler's elimination by The Rock.
- It came down to 2-on-2 after John Cena eliminated Show, leaving Miz and Clay against Cena and The Rock. Whilst Cena was the legal man, he brawled with Clay on the outside and got himself counted out and put Clay through the other announce table with the AA in frustration.
- Seeing that he was already eliminated, Cena entered the ring with the WWE Championship and went to strike The Miz but hit The Rock instead, inadvertently handing John Laurinaitis control of the company after over 58 minutes of action.
- The WWE Champion shows little remorse for what he has done after the match as Team Johnny celebrate.


​
And there it is! Hope you enjoyed! Apologies for the lack of the final two matches.