·
Eating Doritos In My Mom's Basement. A Crawl Space
There's a best finisher of 2013 thread, so I made a worst of list.
5. Erick Rowan (Running Jump Splash)
It's not a bad move, and he executes it well, it just seems tremendously out of place for the character. A member of the Wyatt Family shouldn't have the same finisher as Brodus Clay.
4. The Miz (Figure Four)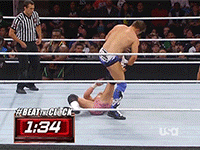 First off, how is it possible to botch a figure four? I could pull off a well executed figure four when I was 10. Also, who's idea was it to make The Miz, Ric Flair's protege?
3. Bo Dallas (Bo Dazzler)
There's absolutely nothing impactful about this move. Bo Dallas' finisher is just one part of a long list of things he has to work on if he hopes to get called up again. And why would a wrestler have a move named after bedazzling?
2. Santino Marella (Cobra)
While the Cobra is good comedy when it's sold well, it's also at the top of the list of why it's sometimes embarrassing to watch wrestling with non-wrestling fans.
1. Mojo Rawley (Rear View? Seated Senton)
Mojo Rawley has everything it takes to be a major star. He's charismatic, and he's ridiculously athletic (Former NFL player, Benched 36 reps of 225lbs, is 6'3, 300+ lbs and ran a 4.7 40-yard dash). He's about the closest thing to Brock Lesnar that the WWE has athletically, which makes it all the more confusing as to why he chose the moveset of Naomi from the Funkadactyls to begin his career. When you're that strong and that fast, your ass can't be the most dangerous part of your body.
Are there finisher's more deserving of being on this list? Should any of these have been excluded?