Discussion Starter
·
#1
·
OOC: This is a split between me and a firend of mine from WNW Forums.
The time is July 2005, and the WWE Draft has just finished. Oh, the draft hasn't finished in real life you say? Yeah, well who needs their draft. This is our draft. RAW & SD reach aciqured 5 wrestlers from the other brand during the month of June, and now that the draft has finished, how about we show you the results of everything!
~On the first RAW of June, the crowd in attendance were shocked to find out their first new talent:
Rob Van Dam
~Smackdown fans were just as shocked when they heard their first pick was none other than
'The Crippler' Chris Benoit
~Some RAW fans were delighted, some were angry when they found out RAW's next wrestler to come to RAW;
Carlito Carribean Cool
~The Smackdown fans continued to be shocked when their next selection was the Intercontinental Champion,
Shelton Benjamin
~RAW fans everywhere were esctatic for their next selection when their phenom returned to WWE,
The Undertaker
~Another grest RAW Wrestler was drafted to SD to the fans delight, when SD recieved the one and only
Chris Jericho
~The last 2 RAW picks debuted together, for they are the greatest tag team ever possibly.
The Dudley Boyz
returned to RAW as the final 2 RAW selections
~On the last Smackdown of June, Smackdown had a nice surprise with their 4th pick, but left with a sour taste in their mouth to find out who their last pick was. 1/2 of the Tag Team Champions from RAW came over to SD in
The Hurricane
. But sadly, their last pick was
Muhammed Hassan
The draft picks were over, but things related to the draft were not. After Smackdown, trades were allowed to be made, and trades sure were made. SD GM Teddy Long, sick and tired of JBL and Orlando Jordan, promised himself he'd get them off SD. He sure did get them off SD when he humiliated
JBL and Orlando Jordan
when he tarded the 2 to RAW for
Val Venis & Steven Richards
! That wasn't all though, as Eric Bischoff acquired the tag team of
Bob Holly & Charlie Haas
for
Tajiri
, and upon Hassan's request/begging,
Daivari
.
Everything from the draft was over, execpt one thing...
The Draft's Fallout!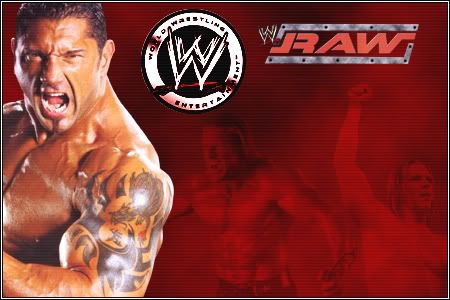 Main Event:
Batista- Face
Christian- Tweener
Edge- Heel
JBL- Heel
Kane- Face
Shawn Michaels- Face
Triple H- Heel
Undertaker- Face
Midcard:
Bubba Dudley- Face
Carlito Cool- Heel
Chris Masters- Heel
D-Von Dudley- Face
Maven- Heel
Orlando Jordan- Heel
Simon Dean- Heel
William Regal- Heel
Viscera- Face
Lower Midcard:
Antonio- Heel
Bob Holly- Face
Charlie Haas- Face
Gene Snitsky- Heel
Robert Conway- Heel
Romeo- Heel
Rosey- Face
Slyvian Grenier- Heel
Tyson Tomko- Heel
Managers & Personalities:
Christy Hemme- Face
Lillian Garcia- (Viscera's Valet)
Lita- Heel (Edge's Valet)
Stacy Keibler- Face
Trish Stratus- Heel
Victoria- Heel
Tag Teams:
Bob Holly & Charlie Haas
Brothers of Destruction (Undertaker and Kane)
Christian & Tyson Tomko
Dudley Boyz (Bubba Ray & D-Von Dudley)
HHH & Ric Flair
Heart Throbs (Antonio & Romeo)
JBL & Orlando Jordan
La Resistance (Sylvian Grenier & Robert Conway)
Simon System (Maven & Simon Dean)
Injured List:
Eugene Dinsmore- Torn Patella, Out Until August/September
Garrison Cade- Injured Knee, Fully Recovered, Wrestling in OVW
Mark Henry- Torn Quad, Fully Recovered, Wrestling in OVW
Randy Orton- Shoulder Injury, Out Until September-November
Rob Van Dam- Torn Meniscus & ACL, Out Until End July/August
Champions:
World Heavyweight Championship: Batista
WWE United States Championship: Orlando Jordan
WWE Tag Team Titles: Vacant
WWE Women's Title: Trish Stratus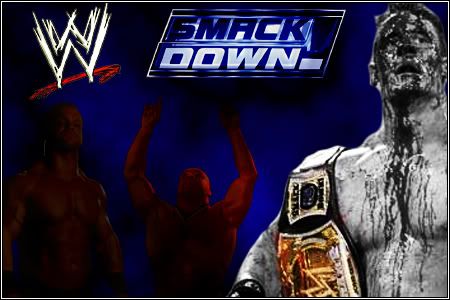 WWE Champion: John Cena-Face
Kurt Angle-Heel
Eddie Guerrero-Heel
Rey Mysterio-Face
Chris Benoit-Face
Chris Jericho-Face
Big Show-Face
--------------------------------------------------------------------------------
Intercontinental Champion: Shelton Benjamin-Face
Booker T-Face
Muhammed Hassan-Heel
Rene Dupree-Heel
Val Venis-Face
Steven Richards-Face
Matt Morgan-Heel
Heidenrich-Heel
Danny Basham-Heel
Doug Basham-Heel
--------------------------------------------------------------------------------
Cruiserweight Champion: Paul London-Face
Chavo Guerrero-Heel
Akio-Heel
Sho Funaki-Face
Tajiri-Heel
Billy Kidman-Heel
The Hurricane-Face
Shannon Moore-Face
Johnny Nitro-Heel
Joey Mercury-Heel
Spike Dudley-Heel
Nunzio-Heel
Juvi Guerrera-Face
Psicosis-Face
Super Crazy-Face
--------------------------------------------------------------------------------
Tag Team Champions: Johnny Nitro and Joey Mercury-Heel
Akio and Tajiri-Heel
Heidenrich and Matt Morgan-Heel
Val Venis and Steven Richards-Face
The Hurricane and Shannon Moore-Face
Doug Basham and Danny Basham-Heel