Discussion Starter
·
#1
·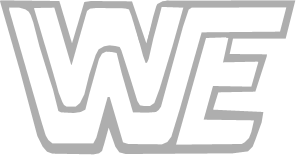 Conceited
Presents:

World Wrestling Entertainment
-
The Conceited Way Season 1

This is my take on the WWE. We will start from Wrestlemania 27 For you to understand we will explain the build up to the biggest show of the year.

There was major concern within WWE about the lack of talent depth, due to all the injuries and talents that have left or are leaving. The feeling was that the roster, overall, may be the weakest it was in years and they needed to really get new guys over more than ever. With that WWE also raided the some talent from else where. Now with WWE in possession of new talent and a fresh draft with WWE putting new talent over more then ever.
Michael Cole
- Play-by-play commentator
Jerry "The King" Lawer
- Color commentator
Anonymous General Manger
- General Manger
Sarita
-
Manger of Alberto Del Rio

Alberto Del Rio
CM Punk
Chris Jericho
Christian
Cody Rhodes
D'Angelo Dinero
Daniel Bryan
Drew McIntyre
Heath Slater
Husky Harris
Jack Swagger
James Storm * Yet To Debut
Jeremy Buck * Yet To Debut
Jey Uso
Jimmy Uso
Joe Hennig
John Morrison
Justin Gabriel
Kof Kingston
Max Buck * Yet To Debut
Michael Tarver
Paul London
Randy Orton
Rober Rhoode * Yet To Debut
Sheamus
Skip Sheffield
Tajiri
Ted DiBiase
Tyler Black
Wade Barrett
Nexus -
Wade Barrett,Heath Slater,Joe Hennig,Justin Gabriel, Skip Sheffield and Husky Harris
Beer Money -
Robert Rhoode and James Storm
Generation Me -
Max Buck and Jeremey Buck
The Dashing Ones -
Drew McIntyre and Cody Rhodes
The Uso's -
Jey Uso and Jimmy Uso
WWE Monday Night Raw
Time:
9 PM to to 11 PM
TV Rating:
TV -14
Day of the week:
Monday
Channel:
USA Network
Theme Song:
Sixx:A.M. - "Life Is Beautiful"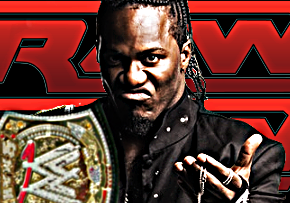 WWE Championship
"The Pope" D'Angelo Dinero
Title Won:
Wrestlemania 27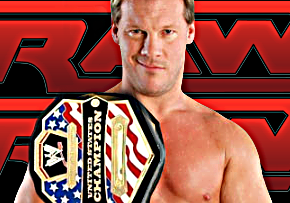 WWE United States Championship
Chris Jericho
Title Won:
Wrestlemania 27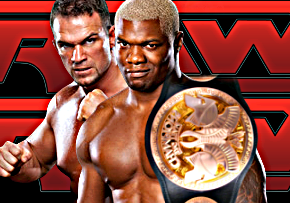 WWE Tag Team Championship
The Worlds Greatest Tag Team
Title Won:
Wrestlemania 27
Batista
Beth Pheonix
Big Show
Bobby Lashley
Carlito
Charlie Haas
David Hart Smith
David Otunga
Dolph Ziggler
Edge
Evan Bourne
Eziekiel Jackson
Gail Kim
JTG
Joey Mercury
John Cena
Kane
Kaval
Luke Gallows
MVP
Matt Hardy
Melina
Michelle McCool
Natalya
Rey Mysterio
Santino Marella
Shad
Shelton Benjamin
The Brian Kendrick
The Miz
The Undertaker
Triple H
Tyson Kidd,
Velvet Sky
Yoshi

Cryme Tyme -
JTG and Shad
Hart Dynasty -
Tyson Kid and David Hart Smith
Straight Edge Society -
Joey Mercury and Luke Gallows
Worlds Greatest Tag Team -
Shelton Benjamin and Charlie Haas

WWE Friday Night Smackdown
Time:
8 PM to to 10 PM
TV Rating:
TV -14
Day of the week:
Friday
Channel:
Sci Fi
Theme Song:
Break Me down by Red
World Heavyweight Champion
The Miz
Title Won:
Wrestlemania 27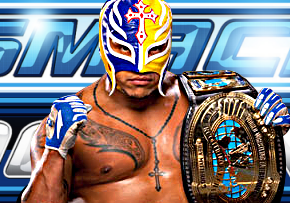 WWE Intercontinental Champion
Rey Mysterio
Title Won:
Wrestlemania 27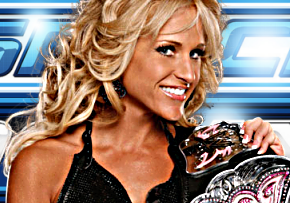 WWE Diva Champion
Michelle McCool
Title Won:
Night of Champion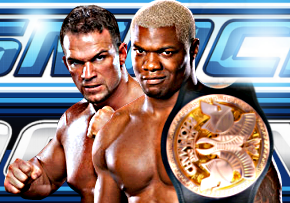 WWE Tag Team Champion
World Greatest Tag Team
Title Won:
Wrestlemania 27
Wrestlemania 27 Theme Song - Kid Cudi - Sky Might Fall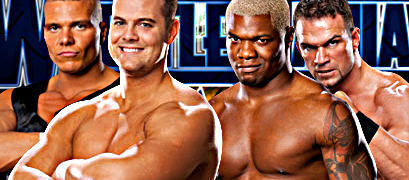 WWE Unified Tag Team Championships
The Hart Dynasty© vs.???
Back story:
After defeating Drew McIntyre and Cody Rhodes for the Unified Tag team Championships at the WWE TLC pay-per-view the Hart Dynasty went on a hot streak defeating every team that got in their way including McIntyre and Rhodes twice after. They seem unstoppable with Natalya in their corner. They began to claim they are the World Greatest Tag Team. After defeating The Usos at Elimination Chamber the next night on Raw they laid out an open invitation to any to face them at Wrestlemania for the championships. Week after week no team replied until the Mystery GM said that he found a team to face them and they will find out at Wrestlemania!
Outcome:
Worlds Greatest Tag Team defeated The Hart Dynasty to becone the NEW!!! WWE Tag Team Champions
In a great match between the two tag teams the World Greatest tag team had the advantage early on because The Hart Dynasty did not know what to expect from Benjamin and Haas because they never faced them before. The match went back and forth until Benjamin went for a suicide dive and missed hitting into the barricade. Haas was singled out and double teamed for a lot of that match until Benjamin regained his composure. Haas tag him in and he came in like a house of fire hitting Kidd with the pay dirt and Smith with a super kick. As Benjamin goes for the cover Haas blocks Smith from getting back into the ring with a suplex. 1…2….3!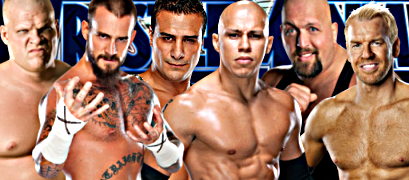 WWE Money in

The Bank Match

Kaval vs. Kane vs. CM Punk vs. Big Show vs. Christian vs. Albert Del Rio Back story: WWE decided that Wrestlemania will not be the same without the Money in The Bank match and decided to cancel the Money in the Bank pay-per-view. Each man has been going through a year of ups and downs. Christian being injured most of the year only to make his return in a qualifier match. Kane losing to Undertaker in The Buried Alive match for him to return at the Royal Rumble. Kaval failing on capturing the World Championship with his opportunity against the Undertaker. CM Punk not able to break through onto Raw main event scene with the same going for Big Show on Smackdown. Albert Del Rio is the one exception as he has been on a hot streak all year defeating many high class opponents. Each Superstar has vowed to win the match but who will be crowned Mr. MITB. Outcome

: Albert Del Rio

defeated

Kaval

,

Kane

,

CM Punk

,

Big Show

and

Christian

A crazy match between all six members of the match. Each man using the ladder in some type of innovative way in the match. The highlights were everyone attacking Big Show and Kane sandwiching them between two ladders. Kaval running up a ladder and diving off onto the other members of the match who were brawling outside. Big Show and Kane double choke slamming Christian through the announcer table and Big Show choke slamming CM Punk off the top of the ladder to the outside through a ladder that was prop up against the ring apron and barricade. The end saw Big Show and Kane fighting atop the ladder when Del Rio and Kaval shoves the ladder sending both men to the outside. Del Rio than climbs the ladder with Kaval following suit. They both battle up there for a while until Del Rio smashes Kaval head on the ladder sending him to the mat. Del Rio than retrieves the briefcase.
WWE Intercontinental Championship vs. Career Match
Dolph Ziggler© vs. Rey Mysterio
Backstory:
Since defeating Kofi Kingston on a Smackdown to win the Intercontinental championship Ziggler has been on a hot streak holding on tight to the Intercontinental Championship with the help of Vickie Guerrero. Even with all his successful title defenses Ziggler was still not happy with himself. There was one man he felt he needed to know that he could defeat. That man was Rey Mysterio. They eventually wrestled a non title match that Mysterio ended up winning which caused Ziggler to go crazy and brutally attack Rey. After weeks of backstage attacks and interfering in each other matches. Rey suggested that at Wrestlemania Ziggler put his title on the line. Ziggler agreed but only if Rey put his career on the line. So once Ziggler beat him Ziggler would never have to face him ever again!
Outcome:

Rey Mysterio defeated Dolph Ziggler to become the NEW!!!! Intercontinental Champion
The match started out slow with each man feeling each other out before Ziggler took the first strike. After that it became a fast paced brawl. Fighting all over the arena throwing each other into the barricades and suplexing each other on the stage. Both men entered the ring where they both hit their signature move and getting near falls. Both men exhausted starting knocking each other with double clotheslines. Ziggler was getting frustrated and pick up a chair and swung at Rey. Rey ducked and caught him with a drop kick to the back which sent him flying to the middle rope with the chair smacking him in the face. With Ziggler knock to the floor Rey went to the top rope and hit the Frog splash. 1…2…3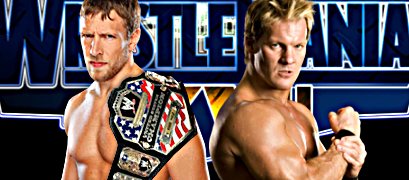 WWE United States Championship Match
Daniel Bryan© vs. Chris Jericho
Back story:
Daniel has been seemingly unstoppable after winning the United States Championship at Night of Champions against the Miz. Every contender for the title has fallen and Bryan has always looked to be in top form. Many started calling him the best wrestler not just in the company but in the World. After a successful title defense against Mark Henry at the Royal Rumble Bryan was attack by the returning Chris Jericho. Jericho than told the world the Raw after that he is the best in the world and not Bryan. This led to them facing one on one at Elimination Chamber pay-per-view in which the match ended in a double count out. Dissatisfied with the match result Jericho challenges Bryan to a match at Wrestlemania for the United States Championship to prove once and for all who the Best in the World is.

Outcome:
Chris Jericho defeated Daniel Bryan to become the NEW!!! United States Champion
In a great match Chris Jericho and Daniel Bryan both plead their cases for the "Best Wrestler In The World" acclaim and the United States Championship. Jericho and Bryan wrestled from bell to bell in a entertaining technical match that had the entire Georgia Dome on their feet. The Ending of the match saw Daniel Bryan kick out of the 3rd Code Breaker. Jericho tries for a Walls of Jericho but Daniel Bryan is able to reverse it to a LeBell Lock. Jericho though was able to get to the ropes, Daniel Bryan breaks the hold as very soon after Jericho was able to finally drop Daniel Bryan down and lock in the Walls of Jericho on him. Jericho has Bryan in the center of the ring but Bryan crawls to the ropes. Jericho breaks the hold as Jericho ducks a Bryan kick and drop him down with the 4th Code Breaker and 1...2..... Bryan puts his foot on his ropes, Jericho can't believe it. Jericho stands over Daniel Bryan as Bryan rolls Jericho up but Jericho counters the roll up of his own with his foot on the ropes and hand full of tights 1....2......3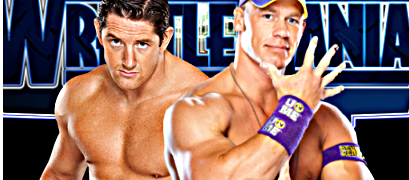 Loser Leaves Raw Match
Wade Barrett vs. John Cena
Back Story:
After months and months of being forced to help Barrett and Nexus with their missions Cena was getting fed up with helping them. In the Royal Rumble match he "accidentally" eliminated Wade Barrett. This caused Barrett the Raw after to take his frustrations out on Cena for failing to help him beat Orton and eliminating him in the Rumble. The mystery GM than intervenes and tells Barrett that him abusing Cena is not part of the deal and at Elimination chamber it will be Cena vs. Barrett and if Cena wins he regains his freedom. Cena defeats Barrett even with the interference of Nexus. This caused a war to start between Cena and Nexus once again with Cena foiling their plans and Nexus attacking Cena any chance they got. This caused the Mysterious GM to make a loser leaves Raw match between Cena and Barrett since Raw can not function with Cena and Nexus on the same show!
Outcome:
Wade Barrett defeated John Cena
Cena and Barrett turned in to a all out brawl, it went all over the arena. Cena was busted open early during the match after Barrett catches Cena with a huge big boot. The match went on with a lot of false finishes, the end of the match saw Cena by mistake knocking out the ref, Cena than hits Barrett with the 5 knuckle shuffle as that happens Nexus storms the ring and start to jump Cena. Nexus looks to have the upper hand but Cena fights back and starts throwing Nexus all over the ring, Cena is on a roll. Barrett then waits for Cena to turn around for another big boot but Cena blocks it and lifts Barrett up for a Attitude Adjustment BUT!!! Batista is in the ring and SPEARS!!!!! Batista then picks up Cena and Batista Bomb as Barrett looks on. Barrett covers as Heath Slater throws the ref in the ring as he covers 1...2.....3. After the match Nexus gets in to the ring and surround Cena as Nexus holds up Cena and Barrett tells Cena this will be the last beat down Cena will ever get by the hands of Nexus. Nexus then each take apart of Cena live in front of the Wrestlemania crowd, each finisher was done on Cena as Cena was left a bloody mess.
Wrestlemania Streak Match Sheamus vs. The Undertaker Back Story: The Royal Rumble was right around the corner and Sheamus guarantee a victory in the Rumble so he could headline Wresltemania. During the Rumble The Undertaker eliminated him which caused Sheamus to almost become psychotic. Sheamus began to show up on Smackdown and attack the Undertaker. He even cost Undertaker a chance at the regaining the World Championship at Elimination chamber. This when Undertaker started to retaliate and play mind games with Sheamus which cost him a title match against Randy Orton on Raw. This eventually led to a face to face confrontation on Smackown where Sheamus challenged The Undertaker and he accepted.
Outcome:

Undertaker

defeated

Sheamus

This Match was a brawl as for a weird reason the crowd was very pro Sheamus in this match, Undertaker and Sheamus battled all through the ring side as Undertaker chokeslams Sheamus through the announce table. The match moves back in to the ring where Sheamus takes Undertaker down and starts to ram his knee in to the skull of Undertaker until it seems Undertaker is unconscious, Sheamus calls for the Celtic Cross. Undertaker was able to take down Sheamus and locks in the Hell's Gate on Sheamus. Sheamus battled inside Hell's Gate Submission hold as he finally has no choice but to tap out.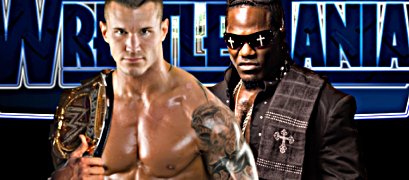 WWE Title Match
The Pope vs. Randy Orton©
Back story:
The Pope debuted as the Raw's mystery team member for the brand supremacy match at Bragging Rights. He ended up leading them to the victory and securing them the first draft pick. He than began a streak of wins against the likes of The Miz, John Morrison, Sheamus, CM Punk and Chris Jericho. Defeating Chris Jericho to enter the Elimination Chamber where he was eliminated second to last. With The Pope's road to Wrestlemania seemingly being cut short he took advantage of a six man tournament that saw him defeat CM Punk and John Cena in a triple threat match to become number one contender for the WWE Title to face Randy Orton at Wrestlemania!

Outcome:
D'Angleo Dinero defeated Randy Orton to become the NEW!!!! WWE Champion
"Pope" vs Orton was a good match up between these two, the fans were split down the middle during this match. Orton had early control of the match as he countered a lot of Pope's moves. Orton kept in control as his relentless attack on Pope really kept Pope almost on the edge of losing the match. Orton after another counter of Pope who dived from the top rope calls for a RKO but Pope counters the RKO and rolls up Orton as Orton kicks out Pope turns around and from no where RKO!!! as Orton covers as Pope gets his shoulder up just in time. Orton starts to pound fists down on Pope as Orton calls for the "Punt Kick" as Orton goes for it Pope moves as Orton runs right in to the turnbuckle and Pope from no where hits Orton with the DDE – D'Angelo Dinero Express and Pope rolls up Orton and 1....2.......3

World Heavyweight Championship Match
Triple H vs. Edge©
Back story:
Triple gone for most of the year being defeated by Sheamus brutally. He returned at the Royal Rumble and entered in as number thirty. He went on to winning the Rumble solidifying his spot at Wrestlemania. Edge being eliminated from the Rumble made his way into the Elimination Chamber match for Smackdown where he won after Sheamus bicycle kicked The Undertaker. The Raw after that Triple H said he made his decision that he wanted to face Edge at Wrestlemania for the World Title. A war of words began between the two and the two began attacking each other each week. With Edge obsessed with defeating Triple H since he has never defeated him before!
Outcome:
Triple H defeated Edge to become the NEW!!! World Heavyweight Champion and The Miz cashes in his Money In The Bank and defeats Triple H to become the NEW!!! World Heavyweight Champion.
This match was a heated battle between both men. With Triple H desiring to win the world title once again and Edge desire to prove he can beat Triple H both men went at it early. It was a back and forth match with both men trading blows throughout the match. A highlight of the match was Triple H spearing Edge off of the announcer table through the barricade and Edge using Triple H pedigree to put him through the announce table. The end of the match saw Edge going for the spear on Edge but Triple H trapping him between his legs and turning it into a Pedigree. Triple H covers Edge 1…2…3! Triple H celebrates until The Miz comes from behind and smashes him in the head with the MITB briefcase. Miz tells the ref that he is cashing in and hits The Skull Crushing Finale. 1….2…3!

​