Wrestling-Edge.com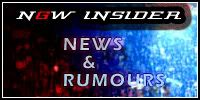 Superstar to sign with NGW, Writers change Bad Company, NGW Idol and more;
- New Generation Wrestling!
*BAD COMPANY 2004 UPDATE
Bad Company was a success, the Ratings equaled the same ratings from last months Pay Per View, SummerSlam. Shawn Michaels retained his World Heavyweight Championship against Kane, while the JBL/Sting contest never started. Undertaker brutally attacked The Stinger. Bad Company was injury-free, apart from Batista's concussion during the Steel Cage Match.
It was reported that William Regal was meant to defeat Nick Dismore at Bad Company but the NGW Officials changed the outcome just hours before the event.
*CONTRACT NEGOTIATIONS
Also at Bad Company, 'The Archaist' Doug Williams was at the event. He was also took part in a tag team match 2 weeks ago on Rampage. New Generation Wrestling tried to conduct a contract deal with Williams but he wants to be a free agent wrestling for such federations as ROH and NWA-TNA.
It has been heard that former WCW Talent are ready to sign up with NGW…although it is not known who these superstars are. NGW have announced that Rosey and Rob Conway have been released, while Blitzkrieg's contract runs up in 2 weeks. Blitzkrieg has told New Generation Wrestling that he does not which to re-new his contract due to him losing his interest in wrestling. NGW wish Blitzkrieg good luck in the future
*AUSSIE TOUR, MYSTERY SHOW AND NGW IDOL!
Australian Tour cards have been announced although the card is subjected to change. Check on the NGW Thread for the card. Remember the dates are as follows for the events:
- Sydney, Australia, from the Sydney Superdome, Wednesday 13th of October
- Melbourne, Australia, from the Rod Laver Arena, Thursday 14th of October
The Melbourne Show is sold out and the Sydney show only has small-limited tickets available.
The NGW Mystery Show will be announced this week on NGW Mayhem…Eric Bischoff told the NGW Insider, "This event has never been done before in pro-wrestling". We can only wonder what this show is all about…
NGW Idol has begun, the 10 entrants are: Grendrill, Goldberg0069, Rage, Orton17, The_Showstopper, ADEngstrom Raw Is Ash, Xain, Doc_Of_Thuganomics, #1
The entrants were given their task this week and on Monday two will be leaving Idol. Find out who has been eliminated on NGW Mayhem, or the NGW Idol Thread. NGW are sorry to say that 'Raw Is Ash' has pulled out of the competition due to personal commitments.
*MOORE AND HELM'S MYSTERY FOLLOWER? ; NEW STABLE COMING…
Rumors are flying around the wrestling world that two men are behind the stalking of Shannon Moore and Shane Helms. It has been reported on a few wrestling sites that the Mystery Men are former WCW Talent, Evan Karagias and Tank Abbot. I guess time will tell…
More news has been said that a new stable will form in the upcoming months of NGW. The Insider will try to find out in the coming weeks who are the members of this stable…
Tune in next fortnight for the NGW INSIDER
Update for WCW's World War 3;
- Goldberg 0069's WcW nitro and thunder
WcW Title
Sting (c) vs. Giant
After helping out the nWo on one night, the next, he got beat up, Scott Steiner is now back to get retribution. Watch Hogan vs. Steiner battle it out only at World War 3
Hollywood Hogan vs. Scott Steiner
Cruiserweight Title
Justin Liger (c) vs. Syxx
World War 3 Royal Battle
Raven
Hollywood Hogan
Scott Hall
Kevin Nash
DDP
Stone Cold Steve Austin
Booker T
Eddie Guerrero
Chris Benoit
Chris Jericho
News on the World Heavyweight Title match at Unforgiven, Triple H using politics more than ever, Sting to WWE, more info inside;
- WWE Rebirth
* Rumors are still running rampant, over the possible stipulation for the Triple H - Benoit Championship Match for Unforgiven.
Triple H is still very keen on an Iron Man Match, but Vince McMahon already has plans for the card at Unforgiven. Whatever the decision, it is likely to come very close to this weeks edition of RAW, going out live. Stay tuned for more information on this...
* A lot of the workers are also becoming very frustrated at the attention shown to Triple H in recent months. They believe that someone else should be receiving PPV Title shots at Benoit, but Triple H continues to make his backstage presence felt.
Even more worrying, is the amount of speculation going around, that Triple H is promoting himself for actually winning the belt from Benoit at Unforgiven.
He feels that he has already put Benoit over enough in the past year, and now wants Benoit to return the favor. Many say this would be a foolish move on the behalf of WWE, as Benoit is now really gathering some steam on his run as World Champion.
* Now, after the cancellation of Taboo Tuesday, officials are now considering adding an element of fan participation to the WWE in some form, whether via T.V or PPV, in the next few months, details as we get it....
* Finally, Vince McMahon has also been considering bringing in an established big name star to RAW on a short term basis, to go into a feud with the Legend Killer, Randy Orton.
Many names are making their way around, but one that keeps popping around is that of WCW legend..... STING!!!!!! However, this is only a rumour, so nothing can be taken as concrete for now.
Brock Lesnar and Goldberg sign WWE contracts, will be at the next RAW;
- WWE Version 1.0
* This just in to the raw studios here at Long Island, New York. We have received news that former WWE superstars Brock Lesnar and Bill Goldberg have accepted a 1 year 2.5 million dollar contract to wrestle for Raw Version 1.0. this move will be affective as soon as the next raw episode live November 1, 2004 where Raw will be in Dallas, Texas for a special edition of raw called Raw roulette. I repeat Bill Goldberg and Brock Lesnar have signed with RAW version 1.0. There storylines are undetermined at this point but there will be more news as the story develops more over in WWE version 1.0. That is all for now.
New NWF Superstar to be signed, WWE sues NWF, Trade at the RR;
- NWF
* NWF Raw interested in signing a former Alliance member of the WCW and ECW Invasion to a lengthy contract. All we can say is "Who better?"
* NWF Raw newcomer Deranged Patient is in the Hot Seat after putting Al Snow out of action for a few months and scaring little kids in the mall. He has been asked to not abuse anyone that is not in a match with him or he will be out the door.
* NWF Smackdown has been in talks with a Raw superstar that's contract expires after Wrestlemania who will it be?
* As announced on both Raw and Smackdown a major trade will happen at Royal Rumble could your favorite wrestler be moving to another show?
* Live on satellite will be the Royal Rumble and next month the first ever PPV entitled winter games.
* WWE has sued the NWF (who put the WWE out of business) over the use of Raw and Smackdown need your help choosing new names for our shows.
* It has been rumored that the NWF will be looking to have 2 more people added to their show writing. One to write the Smackdown minor league show: True Grit and the RAW minor league show: Corporate Power. The rosters will be divided in half and wrestler will wrestle on their show until either being called up or sent down. This eliminates people being cut from the NWF and having to look elsewhere for work. This way wrestler can work on their talent on the minor shows and can be praised for their work on the Major shows. Remember this is just a rumor nothing is finalized yet.
* A Canadian wrestler is to make his TV debut on Raw(to be renamed) in the coming weeks and ads will start coming onto TV very soon promoting his debut.
Major changes on RAW, New theme, new look, new era of RAW;
- WWE: Rise of Glory
* As reposted earlier on WWE.com WWE RAW has now got a new Theme along with a new RAW entrance video. 'Cast Me Aside', the new theme performed by Drowning Pool who will be at RAW live to perform the theme live.
* It has been heard around backstage that a lot of talk has been happening about a change of General Manager of RAW in the short term, perhaps even at RAW, Eric Bischoff has been heard to be depressed with his position on RAW at the current time. WWE is trying to keep Bischoff on as GM as he is an established character by giving him more creative power.
* A big return is also rumored for RAW this Monday and backstage sources say it isn't going to be Brock Lesnar. We have no idea what this 'return' is at this time, we will have to wait and see on RAW.
* Word has it around the creative writing crew that they want to perhaps push Batista to World Title status in the next few months, this is the reasoning for a feud with Shawn Michaels to see how well he goes over. It has also been said that if Brock Lesnar signs with RAW that there will be a feud between the two power houses.
Getting to know your Booker:
Name:
Calum Spires (Red Cold)
Age:
14
Gender:
Male
Location:
Daventry, Northamptonshire, England
MSN (Optional):
PM Me
Time Booking (Months / Years):
Around 5 Months
How long have you been booking?
Around 5 Months…..I think
How did you find BTB?
I Was browsing around W-E and came across BTB, I read Wolf Beast's thread and it inspired me.
What were your inspirations?
Being the booker
When do you write?
Any time I feel like it.
Where do you write your shows?
On this chair right here, in-front of my PC.
When do you find it easiest to write?
Mainly, if I watch wrestling before hand, I get in the mood to come up with ideas.
Why do you book?
I'm not that certain, I love making up my own storylines and maybe one day WWE might look in W-E and find them, then use them.
How long do you intend to be a booker?
As long as I am able to. It may be for a long time unless school takes over.
Situation:
You've been booking for about 6 months, and people have been replying giving positive feedback the whole time and they suddenly loose interest and don't reply to your thread, what do you do?
Solution: Keep going, don't give up. Freshen up your rosters, try something new, just rattle thing up a little. But whatever you do, don't give up completely.
Your longest show?
Got to be my joint one with Wolfie, SummerSlam
Your favorite match or yours?
TLC from SummerSlam
Your favorite show of yours? (Other than PPV)
My latest SmackDown, the week after SummerSlam.
Your most memorable BTB moment?
Seeing SummerSlam go up, my first really successful PPV. (Because GAB wasn't all that good)
Your top 3 writers:
1) Wolf Beast (just love his over all work)
2) Grendrill (great promo writer, RoG is fab.)
3) Orton17 (didn't give up with New WWE and stuck at it, very inspirational)
Favorite Cereal:
Special K
Favorite Color:
Blue
Favorite Car:
Mini Cooper (don't know why)
Ford or Holden:
Meh…….Ford
Football or Cricket:
FOOTBALL
Summer or Winter:
Meh….Winter is cool (cheap joke) but summer has more babes in skimpy bikinis
Added Comments:
To everyone in BTB, keep up the great work. Many new people are arriving and having a go at booking and some are becoming very successful, so golden oldies, keep the ball moving and the quality shows coming. New guys, for guidance, go to threads such as Rise of Glory, WWE: Afterlife, New WWE (RAW and SmackDown), New Generation Wrestling!, Being the booker, WWE Rebirth and such forth, these guys (including me) are experienced bookers that will help you achieve better quality shows, so check them out! Thanks Again to all BTB Bookers. Laterz, Red Cold
REAL BTB NEWS:
Since most of us know the situation of Stickied threads between Nitemare and myself, but I do feel that some of the top threads are getting lost on later pages, that is why I have come come up with a concept idea.
We have the top 5 threads stickied, as they are the strongest and most popular of all the thread on the BTB Forum, here are my suggestions for Stickys.
1) WWE: Afterlife (The_Showstopper & #1)
2) WWE: Rebirth (Wolf Beast & Red Cold)
3) New Generation Wreslting (JarMac)
4) WWE: Rise of Glory (Grendrill & Rage)
5) New WWE (RAW and Smackdown) (Orton17 & Highlight_Reel)
There is a reason I left LoW off that list because it is not an actual 'show' of sorts it more of a E-Fed sort of thing.
I know some of you might feel
YOUR
thread deserves to be stickied but no other threads are as established as these 5. I know there are a couple of others out there like 'Being the Booker (Wolf Beast)' but as it is not Wolf Beast's main thread it shouldn't be stickied etc. As I would like to Stickey my new WCW one it is not established enough to actually stay at the top.
I personally consider a
'Established'
thread a thread with 15 pages and over, not full of spam, but to show you have the dedication to stick with your thread and write it over a long period of time.
Some people will disagree with this idea and want thier to be stickied too and have enough points to stickey your own thread but if you do it will just cause another shit fight with dead threads stickied and no mod to get rid of them, hence my idea to change mods, but thats another story.
Let me know how you feel about this idea,
Scott Pankhurst
(Grendrill)