·
A wallaby? Well it's like a kangaroo but smaller.
Discussion Starter
•
#1
•
Unravel - Fantastic game .... must read!!!

Another one I wanted to mention here, which I wanted to give some love to, was a game called Unravel, this game honestly is so visually beautiful and the emotion that comes with the game and the character has is unreal, it's so good, and the story behind this is very unique as you are entering the photo's of an old lady in her house and within these levels as you travel through, you can see memories of her past, where people appear as ghosts in the background (which by the way, looks really good!!!), you can see on the scenes too, such as one where there's all this chemical waste, that people have died there at the scene, as one ghost for example is dropping the barrel with his hands over his face in despair, honestly, these are so intriguing and while you're doing the levels, you're like 'wow' as you're seeing the story of these characters that have passed away in the background, it's so good.
The visuals are beautiful, like really beautiful, and look very vibrant and realistic at the same time, when you have this on a TV it is
SO
much better than say watching Youtube clips, the detail is unreal, I won't give too much away but the cut scene at the end of the level, there is one part where is goes close up to the character and you can see the wool in such detail, it's like you can almost feel it, if you get what I mean, it's just visually spot on and is fantastic.
The game play and levels are so good too, you see the character going through so many stages, some which get you emotionally in a way, as he's travelling through the snow for example on one level, pulling a lamp to keep him on the ground while the snow blows every now and again, as he's walking you can see him getting covered in snow and shaking/freezing etc... there's so many things within this game like this, which is where you get an emotional attachment to the character.
It's not frustrating either, if you die, you don't go really far back and have to re-do the level or anything, you pretty much continue where you died working out a way to do the level.
Sometimes you have to think, as you run out of string, until you can find a roll of wool somewhere to get to, which extends this, it makes you think and it's challenging, but not frustrating challenging, basically, you guys will be able to complete the game easily without any annoying or frustrating moments, some will take a little to work out or a few attempts, but you will get there, and without problem really, which is great, as it's very satisfying to do.
It's not an overly big game, but it's big enough, there are specials within the level too that you can collect as a bonus, you can always go back and get these after you've completed the game if you like, cause you can re-enter the levels and do this if you want to.
The movement of the character is great too, it's easy to control, and the way you swing around the levels and throw your wool to get to certain places, is really good to do, it's a little like Limbo in a way, when it comes to challenging and working out the levels, but it's not as dark as Limbo and it's got such an emotional attachment to the game also.
Honestly, if you guys haven't played this, I seriously recommend you go to the PSN or Xbox store and grab it, as it's absolutely worth it, I remember seeing the trailer a bit back and thought it looked great, but didn't really rush out to grab it, until I saw it on sale in the PSN store and I thought, right I'll get this, it's even better than I expected it to be, and I did think it looked good initially anyway.
Here's some screenshots from the game and the trailer also for you to see, honestly, go get this game, it's really good and definitely worth having, I assure you.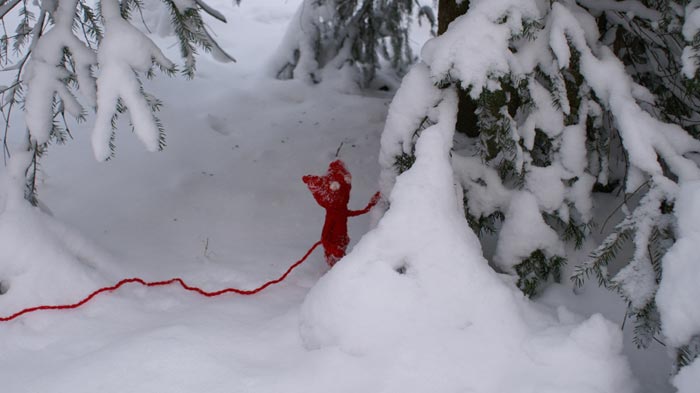 Here's the trailer :
Honestly, get this game, it's so good!!
​