Today's WWE "Divas" owe their position in the sport (and livlehood) to the efforts and tribulations of the female wrestlers such as
Moolah
and
Mae Young
who were turned into comedic caricatures by the
WWF/WWE
during the first decade of the 21st century.
After the virtual nationwide triumph of the NWA in the late 1940s, female wrestling did not get any more support than it did when the pro-wrestling world was completely broken up into regions and seperate promotions. Lady wrestlers were looked down upon and considered a sideshow one step above the midget wrestlers.
The ladies found support from promoters like
Billy Wolfe
who treated women's wrestling as a legitimate part of the sport, and superstars like
Nature Boy Buddy Rogers
who worked with and trained
Nell Stewart
, the
Fabulous Moolah
, and others. Wolfe was, in fact, married to superstar pioneer woman wrestler
Mildred Burke
.
Unfortunately, the majority of today's fans have no knowledge of not only the founding wrestlers of the WWWF such as Buddy Rogers, but are completely ignorant of the contribution of the pioneers of women's wrestling such as
Mildred Burke, June Beyers, Penny Banner, Judy Grable, Nell Stewart, Moolah, Mae Young, etc.
- Mike
MILDRED BURKE
JUNE BEYERS
PENNY BANNER
NELL STEWART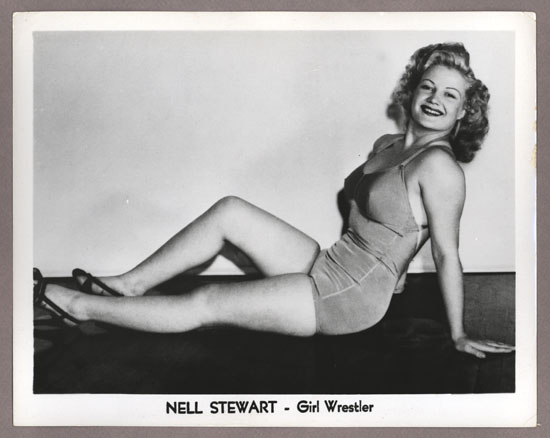 NELL STEWART BODY SLAMS NATURE BOY BUDDY ROGERS DURING TRAINING
MAE YOUNG IN HER HEYDAY BEFORE BEING REDUCED TO A COMIC FIGURE BY WWE

THE GREATEST WOMEN'S WORLD CHAMPION IN HISTORY - THE FABULOUS MOOLAH