Discussion Starter
•
#1
•
Last night during Half Time of The Superbowl, WWE ran Halftime Heat on the WWE Network featuring a 6 Man Tag featuring Aleister Black, Johnny Gargano, and Velveteen Dream vs. Tommaso Ciampa, Johnny Gargano, and Adam Cole.
It was an indicator of a few things. #1, these are clearly the top 6 stars currently in NXT, and as a result why they are in this match. And #2, these 6 have the potential to be the foundation of NXT/WWE for years to come.
Last year, when Ricochet, Adam Cole, and Pete Dunne were mixed in a 3 Way Feud with one another, I made a thread asking basically, who is the future? Consider this the same thing but on a larger scale.
So, when looking at the current NXT 6, who has the brightest future and who will be the biggest star? Let's go through them all: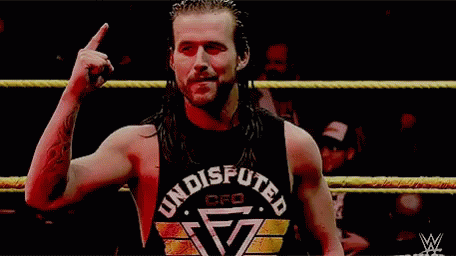 Adam Cole:
The only 3x Ring of Honor Champion in history and the 1st ever NXT North American Champion and is still only beginning to build his resume. There's not too much the guy can't do. He can talk and can work in a variety of different scenarios whether funny or serious. He can wrestle a good, smart wrestling match and can also just throw a bunch of Superkicks when the time calls for it. He makes other people around him feel more important and for examples you can look at his TUE teammates or even the guys he's worked with. He has great facial expressions. Great body language.
So yeah, he sounds like the total package? So what holds him back, or at least, could hold him back? Naturally, his size. And even in today's era, you never know what will happen once he's on the main roster and Vince forms an opinion of him. Me personally? I think the guy will have a lot of accolades on the main roster but there's also a chance he becomes the go to whipping boy when a guy like Braun or AJ needs a new victim. Think Kevin Owens in that regard.
Aleister Black:
Aleister is a guy who came in NXT with a fair bit of hype but not nearly as much as others and has made the most of WWE production. There's a lot of guys who will throw strikes and kicks but no one currently in the company does it as well or as uniquely as Aleister. And on top of a unique look, thanks to his own facial expressions/body language combined with WWE production, he has this dark and mysterious aura behind him where sometimes the biggest reaction he gets is just for a look or one Black Mass Kick. Not the best promo, although he's certainly serviceable and he really doesn't need to talk too much to get his point across. Now that works for him in NXT. How well that work on the main roster? Time will tell.
If there's a guy who I could compare him to when it comes to projection, it would Finn Balor. A guy who eventually you could easily slot into any program whether it's Baron Corbin or Brock Lesnar and also a guy who could end up floating around but still retain his popularity.
Johnny Gargano:
Gargano's story will unfold a lot like Ciampa's, naturally. Gargano can be called an "indy darling" but he's someone who had to fight his way through up the card to get to the spot he's in now. He was once just an enhancement talent for guys like Samoa Joe and has now main evented several Takeover events and has been apart of some of the best matches in NXT history. Unlike others who have had top spots from Day 1, Gargano has a story in NXT from the bottom to the top.
And that is a blessing and a curse. It's a blessing in the sense that fans have gotten time to know him from an unknown to the heart of NXT. But it's also a curse in the sense that everything about him is from NXT. And it's very hard to have this big story in NXT and then go to the main roster and basically have to start over. Look at American Alpha when they debuted on SD in 2016. The greatest thing about them in NXT was their story of coming together. And once on the main roster, that's gone and they have to start over. The same thing can happen to Gargano.
Now Gargano is a guy who's proven to be one of the best pure babyfaces in wrestling with his style and selling. And he's also shown the ability to play the other side of the fence as well with degrees of success. And finally, when given the chance he's shown to be someone who can tell a great story. When looking at Gargano's future, unfortunately his ceiling may be as the face of 205 Live. But at his best? He could be a great utility player for them for years to come.
Ricochet:
From NJPW to Lucha Underground, Ricochet's a guy who wowed the wrestling world with his amazing acrobatic and high flying ability. Seriously, there's not much he can't do in the ring. Can jump out of the gym. Is innovative. Deceptively strong. The one thing you can call him on for is being a little cutesy at time. Unfortunately, while he certainly has a swagger to him, the main magic of Ricochet exists bell to bell. On the mic? Eh...the less said the better.
Like Gargano, Ricochet is a guy who could easily be the next face of 205 Live. And that could very well happen. But I think he has far more potential to be the next Seth Rollins or even AJ Styles. Sure, he's not the best talker. But with his in ring style and looks, it's hard not seeing him as one of the faces of the big brands, and having a good amount of success along the way.
Tommaso Ciampa:
Similar to Gargano, Ciampa is someone who started at the bottom and has risen to the top of NXT, despite being an "indy darling." And through his skills in the ring, on the mic, on social media, he's become one of the most talked about wrestlers in the business. Coming off a big injury in 2017, Ciampa completely reinvented himself from his look, the way he carries himself, the way he talks. He has gone above and beyond to make himself look like a star.
He is honestly the hardest guy to predict. Because I don't see him being a 205 Live guy anymore. And while they've built the show around him on NXT, I don't know if they'll put that same amount of effort into him on the main roster. OK, I know they won't but will they make an attempt to. Can he carry that same magic from NXT and the Gargano story to the main roster and continue to be one of the most hated men in wrestling. And unlike the previous men, I don't have someone to compare him too. I guess the closes I can get is a guy like Joe. A guy you could plug in anywhere as a heel but never likely a featured guy.
Velveteen Dream:
Ah, quite possibly the greatest "homegrown" prospect they've ever had in NXT. A guy who went from Tough Enough to creating this shocking character in NXT to at times becoming the talk of the industry. At only 23, the guy has shown to be one of the smartest guys in wrestling. He knows how to build a feud. He knows how to build his opponents. He knows how to make everything he does feel bigger than it already would. And on top of that, no one in wrestling looks like him. No one goes as far as he does with his look, his attire, his ambiance. In a "sport" where most guys just wear their gear and their T-Shirt, Dream goes the extra mile.
And that's not even talking about his in ring ability. Now, he's still growing. But just looking at him right now? He's a freak athlete, a guy who has worked with some of the biggest names in NXT and hung with them. He's got the size. The power. The speed. The athleticism. The only thing you're still waiting on is for him to put it all together even more than he already has.
A lot of fans say he could be Tyler Breeze 2.0. And yes, sadly, he could be. And as much as I like Tyler, he doesn't compare to Dream. Everything about Dream from look, size, skills, character, aura, everything screams superstar. I know everyone wants everyone to be the next big star. But Dream is the guy who feels like he could be one of the top players, if not the top player in the company. And if you want an indicator if the company feels like that, just watch the past week of TV. Without competing at Takeover, the guy gets possibly the biggest pop of the show just by showing up. He wins the Worlds Collide tournament and is clearly positioned as the biggest star there. He scores the winning fall on Halftime Heat.
He's the Future. And at least NXT knows it. Will the main roster? They can screw a lot of things up, but Dream will be a star.
So that's all 6. Now I think the thing to remember is that even if these guys don't all become future World Champions, it does not mean any of them are failures or that WWE failed them. Some will. Some won't. But all of the can/should be foundation pieces for the company for the next 10 years.
But now I pose the question to you, who will be the biggest star of them all? If you couldn't tell, my pick is
Velveteen Dream.
And whether or not you choose to read my essay or not, who do you think will be the biggest star of the NXT 6?