About Me and Todays' Topic
I wanted to start an ongoing thread maybe every so often but not too often, I'll give topics a chance to settle before starting others ones, I don't want to completely take over this forum with my topics smothering the Classic Forums.
I started watching the WWE in 1992 at just 9 years old. At the time the Golden Age of wrestling was coming to an end but I still had time to admire the likes of Hulk Hogan, Randy Savage and Rick Flair and many others at the time. On the Horizon was the New Generation Era where the WWE were starting from scratch trying to find top talent to replace the absent ones who had left for WCW.
What will I be doing? Well I thought of celebrating some of the strangest gimmicks in the WWE during the New Generation Era (and believe me there were a few) as well as aspects of the era itself...
But if there's one thing that always intrigues me about the WWE is the New Generation Era, probably one of the oddest and bizarre Era's WWE will ever have. It was just full of crazy and mind blowing moments and one that excited me as a kid growing up.
Personally what did I think of the Era? To be honest I liked it. Not many people can say it was a good era and you're probably right, in terms of where the WWE was at the time it wasn't they're brightest shining moment but it did give us some great things, like Monday Night Raw, WWE's first Ladder match and the Bret Hart and Shawn Michaels feud. Its something I look back on with find memories no matter how stupid most of it was.
What you can do is also discuss your opinions on the chosen discussion what did you think of the people I choose, did you like them did you hate them, and if so what did you like or hate about them. This topic is for all you who remember them and even if you dont this is a forum be free to discuss what you wish.
So the second topic this week is Lex Luger
Lex Luger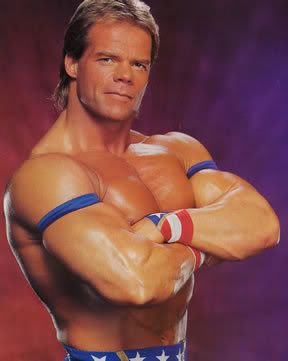 Lex Luger made his debut in at the 1993 Royal Rumble unveiled by Bobby 'The Brain' Heenan as 'the Narcissist' Lex Luger The set had supported mirrors as Heenan began to tell us how big of a star Luger would be. He was an instant heel.
The WWE played up the fact Luger had a metal plate in his forearm after a motorcycle accident he was involved in. During this run he was made to wear padding to cover it by officials fearing it would endanger his opponents. Lugers first feud came with Mr Perfect. Bobby Heenan kept going on about how Luger was "above perfect" and that got Mr Perfects attention, not only had Bobby Heenan as his manager two he didn't like the fact that Heenan was running around saying how better Lugar was. This feud went to Wrestlemania IX where Luger ended up beating Mr Perfect ending the feud
In 1995 Luger entered the First King of the Ring PPV where he beat Bob Backlund in the first round but went to a draw with Tatanka in the quarterfinals after the time limit expired.
.
On the 4th of July 1993 A challenge was held on who could body slam the WW(F)E Champion, 600 pound ,Yokozuna, many people took the part including Crush and Randy Savage as well as other celebrities but no one could do it, until Lex Luger arrived: In style via a helicopter.
This event alone turned Lex Luger into a major face of the WWE. And with Hulk Hogans departure earlier that year the WWE found their 'replacement' in Lex Luger. After Slamming Yokozuna Lex Luger took part in the Lex Express Tour which traveled all over America to visit and greet fans as well as to campaign for a shot at the WWE title.
This built up into a feud with Yokozuna who was dominating to competition in the WWE at the time. Luger finally got his shot at the title at Summerslam 1993 where he did win the match but it was by a count out after using his metal plate to his advantage knocking Yokozuna out cold outside the ring, although a win for Lex Luger he didn't win the championship.
While not a clean win the feud was put on hold for now, until then Luger began a feud with Ludvig Borga, hot off after beating Tatanka's undefeated streak Borga was an anti American who would often be seen spurting promos about what is bad with America. This caught the attention of Luger and eventually led to a very brutal Survivor Series match with Luger assembling the All Americans Lex Luger, The Steiner Brothers and The Undertaker(?) against Mr Fuji's (Yokozunas manager) team called Foreign Fanatics consisting of Crush, Yokozuna, Ludvig Borga, and Quebecer Jacques.
In 1994 Luger competed in the Royal Rumble and drew with Bret Hart In the final two, the two were both declared as the winners and competed both in match at Wrestlemania to face the WW champion Yokozuna, Luger went on to loose his match against Yokozuna via disqualification leaving it up to Bret Hart who eventually won it the same night.
Later that year Luger joined forced with Tatnaka to become a Tag team setting up a storyline where it was rumored Luger was going to join the Million Dollar Corporation. Luger constantly tried to prove his innocence but Tatanka was convinced when most time Ted Dibiase set Luger up straining their friendship so Tatanka decided to settle it in a match with Luger hoping to beat the truth out of him. The real story unraveled itself at the end.
With Tatanka's now heel turn after turning his back o Lex Luger the fued between Luger and the Corporation grew leading to Survivor Series 1994 where Lex Luger's team consisting of himself, Mabel, Adam Bomb, and The Smoking Gunns, got to a loss against the Corporate team of Tatanka, King Kong Bundy, Bam Bam Bigelow, and The Heavenly Bodies .
At the start of 1995 Luger's feud with the Million Dollar Corporation continued and ended when he teamed with the British Bulldog against the Tatanka and Bam Bam Bigelow. Luger and Bulldog won the match and eventually became a tag team themselves calling themselves the Allied Powers.
The allied Powers teamed up quite regularly and had wins against other Tag teams like the Blu Brothers, Men on a Mission, and Jeff Jarrett and the Roadie (Road Dogg). The team got a tag team opportunity against the current tag champions Owen Hart and Yokozuna but lost.
Allied Powers were short lived, when fans started chanting USA, British Bulldog asked the fans to tone down their chants out of respect for him butt hey continued, this ended up in British Bulldog walking out on many matches with Lex Luger and even walking out on him when they had another shot at the titles against Owen Hart and Yokozuna.
The story wouldn't completely play out as Luger left WWE not long after leaving the British Bulldog to team with Diesel, and turn heel in the process. Lex Luger eventually left for WCW and hasn't been with the WWE since, although he is currently (I think) working with the WWE's wellness policy helping others not to fall into the same boat he fell into when he was around
And there you have it, everything I think I know about Lex, of course a little help in other places too, once again if you have anything to say please do, leave comments and discuss Lex Lugers WWE run and if I left anything out or missed anything or got anything wrong let me know
I'll be back again some other time to discuss another New Generation Era star