·
All good things must come to an end.
Discussion Starter
•
#1
•
Can we get some appreaction for the fucking Miz? Here's a guy I absolutely hated when he first came in to WWE. I thought to myself "What's this guy from some reality show doing in WWE?" :gtfo I mean just look at this geek.
His WWE title run didn't captivate me, and he played a backscene role Main Eventing at WrestleMania because of Rock vs Cena, and was just used as fodder that got overshined by The Rock. I mean he beat Cena at WrestleMania 27 for fuck sake and successfully defended his title, and it's like his win meant nothing because it was such a mediocre show and nobody really remembers it.

But man, has The Miz come a long way. This guy. Incredible on the mic, a truly fantastic and detestable heel who plays his role to perfection (one of the few true HEELS left), improved in the ring. Just seeing him improve at such a fast rate has been a pleasant surprise to me.

I always thought he was quite good on the Mic. But I never expected much else from the guy, I thought he'd be some jobber at this point. Maybe wasting away like some of the lower tier guys on the roster. But he's consistently been really good, and really makes the most of the moments he's in to shine.
Cocky, Arrogant and Plays the crowd to perfection. The perfect heel. Your Intercontinental Champion.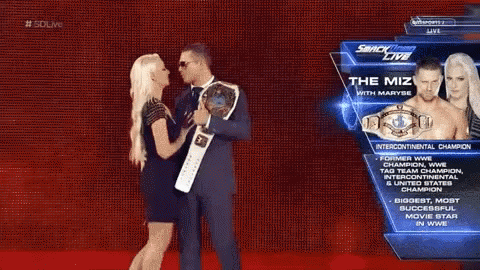 He's produced some absolute kick ass promos this year.
List of Accomplishments in WWE
WWE Championship
- 1 Time
7 TIME
Intercontinental Champion
United States Championhip
- 2 Time
WWE Tag Team Championship
- 4 Time
World Tag Team Championship
- 2 Time
Money in the Bank 2010
25th Triple Crown Champion
5th Grand Slam Champion
Slammy Awards
Tag Team of the Year (2008) – with John Morrison
Best WWE.com Exclusive (2008) "The Dirt-Sheet" – with John Morrison
Awesome!