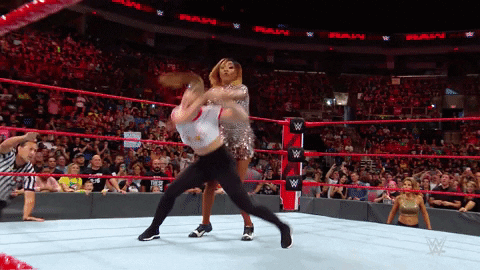 Okay, so it hasn't been as bad as I thought. There's still some major problems. Also that gif is awesome.
2018 is coming to a close, and it's been an eventful year in the WWE. When the year first started out, one of the major stories going on in the WWE was the signing of Ronda Rousey, and how she'd fit into the more script nature of the Pro Wrestling business. Some were optimistic, some were skeptic. There was reason to be excited but also reason to worry.
Me personally? I was very worried. And I even made a thread about it, which you can see here if you feel like reading it to see what my thoughts were on Rousey before she made her official debut, and see how much has changed for comparisons sake.
https://www.wrestlingforum.com/columns/2332586-ronda-rousey-wwe-very-concerning.html
In that thread, I judged my concerns on three major areas of Pro Wrestling talent: In-Ring work, Mic work, and Character work. And in this thread, I'm going to do the same. Similar to my Analysis threads (hence the title), I'm going to discuss and judge Ronda based on what I've seen in regards to where I feel she ranks now after almost a year of wrestling full time in the WWE. But my rankings for her will happen after I discuss how she's been doing in these categories. So lets get started.
Character Work
One of my major concerns about her character work was almost entirely from an acting standpoint.
And it looks like that concern came to be true.
There's a lot of things that can be said about Ronda's ability to act. To put it bluntly, she's not meant to be one. The forced expressions speak for themselves, but what really gets me is the way she walks (can't find a video, you all know what I'm talking about though). She doesn't have to force the issue, because her look and build already makes her an intimidating figure in of itself (which I'll get to in a moment).
Because of this, it more often than not takes away from the potential of her segments. You can really tell WWE tries their best to give her the best material possible, and it would be great if this kind of effort was given into the more talented women in the WWE. But I digress. The point is that Ronda is usually given very good material to work with, because WWE has put a lot of effort into being extra careful with how they book Ronda, something they deserve credit for. But the problem is that it usually never works. She can't act. The whole point is that she doesn't even have to act. She's being herself. And it still doesn't come across as natural. Because of this, she possesses almost no natural charisma.
Now, that sounds pretty bad. A person who can't even act like herself? Yeah, that's an issue. Is it all bad? Well, no.
There actually are a few positives here that need to be pointed out.
First, I need to go back a moment to when Ronda first came to the WWE. I can remember quite a few people, myself included, questioning Ronda's motivation. She became exposed as an MMA fighter, and now this is a last resort for a career. It wasn't unreasonable to believe this. But I can't help but acknowledge and applaud Ronda for her effort. Regardless of how bad she is, you can REALLY tell that she is legitimately trying out there. No matter the segment, the situation, the match, the opponent, she is giving her all in everything she does. You never feel like she's half-assing it. Because of this, it's a lot easier to buy into what's going on with her segments.
But how is that possible when she's such a horrid actor? Well, let me explain.
People applaud effort. I think this goes without saying. The same thing applies in film and entertainment. Even if something is bad, you're always able to at least admire and praise the heart that is being put into what they're doing out there. I'm not referring to someone just trying to work hard to move their way up or earn bigger and better paychecks. No, I mean someone who is dedicated to their craft and is giving everything they got out there. And Ronda does that, night in and night out. And it makes her segments all the more enjoyable to watch.
This is one of the issues I have when I watch someone like Nikki Bella. I don't feel that same sense of passion and effort. I don't see someone trying their best to make what they are doing out there work. In Nikki's case where no matter what she does, she's terrible at it, Ronda is still legitimately trying. There's an old saying that if the character doesn't care, why should the audience? What does effort from Ronda do for a segment? It gives it life. It never feels dull. As a result, fans are never really bored by a Ronda segment. There never seems to be an issue with crowd reaction. They're actively involved no matter what. This is what passion for what you do can do for a Pro Wrestler. And that's something I feel needs to be admired about Ronda.
The second thing is Ronda's look, and I think this is something we don't talk much about.
Even if her facial expressions can be laughable, it isn't like she's without looks. She's got a very good look for the face of a division, but more importantly, she has the build of a top women's wrestler.
Regardless of how good of an MMA fighter Ronda actually was, she is still built the same way that she was in the UFC. She looks like a legitimate fighter. And because of this, it's very easy to build her up as an ass kicker. You can look at this person with no understanding of her MMA background, and you'd still have no issue buying into her being a freak of nature, and the baddest woman on the planet, which is exactly what they try to portray her as. And that's a huge advantage for her. It adds a sense of legitimacy to her, and it's easy to present her as a woman to be feared.
She is by no means a good character worker. That doesn't mean she isn't without her positives that help prevent her from being a total disaster. She really cares about what she's doing, and it at least makes her watchable just on that aspect alone. I wish we had more dedication like this, not necessarily from the viewpoint of the women out there having fun and just performing their gimmicks, but truly giving their all and doing what ever they feel is the best way to make what they're doing work. Mickie James, Kelly Kelly, and Victoria are a few people right off the top of my head who were known for this. And two of them were actually great Pro Wrestlers. Trish Stratus was another. And I never thought highly of her from a talent standpoint.
We've only seen Ronda as a face so far. I can only imagine, based on what we've seen, that she would be a pretty terrible heel. Being a heel requires more acting, and while I don't have any trouble believing that Ronda can act more like a bitch, I do have trouble believing she can do it without forcing the issue to the point of complete hilarity.
Character Work: *1/4
Mic Work
I don't have a lot to say about this one, so this will be short.
Ronda's mic work is horrid. And I mean absolutely terrible in every imaginable way. Her mic work is so bad that Nikki Bella being the worst mic worker just became an argument rather than a foregone conclusion. Part of the issues with Ronda's mic work come from her lack of experience in the industry and understanding that promos are more than just saying your lines and attempting to show emotion. I call this the AJ Styles effect, who is the person I feel demonstrates this the best. AJ, however, isn't necessarily a Nikki or Ronda mic worker levels of bad. None the less, that is basically what Ronda does with her promos. And I think that's all she was really taught to do. I can't blame her completely for this. She was thrown into the mix, and some people just aren't going to catch on to it right away. Kurt Angle was thrown into the mix almost immediately and thrived on the mic. Some people will get it. Some won't. Again, a lot of it comes back to the ability to understand storytelling, your character, and translating that into the ring with a promo.
I know I'm being harsh on Ronda here. But her mic work has no positive attributes to it. And although that effort I talked about with her character is shown here as well, mic work is a different animal in of itself since you still have to hear the person talking. And here, it works against her.
Mic Work: DUD
In-Ring Work
This is where the bad things to say mostly stop. In fact, you can expect a lot of good things to be said here.
Ronda has received a lot of praise for the way she has performed in the ring since she's gotten to the WWE. But the main thing to understand here is why she's so good in the ring. With the amount of training and time she's spent in the ring, she has no business being this good. But I'll be damned. She has truly shined in this regard.
Before I go over the good things, no, she's not getting a five star rating here. I don't think she's THAT good. There are some weaknesses that need to be mentioned, but none of them are major and if anything are nitpicks.
The first and biggest issue that I see in Ronda's in-ring work is the character work. I think there's just too much "bad ass" attempt moments by her that I guess just come at times that aren't really needed, and can really take you out of a match. Another issue I've noticed with Ronda is that her timing can be a bit off. There's been a few instances where she would try to perform a move too early or too late, and it would end up being botched as a result. This hasn't been a common occurrence however and thankfully, she hasn't caused any serious injuries yet. I guess another nitpick I have are her punches.
Her punches are fucking awful. I mean, I don't know what other way to put it. And this seems to be a popular consensus.
Anyways, moving on.
Time for some praise.
The first thing that stands out to me about Ronda's in-ring work is her pacing. The pacing to her matches are wonderful. When she gains the advantage, she knows exactly how fast to keep the match going. She does a very nice job of not stalling and instead tries to keep everything going in a good motion. Even when she's getting beat up, the pace continues to flow in a way that makes sense. And she adjusts that pace based on the opponent she's facing, which is very surprising when you consider how little experience she has in the ring.
Her execution is great too. Every move she performs feels impactful, and she knows how to perform them. A lot of what she does is pretty basic, but I wouldn't expect anything else from someone with such little experience. I don't want to see her doing Hurricanranas. It makes sense for her to do more power-based moves.
Her selling is incredible, but for different reasons. No, she's not top ten all time in this category. But the effort she puts in selling needs to be admired and pointed out. This goes back to my original point regarding how much effort she is putting into making what she does work. This includes selling, and making her opponents look as legitimate as possible. This is noteworthy because there was a time when Ronda was considered a not so great person, with a pretty bad attitude and thought too highly of herself. Well, every night she's performing, she is out there doing everything she possibly can to make her opponent look good. She sells her ass off out there, and she even shows a lot of consistency with her selling. She even sells limb damage. I mean, what more can I say?
All of this and more leads to her showing a surprisingly good understanding of in-ring psychology, the ability to make what is happening out there feel real. I never have any issue buying into what's happening when I watch Ronda perform. Acting wise? Sure. But when it comes to the in-ring action? Absolutely not.
This all falls into the main aspect of in-ring work: storytelling. And just like everything else mentioned, Ronda has shown a surprisingly good understanding of storytelling in the ring. Her matches are very well structured and don't just follow the same formula. They are actually adjusted based on the opponent. She builds up her finisher with moves that makes sense. She wrestles true to her character and performs based on how personal the feud is. This is just great stuff right here.
And this has resulted in her producing quite a number of good matches during her time in the WWE. They all can't be gems, and they all haven't. But she has consistently been one of the best parts of the PPV's with her matches. She even managed two very good matches out of Nia Jax. That says a lot about her abilities as an in-ring performer.
One more thing I want to point out however is the way she performs. There are some Pro Wrestlers who move in a very unique way in the ring. Dean Ambrose, AJ Styles, the Usos, just a few off the top of my head. The way they move fit with their character. She moves like someone who is a complete package. Someone who has strength, athleticism, and legitimate skill. None of it ever feels forced. This is a rare trait that not many are able to pull off. It doesn't feel like she's showing off. It just feels completely natural. It makes her memorizing to watch.
Her in-ring work has been a pleasant surprise. It's something I'm glad I was wrong about. And I was very, very wrong.
In-Ring Work: ****1/4
Conclusion
So with all of this in mind, I now ask the question: Has Ronda been the disaster I predicted her to be?
No. And in fact, she surpassed my expectations in areas I wouldn't have expected.
I think it was expected for her to be a terrible actor, and as a result, a terrible character worker. I don't think anyone expected her to be a competent mic worker. And if there was one area that she'd surprise in, it would be in-ring work due to her natural athleticism. But what surprised me the most is just how much effort she's putting into this.
She is all in. She gives a shit. She's here night in and night out. Remember when we all questioned and laughed at the idea of her being a full time performer? Well, she's been doing that (sort of, she's at every Raw which is more than most of us expected). She's been dedicated to the cause. She's out there every Raw putting in everything she's got. She's not half-assing it. And that's not only shocked me, it's made me respect her more as a performer.
With someone in her position, she doesn't have to try. She will get the money, the glory, the spotlight, just based on her name alone. She doesn't have to give it her all. And yet, she does. Every time she is out there, she gives it everything she has to offer. And I can't help but respect that. Regardless of how I feel about her as a person, regardless of how I feel about her from a talent standpoint, I will always have the utmost respect for anyone who puts everything they have in their profession. And even if I wasn't kind to Ronda when it came to her character and mic work, her dedication and effort is something I will always give her praise for, because she truly deserves it.