In-Ring Work:
*****
Mic Work:
*****
Character Work:
*****
Stephanie McMahon is probably going to emasculate me for this.
I'm having a difficult time coming up with a proper introduction for Randy Savage. To say that he was one of the most talented Pro Wrestlers of all time simply doesn't do him justice. Sometimes I think people forget how good this man was. People are aware of the things he has accomplished, but sometimes we tend to ignore how incredible those accomplishments were. He was a true once in a generation talent, the likes of which we will probably never see again.
And with all of that in mind, this man I just described above faced Ric Flair for the WWF Championship at Wrestlemania, and it didn't main event.
Fuck you Vince.
I've been wanting to do an analysis on Randy for a while and for what ever reason I've been putting it off in favor of other certain wrestlers. Lets get this thing started.
Character Work
:trips8
This all just feels like a waste of time to be honest. Again, why should I even explain this? I mean, this gif alone should tell the whole story.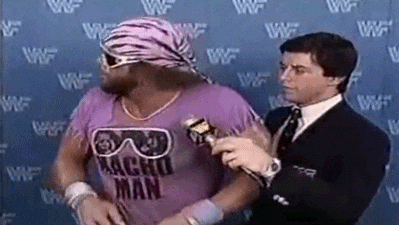 There. That right there should tell you everything regarding why this man was so good. But whatever, here it goes I suppose.
I think one of the main reasons this gimmick worked so damn well is because this man looked like he belonged in a mental institution. The scruffy beard with the long hair, the sunglasses that he wears indoors like a stupid idiot (Jericho reference), the wacko outfits that he always wore, the way he acted and spoke, all of this pointed towards someone with some kind of...I don't know, something was wrong with him though!
But it was so entertaining. It was so...different. It was something that was never seen before at the time. This is what Pro Wrestling is about. Someone who is over expressive, who isn't your normal every day person, who stands out from the rest of the pack. This is what Randy Savage was and always will be.
I am asking a lot out of you guys by making this request. And I don't blame you if you don't do it. But watch this entire video on mute. Again, if not, it's fine. Look at what Randy is doing. Look at how flawlessly he is pulling this off. Look at how believable he is. The way he is moving, the way he is acting, he is so consistent with it in every turn. And I just love how much fun this guy is having with it. He's not trying to cut the most epic promo of all time. He's not trying to wow people. He's just being himself. With a guy like Dolph Ziggler, we have to see him give it all and show case a lot of passion and emotion just to make you care about him. Savage doesn't have to. He just has to play his character. That's literally all he's doing. Sometimes, doing too much can hurt your character work and development. It can create inconsistency that send the audience in a direction you don't want them to go in. Savage always had the crowd in the palm of his hands. He always knew what he was doing. And I mean ALWAYS.
This is his famous heel turn. Look at the way he's acting. The way he's moving. When he beats up Hogan and assaults everyone who gets in his way. He does it exactly the way you would expect someone like him to do it. He has his own unique identity when it pertains to everything he does. He punches Hogan slowly, savoring every moment of it out of the pint up aggression that he has for him. He walks and moves around in an awkward matter, as if the wire has been cut and he's completely lost his sanity. This is someone who has literally lost his mind.
He just had a different way of doing things. But it didn't matter. The crowd ate that shit up. And always had them in the palm of his hands, whether heel or face. He always (well, most of the time) got the desired result out of them. He fit what he was going for perfectly. He looked the part, he played the part, he literally WAS the part. It was straight up Legendary. There's probably a lot more I could say. In fact there is more I could say. But it would be 2018 by the time I'm finished. So lets move on.
Mic Work
:trips8 :trips8
You know, it's pretty odd that I'm using Triple H smiley's all things cons...I'm probably getting buried after this.
You say you love me like a brother right? Well I hate you. I hate your guts Hulk Hogan! And that's what's going to be left all over the ring after Wrestlemania five!
Holy. Fucking. Shit. This is one of the promos from above and if you watched it with the volume on rather than all the way down, you probably heard this line. But hell, forget the line. Look at this entire promo. The intensity, the facial expressions, the unique way he's telling this story. The voice. Oh my god the fucking voice. For what they were going for from a character perspective, this was the absolute perfect voice. The use of pacing in this promo was outstanding.
But his best attribute not only in this but in any promo was his delivery. He knew how to deliver every word, line, catchphrase, baby, you name it, he knew how to deliver it. That's really what it came down to, he simply knew what he was doing.
Sometimes promo work doesn't have to be overly complicated. And sometimes that's a problem for certain pro wrestlers, they make it more complicated than it has to be. This isn't to say that cutting a promo in Pro Wrestling is easy. It can be very difficult and sometimes it can be something a person never truly grasps the concept of. The Hardy's have been in Pro Wrestling since the early 90s and they still don't fucking get it. But in the case of Randy Savage, all he had to do was stick to the story, stick to the gimmick, and just deliver a promo in a way he felt his character would. How would Macho Man Randy Savage talk? How would he act? I think that's something Randy always thought about before a promo. Sometimes this thought process can help people out. Maping out what you need to do and finding the destination point. Maybe that isn't exactly what Randy did, but in the end, he always found the destination point on his map. And it was something along the lines of this:
Disclaimer: I never do compilation videos in these for a reason. They don't showcase the full videos of particular segments and as a result the full story isn't able to be told properly. But in this case, an exception is being made by me. Don't expect it to be a common thing.
In-Ring Work
:trips8 :trips8 :trips8 :trips8 :trips8 :trips8
You want to know how great Randy Savage was in the ring? He carried the Ultimate Warrior to a match of a year candidate.
Let me put this into perspective for a moment. Hulk Hogan was able to have a pretty good match with Ultimate Warrior. Nothing really special other than the fact that the match had NO business being as good as it was. Other than that though, his in-ring career at this point was pretty forgetful. Warrior was barely capable of completing a ten minute match...with a good in-ring performer carrying him. He was a truly terrible in-ring performer. Randy Savage took this pile of shit that was handed to him out of Vince's ass and had the best match of the event with it (the seven elbow drop spot was complete bullshit though). It might be the greatest carry job in the history of Professional Wrestling. The only carry job than can really compare is Steve Austin carrying Kurt Angle at Summerslam in 2001. But in that case, Kurt was at least capable (and willing) to work a long match as long as he was given proper direction. In all honesty, with Randy being a legitimate tough guy outside the ring, he probably threatened to beat Warrior within every inch of his life if he didn't cooperate and follow his lead, and this was the result.
Normally, I would mention something like this last, maybe with it's own mini-section (and trust me, it's definitely deserving of its own mini-section). But again, saying he was a fantastic in-ring general, a great storyteller, seller, bumper, with great execution, pacing and character work just doesn't do justice. There is something that is needed in order to demonstrate it. And there is nothing that can demonstrate it better than this.
Why is that? Well, I've said in a few of my analysis threads that some of the best Pro Wrestlers have had chemistry issues with other wrestlers. I usually don't use that against them when rating them. But with that said, some might think up the question "why not use that against them? Why can't they just carry them to a great match?"
Because carrying someone to a great match is extremely difficult and is something a Pro Wrestler should never have to do. If you are in the highest paying company possible, you should be able to competently work alongside someone to create a compelling match. If you are being given a lengthy match on PPV and need someone to guide you through the entire thing, that is bullshit. And it's a shame that still has to happen at times in this day and age. It's a lot of stress and a lot of work to have to guide someone completely through a match lasting longer than ten minutes. It's very, very difficult. So if someone doesn't want to do it, I don't blame them. Because, again, they shouldn't have to.
Just for Randy to be able to do this on this night on the biggest stage is incredible. In fact it's legendary. I could go on about every detail regarding in-ring work that Randy was go good in. And in all honesty, I wish I could. But I won't. I think I said what needs to be said. Because he was just such a wonderful in-ring worker, I'll include some more of his best work. But there isn't really more that I can say. He knew how to do everything that needed to be done in the ring, both as a face and a heel. There is nothing that I can find that is consistently wrong with his in-ring work. And anyone who does can have my next paycheck.
So yeah, this is honestly the only thing I really need to do. Nothing more and nothing less. Just an essay about the most impressive thing Randy ever did since...well, the last time he did it.
That's right.
He did it twice.
The Wrestlemania match was their second classic between each other. I'm surprised this man never got a "certified Jesus" award in his lifetime.
Here's some more matches to satisfy everyone.
You probably think I'm going to post the match with Flair...don't you...
Well, you're right.
Conclusion
This analysis thread will never do justice for this man. Nothing I ever say no matter how hard I try will truly demonstrate how talented this man was. There's only so much I can (and want to) say on the matter before I am at a point where I'm repeating myself. Whether it was character work, mic work, or in-ring work, or pretty much anything really, he was a gem. He was perfect. He was an icon in this business, he was the inspiration for so many Professional Wrestlers (The Rock gimmick was mostly based off the Macho Man character). He was the perfect combination of elements all put into one. He was everything you could want in a Professional Wrestler.
Before, I said Steve Austin was the greatest Pro Wrestler of all time. But in all honesty, all of this looking back on Randy and studying up on his work is actually making me think otherwise. For now, I will still go with Austin. But from a talent perspective? It's actually very close between the two, with Ric Flair right up on their trails. Randy Savage was just an unbelievable talent. And there will never be another like him.