·
I'm too busy, faded in Japan with the crew
PWA HELL ON EARTH
Golden 1 Center
‎Sacramento, California
The HellRazorz open the night with a massive pop! The crowd cheers for Knuckles while they give the finger to Morpheus. As they climb into the ring and wait for their opponents, a familiar sound of glass shattering is heard through the sound system.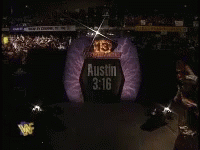 STONE COLD! STONE COLD! He hasn't shown his face in a long time! STONE COLD IS HERE! :woo
Morpheus is not amused. Austin climbs into the ring and catches a beer. He tosses it to Knuckles, who passes it to Morpheus. Morpheus shakes the beer can, opens it and chucks it at the crowd. :lmao
[BOOOOOOOOO!!!]
Knuckles: Listen Austin, we are not gonna drink with you before our Tag Team Championship match with Max Profit, which is about to start right now. We are professionals.
Morpheus: You must be an idiot if you think we are gonna handicap ourselves!
Austin: You are right. You have a match right now. But it's not with Max Profit. It's with this son of a bitch!
[BOOOOOOOOO!!!]
Austin: I know, I know. Ultimo is a real piece of shit - but he is massively over in Mexico. They love him over there. I am buried in letters from fans... asking, demanding for Ultimo to have a title shot. What kind of booker would I be if I didn't give him a shot? He beat the champ twice! And what kind of man would YOU be to not recognize that Ultimo has earned it?! I have no choice and neither do you. This match is happening right now - and your title shot is on the line!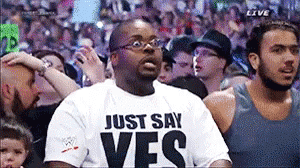 WHAT IS EVEN HAPPENING RIGHT NOW?! THIS IS INSANE!! THIS IS OFF-SCRIPT!!
WORLD CONTENDERSHIP
King Knuckles vs Ultimo X


TAG TEAM CHAMPIONSHIP
Max Profit vs Holy HellRazorz (c)

FIRST CHANCE, LAST CHANCE - TRIPLE THREAT
Lucas Hawthorne vs Luis Sanchez vs Dirk Buchanan


GAUNTLET IN HELL - PLACE YOUR BETS
*
Tao Ohashi vs Sammy Knox

??? vs Mandy Spears
??? vs Pamela Rose
??? vs Omega BOSS
*Bet up to 5 overness points on the winner of the gauntlet! Spreading permitted. Women only.
PURE CHAMPIONSHIP - PURE HELL
Mad Max Emory vs Leonardo 'Nightmare' Morpheus (c)


PRESTIGE CHAMPIONSHIP - TRIPLE THREAT
Misty Knight vs Mercedes KV vs Alexa Hayes

INTERCONTINENTAL CHAMPIONSHIP
Frankie 'Blackheart' Romono vs Nick 'The Believer' Cross (c)


WOMENS CHAMPIONSHIP - HELL IN A CELL
Leanne 'Doctor' Sevastopol vs Raven 'Knight Slayer' Christiensen (c)
WORLD CHAMPIONSHIP - HELL IN A CELL IN HELL
King 'Skull Krusher' Knuckles vs Dustin 'Death Rider' Dreamer (c)


MAKING YOUR PICKS
The deadline for picks is Monday, September 30 @ 7:59 PM EST

Male fighters pick 10 wrestlers from the current WWE roster and 2 back-ups.

Female fighters pick 8 wrestlers from the current WWE roster and 2 back-ups.

Your picks will garner points on this week's Raw, SmackDown & next week's Hell in a Cell, Raw, SmackDown.
DO NOT EDIT your post after the deadline.
CUTTING A PROMO
You may cut a promo for +1 overness in this thread. (Optional)
Your promo must show effort to be counted. Posting one sentence does not constitute effort.
GOOD LUCK!
Remember to spread the word about PWA!
​