THE FATE OF PLANETOS IS IN YOUR HANDS​
WARNING IF YOU HAVE NOT READ THE BOOKS OR WATCHED THE SHOW IT IS RECOMMENDED THAT YOU WATCH/READ EITHER BEFORE PARTICIPATING IN THIS.​
I have not actually read through the books (I plan on doing so soon), but I have no life so I do know way too much about the books, show, & the lore of the world itself. I am currently working on POVs for Chapter 1 which will each end with a decision by said character, which you guys will vote on which could either send these characters to their actual fates or somewhere else. In the Game of Thrones, you win or you die. Who will win & die this time around? It's up to you! I will also include POVs for characters that do not have one in the books so that decisions they can make will be voted on by you to change the story and the world itself. There are a lot of characters, which I will keep track of course. If you have not read the books or seen the show, I recommend watching/reading them before you participate in this.
This fan fiction will be based in the show universe so there are a lot of characters from the books that may not be included like: (Italics means it may not be impossible for them to appear, but very unlikely)
Arianna Martell (Doran's oldest child & heir who has been excluded in the show)
Young Griff (Aegon Targaryen)
Victarian Greyjoy (Balon & Euron's younger brother who has been excluded from the show)
Willas Tyrell (Mace Tyrell's Oldest son & heir who has been excluded in the show)
Garlan Tyrell (Mace Tyrell's 2nd oldest son who has been excluded in the show)
Lady Stoneheart (Resurrected Catelyn Stark)
Jeyne Westerling (It will most likely be Talisa Robb romances like in the show depending on your choices, but Jeyne most likely still exists she just doesn't have her book story)
Edric Storm (Robert's most well known Male Bastard who was being raised at Storms End, in the show there is a nod to Edric in the form of one of Stannis' stillborn sons, so it is very likely that Gendry is the only surviving Baratheon in the show)
Aurane Waters (House Velaryon Bastard)
Davos's other children aside from Matthos (Davos has a lot of kids in the books, 4 alone die in the battle of the Blackwater to Tyrion's trap and that isn't even all of them)
and many more I have no time to mention those are just some of the big book players who are not in the show, or have not been shown yet.
If they have not appeared in the show but there is no absolute proof that they do not exist in the show universe they may show up if it makes sense.
Present Noble Families & their households (TV Family Tree, Warning ages are not accurate as the TV Universe has changed the age of many of the characters but not given confirmations. Also there are a bunch of changes to the actual families themselves compared to the books. Also a bunch of this is mainly guess work as not even the novels or lore has all the information on every character listed below.)
V----V​
Council Position Labels:
Green - Position is Occupied
Red - Position is Vacant
Character Labels:
Green - Current Head of Their House
Blue - Heir to their House
Red - Dead
War Map: Updated; Chapter 26
Showing the Progress of the War of the Five Kings in our scenerio and showing which Houses support which King
So I have finally created a map of Westeros that is simple and will be used to show the progress of the War that has started in our scenario. This will keep track of which side the major houses join. I'll be adding this to the op as well. This map will not contain labels for cities and castles as the other map shows well enough where all the major locations are if you need to refer to it.
Map Labels:
Dark Red - Supporting King Joffrey I Baratheon
Yellow - Supporting King Stannis I Baratheon
Grey - Undecided
Claimants:
King Joffrey I Baratheon of The Crownlands
Supporters:
House Lannister of the Westerlands
(Head of House: Tywin Lannister; Heir to House: Tyrion Lannister)
House Stark of the North
(Head of House: Robb Stark; Heir to House: Brandon Stark
King Stannis I Baratheon of Dragonstone
Supporters: None
Undecided Houses:
House Tully of the Riverlands:
Head of House: Hoster Tully (Sick and Bedridden); Acting Lord and Heir: Edmure Tully
House Arryn of the Vale:
Head of House: Robin Arryn (Not of Age); Regent: Lysa Tully; Heir to House: Harrold Hardyng
House Martell of Dorne:
Head of House: Doran Martell (Stricken with Gout); Heir to House: Trystane Martell
House Greyjoy of the Iron Islands:
Head of House: Balon Greyjoy; Heir to House: Theon Greyjoy (Ward of Winterfell)
Map: (Chapter 1 Updated)
Characters and Family trees; Updated to: Chapter 26
Current Year: 298
Westeros:
The Iron Throne:
Royal Family of the Crownlands & Stormlands: House Baratheon
Robert I Baratheon (Kings Landing): 256-298 (Deceased, killed in Hand Tourney jousting against Gregor Clegane) Wife: Cersei Lannister (former)
-----Joffrey Baratheon: 282-Present (King of the Iron Throne)
-----Gendry Waters: 282-Present (Bastard of Kings Landing)
-----Myrcella Baratheon: 284-Present (Princess of the Iron Throne) Husband: Robb Stark
-----Edric Storm: 287-Present (Bastard of the Stormlands)
-----Tommen Baratheon: 288-Present (Prince of the Iron Throne)
-----19 other bastards
Stannis Baratheon: 258-Present (Lord Paramount of the Stormlands, High Lord of Dragonstone, and Claimant to the Iron Throne) - Wife: Selyse Florent
-----Shireen Baratheon: 288-Present (Heir of Dragonstone)
Renly Baratheon: 277-298 (Deceased, cause of death unknown possibly killed by silent assailant)

Iron Throne Small Council/Kingsguard/City Watch:
Hand of the King: Tywin Lannister (Lord Paramount of the Westerlands & Warden of the West)
Master of Law: Vacant
Master of Coin: Petyr Baelish (Lord of Midlor Point)
Master of Whisperers: Varys "The Spider" (Former Slave & Actor from Lys, previously served as Master of Whispers to Aerys II)
Master of Ships: Aurane Waters
Grand Maester: Pycelle (Has served as Grand Maester under Maeker I, Aegon V, Aerys II, & Robert I)

Lord Commander of the Kingsguard: Ser Barristan Selmy
Other Current Kingsguard:
Ser Jaime Lannister
Ser Meryn Trant
Ser Mandon Moore
Vacant Spot (Previously held by Ser Boros Blount who was killed by Ghost)
Ser Preston Greenfield
Ser Arys Oakheart

Commander of the City Watch: Janos Slynt

Notable Baratheon Bannermen:
House Dondarrion: (Lords of Blackhaven)
Beric Dondarrion: 274-Present (Lord of House Dondarrion & Blackhaven)

House Seaworth: (Lords of Cape Wrath)
Davos Seaworth (Lord of House Seaworth & Cape Wrath): 249-Present - Wife: Marya Seaworth
-----Matthos Seaworth: 276-Present (Heir to Cape Wrath)

House Tarth: (High Lords of Evenfall Hall)
Selwyn Tarth: 242-Present (High Lord of Evenfall Hall)
-----Brienne Tarth: 266-Present (Heir of Evenfall Hall)

House Selmy: (Lords of Harvest Hall)
Ser Lyonel Selmy: 217-259 (Lord of House Selmy & Harvest Hall, Deceased, died fighting in war of Ninepenny Kings)
-----Unnamed Male Selmy: 235-281 (Lord of House Selmy & Harvest Hall, Deceased, died fighting in Robert's Rebellion)
----------Unnamed Male Selmy: 257-289 (Lord of House Selmy & Harvest Hall, Deceased, died fighting in Greyjoy Rebellion)
---------------Arstan Selmy: 276-Present (Lord of House Selmy & Harvest Hall)
-----Ser Barristan Selmy: 238-Present (Lord Commander of the Kingsguard)

The North:
Wardens of the North: House Stark
Rickard Stark (Lord Paramount of the North): 236-280 - (Deceased, burned alive by Aerys II Targaryen) Wife: Lyarra Stark (deceased)
-----Brandon Stark (Heir to Winterfell): 256-280 (Deceased, executed by Aerys II Targaryen)
-----Eddard Stark : 257-Present (Brother of the Nightswatch) - Wife: Catelyn Tully (Former, Annulled after Nightswatch sentence)
----------Jon Snow: 281-Present (Bastard of Winterfell)
----------Robb Stark: 281-Present (Lord Paramount & Warden of the North) Wife: Myrcella Baratheon
----------Sansa Stark: 285-Present (Lady of Winterfell)
----------Arya Stark: 287-Present (Lady of Winterfell)
----------Brandon Stark: 288-Present (Heir to Winterfell)
----------Rickon Stark: 292-Present (Lord of Winterfell)
-----Lyanna Stark (Lady of Winterfell): 258-281 (Deceased, died at tower of joy in Dorne in a bed of blood)
-----Benjen Stark (Brother of the Nightswatch & First Ranger): 261-Present

Notable House Stark Bannermen:
House Bolton: (High Lords of the Dreadfort)
Roose Bolton (High Lord of the Dreadfort): 260-Present - Wife: Bethany Ryswell (deceased)
-----Ramsay Snow: 277-Present (Bastard of the Dreadfort)
-----Domeric Bolton: 279-297 (Heir to the Dreadfort, died under mysterious circumstances)

House Whitehill: (Lords of Highpoint)
Ludd Whitehill: 248-Present (Lord of High Point)
-----Karl Whitehill: 273-290 (Heir to Highpoint, deceased, died of greyscale)
-----Ebbert Whitehill: 274-Present (Training as Maester at Citadel in Oldtown)
-----Torrhen Whitehill: 275-Present (Heir to Highpoint)
-----Gwyn Whitehill: 276-Present (Lady of Highpoint)
-----Gryff Whitehill: 277-Present (Lord of Highpoint)

House Karstark: (Cadet Branch of House Stark & High Lords of Karhold)
Rickard Karstark (High Lord of Karhold): 240-Present
-----Harrion Karstark (Heir to Karhold): 269-Present
-----Torrhen Karstark (Lord of Karhold): 273-Present
-----Harald Karstark (Lord of the Karhold): 275-Present
-----Aly Karstark (Lady of Karhold): 282-Present

House Umber: (High Lords of Last Hearth)
Jon "Greatjon" Umber (High Lord of Last Hearth): 244-Present
-----Jon "Smalljon" Umber (Heir to Last Hearth): 267-Present
----------Ned Umber (Lord of Last Hearth): 296-Present

House Reed: (High Lords of the Neck)
Howland Reed (High Lords of the Neck): 258-Present - Wife: Jyana Reed
-----Meera Reed: 283-Present (Lady of the Neck)
-----Jojen Reed: 286-Present (Heir to the Neck)

House Mormont: (Lords of Bear Island)
Jeor Mormont: 231-Present (Lord Commander of The Nightswatch)
-----Jorah Mormont: 254-Present (Exiled Lord of Bear Island) - Wife: Lynesse Hightower (former)
Maege Mormont: 259-Present (Lady of House Mormont & Bear Island)
-----Lyanna Mormont: 290-Present (Heir to Bear Island)

House Manderly: (High Lords of White Harbor)
Wyman Manderly: 242-Present (High Lord of White Harbor)
-----Wylis Manderly: 263-Present (Heir to White Harbor) - Wife: Leona Woolfield
----------Wynafryd Manderly: 280-Present (Lady of White Harbor)
----------Wylla Manderly: 284-Present (Lady of White Harbor)
-----Wendel Manderly: 264-Present (Lord of White Harbor)

House Glover: (High Lords of Deepwood Motte)
Galbart Glover: 242-Present (High Lord of Deepwood Motte)
Robbett Glover: 243-Present (Heir to Deepwood Motte) - Wife: Sybelle Glover
-----Gawen Glover: 295-Present (Lord of Deepwood Motte)
-----Erena Glover: 297-Present (Lady of Deepwood Motte)

House Forrester: (Lords of Ironrath)
Gregor "the Good" Forrester: 246-Present (Lord of House Forrester & Ironrath) - Wife: Elissa Branfield
-----Rodrik Forrester: 274-Present (Heir to Ironrath)
-----Asher Forrester: 277-Present (Exiled Lord of Ironrath)
-----Mira Forrester: 280-Present (Lady of Ironrath, Margaery Tyrell's handmaiden)
-----Ethan Forrester: 284-Present (Lord of Ironrath)
-----Talia Forrester: 284-Present (Lady of Ironrath)
-----Ryon Forrester: 292-Present (Lord of Ironrath)

House Cassel: (Vassals of House Stark)
Martyn Cassel: 242-281 (Deceased, killed in fight at Tower of Joy)
-----3 Sons (deceased)
-----Jory Cassel: 275-Present (Captain of Stark Household Guard)
Rodrick Cassel: 243-Present (Master-At-Arms in Winterfell)
-----Beth Cassel: 278-Present

The Westerlands:
Wardens of the West: House Lannister
Tywin Lannister (Lord Paramount of the Westerlands): 234-Present (High Lord of Casterly Rock) - Wife: Joanna Lannister (deceased)
-----Cersei Lannister: 262-Present (Dowager Queen Regent of the Seven Kingdoms) - Husband: Robert Baratheon (deceased)
----------Joffrey Baratheon: 282-Present (King of the Iron Throne)
----------Myrcella Baratheon: 284-Present (Princess of the Iron Throne)
----------Tommen Baratheon: 288-Present (Prince of the Iron Throne)
-----Jaime Lannister: 262-Present (Member of the Kingsguard)
-----Tyrion Lannister: 266-Present (Heir to Casterly Rock) - Wife: Tysha (Former)
Kevan Lannister (Lord of the Westerlands): 236-Present - Wife: Dorna Swyft
-----Lancel Lannister: 280-Present (Lord of the Westerlands, Squire to Robert Baratheon)
-----Martyn Lannister: 286-Present (Lord of the Westerlands)
-----Willem Lannister: 286-Present(Lord of the Westerlands)

Notable House Lannister Bannermen:
House Clegane: (Lords of Clegane's Keep)
Gregor Clegane (Lord of Celgane's Keep): 258-Present
Sandor Clegane (Lord of Clegane's Keep & Joffrey's personal bodyguard): 263-Present

House Lorch: (Vassals of House Lannister)
Lorent Lorch: 243-Present (Knight in service to Tywin Lannister)
Amory Lorch: 244-Present (Knight in service to Tywin Lannister)

The Vale:
Wardens of the East: House Arryn
Jon Arryn (Lord Paramount of the Vale): 218-298 (Deceased, died of unknown circumstances) - Wife: Lysa Tully
-----Robin Arryn (Lord Paramount of the Vale): 289-Present
Alys Arryn (Lady of the Vale): 222-286 (Deceased) - Husband: Elys Waynwood (deceased)
-----Unnamed Waynwood Daughter - Husband: Unnamed Hardyng Lord
----------Harrold Hardyng : 281-Present (Heir to the Vale)
---------------Alys Stone : 298-Present (Bastard of the Vale)

Notable House Arryn Bannermen:
House Baelish: (Lords of Midlor Point)
Petyr Baelish (Lord of Midlor Point & Master of Coin for the Iron Throne): 262-Present

House Royce: (High Lords of Runestone)
Yohn Royce (High Lord of Runestone): 240-Present
-----Robar Royce (Heir to Runestone): 277-Present
-----Waymar Royce (Member of the Nightswatch): 278-298 (Was killed north of the wall by unknown entity)

The Riverlands:
Lord Paramounts of the Trident: House Tully
Hoster Tully (Lord Paramount of the Trident): 238-Present (High Lord of Riverrun) - Wife: Minisa Whent (deceased)
-----Catelyn Tully (Lady of Winterfell): 258-Present - Husband: Eddard Stark (Former, Annulled after Nightswatch sentence)
----------Robb Stark: 282-Present (Heir to Winterfell)
----------Sansa Stark: 285-Present (Lady of Winterfell)
----------Arya Stark: 287-Present (Lady of Winterfell)
----------Brandon Stark: 288-Present (Lord of Winterfell)
----------Rickon Stark: 292-Present (Lord of Winterfell)
-----Lysa Tully (Lady of the Vale): 260-Present - Husband: Jon Arryn (deceased)
----------Robin Arryn (Lord Paramount of the Vale): 289-Present
-----Edmure Tully (Heir to Riverrun): 264-Present
Brynden "Blackfish" Tully: 243-Present (Lord of Riverrun)

Notable House Tully Bannermen:
House Frey: (High Lords of the Crossing)
Walder Frey (High Lord of the Crossing): 209-Present
-----Stevron Frey (Heir to the Crossing): 233-Present
-----Ryger Rivers (Bastard of the Crossing): 235-Present
-----Walder Rivers (Bastard of the Crossing): 258-Present
-----Lothar Frey (Lord of the Crossing): 263-Present
-----Roslin Frey (Lady of the Crossing): 281-Present
-----Various other unnamed children

The Reach:
Wardens of the South: House Tyrell
Luther Tyrell (Lord Paramount of the Reach): 227-269 (Deceased, died in hawking accident) - Wife: Olenna Redwyne
-----Mina Tyrell (Lady of the Arbor): 246-Present - Husband: Paxter Redwyne
----------Horas Redwyne (Heir to the Arbor): 274-Present
----------Hobber Redwyne (Lord of the Arbor): 274-Present
----------Desmera Redwyne (Lord of the Arbor): 277-Present
-----Mace Tyrell (Lord Paramount of the Reach): 247-Present (High Lord of Highgarden) - Wife: Alerie Hightower
----------Loras Tyrell: 275-Present (Heir of Highgarden & The Reach)
----------Margaery Tyrell: 280-Present (Lady of the Reach)

Notable Tyrell Bannermen:
House Tarly: (High Lords of Horn Hill)
Randyll Tarly (High Lord of Horn Hill): 243-Present - Wife: Melessa Florent
-----Samwell Tarly: 281-Present (Heir of Horn Hill)
-----Talla Tarly: 282-Present (Lady of Horn Hill)
-----Dickon Tarly: 284-Present (Lord of Horn Hill)

House Florent: (High Lords of Brightwater Keep)
Alester Florent (High Lord of Brightwater Keep): 221-283 (Deceased) - Wife: Melera Crane
-----Melessa Florent (Lady of Horn Hill): 250-Present - Husband: Randyll Tarly
----------Samwell Tarly: 281-Present (Heir of Horn Hill)
----------Talla Tarly: 282-Present (Lady of Horn Hill)
----------Dickon Tarly: 284-Present (Lord of Horn Hill)
Ryam Florent (Lord of Brightwater Keep) - 224-286 (Died falling from horse)
-----Selyse Florent (Lady of Dragonstone): 259-Present - Husband: Stannis Baratheon
----------Shireen Baratheon (Heir of Dragonstone): 288-Present
-----Axell Florent (High Lord of Brightwater Keep): 260-Present
-----Imry Florent (Lord of Brightwater): 265-Present

House Redwyne: (High Lords of the Arbor)
Runceford Redwyne (High Lord of the Arbor): (Deceased)
-----Unnamed Male Redwyne: (Deceased)
----------Paxter Redwyne (High Lord of the Arbor): 247-Present - Wife: Mina Tyrell
---------------Horas Redwyne (Heir to the Arbor): 274-Present
---------------Hobber Redwyne (Lord of the Arbor): 274-Present
---------------Desmera Redwyne (Lord of the Arbor): 277-Present
Olenna Redwyne (Dowager Lady of*Highgarden): 229-Present - Husband: Luthor Tyrell (deceased)
-----Mina Tyrell (Lady of the Arbor): 246-Present - Husband: Paxter Redwyne
----------Horas Redwyne (Heir to the Arbor): 274-Present
----------Hobber Redwyne (Lord of the Arbor): 274-Present
----------Desmera Redwyne (Lord of the Arbor): 277-Present
-----Mace Tyrell (Lord Paramount of the Reach): 247-Present (High Lord of Highgarden) - Wife: Alerie Hightower
----------Loras Tyrell: 275-Present (Heir of Highgarden)
----------Margaery Tyrell: 280-Present (Lady of the Reach)

Dorne
Princes of Dorne: House Martell
Doran Martell (Prince of Dorne & Lord of Sunspear): 249-Present
-----Trystane Martell (Heir to Dorne): 283-Present
Elia Martell (Princess of the Seven Kingdoms): 257-281 (Deceased, died in Tywin's sack of Kings Landing) - Husband: Rhaegar Targaryen (deceased)
-----Rhaenys Targaryen: 278-281(Princess of the Seven Kingdoms, Deceased, died in Tywin's sack of Kings Landing)
-----Aegon VI Targaryen: 280-Present (Prince of the Seven Kingdoms, Presumed Alive under the care of Jon Connington)
Oberyn Martell (Prince of Dorne): 258-Present - Paramour: Ellaria Sand
-----Obara Sand: 272-Present (Bastard of Dorne)
-----Nymeria Sand: 275-Present (Bastard of Dorne)
-----Tyene Sand: 277-Present (Bastard of Dorne, Ellaria's daughter)
-----4 other bastard daughters


THE IRON ISLES
Lord Paramounts of the Iron Islands: House Greyjoy
Balon Greyjoy (Lord Paramount of the Iron Islands): 255-Present - Wife: Alannys Harlaw
-----Rodrick Greyjoy: 270-289 (Lord of the Iron Islands, deceased, slain by Jason Mallister during the Greyjoy Rebellion in the battle of Seagard)
-----Maron Greyjoy: 272-289 (Lord of the Iron Islands, deceased, killed during the Greyjoy Rebellion in the siege of Pyke)
-----Yara Greyjoy: 274-Present (Lady of the Iron Islands)
-----Theon Greyjoy: 282-Present (Heir of the Iron Islands & Ward of Winterfell)
Euron Greyjoy: 261-Present (Lord of the Iron Islands)
Aeron "Damphair" Greyjoy: 262-Present (Member of the Drowned Men)

THE NIGHTSWATCH:
Lord Commander: Jeor Mormont
Commander of Shadow Tower: Denys Mallister
Commander of Eastwatch: Cotter Pyke
Maester: Aemon Targaryen
First Ranger: Benjen Stark
First Builder: Othell Yarwyck
First Steward: Bowen Marsh
Master At Arms: Endrew Tarth
Recruiter: Yoren

Other Notable members:
Rangers:
Alliser Thorne
Qhorin "Halfhand"
Denner Frostfinger
Karl Tanner
Stewards:
Eddison Tollett


ESSO:
EXILED ROYAL FAMILY: HOUSE TARGARYEN
Aerion "Brightflame" Targaryen: 194-232 (Prince of the Seven Kingdoms, Deceased, died drinking wildfire)
Aemon Targaryen: 198-Present (Maester of the Nightswatch)
Aegon V "The Unlikely" Targaryen: 199-259 (King of the Iron Throne, deceased, died in the Tragedy of Summerhall)
-----Duncan Targaryen: 224-259 (Prince of the Iron Throne, deceased, died in the Tragedy of Summerhall)
-----Aerys II Targaryen: 244-281 (King of the Iron Throne, deceased, stabbed in the back by Jaime Lannister during Tywin's sack of Kings Landing) Wife: Rhaelle Targaryen
----------Rhaegar Targaryen: 259-281 (Prince of Dragonstone & The Seven Kingdoms, Deceased, killed in single combat by Robert Baratheon) - Wife: Elia Martell (deceased)
---------------Rhaenys Targaryen: 278-281(Princess of the Seven Kingdoms, Deceased, died in Tywin's sack of Kings Landing)
---------------Aegon VI Targaryen: 280-Present (Prince of the Seven Kingdoms, Presumed Alive under the care of Jon Connington)
----------Viserys Targaryen: 277-Present (Exiled Prince of the Seven Kingdoms & Head of House Targaryen)
----------Daenerys Targaryen: 282-Present (Exiled Princess of the Seven Kingdoms)
-----Rhaelle Targaryen: 245-282 (Queen of the Seven Kingdoms, deceased, died giving birth on Dragonstone) - Husband: Aerys II Targaryen
----------Rhaegar Targaryen: 259-281 (Prince of Dragonstone & The Seven Kingdoms, Deceased, killed in single combat by Robert Baratheon) - Wife: Elia Martell (deceased)
---------------Rhaenys Targaryen: 278-281(Princess of the Seven Kingdoms, Deceased, died in Tywin's sack of Kings Landing)
---------------Aegon VI Targaryen: 280-Present (Prince of the Seven Kingdoms, Presumed Alive under the care of Jon Connington)
----------Viserys Targaryen: 277-Present (Exiled Prince of the Seven Kingdoms & Head of House Targaryen)
----------Daenerys Targaryen: 282-Present (Exiled Princess of the Seven Kingdoms)
------Daeron Targaryen: 247-259 (Prince of the Seven Kingdoms, died in the Tragedy of Summerhall

Magister of Pentos: House Mopatis
Illyrio Mopatis: 240-Present (Magister of Pentos) - Wife: Serra (deceased)

Dothraki:
Bharbo: ?-? (Great Khal, Deceased)
-----Khal Drogo: 267-298 (Great Khal of the Dothraki, Deceased, shot in the chest with a crossbow by Jon Connington)
Bastard Names: Since some people seem to get confused by this since in the TV show until Season 5 there are only two acknowledged bastards very well known by the audience (Jon Snow & Ramsay Snow) and this causes some people to assume all Bastards are named "Snow". They are not. Each region of Westeros has their own name for bastards. The last name of a bastard depends on where they were born or who their mother is, not who their father is. Example: In the books Robert Baratheon had a bastard in the Vale who is known as Mya "Stone" while Robert also had a bastard in the Stormlands who is named Edric "Storm". If Gendry who Robert had in Kings Landing was ever acknowledged he'd be known as Gendry "Waters".
The Crownlands: Waters
The North: Snow
The Riverlands: Rivers
The Stormlands: Storm
The Reach: Flowers
The Westerlands: Hill
The Vale: Stone
Dorne: Sand
The Iron Islands: Pyke

BASTARD TARGARYENS ARE NOT NAMED "BLACKFYRE". Blackfyre is the name of the valyrian steel sword wielded by Aegon The Conqueror and House Blackfyre is a cadet branch of House Targaryen founded by Targaryen bastard Daemon Waters who rebelled against his half-brother Daeron II. House Blackfyre is presumed extinct.
For Newbies, instead of having you rummage through each page looking for chapters, all chapters as they come out will be available here so you can catch up faster.
Chapter 1:
Eddard I of House Stark: Lord of Winterfell, Lord Paramount of the North & Warden of the North.
[/CENTER]
"Winter is coming", those are the words of my house. The last one occurred about 9 years ago, word from the Maesters at the citadel say that the days are beginning to grow shorter. I don't need them to tell me what I already know. Winter is coming. My children Brandon, Rickon, & Arya were all born in the long summer and have not seen a true winter. As I sit here watching Brandon practice the bow with Robb, Rickon and Jon beside him, I pray for them. Brandon misses the target and the others begin to laugh. I ask them "Which one of you was a marksman at 10? Keep practicing Bran". Being the second son growing up is not as easy as many may think, I should know. Ser Rodrick Cassel approaches saying that a deserter from the nights watch has been captured. As Warden of the North, it is my duty to deliver swift justice. Once you swear the oath, it is known that it is against the law to desert the nights watch. The deserters know exactly who awaits them when they flee, me. I decide to take Brandon with me, he must learn that the man who passes the sentence should swing the sword. He won't be a boy forever.
My oldest son Robb Stark, Jon Snow, my ward Theon Greyjoy, my master at arms Rodrick Cassel, & Rodrick's nephew Jory accompany me to the execution as well. Will is the name of the deserter in question. As he is being led to the wooden block he is mumbling madness. He looks me in the eyes and begins to explain to me that he and his friends were attacked by the White Walkers. "What is this madness?" I think to myself. The White Walkers haven't been seen in over a thousand years. He has truth in his eyes but, a madman sees what a madman sees. I take his head. Jon tells me that Brandon did not look away, which makes me proud.
As we are on our way back to Winterfell we come across a dead stag in the road. Theon suggests mountain lions but I know that there are no mountain lions in these woods. There are tracks that lead down towards the stream where we came across something that I definitely did not expect to find. Theon calls it a monster, but it's a dead female dire wolf, and it has 5 live pups surrounding her. Robb points out that it is uncommon to find dire wolves south of the wall and he is right. Jon hands one of the pups to Brandon. "The dire wolf pups won't survive for long without their mother, better a quick death" I tell them, but Robb & Jon both protest to killing them. Jon suggests, "5 pups, one for each of the Stark children. The Dire wolf is the sigil of your house. They were meant to have them."
Eddard has a choice to make.

A. Let your children keep the Dire Wolf pups.

B. Kill the Dire Wolf pups.
Daenerys of House Targaryen: Exiled Princess of the Seven Kingdoms
"Fire and Blood", the words of my family. Viserys always likes to remind me of these words as we go from free city to the next, selling off what little valuables that we have left. Most people would have us for a night or two to entertain themselves then kick us out the next day. One time Viserys dined with The Golden Company to ask for their services. All they did was eat his food and laugh, but they did not assist us. Our year-long stay in Pentos has been the longest we've been in one place since Ser Willem Darry helped us escape across the narrow sea to Braavos from Dragonstone 16 years earlier. Willem died when I was 7 and we were left to our own devices. Illyrio is different from our past hosts, he asks nothing but gives us everything, most men are not this way. I am aware of what my brother and Illyrio plan on doing. They intend to sell me to the savage known as Khal Drogo.
The day has come for me to meet him for the first time and I have still not grown fond the of the idea, and I never will. I want to go home, not marry some savage Khal of the Dothraki. Even as I stand here waiting for him in my silk dress which reveals everything to anyone who looks, I still cannot believe I am in this situation. As Drogo approaches, Viserys pulls me in and tells me that Khal Drogo has never been defeated in single combat, based on the fact that his braid is so long. When Dothraki are defeated their braid is cut so the world can see their shame. It doesn't matter how many times Drogo has escaped death. The usurper & his band of traitors escaped death & justice but it doesn't make them noble people. I approach Drogo, who stares me up and down before riding away. Apparently he liked me, but a part of me was hoping he wouldn't and would break the betrothal. Later on Illyrio continues telling Viserys how the people of Westeros drink secret toasts to his health, how they are sowing dragon banners and praying for his return. I tell Viserys that I do not want to be Drogo's queen. He then explains to me that we can only go home with an army. He says that he'd let Drogo's whole tribe fuck me if that's what it took. I hate him, but he is the rightful heir to the Iron Throne and the Last Dragon so it is not my place to judge him.
I have now married Khal Drogo, reluctantly. The only reason I have not protested is because this savage is our only way to get home. As I sit with people approaching Drogo & Me giving us congratulation, several impromptu duels begin. Men bend women over in front of us and rape them. I hear Illyrio tell my brother that this is a good sign as a Dothraki wedding without at least 3 deaths is considered a dull affair. The gifts start arriving. My first gift is from a Westerosi Knight named Ser Jorah Mormont. He says he served my father for many years. Ser Jorah swears fealty to my brother as King and offers him his support and advice, which Viserys accepts. Illyrio has 2 people usher in a box and open it in front of me. It is dragon eggs, the sigil of my house. According to Illyrio, these are dragon eggs from the Shadow Lands beyond Asshai that have turned to stone with the passing of time. I feel something that I can't quite explain. Drogo stands up and motions for me to as well. I follow him down the stairs towards the crowd. I see a white stallion. She's beautiful. I want to thank Drogo but Jorah tells me that there is no word for "Thank You" in Dothraki, not surprising. As Drogo lifts me onto the horse and goes to get on his horse, Viserys tells me to make him happy. We go down to the shore where we are to consummate the marriage. I ask Drogo if he speaks the common tongue but the only word he seems to know is "no" and I'm unsure if he even understands what it means. Why should I be married to a man who can't even understand me or me him? He takes off my clothes and bends me over, but all I can think about are those dragon eggs.
Tyrion of House Lannister: Heir to The Westerlands & Casterly Rock
Whores, my father despises them. Hell he despises me, which is one of the reasons why I lay with them, and why I'm laying with one right now. Anything to piss off that pompous cunt. Although I don't think I've laid with the most, that honor would go to my brother-in-law the King. The courts of Kings Landing have always been my escape away my father, who luckily is staying at Casterly Rock, but this morning those bells have made me more frustrated than most. Jon Arryn, the Hand of the King, has died. Not really that surprising. Although Stannis, King Robert's younger brother, left Kings Landing and returned to Dragonstone shortly after the hand's death which seems suspicious but I wouldn't be surprised if it was merely a coincidence or that Stannis was leaving before Robert tries to name him Hand. I've heard that the crown is 6 million dragons in debt, 3 million of that debt is to my father. My brother Jaime has told me that Jon Arryn was quickly consumed by a sickness, and Lord Arryn was quite old. He was about 80 I believe, most would be lucky to see 50 so he should be thankful for that wherever he is now. I have no idea who will be Hand, I don't even think the gods are certain who drunkard Robert will name to the post next. Possibly my father? If that's the case then I don't think my tenure here in the Capital will be that much longer. As I'm thinking about this my brother Jaime barges in saying "You told me once that you wanted to see the North. I didn't want you to miss your chance." I ask him who's going north and he says "The King. The Queen. Me. You, if you can find your pants." I ask him why and he jokingly says "Well, I'm used to it, but the rest of the court might be frightened by the sight of your wet little dagger." I asked once again "Why are we going north?" Jaime finally says "The King has chosen his Hand. And nobody's going to be happy about it." Apparently Robert has chosen Eddard Stark as his new hand. I'm sure Eddard doesn't even know yet. I'm wondering what he'll say, but why should I be going North? Jaime is right in the fact that I have wanted to see the north for a long time, but is this the right time?
Tyrion has a choice.

A. Go north to Winterfell with Robert Baratheon's party.

B. Stay in Kings Landing.
Eddard POV:
Appeared:
Robb Stark
Jon Snow
Brandon Stark
Theon Greyjoy
Rodrick Cassel
Rickon Stark
Jory Cassel
Will

Mentioned:
Arya Stark
Daenerys POV:
Appeared:
Viserys Targaryen
Illyrio Mopatis
Khal Drogo
Jorah Mormont

Mentioned:
Robert Baratheon
Willem Darry
Tyrion POV:
Appeared:
Jaime Lannister

Mentioned:
Jon Arryn
Stannis Baratheon
Robert Baratheon
Cersei Lannister
Tywin Lannister
Chapter 2:​
Jon Snow; Bastard of Winterfell​
My father Eddard agrees to the children getting the dire wolves. As I figure he would. My little brother Brandon asks why I'm not getting one. I remind him that I'm not a Stark. I'm a Snow. Every noble born out of wedlock in the north is given the surname Snow. Guess it's to remind us of what we are, a mistake. Bastards from the Riverlands are given the surname Rivers. Westerland bastards get Hill, The Vale ones get Stone, Crownland bastards are Waters, The Reach are Flowers, & Dorne's bastards are given the surname Sand. Speaking of Dorne I've heard the rumors of Ashara Dayne being my mother. That name hasn't been utter inside of Winterfell in years, and nobody dares say it, my father put a stop to that. Gods only know if it is true. My father certainly won't discuss the subject. As I sit and ponder on my bastardy I hear something. It sounds like…what the? It's another dire wolf pup! He's small and completely white. He seems to be the runt of the litter. Theon taunts me saying the runt is mine. It's ironic that Theon would be taunting me, since he isn't getting one at all because he's a prisoner, not a member of the family.
I've decided to name my dire wolf "Ghost", because of his white color & uncanny silence. The outcast of his litter. He's just like me, minus the white hair, but funny enough I always pictured myself as Aemon Targaryen the Dragon knight when me and Robb would spar in the courtyard of Winterfell when we were younger. I've always wanted to hate Robb, but I never could. I'm luckier than most bastards. I'm treated fairly well by my family, minus Catelyn of course but I can't really blame her.
My father has just informed us that Jon Arryn, the Hand of the King has died. Lord Arryn was like a father to my father. It seems the King rides for Winterfell with the rest in tow, and everybody knows exactly why. He is likely coming to ask my father to be his new hand. My father will probably say yes. Maester Luwin has been talking to me about the Nightswatch. My uncle Benjen is a member of the Nightswatch and has been for over 10 years. The Nightswatch vows are pretty clear. Those who swear the oath forsake their lands, titles, & family name. They don't marry or have kids, but I'm a bastard who will never inherit any titles anyways. Perhaps the Nightswatch is where my fate lies?
The day has come and the King is almost here, we've been preparing for weeks. We're all gathered in the courtyard where my true born siblings line the front row as me and Theon stand behind them. Arya arrives late and to most of our amusement she is wearing a helmet. My father takes the helmet off her and rushes her into the line. King Robert rides in with his knights, while Queen Cersei is in a large wheelhouse. Lord Eddard presents his household to King Robert. Robert looks Eddard up and down and tells him he's "Got Fat." At first we all think it is an insult but quickly we realize he is joking. The two haven't seen each other in 9 years. Robert goes down the line greeting my father, his wife Catelyn, and my true born siblings.
Among the group of people in the King's party there area a few notable ones like Ser Jaime Lannister, The Kingslayer, blond hair flowing as he sits on his horse in his Kingsguard armor. Joffrey Baratheon, the crown prince, who is eyeing up my sister. Ser Sandor Clegane, I've heard stories about his older brother. The Queen finally comes out of the wheelhouse and approaches. Robert calls Eddard to take him down to the crypts to pay his respects, most likely to my aunt Lyanna who Robert loved dearly. Robert was suppose to marry her back in the day before Rhaegar Targaryen kidnapped her. My father told us about the rebellion, but not specifically about Lyanna herself or what really happened to her. Gods know why. Rhaegar most likely raped & killed her. If something like that happened to Sansa or Arya I wouldn't wanna tell people about it either. Speaking of Arya, my bug eyed wild little sister. I've been working on getting Mikken, the blacksmith, to make her a sword. A tiny one should do.
It's sundown and a feast is being held in the great hall, but Catelyn has barred me from attending, stating that it'd be an insult to the Royal family to seat a bastard in their midst. As I'm practicing with my sword outside in the darkness I hear a familiar voice from behind me asking if "He's dead yet." It's my Uncle Benjen. The moment I see him all I can think about is my fate. My father hasn't talked about sending me to the Nightswatch, but I wouldn't be surprised if Catelyn eventually asks him to. Maybe it's inevitable. I've been preparing myself, but is this truly want I want?
Jon has a choice to make:

A. Ask Benjen to tell Eddard that you want to join the Nightswatch.

B. Don't ask him to.
Eddard I of House Stark; Lord of Winterfell, Lord Paramount of the North & Warden of the North.​
Robert has arrived and has brought me down into the crypts. He means to pay his respects to my sister. It's just as I feared, he is still not over her. Which means his hatred of the Targaryens is probably just as strong as it was 9 years ago when I last saw him. He's gotten much fatter but he's still funny as ever. Robert offers up his prayers at my sister's tomb. Robert asks why I buried her in a place like this. Normally the Crypts of Winterfell are reserved solely for the Lords of Winterfell, not Lord's daughters or younger sons, but after everything my family has been put through I thought it right. My brother Brandon never got to be Lord of Winterfell but he lies beside our sister & father all the same. As I looked at my sister's statue all I hear "Promise me Ned". "Promise me". So many promises, broken & kept. I hear them in my dreams and they've haunted me to this day, but I've always kept faith with my family. Most may not know or believe so, including Cat, but I have. As I expected Robert offers me the position of Hand of the King. He acts as if I have a choice in the matter, but do I truly? What if I say no? What would he do? I'm almost curious enough to say so. I ask him to give me the night to think about it. He tries to sweeten the deal by offering a marriage proposal between his son Joffrey & my daughter Sansa.
The feast has commenced. I've never been one for feasts if I'm to be honest with myself. Growing up feast weren't my focus as the second son. If it wasn't for the rebellion I probably would of joined the watch with Benjen, or I'd been married off to some lady from a different region. Perhaps they would of had a place for me in Starfall. As I sit watching the King flirt & grab random women I hear a familiar voice from behind me. "You at a feast, like a bear caught in a trap." It is my brother Benjen finally having arrived from Castle Black. I ask him about the boy I beheaded. Benjen tells me that he was tough, a true ranger. A true ranger who speaks of madness like the white walkers? My brother then tells me that the whole world is going mad with dire wolves south of the wall, talk of the white walkers, and he jokingly adds that I'll be the next hand of the King, but will I? I haven't even said yes. I have no interest in sparring with vipers in that rats nest they call a Capital.
The feast is over, the castle sleeps. Winterfell was built on a hot spring, so the heat rises throughout the castle and during the winters this is especially important. There is a knock at the door. It's Maester Luwin. He comes in and says that a carved wooden box containing a fine new glass lens was left in his observatory while he was napping. The way it was delivered made the Maester wonder and he discovered a message hidden beneath a false bottom. Maester Luwin says he has not read it, and will not give it to me because it is addressed to Catelyn. Catelyn takes the message apprehensively. It is from her sister.Lysa.and written in a secret language only the two sisters share. Catelyn immediately burns the message after reading it. I ask her what her sister has said. Catelyn turns to me and informs me that her sister claims.Jon Arryn.was murdered by Queen.Cersei.and her.family. Catelyn tells me that I should accept Robert's offer. Which shocks me. The last time I went south I brought home Jon. Why would she want me to head south again? My father rode south on King Aerys' demand and he was burnt alive. Aerys charged my father with treason and my father demanded trial by combat, Aerys chose wildfire as his champion. He hung my father above the fire and tied a noose around my brother's neck and laid a sword just out of his reach. My brother choked to death trying to save our father. Luwin tries to tell me that was a different time & king. Catelyn insist that if I truly love King Robert like a brother, I will not leave him to face the Lannisters on his own.
Eddard has a Choice to make:

A. Accept Robert's offer to be Hand of the King

B. Refuse Robert's offer to be Hand of the King
Viserys Targaryen; Exiled Prince of the Seven Kingdoms & Head of House Targaryen​
The Dothraki khalasar led by Khal Drogo has departed Pentos and we are heading east. We are traveling away from the Free Cities and into the Dothraki sea, the long-grassed plains that the Dothraki call home. I am the last dragon and I have to ensure that Drogo fulfills his end of the bargain. I will do as Aegon The Conqueror did not even 300 years ago. I may not have 3 dragons but a horde of barbarians should do the trick. Illyrio has told me there are many Houses in the Seven Kingdoms who may flock to my side once I cross the Narrow Sea. House Tyrell, House Redwyne, House Darry, House Greyjoy, and the Dornishmen. Houses that stayed loyal during the War of the Usurper. The Usurpers Robert Baratheon, Eddard Stark, Tywin Lannister, Hoster Tully, Jon Arryn; they'll all meet a terrible death in the end. Me and my sister have spent our entire lives on the run from the Usurpers assassins. Things are about to change. As I wander the Dothraki camp Jorah Mormont, an exiled northern lord from Bear Island, approaches me. He tells me Illyrio has extended his hospitality's and that I'd be more comfortable staying back in Pentos. Jorah has swore me his loyalty and could stay and make sure Drogo fulfills his end of the bargain while I stay in Pentos.
Viserys has a decision to make.

A. Go back and stay in Pentos

B. Stay with Drogo and the Khalasar
Jon POV:
Appearances:
Eddard Stark
Brandon "Bran" Stark
Robb Stark
Theon Greyjoy
Ghost
Robert Baratheon
Arya Stark
Sansa Stark
Rickon Stark
Catelyn Tully
Maester Luwin
Cersei Lannister
Joffrey Baratheon
Jaime Lannister
Sandor Clegane
Benjen Stark
Hodor
Rodrick Cassel

Mentioned:
Ashara Dayne
Aemon The Dragon Knight
Jon Arryn
Lyanna Stark
Rhaegar Targaryen
Mikken
Eddard POV:
Appearances:
Robert Baratheon
Benjen Stark
Maester Luwin
Catelyn Tully

Mentioned:
Lyanna Stark
Brandon Stark
Joffrey Baratheon
Sansa Stark
Will
Jon Arryn
Lysa Tully
Cersei Lannister
Aerys II Targaryen
Rickard Stark
Viserys Targaryen POV:
Appeared:
Khal Drogo
Jorah Mormont

Mentioned:
Aegon I Targaryen
Robert Baratheon
Eddard Stark
Tywin Lannister
Hoster Tully
Jon Arryn
Illyrio Mopatis
Chapter 3:​
Daenerys of House Targaryen: Exiled Princess of the Seven Kingdoms​
My brother Viserys has begun his journey back to Pentos, leaving Ser Jorah with us to assure that Drogo eventually repays his end of the bargain. We are still on our way to Vaes Dothrak. I should be afraid but those dragon eggs calm me. At night when Drogo has his way with me I look into those eggs and all the pain goes away. I am enthralled by them in many ways. One night I ask my handmaidens if they have ever heard of dragons surviving in the east. They reply no, but.Doreah, a former pleasure-girl from.Lys, tells me an old story about how there used to be two moons in the sky. One wandered too close to the sun and cracked like an egg, spilling out thousands of dragons into the world. My other handmaidens.Irri.and.Jhiqui.dismiss the story, saying that the moon is a goddess, wife to the sun. I don't know who to believe. Doreah instructs me on how to please Drogo in bed but also how to use my skills to gain respect from him. She reminds me "you are no slave" and should not have sex like one. I nervously put these plans into action and I'm surprised to find Drogo responsive, particularly once I starts using my body in combination with the Dothraki language to speak to him.
Eddard I of House Stark; Lord of Winterfell, Lord Paramount of the North & Warden of the North.
It's the next day and the King & I along with various other members of my household and the royal procession are going hunting. Robert approaches me and thanks me for saying yes to being Hand. As we head out hunting I ask Robert more questions about Jon Arryn. Specifically his wife Lady Lysa Arryn. Robert says that she has gone mad and has fled to the Eyrie with her son Robin. Robert tells me he was hoping to foster Robin with Tywin Lannister. Jon Arryn held important positions like Warden of the East so I tell Robert that the title usually remains with the Head of House Arryn but Robert refuses to give the title to a boy, instead giving it to Jaime Lannister. Based off the letter we've received from Lysa it wouldn't surprise me if this suggestion to foster Robin with Tywin was Cersei's doing to take Young Lord Arryn as a hostage and secure his army if needed. This revelation is startling to say the least.
Upon returning from our hunting trip, I learned that my son Brandon has fallen while climbing a tower and is in a coma. I was planning to take Brandon with me when I went south, but Luwin is not sure when Brandon will wake up, or if he will at all. Robb must stay in Winterfell as is custom there must always be a Stark in Winterfell. Sansa is a given to bring, she must be brought to court as she is promised to the Prince, and Arya is too wild to leave in the hands of her mother. I must reign her in, but Jon. Jon is a whole other story. Taking him to court may be far too dangerous, but he'd be much safer by my side then up here with my wife. Catelyn is afraid that Jon would threaten his trueborn sibling's claim to Winterfell. Aegon The Unworthy fathered many bastards and the most notable one Daemon Blackfyre and his sons threaten the Targaryen dynasty for half a century before Barristan Selmy slew Maelys The Monstrous, the last of the Blackfyres, on the Stepstones during the War of the Ninepenny Kings. Jon has also shown no interest in the Nights watch so either I leave him here or take him with me.
Eddard has a decision to make.

A.Take Jon south to Kings Landing.

B.Don't take Jon south.
Daenerys POV:
Appeared:
Jorah Mormont
Khal Drogo
Doreah
Irri
Jhiqui

Mentioned:
Viserys Targaryen
Eddard POV:
Appeared:
Robert Baratheon
Theon Greyjoy
Robb Stark
Benjen Stark
Tyrion Lannister
Sandor Clegane

Mentioned:
Jon Arryn
Lysa Tully
Robin Arryn
Tywin Lannister
Jaime Lannister
Cersei Lannister
Brandon "Bran" Stark
Maester Luwin
Jon Snow
Catelyn Tully
Aegon IV Targaryen
Daemon Blackfyre
Barristan Selmy
Maelys The Monstrous
Chapter 4:​
Jon Snow; Bastard of Winterfell​
My brother Bran has fallen from a tower and is in a coma. I haven't been to visiting him as Lady Stark has been by his side the entire time. Father has told me he plans to take me south with him in Bran's stead. I'm surprised by this as they wouldn't let me join the feast before, but then again that was by Lady Catelyn's request. Which reminds me that I will have to see her again if I want to say goodbye to Bran.
I finally gather the courage to go see Bran, as I would probably never see Catelyn again, she would remain up here in Winterfell. I walk in and I see Lady Catelyn sat beside Bran. I stand in the doorway as she glares back at me. "What are you doing here?" she says. When I was younger and she use to berate me it use to send me away crying but now all it does is fill me with anger, and I finally state "I've come to say goodbye." She retorts "You've already said it, go away." I walk further into the room "He's my brother." Catelyn says "Shall I call the guards?" I call her bluff saying "Call them, you can't stop me from seeing him." I crossed the room keeping the bed between me and Lady Stark. "Bran," I say, "I'm sorry I didn't come before. I was afraid." I could feel the tears rolling down my cheeks. I no longer cared. "Don't die, Bran. Please. We're all waiting for you to wake up. Me and Robb and the girls, everyone . . . " Lady Stark was watching. She had not raised a cry. I took that for acceptance. Outside the window, the Direwolf howled again. The wolf that Bran had not had time to name. "I have to go now," Jon said. "I'm going south with father, Arya & Sansa." I remembered how excited Bran had been at the prospect of the journey, he always wanted to be a knight, but fate had other plans. It was more than I could bear, the thought of leaving him behind like this. I brush away my tears, lean over, and kiss him lightly on his head. I say goodbye again before turning to head back towards the door. As I'm about to exit the room Lady Stark says "Jon.". I was shocked, this is the first time I've ever heard her say my first name. Usually she'd called me "Snow" or "Bastard". I turn to her and she was looking straight at me like it was the first she was actually seeing me. She coldly says "It should of been you." before turning back towards Bran.
As we are about to leave my brother Robb approaches me asking if I went to see Bran and I say yes. Robb says "He's not going to die, I know it." I agree "You Starks are hard to kill." Robb saw that my visit to Bran had bothered me in some way and he asks "My mother?" I lie and tell him she was kind. Robb smiles saying "Good, the next time I see you, you'll be all in black." I tell him it was always my color. He pulled me to him and embraced me fiercely. "Farewell, Snow." I hugged him back. "And you, Stark." We break apart and looked at each other awkwardly. "Father said to send you to the stables if I saw you," Robb finally said. "I have one more thing to do," I told him. "Then I haven't seen you," Robb replied with a smirk. It was a short walk to the armory. I picked up a package and took the covered bridge across to the Keep.
Arya was in her room, packing a polished ironwood chest that was bigger than she was. Arya glanced behind her, saw Me, and jumped to her feet. She threw her skinny arms tight around my neck. "What did you do now?" I said amused. Arya disentangled herself from me and made a face. "Nothing. I was all packed and everything." She gestured at the huge chest, no more than a third full, and at the clothes that were scattered all over the room. "Septa Mordane says I have to do it all over. My things weren't properly folded, she says. A proper southron lady doesn't just throw her clothes inside her chest like old rags, she says." I ask "Is that what you did, little sister?" "Well, they're going to get all messed up anyway," she said. "Who cares how they're folded?" I finally say "I have something for you to take with you, and it has to be packed very carefully."
Her face lit up. "A present?" "You could call it that. Close the door." Wary but excited, Arya checked the hall. By then I had pulled off the rags I had wrapped it in. I held it out to her. Arya's eyes went wide. Dark eyes, like mine. "A sword," she said in a small, hushed breath. The scabbard was soft grey leather. I drew out the blade slowly, so she could see the deep blue sheen of the steel. "This is no toy," I told her. "Be careful you don't cut yourself. The edges are sharp enough to shave with." "Girls don't shave," Arya said. I retort "Maybe they should. Have you ever seen the septa's legs?" She giggled at me. "It's so skinny." "So are you," I told her. "I had Mikken make this special. The braavosi use swords like this in Pentos and Myr and the other Free Cities. It won't hack a man's head off, but it can poke him full of holes if you're fast enough." "I can be fast," Arya said. I tell her "You'll have to work at it every day." Arya says "You mean WE." I smile at her sating "We'll see." She exclaims "I'm so glad you're coming with us." I put the sword in her hands, showed her how to hold it, and stepped back. "First lesson," I say "Stick them with the pointy end." Arya gave me a whap on the arm with the flat of her blade. The blow stung, but I found myself grinning like an idiot. "I know which end to use," Arya said. A doubtful look crossed her face. "Septa Mordane will take it away from me." "Not if she doesn't know you have it," I said.
Arya ran to me for a last hug. "Put down the sword first," I warned her, laughing. She set it aside almost shyly and hugged me. "I almost forgot," I told her. "All the best swords have names." "Like Ice," she said. She looked at the blade in her hand. "Does this have a name? Oh, tell me." "Can't you guess?" I teased. "Your very favorite thing." Arya seemed puzzled at first. Then it came to her. She was that quick. We said it together: "Needle!" "I'll see you outside." I say. Arya asks "Help me with these clothes!" I begin helping her pack.
Once we are done our father comes walking in smiling as we finish up. I walk outside and head down to see Uncle Benjen before he begins his trip back to the Wall. "I wish you were coming south with us Uncle." Benjen smiles as we hug jesting "Try not to kill any southern pricks." I laugh saying "Maybe I'll be seeing you again sooner than you think." We finally head outside to join the Royal procession as we head out to the Kingsroad and begin our journey south.
As we head down and stop in the Barrowlands. Arya wants me to help train her. Ser Rodrick had taught My father, Uncle, Me, Robb, & even Theon so maybe I could be of some help to her? Although I don't know how father would react if he found out. Maybe we should wait until we get to Kings Landing?
Jon has a decision to make.

A.Agree to train Arya.

B. Don't train Arya.

C. Tell Arya to wait until they arrive at the Capital.
Catelyn of House Tully: Lady Paramount of the North, & Lady of Winterfell
I have sat by Brandon a fort night. Maester Luwin comes in one night speaking of appointments but I have no wish to hear him. All I see is Brandon. Robb walks in and insists that he'll make the appointments. Luwin leaves and Robb says "He's not going to die, Mother. Maester Luwin says the time of greatest danger has passed." I retort with "What if Maester Luwin is wrong? What if Bran needs me and I'm not here?" Robb says "Rickon needs you," Robb said sharply. "He's only six, he doesn't understand what's happening. He thinks everyone has deserted him, so he follows me around all day, clutching my leg and crying. I don't know what to do with him."
Outside the tower, a wolf began to howl. I trembled, just for a second. "Bran's." Robb opened the window and let the night air into the stuffy tower room. The howling grew louder. It was a cold and lonely sound, full of melancholy and despair. "Don't," she told him. "Bran needs to stay warm." "He needs to hear them sing," Robb said. Somewhere out in Winterfell, a second wolf began to howl in chorus with the first. Then a third, closer. "Shaggydog and Grey Wind," Robb said as their voices rose and fell together. "You can tell them apart if you listen close." I told him to close the window and make them stop but suddenly Robb says "Fire." he turns and says "Mother, stay here. I'll come back as soon as the fire's out." He ran then. She heard him shout to the guards outside the room, heard them descending together in a wild rush, taking the stairs two and three at a time.
I go to look out and when I turned away from the window, a man is in the room with me. "You weren't s'posed to be here," he muttered sourly. "No one was s'posed to be here." He was a small, dirty man in filthy brown clothing, and he stank of horses. Catelyn knew all the men who worked in their stables, and he was none of them. He was gaunt, with limp blond hair and pale eyes deep-sunk in a bony face, and there was a dagger in his hand. I looked at the knife, then at Bran. "No," I said. The word stuck in my throat, the merest whisper. He must have heard me. "It's a mercy," he said. "He's dead already." "No," I said, louder now. "No, you can't." I spun back toward the window to scream for help, but the man moved faster than I would have believed.
One hand clamped down over my mouth and yanked back my head, the other brought the dagger up to my windpipe. The stench of him was overwhelming. I reached up with both hands and grabbed the blade with all her strength, pulling it away from my throat. I heard him cursing. My fingers were slippery with blood, but I would not let go of the dagger. The hand over my mouth clenched more tightly, shutting off my air. I twisted my head to the side and managed to get a piece of his flesh between my teeth. I bit down hard into his palm. The man grunted in pain. I ground my teeth together and tore at him, and all of a sudden he let go. As he was about to come back at me a wolf leaped through the air from the doorway and took him down to the ground, tearing out his neck.
A Day later I decide that I must figure out who sent the assassin. Robb says they found the pen where the man had been staying and they found a big pouch of golden stags in it. Someone from Kings Landing must of sent him nobody around here carries around this much wealth. I head to the broken tower where Brandon fell. I find a long golden strand of hair. Lannisters. I gather my son Robb, Master-At-Arms Rodrick, Maester Luwin, and Theon to discuss my findings and suspicions. I tell them I think Brandon was pushed from the broken tower and that the Lannisters may be involved. Rodrick makes note of the dagger used. It's made of Valyrian steel. Too fine of a weapon for the assassin. I decide that Ned must be told about this in person. Robb volunteers to go himself.
Catelyn has a decision to make.

A. Go to Kings Landing herself.

B. Let Robb go to Kings Landing.
Jorah of House Mormont: Exiled Knight of the Seven Kingdoms​
Viserys returning to Pentos has made our journey to Vaes Dothrak much less eventful, which is a good thing. Daenerys commands the khalasar to halt on a whim, exercising her growing authority and power. I have been tasked with following around the Targaryens by Illyrio and Varys, the master of whisperers in Kings Landing. I don't know what their game and knowing that the crown is watching the Targaryens but not killing them is confusing to say the least. Although Robert may not see Viserys as a major threat, and he'd be right. Daenerys on the other hand has the Dothraki backing her. Viserys will never get the army Drogo promised him and he was smart to leave now instead of demanding it. One night I sit in camp explaining to Rakharo the advantages of The heavily-armored but slow knights with longswords, good for piercing armor versus the lightly-armored but fast-moving horse-warriors. I know of Rakharo's father. He was bloodrider to Khal Bharbo, Drogo's father, and was a great warrior. My father was a great warrior, and an honorable man. Lord Commander of the Nights Watch, but I failed him. I have been promised a royal pardon by Varys for what I'm doing here and I hope to return to show him that I am not a complete failure. Irri comes out of Daenerys' tent and asks us to get Daenerys food. She then reveals that Daenerys is in fact pregnant. This is information I really should relay to the Crown. Shouldn't I?
Jorah has a decision to make.

A. Ride to Qohor and relay the news of Daenerys' pregnancy to Varys.

B. Don't send word to Varys of Daenerys' pregnancy.
Jon POV:
Appearing:
Brandon "Bran" Stark
Catelyn Tully
Eddard Stark
Arya Stark
Robb Stark
Summer
Benjen Stark

Mentioned:
Sansa Stark
Septa Mordane
Mikken
Theon Greyjoy
Rodrick Cassel
Catelyn POV:
Appearing:
Brandon "Bran" Stark
Maester Luwin
Robb Stark
Catspaw Assassin
Rodrick Cassel
Theon Greyjoy

Mentioned:
Rickon Stark
Shaggydog
Grey Wind
Eddard Stark
Jorah POV:
Appearing:
Daenerys Targaryen
Rakharo
Irri

Mentioned:
Viserys Targaryen
Illrio Moptais
Varys
Robert Baratheon
Khal Drogo
Jeor Mormont
Khal Bharbo
Chapter 5:
Eddard I of House Stark; Lord of Winterfell, Lord Paramount of the North & Warden of the North.
After saying our goodbyes our party heads out to the Kingsroad. We head down the Kingsroad to the Barrowlands. One night we stop to make camp as King Robert has just received dire news, and as I feared this news involves the Targaryen children. Daenerys Targaryen has married Dothraki Horselord Khal Drogo, whose khalasar is reported to number over one hundred thousand warriors. I try to calm Robert telling him that the Dothraki cannot cross the narrow sea as they have no ships. Robert states that there are still people in the Seven Kingdoms who call him Usurper. The Targaryens held the Iron Throne for almost 300 years back when Aegon The Conqueror before Robert took it from Aerys I, the mad king. Robert inquires about Jon's mother. I give him a name and try to end it there. Robert reminds me that at that time, we were in the middle of a war and no one knew if they would ever
return to their families. Maybe bringing Jon wasn't such a great idea. I need to keep as much distance between Robert & Jon as I can.
We continue down the Kingsroad to the Inn at the Crossroads. We are near the Trident, the spot that decided the fates of so many in Westeros. Me, Robert, & House Targaryen. So much history. Sansa informs me that her and Joffrey came upon Jon training Arya in sword fighting. Joffrey tried to belittle Jon, but Jon held his ground. It seems nothing terrible happened. I'm still concerned Robert will say something about the 3 dire wolves. There has never been dire wolves this far south.
We continue down the Kingsroad. Finally arriving at the Capital. I tell Jory & Jon to get the girls settled in. I'm told that Grand Maester Pycelle is already calling for a meeting of the small council. The Royal Steward is unnerved by Nymeria, Lady & Ghost but stills asks me if I'd like to change into something more appropriate. I take off my gloves. I first enter the throne room where Ser Jaime Lannister is sitting next to the throne, almost exactly where Aerys laid dead those many years ago. Although back then I found Jaime ON the throne. He has the nerve to call what he did to Aerys JUSTICE. JUSTICE? How is it JUST to stab your King you are sworn to protect in the back? He starts trying to unnerve me by talking about what Aerys did to my father and brother. My father Rickard demanded trial by combat to clear my brother Brandon's name, assuming he would face a Kingsguard such as Jaime, but the Mad King had him locked in a cage with fire spewing beneath it, saying "Fire is the champion of House Targaryen" and mockingly offering that all he had to do to win the trial was not to burn. When Brandon tried to stop our father's death, he ended up strangling himself due to the device the Targaryen men had strapped him to.
Jaime was there but did nothing. He tells me over 500 people were there but did nothing. Jaime served Aerys well, when it was safe. The moment the lions came knocking he showed his true colors, I would not hear more words come out of this dishonorable man's mouth. I continue to the council chamber where I am introduced to the council members. Varys, the Master of Whisperers, greets me first. I then see Grand Maester Pycelle and Robert's youngest brother Renly two people I have not seen in a long time. Finally I am introduced to the Master of Coin, Lord Petyr Baelish. A minor lord from the fingers in the Vale, Baelish fought my older brother Brandon in a duel back right before Robert's Rebellion to try and win my wife Catelyn's hand in marriage. He was soundly defeated, but my brother was killed shortly after riding south to demand justice for our sister and I was to take his place. Promises. I didn't ask to be Lord of Winterfell. It was my duty as the next in line and I married Catelyn. I may not have loved her then, but over time we were able to develop it. You spend enough time with anyone and eventually something will form, whether it's love or hate depends on the person.
As we begin the meeting I am told that Robert hasn't attended a council meeting in a long time. Baelish tells me the crown is 6 million in debt. 3 million being owed to Lord Tywin, King Robert's father-in-law. To make matters worse, King Robert has just ordered a lavish tournament to celebrate my appointment. I tell the council that I will speak to Robert about canceling this but they advise me that he will not listen.
Catelyn of House Tully: Lady Paramount of the North, & Lady of Winterfell​
I've told Robb that I will be going to Kings Landing with the Valyrian Steel Dagger myself, but how will I get there? Travel on foot? Going by ship would probably be the best and fastest way, but who knows what may happen on the sea, ask one of the Baratheon brothers what happened to their parents in Shipbreaker bay. Ser Rodrick says either way he would accompany me on my journey.
Catelyn has a choice:

A. Take a ship from White Harbor down to Kings Landing.

B. Travel to Kings Landing on horseback.
Viserys Targaryen; Exiled Prince of the Seven Kingdoms & Head of House Targaryen
It has been 2 days since I've arrived back in Pentos, and I've already become impatient. Still no word from Mormont if they have arrived in Vaes Dothrak yet. Illyrio said we should of received a report by now. I walk down the halls of Pentos like I've done for so long now. This is the longest I've stayed in one of the Free Cities, always on the road fearing for my life was a constant struggle, but I am the last dragon. The weight of the GREATEST DYNASTY rests on my shoulders and I must take back the Seven Kingdoms if our house hopes to continue. As I am walking down the halls I hear Illyrio and spot him walking along with a man I've never seen before. The man has blue hair, which clearly has been dyed as his eyebrows and beard are red. I decide to "listen" to their conversation. The Blue Haired man states "I thought he was to stay with the Khal. If he finds out about our true intentions things could fall apart." Illyrio reassures the man "It's okay, once Drogo has a son he will rejoin him and things will continue as planned." the man says "The Golden Company rides for Myr. Lys and Tyrosh will be at each others' throats soon enough and they won't be available when we need them. You know they don't break contracts." Illyrio then says "Some contracts are written in ink, others in blood. I'll say no more." What is Illyrio up to, and who is this man?
Viserys has a decision to make.

A. Confront Illyrio and the Blue Haired man.

B. Bide your time.
Eddard POV:
Appearing:
Robert Baratheon
Jon Snow
Joffrey Baratheon
Arya Stark
Sansa Stark
Cersei Lannister
Jory Cassel
Maester Pycelle
Nymeria
Ghost
Lady
Jaime Lannister
Varys
Renly Baratheon
Petyr Baelish

Mentioned:
Khal Drogo
Daenerys Targaryen
Aegon I Targaryen
Aerys II Targaryen
Rickard Stark
Brandon Stark
Catelyn Tully
Tywin Lannister
Catelyn POV:
Appearing:
Robb Stark
Rodrick Cassel

Mentioned:
Robert Baratheon
Stannis Baratheon
Renly Baratheon
Viserys POV:
Appearing:
Illyrio Mopatis
Blue Haired Man

Mentioned:
Jorah Mormont
Khal Drogo
Chapter 6:​
Catelyn of House Tully; Lady Paramount of the North, & Lady of Winterfell
We arrive in White Harbor. House Manderly is the richest House in the North and for good reason. They are originally from the Reach but after losing their holdings they fled north and the Starks gave them land. They are one of the only Northern houses that follow the New Gods, the Faith of the Seven. I & Rodrick reach the port itself where we want to hire a ship. We find a Tyroshi captain Moreo Tumitis, who agrees to take us down to Kings Landing on his ship the Storm Dancer. On the voyage Rodrick starts to become unnerved and gets seasick. He has to cut his whiskers because they become so soiled with vomit.
We arrive at the docks of Kings Landing and as we get off the ship we are approached by two gold cloaks who hand us a concealed document with a wax seal of a mockingbird on it. Baelish. A childhood friend I had not seen in years. Petyr's father had befriended my father Hoster Tully during the War of the Ninepenny Kings and when the war was over my father brought Petyr into our home to be fostered at Riverrun. My brother Edmure nicknamed him "Littlefinger" Because of his family holdings on the Fingers of the Vale, and because of his short stature. He loved me and I loved him, but as a brother. I remember one time me and my sister Lysa made Mud pies and Littlefinger ate them. He was sick for a week. When he had a problem, Petyr went to my Uncle, Ser Brynden Tully, whom people refer to as the Blackfish. When my betrothal to Brandon Stark, the heir to Winterfell, was announced. Lord Bracken and Blackwood were at Riverrun, to settle a fued with my father's help. I and Petyr danced six dances that night, but when he tried to kiss me I pushed him away and laughed at him. Petyr was wounded by this and got drunk. He passed out at a table and my Uncle helped him to bed.
That wouldn't be the last time he would try to win my favor. In 281 when the date of my wedding was announced, Petyr, barely 19, challenged my betrothal Brandon, 25, to a duel for my hand. While Brandon offered Petyr multiple chances to yield, Petyr refused to give up. In the end, Petyr was staggering and bleeding from a dozen wounds, when Brandon ended the battle with a backhand cut so brutal I was convinced it was mortal. Petyr was given a fortnight to recover at Riverrun, during which time Lysa helped care for him. I did not go to see him, and Petyr refused to see Edmure, who had served as Brandon's squire during the duel.
We arrive at the brothel and I am enraged at Petyr for trying to stash me in an establishment like this. I ask him how he knew I was coming and he says he owns the harbor masters in KL and he also knew she was coming thanks to Varys who reveals himself as well. Varys seems to already know about the dagger as well since he asks me for it even tho it is not visible. I hand it to him and ask if he knows who it belongs to. Varys admits he doesn't know who it belonged to it. Littlefinger chuckles surprised that Varys doesn't know something. Littlefinger admits that the dagger is his. He states that he lost the dagger in a bet during the tourney on Prince Joffrey's last name day. He says that he bet on Ser Jaime in the joust and when Loras Tyrell unseated the Kingslayer, Petyr lost the dagger to Tyrion Lannister! The Imp.
Jon Snow; Bastard of Winterfell​
The Capital, it….smells like shit. We've only been here a day and I'm already sick of it. My cramped quarters doesn't help. My father probably hopes I will just brood in here instead of coming out and confronting the Prince. I'm no fool, getting into another tussle with the Prince could land me into real trouble. Bastards can't hit princes. Robert may be my father's best friend, but he's also the King and he expects respect for him and his family. The Queen already wants me punished and giving her more reasons to want me gone sounds dangerous. Me & my sisters have been commanded to keep our Dire wolves in our quarters. People seem unnerved by them. I leave my quarters and head towards Arya's room. She has become much more hostile towards the Prince and I need to calm her down before she does something brave.
I run into Tyrion Lannister. I try to avoid eye contact and continue walking but he points me out. "You're Ned Stark's bastard correct?" I reluctantly reply "Yes." He says "I'd advise you against getting into anymore fights with my nephew. Not because he doesn't deserve it but because I'd like to see you keep your head Snow. I always enjoy seeing a fish out of water." I'm confused, I was expecting him to belittle me, he then says "Let me give you some more advise bastard. Never forget what you are, for surely the world will not. Make it your strength. Then it can never be your weakness. Armor yourself in it, and it will never be used to hurt you." Tyrion goes to walk away and I ask "What the hell do you know about being a bastard?" He then replies "All dwarfs are bastards in their father's eyes." before walking down the hallway towards a door at the end. Tyrion Lannister, the youngest of Lord Tywin's brood, and by far the ugliest. All that the gods had given to Cersei and Jaime, they had denied Tyrion. He was a dwarf, half his brother's height, struggling to keep pace on stunted legs. His head was too large for his body, with a brute's squashed-in face beneath a swollen shelf of brow. Tyrion opened a door at the end of the hallway and the light from within threw his shadow clear down the hallway, and for just a moment Tyrion Lannister stood as tall as a king.
I continue towards Arya's quarters and I find my father inside holding Needle. I stand in the doorway in silence as Him & Arya don't notice me yet. Arya says "Sansa took Joffrey's side over Jon, her own brother!" Eddard says "She did, which is her duty. She is promised to him & must take his side, even when he's wrong. Sansa is your sister & Winter is coming. When the cold winds blow the lone wolf dies but the pack survives." Arya notices me & so does father. He stands up and hands needle back to Arya jokingly saying "Try not to skewer your sister with it." Eddard walks out motioning me to follow him. I wave to Arya who waves back as I follow father down the hallway. He says "That business with the Prince can't happen again." I nod as we continue to walk. I ask him what we are doing and he takes me aside and says "I'll tell you soon. I'm trusting you to watch over your sisters for me." I say "Of course, father. What is happening?" He says "Keep training Arya." and walks off.
Eddard I of House Stark; Lord of Winterfell, Lord Paramount of the North & Warden of the North.​
Kings Landing. Last time I was here was that fateful day. Robert had just slayed Rhaegar Targaryen in single combat and we had won the Battle of the Trident. While Robert recovered from his injuries fighting Rhaegar I rod ahead to Kings Landing to claim the Throne in Robert's name. When I arrived the gates were opened and Lannister banners were flying over the city. Lannisters. Lord Tywin had stayed out of the war up until the Battle of Trident. No doubt waiting for a clear winner to emerge. Tywin was Aery's hand for 20 years before they had a falling out over Aerys refusing to marry Cersei to Rhaegar and naming Tywin's son & heir Jaime to the Kingsguard. Leaving him with a dwarf as the heir to his legacy. When I entered Kings Landing I saw the destruction that comes with a sacking. Houses burnt, people dead, women raped with bastards in their stomachs. I entered the throne room to find Jaime Lannister sitting on the Iron Throne with Aerys dead at his feet. I suggested that Robert force Jaime to take the black for breaking his vow to protect the King. Robert refused and kept Jaime on his Kingsguard. Jaime is nothing like Barristan Selmy, who me & Robert fought at the Trident. Barristan stood by his King & Prince's side up until the end. When Barristan fell in the battle Robert had his men tend to Barristan over himself, which delayed his arrival at the capital even further.
As I am walking through the throne room after a small council meeting Petyr Baelish approaches me with a letter that my son Brandon has awaken from his coma and says that I should "Inform my wife" which makes no sense my wife is in Winterfell. Baelish tells me she is in the city and takes me to one of his brothels. I push him against the wall letting him know I don't appreciate his jest, suddenly my wife pops her out of the second story window and I rush in to see her. I notice the scars on her hands and she informs me that an assassin tried to kill Brandon while he was in a coma. She shows me the Valyrian steel dagger that they tried to use. Catelyn tells me that the dagger belonged to Tyrion Lannister and that he may be the perpetrator. Why would he? What did Brandon see that would want someone to kill him? Actually seeing Tyrion for myself here at court he doesn't strike me as the type who would try and murder a child. Baelish insinuates that he couldn't of acted alone. I refuse to believe Robert had any part in this. Although Robert and murdered children go hand in hand. Back during the end of the rebellion Tywin Lannister's bannerman Ser Gregor Clegane murdered and raped Elia, smashing her infant son Aegon's head against a wall. Ser Amory Lorch dragged 4 year old Rhaenys from under her bed where she was hiding and supposedly stabbed her over half a dozen times. The Targaryen children were brought before King Robert wrapped in red Lannister cloaks to hide the blood. It was murder, but Robert called it "Justice." Calling the dead children "dragon spawn". Baelish promises that he'll help me get to the bottom of this. Promise. That word sticks in my ear and it never goes away. 17 years and it still haunts me. Catelyn trusts this man with her life, but should she? I suggest just taking this evidence to Robert, but Baelish says they have no actual proof that Tyrion committed the crime. Saying that Tyrion would just say the dagger was stolen from him and that the only one who could say other wise has no throat thanks to Brandon's direwolf.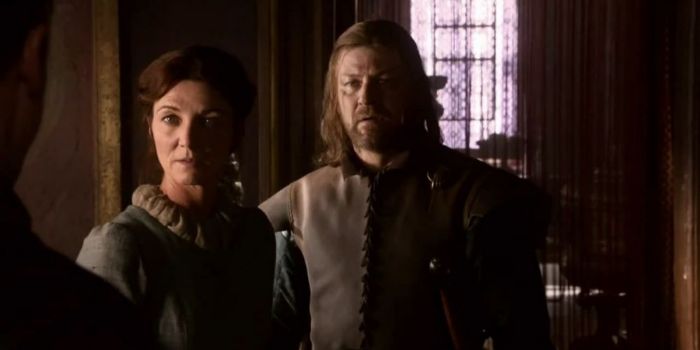 Eddard has a decision to make.

A. Accept Baelish's help to gather more information.

B. Take the circumstantial evidence to Robert.

C. Try and arrest Tyrion.
Catelyn POV:
Appearing:
Rodrick Cassel
Moreo Tumitis
Petyr Baelish
Varys

Mentioned:
Hoster Tully
Edmure Tully
Lysa Tully
Brynden Tully
Brandon Stark
Joffrey Baratheon
Jaime Lannister
Loras Tyrell
Tyrion Lannister
Jon POV:
Appearing
Tyrion Lannister
Eddard Stark
Arya Stark

Mentioned:
Joffrey Baratheon
Robert Baratheon
Cersei Lannister
Ghost
Lady
Nymeria
Sansa Stark
Jaime Lannister
Cersei Lannister
Eddard POV:
Appearing:
Petyr Baelish
Catelyn Tully

Mentioned:
Robert Baratheon
Rhaegar Targaryen
Tywin Lannister
Aerys II Targaryen
Cersei Lannister
Jaime Lannister
Barristan Selmy
Brandon "Bran" Stark
Tyrion Lannister
Gregor Clegane
Elia Martell
Aegon Targaryen
Amory Lorch
Rhaenys Targaryen
Summer
CHAPTER 7
Eddard I of House Stark; Lord of Winterfell, Lord Paramount of the North & Warden of the North.
I decide that I will go to talk directly to Tyrion. Tyrion Lannister. Tywin's 3rd child & second son. His drunkenness & whore mongering almost rivals that of the King himself. Before I do I go to see Catelyn off. I want her to head back north to White harbor. I need Wyman Manderly to start fortifying the defenses of White Harbor. I also tell her to tell my Bannermen to fortify Moat Cailin, and to keep a close eye on Theon Greyjoy, as his father Balon's fleet may come in handy. I hope it will not come to war, but what Robert said on the Kingsroad seems to becoming true "There's a war coming Ned, I don't know when or who we'll be fighting, but it's coming." I decide to go to meet Tyrion alone, he's a dwarf after all. I go to his chambers and I knock on the door. I hear "Hold on a minute." it takes a few minutes before he comes to the door. He's in a robe. "Ah, to what do I owe the pleasure of the Hand of the King?" I ask if I can come in and Tyrion nods. I walk in to see a women laying in his bed. Not surprising. Tyrion closes the door and walks over to pour us wine. I tell him it's not necessary. "I assume this is something important?"
I pull out the dagger and lay it on the table. I glance at Tyrion's face looking for a reaction but I get none. He doesn't seem to recognize the dagger, just as I suspected. Tyrion didn't even come with Robert up to Winterfell. Not to my knowledge anyway. Tyrion studies the dagger and then jests "You've gotten me a present Lord Stark? If I would of known about this beforehand I would of gotten you something in return." I finally ask "Do you know who's dagger this is?" Tyrion motions for me to hand him the knife. I go to give him the dagger saying "If you try anything…" Tyrion jests "Trust me Lord Stark I'm no warrior or assassin. That's the difference between me and my brother. He's the swordsmen and I'm better looking." Tyrion looks at the dagger more closely. "Valyrian steel. I believe I've seen this dagger before." I say "Out with it." Tyrion says "It's Robert Baratheon's." I say "No…" Tyrion says "Yes. I remember now Joffrey's last name day. Robert was showing it off after winning a bet at the tourney. I was mostly drunk so I don't recall most of it or who he won it from but I do remember the dagger. You don't see Valyrian Steel that often these days. Especially one crafted into a dagger." I say "I was told this dagger belonged to you. They said they lost the dagger to you when they bet on your brother at Joffrey's last name day." Tyrion chuckled "Who told you this?" I reply "Lord Baelish." Tyrion cracks back with "There is a serious flaw in Littlefinger's fable. Whatever you may believe of me, Lord Stark, I promise you this, I never bet against my family." It's not Tyrion's dagger, just as I feared.
I knew who Robert won it from. Petyr Baelish, and if Robert had it then it's safe to say who could of took it from him and put it into the hands of an assassin. Cersei Lannister. Even Jaime could have, he is Kingsguard after all and nobody would ask questions of a Kingsguard being seen entering or leaving Robert's chambers. Plus Robert was drunk almost the entire time he was at Winterfell, but why would they try and kill my son? Another big question, why did Baelish lie about who he lost the dagger to? Did he not think I would believe him if he told me it belonged to Robert? Possibly, but now I have some more questions to ask him. Before I can I get word that my daughter Arya is making a fuss. I go to see her in her chambers where I find her with a sword! It's castle forge steel and has Mikken's insignia on it. It was made back in Winterfell. I instantly think of Jon, who was spending hours conversing with Mikken days before we were to leave for Kings Landing. I tell Jon to continue training Arya. Arya, she reminds me so much of Lyanna, which I am proud of. She shows her same drive and determination. I pray she doesn't make the same mistakes.
The next day I go to a Small Council meeting. As I walk in I immediately notice who is absent. Baelish. I ask "Where is Lord Baelish?" Varys replies "I have not seen him since mid day yesterday." Maester Pycelle nods as well saying the same. Renly jests "Mayhaps Littlefinger is finally getting his little finger wet." Varys says "I'm not sure he even knows how to get it wet." Renly then says "The same could be said of you Lord Varys." "Alright My Lords perhaps we should get started?" I finally state. As we get started I learn from the City Watch Commander Janos Slynt that the forthcoming tournament to celebrate my appointment is seeing the city swell with visitors, and has already resulted in a tavern riot, a brothel fire, three stabbings and a drunken horse race. Varys replies "Dreadful." I was going to have Baelish find funds to strengthen the guard but he has not shown up to today's small council meeting. So I decide to give Commander Slynt forty of my household guard as appose to twenty to try and compensate for the lack of available funds.
As the meeting ends I pull Grand Maester Pycelle aside to ask him about Jon Arryn. Pycelle said he did all he could to save Jon Arryn, but the illness was sudden and severe. He recalls that shortly before his sudden illness, Arryn had borrowed a truly boring book about the lineages of the Seven Kingdoms, and his last words were, "The seed is strong." I mention that I have heard that Pycelle sent away Lord Arryn's maester. Pycelle states that this was because he felt Maester Colemon didn't understand the older body and was endangering Lord Arryn's life with purging potions. I ask if there was anything unnatural about the death, and follows up by asking if Pycelle had seen anything like this illness before. Pycelle states that he has seen more of illness than he would like to remember and that every illness is different and yet alike. I say "Lysa seems to think otherwise." Pycelle then replies "Grief can derange one's mind. Lysa's mind was not the best beforehand. Seeing enemy around every corner." I ask "Could it he have been poisoned?" Pycelle rebuffs "Who would do such a thing?" I say "It is said poison is a woman's weapon." Pycelle agrees saying "Yes. Women cravens, and eunuchs. Did you know Lord Varys is a eunuch?" I say "Everybody knows this." Pycelle then says "Hm. He was born a slave in Lys. How a man like that found his way onto the small council I'll never know." I ask Pycelle for the book, and seemingly reluctantly he gives it to me calling it a "Ponderous tomb".
On my way back to the Tower of the Hand I find Arya sitting on the steps cleaning a sword. I sit down next to her asking "You're cleaning your sword?" Arya says "Yes, Jon showed me how to do it without hurting myself." I then ask "Your sword is for piercing, it's edges aren't sharp." Arya says "Jon has been helping me learn to use a broadsword as well." I smile, but a hint of concern comes over my face. Arya asks if Bran will come to live with them now that he is awake, and I respond that first he must grow stronger. Arya says "He always wanted to become a member of the Kingsguard, he can't now can he?" I shake my head. I tell Arya that he could still become a Lord, a councilor, architect, explorer, or even the High Septon. Arya asks if she could do these things. I respond "You will marry a high lord, rule his castle, and your sons will become knights and your daughters princesses." Arya says "No, that's Sansa not me." She goes back to cleaning her the sword.
After taking the book of lineages back to my quarters I finally have time to go seeking out Littlefinger. He must answer why he lied about who the dagger belonged to. I suspect he knows more than he says he does. I go to his brothel and head inside. I ask for Lord Baelish. They say that Baelish will be with me in a moment and I wait for an hour before the man finally shows his face. "Lord Stark. Apologies for not attending the council meeting this morning. I felt ill." I get to the point "Why did you lie to me? The dagger wasn't Tyrion's." Baelish bounces back with "Because I thought you'd more so believe Tyrion owning the dagger over Robert. He is your friend after all, trying to tell you the truth would have been moot you would of just threw me against the wall again." "If Robert owned the dagger than that means the Queen or Jaime must of sent the assassin. You could of just said that." Baelish comes back with "Still, the problem remains. Who will Robert believe? You or Cersei?" I at first felt confidence in the answer to that question, but thinking about it further and realizing how much Robert relies on the alliance with the Lannisters, I began to feel fear. Baelish says "I have an idea. You should speak with Ser Hugh of the Vale, Jon Arryn's former squire, he was knighted almost immediately after his master's unfortunate death. He will be jousting in the upcoming tourney. I would also implore you to visit a certain smith named Tobho Mott in the city and meet with his apprentice. It was one of the last places Jon Arryn was seen before his death." I tell Baelish I'll have men send for them. Baelish tries and discourages this taking me to the window of the brothel pointing out spies employed by the Queen, Varys, & himself. He tells me to send a man I trust completely to speak with Ser Hugh. I say "Perhaps I was wrong to mistrust you Lord Baelish." Baelish replies with "Distrusting me was the wisest thing you've done since you climbed off your horse." Time is of the essence since Baelish sent me on a wild goose chase with Tyrion and I can't be in two places at once. I need to find out why Jon Arryn was murdered by the Lannisters.
Eddard has a choice to make.

A. Send Jory to retrieve Ser Hugh & go to Tobho Mott's shop to meet this apprentice yourself.

B. Go get Ser Hugh on your own & send Jory to meet with Tobho Mott's apprentice.
Viserys Targaryen; Exiled Prince of the Seven Kingdoms & Head of House Targaryen​
I have been staying in Pentos for weeks. Illyrio has left to meet with a friend of his and gather information, I have to wonder if it's this blue haired man I have seen him associated with. I have done some spying of my own. I have followed this man and have found out his name. "Griff", although I doubt that's his real name. The man dyes his hair a different color which makes me think he is trying to disguise himself. His true hair color is red and he has the nickname Griff.
I think the man is a Connington. House Connington's sigil is a griffin, but he can't be. Jon Connington? My father's former hand who failed to capture the usurper at the battle of the bells during the Rebellion? Most think he drank himself to death in Lys after being kicked out of the Golden Company. After his defeat at Ashford, Robert fled into the Stoney Sept. Connington, the fool, decided instead of burning the whole city to the ground to ensure the ursuper's demise, decided to do the "honorable" thing of just searching the town having his men go from door to door to spare the civilians' lives. This resulted in Eddard Stark & Hoster Tully being able to catch him by surprise before he could find Robert. My father rightfully seized Connington's lands and exiled him. Why did he fake his death, and what are him and Illyrio conspiring about? I need to find out more information, or I could just confront the man.
Viserys has a deicison to make.

A. Don't do anything to upset Connington & continue to gather information.

B. Confront Connington about what him & Illyrio are scheming.
Daenerys of House Targaryen: Exiled Princess of the Seven Kingdoms​
We have arrived in Vaes Dothrak, city of the horselords. There are no city walls in Vaes Dothrak but there is a large gateway arch made of two statues of rearing horses. I points out that it is not right to make my brother wait to Jorah, and say Viserys believes he can sweep the Seven Kingdoms with 10,000 Dothraki. Ser Jorah snorts that Viserys could not sweep a stable with 10,000 brooms. I ask whether it would be possible for someone stronger than Viserys. Ser Jorah tells me that when he first came to Essos he saw the Dothraki as half-naked barbarians and believed that a thousand good knights could put a hundred times as many Dothraki to flight. Now he is not so sure. The Dothraki are better riders, their bows wielded from horseback have a longer range, and there are so many of them. Drogo alone commands 40,000 men, the same number that Rhaegar brought to the Battle of the Trident, and only a tenth of Rhaegar's men were knights. When Rhaegar died, many fled the field and such a rabble would not last long against 40,000 Dothraki. However, the Dothraki have no patience for siegecraft and if the armies of Westeros stayed behind their castle walls they could hold out forever. Robert Baratheon might be fool enough to give them battle, but the men around him are not: Stannis Baratheon, Tywin Lannister, and Eddard Stark. The way he says the last name leads me to ask if Ser Jorah hates the man. Ser Jorah replies that Eddard Stark took everything he loved from him for a few lice-ridden poachers and his precious honor. As we settle down in the city I begin studying my dragon eggs more and more. I feel this…connection to them that I can't explain.
The stallion's heart is still raw and steaming when it is placed before me. As part of the ancient Dothraki motherhood ritual I begins to eat the tough, stringy flesh. The Dothraki believe that the heart of the stallion will make my son strong and swift and fearless. If I choke on the blood or retch the omens are less favorable: the child could be weak, deformed, stillborn, or female. In preparation, I have eaten bowls of blood and dried horse flesh and fasted for a day and a half, yet still my stomach roils and my jaw aches. Khal Drogo stands over me as I eat, his face hard, but as I continue I begin to see pride in his eyes. When I am done, I pronounce the words I have rehearsed to the dosh khaleen, the crones of Vaes Dothrak. Even the most powerful khals bow to the wisdom and authority of these crones, each of whom is the khaleesi of a dead khal. The crones proclaim, "The prince is riding; a boy, a boy, a strong boy," and begin to chant. After the crowd finishes chanting there is silence. Then one of the crones announces the greatness of the new prince, the Stallion Who Mounts the World. I reveal the name of my son: Rhaego, in honor of my older brother Rhaegar.
Khal Drogo leads me out of the pit with his bloodriders behind, followed by the rest, down the godsway. As they walk, Drogo asks about the name of their son and I tell him about my brother a fierce warrior who died before I was born; the last of the dragons. Drogo declares that it is a good name. Eventually we arrive at the lake called the Womb of the World. Here I strip out of my soiled clothing and enter the lake. I cleanses my face and body of the dried blood. When I emerge from the lake, Doreah brings me a robe of sandsilk. We ride down the godsway to Drogo's tent-hall where there is a great feast prepared for those too low of rank to attend the ceremony. As I rides up the aisle, the crowd hails the life within me. When I dismounts I see Ser Jorah Mormont in a place of respect in the midst of the hierarchy and invites him to her own table. Daenerys asks Ser Jorah about the Stallion Who Mounts the World. He explains that the Stallion is the khal of khals, who is prophesized to unite the Dothraki into a single khalasar and lead them to conquer the world.
Eddard POV:
Appearing:
Catelyn Tully
Tyrion Lannister
Arya Stark
Varys
Maester Pycelle
Renly Baratheon
Janos Slynt
Petyr Baelish

Mentioned:
Tywin Lannister
Robert Baratheon
Wyman Manderly
Theon Greyjoy
Balon Greyjoy
Joffrey Baratheon
Jaime Lannister
Cersei Lannister
Mikken
Lyanna Stark
Jon Arryn
Maester Colemon
Lysa Tully
Jon Snow
Ser Hugh
Tobho Mott
Viserys POV:
Appearing:
Jon Connington

Mentioned:
Jorah Mormont
Illyrio Mopatis
Robert Baratheon
Eddard Stark
Hoster Tully
Aerys II Targaryen
Daenerys POV:
Appearing:
Jorah Mormont
Khal Drogo

Mentioned:
Viserys Targaryen
Rhaegar Targaryen
Robert Baratheon
Stannis Baratheon
Tywin Lannister
Eddard Stark
CHAPTER 8​
Eddard I of House Stark; Lord of Winterfell, Lord Paramount of the North & Warden of the North.
I decide to go see this Ser Hugh of the Vale first while I send Jory to talk to Tobho Mott's apprentice. I walk down towards the area where the jousting is to be held. I find Ser Hugh preparing for the tourney. "Ser Hugh of the Vale?" I ask. Ser Hugh turns and asks, "Who are you?" I say, "I'm Eddard Stark, Hand to the King." Hugh becomes thrown off and says "Oh. Apologies my Lord I've become frantic in my attempt to prepare for this tourney honoring you." I tell him there is nothing to forgive and I say, "I was hoping to ask you questions about Lord Arryn?" Ser Hugh says "Of course." We walk off together as I begin to ask him about what happened in the days leading up to Jon's death. Ser Hugh tells me the same thing I've heard from Robert & Pycelle, that Lord Arryn became suddenly Ill and died not long after. Ser Hugh tells me he was there the day Lord Arryn died and before Robert rode north to retrieve me to be his new Hand he had Ser Hugh knighted in memory of Lord Arryn. Ser Hugh was Jon's squire for 4 years after all and was close to the man. Ser Hugh tells me how Lord Arryn was like a father he never had. It seems Jon left Ser Hugh some money which he used to put a payment down on a suit of armor. He has not yet paid for the entire thing and hopes to do Lord Arryn proud in the upcoming tourney. Ser Hugh tells me he had fears that he wouldn't be ready when the time came for his knighthood. He is a green boy and does not look like he is ready for a jousting, much less having the brass to poison Jon. Who he sees as a father to him. Jon was most likely going to knight Ser Hugh eventually anyways so poisoning him seems counterproductive. Going over the listing it seems he will be going up against Ser Gregor Clegane. I pray for him. It seems Ser Hugh turned out to be a dead end. I return to my quarters and wait for Ser Jory to return. When he does to my disappointment he tells me the Armor's apprentice is a dead end as well telling me it was just some boy of no significance. It seems my investigation has come to a grinding halt.
Later in the day to my surprise Renly Baratheon visits me. He walks in saying "Lord Stark." I don't know what to make of Lord Renly. He has been all smiles since I've arrived. Renly looks just like Robert did in his prime and it's startling to say the least. I decide to ask Renly about Stannis. "Why did your brother head back to Dragonstone? He's still Master of Ships am I correct?" Renly stands silent for a second then says "Yes, but it's not like the council meetings are missing anything with him not there. Stannis never spoke anyways he'd just sit brooding over how Robert gave away his rightful seat to me. Envy is an unattractive trait Lord Stark. My brother has loads of it and I'm starting to think it's why his hair is falling out." I say "This is a serious matter I've already sent him two letters asking him to return and he hasn't. I want to know why? Does it have something to do with Lord Arryn?" Renly professes "All I can say is Stannis spent a lot of time with Lord Arryn months before his death. The two were always discussing things in private. I think Robert was getting a bit annoyed with it actually." Renly then says "But I'm not here to discuss my brother. I'm here to show you something." Renly pulls out a locket and opens it up showing me the picture inside. It's of a very young and beautiful woman. Softly curling brown hair, large brown eyes, a pale, smooth unblemished skin, and a slender. Renly tells me it is a picture of Margaery Tyrell, Mace Tyrell's only daughter and he asks me if she reminds me of anyone. I struggle to come with anyone she looks like that I've seen. Renly is disappointed by my lack of a response and then tells me that it has been suggested that Margaery looks like my late sister, Lyanna Stark. I tell him she most certainly doesn't look like my sister. As Lord Renly leaves I begin to wonder why he would be asking me questions about my sister comparing her to Mace Tyrell's daughter. Is Renly in love with this woman? Ironic if Renly, who reminds me of a young Robert, would be in love with a girl he believes to be like Lyanna. Jory walks in as Renly leaves. Jory asks "What do you want to do my Lord?" I tell Jory Stannis needs to return and the letters clearly aren't working. I need to send someone to treat with Stannis, get answers, and show him this is a serious request. Jory is needed here as he is my household guard. I'm starting to think of sending Jon. Bringing him clearly was a mistake but it's too late now, but he is my blood and I'd trust him with my life or our families. Arya won't be happy as he has been training her, but there's plenty of time for that.
Eddard has a decision to make.

A. Send Jon Snow to Dragonstone to try and retrieve Stannis.

B. Continue to send letters
The next day is when the tourney begins. Lords and Hedge Knights from all over have arrived, the streets are crowded. Of those who have arrived to participate include the likes of Lord Beric Dondarrion of Blackhaven, Lord Yohn Royce of Runestone, Lord Jason Mallister of Seagard, and Ser Loras Tyrell heir to Highgarden. Others in the joust include Thoros of Myr, Jaime Lannister, Barristan Selmy, Gregor Clegane, Sandor Clegane, Ser Hugh, & my household guard Jory. Me, Sansa, Arya, & Sansa's friend Jeyne Poole watch the tourney from a place of honor. Jory Cassel, in drab armor, wins two matches, but loses a well-fought third match to the freerider Lothor Brune when King Robert judges Brune's lance to have been steadier and better placed. The other contestants from Winterfell do not fare as well. The jousting goes on all day and into the evening. Ser Jaime the Kingslayer rides brilliantly, defeating Ser Barristan Selmy, who has already unhorsed two men thirty and forty years younger than himself. The Hound and his immense brother Ser Gregor Clegane, the Mountain-that-Rides, seem unstoppable. On Ser Gregor's second joust, his lance rides up and impales Ser Hugh of the Vale in the neck, killing him. Ser Hugh, in his shiny new armor, falls not ten feet from us. Going up against the Mountain was never going to end well for the boy, sadly he went slowly, choking on his own blood.
Lord Renly Baratheon, a crowd favorite, is unhorsed so violently by the Hound that he seems to fly backwards and the hard fall breaks a gold antler off his helm. Renly gives the broken antler to the Hound, who merely throws it into the crowd, which erupts in a riot until Lord Renly restores order. By the end of the day's jousting, only four contestants remain: Ser Gregor Clegane, the Hound, Ser Jaime Lannister, and Ser Loras Tyrell. Sansa is entranced with Ser Loras, who is called the Knight of Flowers and has been giving white roses to various ladies in the crowd throughout the day. Finally, Ser Loras gives a red rose to Sansa, telling her, "No victory is half so beautiful as you." This reminds me of a tourney that I've tried to forget for so long. The Tourney of Harrenhal. The day all the smiles died. Nothing has ever been the same since. Friends turned to enemies & enemies turned to friends. Promises were kept.
The next day I return to the tourney to see Ser Barristan Selmy standing vigil over Ser Hugh's body. Barristan Selmy explains that he stood vigil for the fallen knight himself, as the boy had no one else except a mother far away in the Vale of Arryn. Ser Hugh's armor is new, forged especially for the tourney, and worth good money. Ser Barristan does not know if Ser Hugh had even finished paying the smith. I order the silent sisters to have the armor sent to the boy's mother. I and Barristan head out of the tent going towards King Robert's. Barristan tells me it is funny that we work together now seeing as the last time we met was as enemies on the Trident back during the Rebellion. I tell Barristan that my father Rickard said Barristan was the best he'd ever seen. Barristan tries to be modest but truly almost none can compete with him in one on one combat. He tells me what Aerys did to my father was a terrible crime. I agree. Barristan informs me that the King plans to fight in the tourney. I tell Barristan that the day the King fights in a joust is the day boars fly. Barristan says the King tends to get and do what he wants. I tell Barristan that if Robert got what he wanted, we'd still be fighting a damn rebellion.
We arrive at the tent where Lancel and Tyrek Lannister are attempting to put a breast plate on Robert. It's clearly not gonna fit. Robert complains that the squires can't put a man's armor on him properly. I say, "You're too fat for your armor." Barristan, Tyrek, & Lancel go stone cold quiet. Robert in mock anger says "Fat? Fat, is it? Is that how you speak to your king? Ah, damn you, Ned, why are you always right?" Robert bellows out in laughter, Tyrek & Lancel join in. Robert then says, "Oh it's funny, is it?" Lancel and Tyrek start shaking their heads no before Robert then says "No? You didn't like the Hand's joke?" I tell him he's torturing the poor lads before Robert says, "You heard the hand, the King is too fat for his armor go find the breastplate stretcher!!" The two run off as I, Barristan and Robert laugh. "Breastplate stretcher?" I ask, "How long until they figure it out?" Robert says whilst laughing.
I ask Robert why he has two Lannister squires and he says Cersei insisted. Robert talks about how he has Jon Arryn to thank for Cersei. Robert admits that Cersei is beautiful, but insists that she is cold and that Jon Arryn was a fool for recommending the marriage. Robert only agreed to it so he'd have the wealth and might of Tywin Lannister on his side should Viserys Targaryen ever return to claim the throne. I ask Robert how he got into a fight with Cersei earlier and Robert exclaims that she was trying to deter him from competing in the tourney. Robert says he wants to feel alive again.
Eddard has a decision to make.

A. Encourage Robert to compete in the tourney.

B. Discourage Robert from competing in the tourney.
Eddard POV:
Appearing:
Ser Hugh of the Vale - Killed in jousting against Ser Gregor Clegane
Jory Cassel
Renly Baratheon
Beric Dondarrion
Yohn Royce
Jason Mallister
Loras Tyrell
Thoros of Myr
Jaime Lannister
Barristan Selmy
Gregor Clegane
Sandor Clegane
Arya Stark
Sansa Stark
Jeyne Poole
Robert Baratheon
Lothor Brune
Lancel Lannister
Tyrek Lannister


Mentioned:
Jon Arryn
Tobho Mott
Maester Pycelle
Stannis Baratheon
Margaery Tyrell
Mace Tyrell
Lyanna Stark
Jon Snow
Rickard Stark
Aerys II Targaryen
Cersei Lannister
Tywin Lannister
Viserys Targaryen
CHAPTER 9
JON SNOW; BASTARD OF WINTERFELL
Father has sent me to treat with Stannis. I hate leaving Arya behind, but I've heard Ned has someone in mind to replace me. I will still want the honor of teaching her when I return. The journey from Kings Landing to Dragonstone isn't expected to be a long one, but just being on a ship in general causes a queer feeling in my stomach. I think I'm gonna throw up…
It's been 2 days and we've finally arrived at Dragonstone. Dragonstone is a grim place. From what I hear it fits perfectly with Stannis Baratheon. The castle was built using by the Valyrians, using arcane arts, fire, and sorcery. With the use of magic, the Valyrians were capable of liquefying stone. The dragon lords loved little more than twisting stone into strange, fanciful, and ornate shapes, and as such used their magic to shape the castle to look like multiple dragons. I've heard plenty about it, but seeing it for the first time is breath taking. Even with as grim as it is the Valyrians were great craftsmen I'll give them that much. As we arrive I am thrown off as I am met by a man with White hair. He asks who I am and I tell him "I'm Jon Snow, bastard son of Eddard Stark. I've been sent by my father to speak with Stannis regarding his absent from the council.". The man walks forward and reveals himself as Aurane Waters, bastard half-brother of Monford Velaryon. It's odd seeing Valyrians. I've heard stories about the Targaryen but they were all exiled or killed back during Robert's Rebellion before I was born, but the Velaryons remained in their keep at Driftmark, now sworn to Stannis Baratheon. The other remaining Valyrian household in the crownlands is House Celtigar. Aurane takes us up the steps as troops move all around us. I still don't understand what is happening it looks like they are preparing for war. I see men carrying weapons, armor, banners, and what look like ship sails down towards the coast. We make it into the main hall where I see the Dragonstone throne, where Aegon the Conqueror sat before his conquest of Westeros. I'm sure Stannis uses it too just to amuse himself.
This place is a lot busier than I thought it would be. Soldiers everywhere. We head up towards the chamber with the painted table, which Aegon The Conqueror used to plan his conquest of Westeros. So much history. We enter the painted table room and at the far end I see Stannis sitting in a chair with various men surrounding him who I don't recognize. Aurane introduces me and Stannis says, "Come forward." Stannis seems very on edge. I finally say "My lord. I've been sent by my father to ask why you have no responded to any letters he has sent you. He wants to know why you haven't returned to assume your position on the council." Stannis stands up, he towers over me, and he asks, "You don't know do you?" I tell him I do not understand. Stannis says, "My brother Robert Baratheon is dead, killed in the Hand's tourney a day ago." I am shocked by this news "How?" I ask him. Stannis says "Apparently he was jousting against the Mountain and when the lances clashed a piece of wood entered his helm and went straight through his eye. It doesn't matter, Cersei has seen to his demise to hide her secret. I wasn't expecting Cersei to make an attempt like this with your father just arriving." I ask him "What secret?" Most of the men start leaving as Stannis ushers me over. Stannis says, "You are your father's son are you not Snow?" I nod to him. Stannis says "Joffrey, Tommen & Myrcella are not my nephews or Robert's children. They are as I've suspected the bastards of Queen Cersei and her brother Jaime."
I am overwhelmed. I ask, "How do you know?" Stannis says "It's clear as day. Only a fool would not see it. They look nothing like my brother." I reply with "My brother Robb doesn't look like our father. He has his mother Lady Catelyn's Tully features." Stannis says "Not once in our dynasty has any children had anything other than black hair. The seed is strong Jon Snow." Jon Snow says, "How long have you known this?" Stannis says "For a while now. I shared my suspicions with Jon Arryn but Cersei got to him before we could move against her. He's dead because of me. I needed Jon Arryn to be there to tell Robert the truth, Robert would sooner break bread with Viserys Targaryen then listen to any truths from my mouth. If what I say is true it means I am the rightful King, and that would of course look incredibly convenient and suspicious to those who would sooner see this bastard abomination on the throne." I ask, "How do you know the Queen and her brother are…?" Stannis says "I have not pressed my ears to any doors Jon Snow, but I've concluded that the father must be someone who could have spent enough time with Cersei over the years to father 3 children with her without anyone giving a second glance. Cersei and Jaime are never too far apart. Cersei despises the dwarf and never sees him in private, but Jaime is Kingsguard, always by the Queen's side during the day and during the time of the wolf. Cersei certainly isn't getting aroused by my brother who would rather be desecrating your aunt's corpse." Stannis stares long and hard out the balcony. He finally says "I need in your father what I lost in Jon Arryn. It is too late for a peaceful ascension. War is coming. I mean to press my claim and reveal this abomination Joffrey's secret to the realm. It will come time for the lords of Westeros to choose. This isn't about what I want, I don't want to be King and I never asked for it. This is about the law. I am Robert's heir and nothing can change that. Tywin Lannister will obviously side with his daughter and grandson, but I will need the other Kingdoms' support. The North most of all. I would have had the Vale as well if Jon had finally sent Robin Arryn to me to be fostered like he had planned before his murder."
I ask, "Do you think my father will believe this?" Stannis says, "Your father is no friend of mine, but only a fool will question his honor and if Lord Arryn could see the truth, no doubt Eddard will as well." Stannis says "I'll be sending Aurane Waters back with you to hold Master of Ships in my stead as to hold off Joffrey's dogs. I am planning to send back word that I cannot make Joffrey's coronation or presume my position on the council because a sickness has befallen me. You must convince your father of my findings Jon Snow. I will press my claim whether you do or not. I do hope your father sees reason."
Eddard I of House Stark; Lord of Winterfell, Lord Paramount of the North & Warden of the North.​
Another tourney I'll never forget, or this realm ever will. Robert lies on a table in front of me. His body covered. I should have told him not to compete. Barristan Selmy walks into the tent, as does Renly Baratheon. Barristan says "Back during the rebellion Robert sent his maester to tend to me when he himself was injured. I may have saw him as an enemy up to that point, I never forgot that, and to see him like this." Renly says, "Robert went exactly how he would have wanted to." Renly asks Barristan to step outside. I turn to Renly. Renly says, "Lord Stark we have something to discuss." I ask him what. Renly says, "You know exactly what." He nods his head towards Roberts body but then he studies me for a moment and then he lets out a sigh. Renly then says, "You blind fool." I ask him what he means and he says "One actual look at those kids and you'd realize. Joffrey, Myrcella, & Tommen aren't Robert's children." I am taken a back and ask him how he could possibly know this. Renly points out the look of the kids then he says, "Tell me with certainty that Joffrey or any of them look ANYTHING like Robert, and let me ask you this do you really think Cersei would ever let Robert get her pregnant?" It starts coming to me, why Jon Arryn said, "The Seed is Strong in his final moments." Renly says the Baratheon line has always been dark haired and then he says, "Give me an hour and I could put 100 swords at your command." I ask, "What would you have me do with a hundred swords, my lord?" Renly says "Strike! Tonight, while the castle sleeps. We must get Joffrey away from his mother and take him in hand. Cersei doesn't know you suspect her treachery yet. He who holds the king holds the kingdom. Every moment you delay gives Cersei another moment to secure her bastard's position." I say, "If what you say is true then Stannis is the rightful heir, my son has already went to retrieve him." Renly says, "This isn't about the bloody line of succession, what's best for the people we rule?" I say, "Stannis is a proven battle commander. He's led men into war TWICE." Renly says, "Yes Stannis is a good soldier, so was Robert." Renly points to Robert's corpse "And look what that got him. Stannis inspires no love or loyalty. He's no King, I am."
Eddard has a decision to make.

A. Accept Renly's offer.

B. Decline Renly's offer and wait for Stannis and Jon.
Jon POV:
Appearing:
Aurane Waters
Stannis Baratheon

Mentioned:
Eddard Stark
Arya Stark
Monford Velayron
Aegon I Targaryen
Robert Baratheon - killed in The Hand's tourney jousting against Gregor Clegane
Gregor Clegane
Cersei Lannister
Joffrey Baratheon
Tommen Baratheon
Myrcella Baratheon
Jaime Lannister
Robb Stark
Catelyn Tully
Jon Arryn
Robin Arryn
Tywin Lannister
Eddard POV:
Appearing:
Robert Baratheon - killed in Hand's tourney jousting against Gregor Clegane
Barristan Selmy
Renly Baratheon

Mentioned:
Joffrey Baratheon
Myrcella Baratheon
Tommen Baratheon
Cersei Lannister
Jon Arryn
Stannis Baratheon
CHAPTER 10​
Arya Stark; Lady of Winterfell​
Father sent Jon away and now he has hired a Braavosi named Syrio Forel to train me. The man is odd. The way he talks, the combat he is training me in. It seems needle is perfect for this sort of combat according to Syrio. Syrio tells me "There is only one god, and his name is death." Syrio tells me that every hurt is a lesson and every lesson makes you better. Father says that I'm not allowed to hit the Prince, but nobody said I can't leave cow pies in his bed. I'm pretty sure he thinks the Hound has been doing it. Back on the Kings road Jon and I were training when Joffrey and Sansa approached us near the Trident. Joffrey challenged Jon to a sword fight to test his skills but Jon refused stating that a bastard shouldn't break steel with trueborn, especially Royalty. Joffrey then order him to fight but Jon continue to hold strong and grabbed me leaving when Joffrey tried to swing his sword Jon pushed the Prince to the ground and stormed off dragging me with him. If it wasn't for Jon being our father's son the King might have had his hand taken or had him sent to the wall. Sansa spoke up in Joffrey's defense the liar, The King declared that children fight and stated that both Joffrey & Jon should be punished.
We've just been informed that the King has died, which means Joffrey will become King, seven hells. I think now I'm glad father sent Jon away or Joffrey would want to punish him. To take my mind off all this I'll be going to chase cats. Syrio has tasked me with attempting to catch a cat. Syrio Forel told me that every swordsman should study cats, because they are quiet, light on their feet, and quick. As I am attempting to chase a cat I follow it down into a cellar of sorts, when I come across…oh my. Dragon skulls. The biggest was the size of a carriage. As I am standing in awe I hear voices approaching me. I panicked and hid inside the Dragon skull. There was a plenty of room. I felt the cold black breath on my face. Far below, I saw the light of a single torch, small as the flame of a candle. Two men, I made out. Their shadows writhed against the sides of the well, tall as giants. I could hear their voices, echoing up the shaft. As the men approach I can make out what they are saying more clearly. "He sent one of his men to see the bastard, but it seems he didn't put the pieces together which is good, but sadly the Lannisters got to Robert which means Stannis & Renly will be mobilizing." The torchbearer says, a stout man in a leather half cape. Even in heavy boots, his feet seemed to glide soundlessly over the ground. He seemed familiar to me, but the other was foreign he had an accent like Syrio's but it wasn't quite the same. He wasn't from here. The foreigner says "Stark doesn't seem to have put the pieces together and the King's death will probably bring him closer to this boy King, thinking he is Robert's actual son. If Stark backs Joffrey then maybe he can quell the brothers?" The torchbearer says "I believe Eddard suspects something. It seems he already chosen his side, sending his bastard to treat with Stannis and my little birds overheard him declining Renly's offer for swords in front of Robert's corpse not long ago and Renly has ridden out of the city. We'll be at war soon my friend." The foreigner replies "What good is war now? We're not ready. What can we possibly do now to stale this?" The torchbearer says "Nothing. Stannis is gathering swords as we speak. Renly and the Tyrells had hoped to bring Lord Tyrell's daughter to court to seduce Robert, but it seems that plan has gone to shambles today. Lady Arryn has fled with her son to the Eyrie and I have not heard a thing from my birds since. Littlefinger, gods only know what game he is playing. Littlefinger tried to play the Starks against the Lannisters but he chose a poor target thankfully." The foreigner says "We have to delay somehow. Khal Drogo will not make a move until his son is born. If he even tries at all. Robert died before we could use him to antagonize Drogo." The torchbearer says "Delay, you say. Make haste, I reply. Even the finest of jugglers cannot keep a hundred balls in the air forever. This is no longer a game for two players. Make sure Connington is ready when the time comes." The foreigner replies "Viserys suspects something I know it, I think you are right that we have to move faster." The men get too far away and I cannot make out what they're saying any longer. "What I can do, I will," the one with the torch said softly. "I must have gold, and another fifty birds." I let them get a long way ahead, then went creeping after them. Quiet as a shadow. The foreigner replies "So many?" The voices were fainter as the light dwindled ahead of me. "The ones you need are hard to find, too young to know their letters. Perhaps older ones they will not die so easy." The torchbearer replies "No the younger ones are safer." The foreigner replies "Only if they can keep their tongues." The torchbearer replies "No, too much risk. You must take their tongues before bringing them to me. If they were caught or imprisoned they cannot be able to give me up. I must take my leave Eddard is gathering his men and heading for the throne room."
Eddard of House Stark: Lord Paramount of the North, Lord of Winterfell, & Warden of the North​
I look at Renly amazed that he would ask me this. What he's telling me to do reminds me of back during the rebellion when the Targaryen children were dragged from their beds and slaughtered. I would not stoop to the Lannister's level. I was a better man than that. Renly didn't say the children would be slaughtered but he did all but say it with his mouth. I say "If what you say is true, then Stannis is the rightful heir. I will write a letter to Stannis informing him of his brother's death and I will continue to consider your suspicions. I will not dishonorably deny the rightful heir the throne and drag frighten children from their beds to the slaughter." Renly looks stunned & disappointed as I leave the tent. As I am heading back to the red keep I am approached by the Royal Steward. "Lord Stark, King Joffrey requests your presence in the throne room." This is faster than I was expecting. I am not prepared and I do not have the proof or the man power. I have not been able to talk to Baelish since about getting me more men.
I gather my full household guard and head for the throne room. Knowing that this could end badly. I tell Jory to gather the girls and if things go bad head for the harbor and sail for Dragonstone. When I arrive Baelish and Varys are standing outside the doors. Baelish says, "Lord Stark, I urge you to make whatever decision you feel right." Varys glares at Baelish before turning and saying, "Remember who is in that room Lord Stark and what happens when people cross them unprepared." I ask, "Will Lord Renly be joining us?" Varys says, "Unfortunately, Lord Renly was last seen galloping out of Kings Landing south an hour ago with Ser Loras Tyrell and some 100 retainers in tow." Why has Renly fled? Does he fear for his life? We head inside as The Royal steward announces "All hail his grace Joffrey of the Houses Baratheon and Lannister. First of his name, King of the Andals, the Rhoynar, and the First Men, Lord of the Seven Kingdoms, and Protector of the Realm." As we stop at the bottom of the steps in front of the Kingsguard Jaime Lannister glares at me and Joffrey proclaims "I command the council to make all the necessary arrangements for my coronation. I wish to be crowned within the fortnight." Cersei stares me dead in the eyes and then says "Lord Stark. Being as you were Robert's closest friend I know you must be overwhelmed with grief my lord with all that is happening so suddenly, but I implore you. Bend the knee my lord, bend the knee and swear fealty to my son. Then you may return to that grey waste you call home, but Sansa will be staying here as a show of your loyalty to the crown." If I do this now without any real proof it will end badly. All I can think about are Sansa, Arya, and Jon.
Eddard has a decision to make.

A. Bend the Knee to Joffrey and head back to Winterfell, leaving Sansa as a hostage.

B. Bend the Knee, but insist you stay as Hand of the King (Note, depending on previous decisions you made Cersei will either accept or deny this. If she declines she may start thinking you are attempting to stay for a less than favorable reason in her best interests and who knows how she'll respond to that.)

C. Don't bend the knee and declare Stannis as the true heir.
Viserys Targaryen: Exiled Prince of the Seven Kingdoms & Head of House Targaryen​
Illyrio is still gone and I've decided to follow this Connington back to whatever hole he comes from he hasn't been here since Illyrio left but he did go to the docks to retrieve a letter, interesting. He is clearly not staying in Pentos he reeks of shit and dirt. I follow him out of the sunrise gate and east. He is headed towards the Rhoyne. I keep up with him. Making sure not to be noticed. He comes to this valley and in it lies a cave, hidden very well I may add. He goes inside and I follow suit. The cave smells just as he does. As I head down the cave I can hear people talking. "Illyrio says the time has come. Robert Baratheon is dead. He has sent word to Strickland to break its contract with Myr and march north to Pentos." Connington says. As I finally get a view of Connington I notice other people as well. A young man who dyes his hair blue as well. The boy is almost as tall as Connington. The boy asks, "Even if Baratheon is dead the rest of the country will rally around his son." Connington replies "Joffrey and the rest aren't Robert's children. Robert's brothers will soon gather their supporters and march on Kings Landing. So, we need to be ready when Renly takes his army North. The Stormlands will be ripe for the taking. It seems Viserys is not needed any longer as he will not get the Dothraki army. Drogo has taken his sister to Vaes Dothrak and never returned." The boy says, "What is to be done with Viserys then?" Connington says "Illyrio will most likely end him. He'd never be able to gather enough supporters to be a threat on his own but someone may still try to use him all the same. Just as Illyrio and the Eunuch had tried to." The boy looks sadden by this news and says "I haven't even gotten to me him yet and you're telling me you're gonna kill him??!!" Jon says "It's for your best interest. The man is cruel & wroth he'd never be your ally." Illyrio has betrayed me! It may be in my best interests to flee while I still can.
Viserys has a decision to make.

A. Confront Connington and the Boy

B. Go back to Pentos, gather your things, and flee for Vaes Dothrak.
ARYA POV:
Appearing:
Syrio Forel
Varys
Illyrio Mopatis

Mentioned:
Jon Snow
Joffrey Baratheon
Sansa Stark
Robert Baratheon
Stannis Baratheon
Renly Baratheon
Mace Tyrell
Margaery Tyrell
Eddard Stark
Lysa Tully
Robin Arryn
Petyr Baelish
Khal Drogo
Jon Connington
Viserys Targaryen
EDDARD POV:
Appearing:
Renly Baratheon
Petyr Baelish
Varys
Joffrey Baratheon
Cersei Lannister
Barristan Selmy
Jaime Lannister
Sandor Clegane
Arys Oakheart
Meryn Trant
Mandon Moore
Boros Blount
Preston Greenfield
Maester Pycelle

Mentioned:
Aegon Targaryen
Rhaenys Targaryen
Myrcella Baratheon
Tommen Baratheon
Stannis Baratheon
Loras Tyrell
Jory Cassel
Sansa Stark
Robert Baratheon
Jon Snow
Arya Stark
VISERYS POV:
Appearing:
Jon Connington

Mentioned:
Illyrio Moptais
Robert Baratheon
Harry Strickland
Joffrey Baratheon
Myrcella Baratheon
Tommen Baratheon
Stannis Baratheon
Renly Baratheon
Khal Drogo
Daenerys Targaryen
CHAPTER 11​
Eddard of House Stark: Lord Paramount of the North, Lord of Winterfell, & Warden of the North​
I stand looking at Cersei. I look at the ground and begin praying for my family before I look back up. "Your son has no claim to the Iron Throne. Stannis Baratheon is the rightful heir, I've sent word to him to arrive within the fortnight." I finally say. "LIAR!" Joffrey exclaims before Cersei says, "You condemn yourself with your own mouth Lord Stark." She motions for Ser Barristan to seize me. My men step forward to face Barristan but I tell them Barristan is a loyal man and to do him no harm. Barristan is shocked and stops in his tracks. "I have more men then you, but I want no bloodshed. Tell your men to lay down their arms nobody needs to die." Cersei looks at Joffrey then to Jaime then says, "You do." I pull out my sword but suddenly I feel a cold blade at my throat. It's Lord Baelish. "You should have bent the knee while you had the chance, My lord." He says to me as my men battle with the Lannister men in the Throne room. We outnumber the Lannister men but the Kingsguard, including Barristan Selmy & Jaime Lannister begin slicing through my men like they are paper. One of my men attempts to save me and Baelish lets go and I fall to the floor and hit my head. Baelish becomes a shadow and I begin to feel dizzy as my men drag me out of the Throne room as begin getting overwhelmed. I tell my men to send a few forward to make sure Jory got my daughters to the docks. The city watch starts attacking us as well as we head through the streets. My head stops spinning and I'm able to stand on my own. We continue towards the docks. I spot Sansa, but next to her is Janos Slynt the Commander of the city watch, who has a knife to her throat and about 50 or so more gold cloaks surround us. Behind us the Lannister men and the Kings guard catch up to us. Jaime Lannister walks through the men and says "Commendable effort Lord Stark. You've done much better than your father and brother, but as they say all Starks melt when they come south. You just took a bit longer because of that thick head of yours." Jaime steps towards me and my men. I look back at Sansa, who is in tears.
Eddard Stark has a decision to make.

A. Surrender.

B. Challenge Ser Jaime.
Viserys Targaryen: Exiled Prince of the Seven Kingdoms & Head of House Targaryen​
Enough is enough. I must know what is going on. I walk out of the shadows and announce myself. Connington is shocked as he should be. The boy looks thrown off but isn't scared and smiles. The boy is about to start talking but then Connington unsheathes his sword. I demand to know what is going on. Connington says "If you've just heard everything I've said and you still don't realize then you're a bigger fool than I thought." "What do you mean?" I ask. Connington sighs then finally points to the boy and says "This is Aegon Targaryen, sixth of his name, King of the Andals, the Rhoynar, and the First men, son of Rhaegar Targaryen and Elia Martell, and rightful heir to the Iron Throne. Your nephew." No…impossible. My nephew Aegon was slaughtered by Gregor Clegane during the sack of Kings Landing. What sort of trick is this? Connington explains that after Robert killed Rhaegar on Trident and before Tywin's army arrived at the gates of Kings Landing during Robert's Rebellion Varys, my father's master of whisperers, switched baby Aegon with a tanner's infant son. The child's mother had died at birth. The tanner sold his boy to Varys for a jug of wine, since he already had other sons, but had never tasted Arbor gold. Varys arranged the swap between the two infants. Elia received the tanner's son while Varys took custody of the real Prince Aegon.
17 years my sister and I spent fleeing from Robert's assassins while my nephew got to live a life of safety while people prepared to place him on the throne over me? It seems we were just being used the entire time. While I absolutely despise everybody involved in this plot and while I do deserve the throne more than my green nephew, if he even is my nephew. It seems I have no leverage here. Connington starts stepping towards me with sword in hand asking, "How do you feel about that?"
Viserys has a decision to make.

A. Support Aegon's claim to the Iron throne.

B. Refuse to support Aegon's claim to the Iron throne.
POV EDDARD:
EDDARD POV:
Appearing:
Cersei Lannister
Joffrey Baratheon
Barristan Selmy
Jaime Lannister
Petyr Baelish
Sansa Stark
Janos Slynt

Mentioned:
Stannis Baratheon
Jory Cassel
Arya Stark
VISERYS POV:
Appearing:
Jon Connington
Aegon VI Targaryen

Mentioned:
Rhaegar Targaryen
Elia Martell
Gregor Clegane
Robert Baratheon
Tywin Lannister
Varys
CHAPTER 12​
Tyrion of House Lannister; Heir to Casterly Rock & The Westerlands​
Not surprisingly, I haven't touched a woman in days. Mostly because King Robert has died and there's a war coming. I should have known Ned Stark asking me about that knife was trouble. Ned now rots in a dungeon and my repulsive nephew has been coronated. Renly has fled the city, gone to Highgarden, and been coronated, and likely very soon Stannis will of course be coronated on Dragonstone according to Varys. I remember once Renly jested that Stannis wanted to ban brothels, which tells you all you need to know about the man, but my sister hopes the Baratheon brothers will destroy each other and that we can wipe out the winner. Renly has the might of the Stormlands and Reach behind him 100,000 in all so the likelihood of Stannis, who has a mere 5,000 according to rumors, being able to do any sufficient damage is folly. I am no military strategist but keeping Ned Stark alive is easily our best option to keep peace with the North so we can deal with Renly. I told Cersei this and she agrees as well. My sister has some sense.
Joffrey has named my father Tywin the new Hand of the King. I knew this would come sooner or later and I'm dreading his arrival. Upon hearing this news Jaime comes to see me. Jaime says "Tyrion, with father coming I hope you are not gonna do what I think you are." "And would I be thinking about doing?" I say back but I already know what he suspects. I am not keen on the prospect of staying here while father rules. When I became a man, my father put me in charge of all the drains at Casterly Rock. The water never flowed better but he never gave me more power than that, I want to prove that I can help this family.
Tyrion has a decision to make.

A. Ask to be given rule over your birthright Casterly Rock.

B. Ask to be given a position on the Small Council.
Daenerys of House Targaryen; Exiled Princess of the Seven Kingdoms
When he had taken his pleasure, Khal Drogo rose from our sleeping mats to tower above me. His skin shone dark as bronze in the ruddy light from the brazier, the faint lines of old scars visible on his broad chest. Ink-black hair, loose and unbound, cascaded over his shoulders and down his back, well past his waist. The khal's mouth twisted in a frown "The stallion who mounts the world has no need of iron chairs." I propped myself on an elbow to look up at him, so tall and magnificent. I loved his hair especially. It had never been cut; he had never known defeat. "It was prophesied that the stallion will ride to the ends of the earth," I say. "The earth ends at the black salt sea," Drogo answered at once. He wet a cloth in a basin of warm water to wipe the sweat and oil from his skin. "No horse can cross the poison water." "In the Free Cities, there are ships by the thousand," I told him, as I had told him before. "Wooden horses with a hundred legs, that fly across the sea on wings full of wind." Khal Drogo did not want to hear it. "We will speak no more of wooden horses and iron chairs." He dropped the cloth and began to dress. "This day I will go to the grass and hunt, woman wife," he announced as he shrugged into a painted vest and buckled on a wide belt with heavy medallions of silver, gold, and bronze. "Yes, my sun and stars." I said.
After the khal and his bloodriders had ridden off with their bows, I summoned my handmaids. My body felt so fat and ungainly now that I welcomed the help of their strong arms and deft hands, whereas before I had often been uncomfortable with the way they fussed and fluttered about me. They scrubbed me clean and dressed me in sandsilk, loose and flowing. As Doreah combed out my hair, she sent Jhiqui to find Ser Jorah Mormont. The knight came at once. He wore horsehair leggings and painted vest, like a rider. Coarse black hair covered his thick chest and muscular arms. "My princess. How may I serve you?" "You must talk to my lord husband," I said. "Drogo says the stallion who mounts the world will have all the lands of the earth to rule, and no need to cross the poison water. He talks of leading his khalasar east after Rhaego is born, to plunder the lands around the Jade Sea." The knight looked thoughtful. "The khal has never seen the Seven Kingdoms," he said. "They are nothing to him. If he thinks of them at all, no doubt he thinks of islands, a few small cities clinging to rocks in the manner of Lorath or Lys, surrounded by stormy seas. The riches of the east must seem a more tempting prospect."
"But he must ride west," I said, despairing. "Please, help me make him understand." I had never seen the Seven Kingdoms either, no more than Drogo, yet I felt as though I knew them from all the tales Viserys told me. Viserys had promised me a thousand times that he would take me back one day, but he was back in Pentos waiting for my husband's army which he would never get if I don't do something. "The Dothraki do things in their own time, for their own reasons," the knight answered. "Have patience, Princess. We will go home I promise you." Home? The word made me feel sad. Ser Jorah had his Bear Island, but what was home to me? A few tales, names recited as solemnly as the words of a prayer, the fading memory of a red door . . . was Vaes Dothrak to be my home forever? When I looked at the crones of the dosh khaleen, was I looking at my future?
Ser Jorah must have seen the sadness on my face. "A great caravan arrived during the night, Khaleesi. Four hundred horses, from Pentos by way of Norvos and Qohor, under the command of Merchant Captain Byan Votyris. Illyrio may have sent a letter. Would you care to visit the Western Market?" "Yes," I said. "I would like that." The markets came alive when a caravan had come in. You could never tell what treasures the traders might bring this time, and it would be good to hear men speaking Valyrian again, as they did in the Free Cities. "Irri, have them prepare a litter." "I shall tell your khas," Ser Jorah said, withdrawing. If Khal Drogo had been with me, I would have ridden her silver. Among the Dothraki, mothers stayed on horseback almost up to the moment of birth, and I did not want to seem weak in my husband's eyes. But with the khal off hunting, it was pleasant to lie back on soft cushions and be carried across Vaes Dothrak, with red silk curtains to shield me from the sun. Ser Jorah saddled up and rode beside me, with the four young men of my khas and my handmaids.
The Western Market was a great square of beaten earth surrounded by warrens of mud-baked brick, animal pens, whitewashed drinking halls. Hummocks rose from the ground like the backs of great subterranean beasts breaking the surface, yawning black mouths leading down to cool and cavernous storerooms below. The interior of the square was a maze of stalls and crookback aisles, shaded by awnings of woven grass. A hundred merchants and traders were unloading their goods and setting up in stalls when they arrived, yet even so the great market seemed hushed and deserted compared to the teeming bazaars that I remembered from Pentos and the other Free Cities. The caravans made their way to Vaes Dothrak from east and west not so much to sell to the Dothraki as to trade with each other, Ser Jorah had explained. The riders let them come and go unmolested, so long as they observed the peace of the sacred city, did not profane the Mother of Mountains or the Womb of the World, and honored the crones of the dosh khaleen with the traditional gifts of salt, silver, and seed. The Dothraki did not truly comprehend this business of buying and selling.
I liked the strangeness of the Eastern Market too, with all its queer sights and sounds and smells. I often spent my mornings there, nibbling tree eggs, locust pie, and green noodles, listening to the high ululating voices of the spellsingers, gaping at manticores in silver cages and immense grey elephants and the striped black-and-white horses of the Jogos Nhai. I enjoyed watching all the people too: dark solemn Asshai'i and tall pale Qartheen, the bright-eyed men of Yi Ti in monkey-tail hats, warrior maids from Bayasabhad, Shamyriana, and Kayakayanaya with iron rings in their nipples and rubies in their cheeks, even the dour and frightening Shadow Men, who covered their arms and legs and chests with tattoos and hid their faces behind masks. The Eastern Market was a place of wonder and magic for me, but the western market smelled of home.
"When I was a little girl, I loved to play in the bazaar," I told Ser Jorah as we wandered down the shady aisle between the stalls. "It was so alive there, all the people shouting and laughing, so many wonderful things to look at . . . though we seldom had enough coin to buy anything . . . well, except for a sausage now and again, or honeyfingers . . . do they have honeyfingers in the Seven Kingdoms, the kind they bake in Tyrosh?" "Cakes, are they? I could not say, Princess." The knight bowed. "If you would pardon me for a time, I will seek out the captain and see if he has letters for us." I offer to help him look "There is no need for you to trouble yourself." Ser Jorah glanced away impatiently. "Enjoy the market. I will rejoin you when my business is concluded." Curious, I thought as I watched him stride off through the throngs. I didn't see why I should not go with him. Perhaps Ser Jorah meant to find a woman after he met with the merchant captain. Whores frequently traveled with the caravans, she knew, and some men were queerly shy about their couplings. I gave a shrug. "Come," I told the others. We continue through the market. When Doreah looked longingly at a fertility charm at a magician's booth, I took that too and gave it to the handmaid, thinking that now I should find something for Irri and Jhiqui as well.
Turning a corner, we came upon a wine merchant offering thimble-sized cups of his wares to the passersby. "Sweet reds," he cried in fluent Dothraki, "I have sweet reds, from Lys and Volantis and the Arbor. Whites from Lys, Tyroshi pear brandy, firewine, pepperwine, the pale green nectars of Myr. Smokeberry browns and Andalish sours, I have them, I have them." He was a small man, slender and handsome, his flaxen hair curled and perfumed after the fashion of Lys. When I paused before his stall, he bowed low. "A taste for the khaleesi? I have a sweet red from Dorne, my lady, it sings of plums and cherries and rich dark oak. A cask, a cup, a swallow? One taste, and you will name your child after me." I smiled. "My son has his name, but I will try your summerwine," I said in Valyrian, Valyrian as they spoke it in the Free Cities. The words felt strange on my tongue, after so long. "Just a taste, if you would be so kind." The merchant must have taken me for Dothraki, with my clothes and my oiled hair and sun-browned skin. When I spoke, he gaped at me in astonishment. "My lady, you are . . . Tyroshi? Can it be so?" "My speech may be Tyroshi, and my garb Dothraki, but I am of Westeros, of the Sunset Kingdoms," I told him. Doreah stepped up beside me saying "You have the honor to address Daenerys of the House Targaryen, Daenerys Stormborn, khaleesi of the riding men and princess of the Seven Kingdoms."
The wine merchant dropped to his knees. "Princess," he said, bowing his head. "Rise," I commanded him. "I would still like to taste that summerwine you spoke of." The man bounded to his feet. "That? Dornish swill. It is not worthy of a princess. I have a dry red from the Arbor, crisp and delectable. Please, let me give you a cask." Khal Drogo's visits to the Free Cities had given him a taste for good wine, and I knew that such a noble vintage would please him. "You honor me, ser," I murmured. "The honor is mine." The merchant rummaged about in the back of his stall and produced a small oaken cask. Burned into the wood was a cluster of grapes. "The Redwyne sigil," he said, pointing, "for the Arbor. There is no finer drink." "Khal Drogo and I will share it together. Aggo, take this back to my litter, if you'd be so kind." The wineseller beamed as the Dothraki hefted the cask. I did not realize that Ser Jorah had returned until I heard the knight say, "No." His voice was strange, brusque. "Aggo, put down that cask."
Aggo looked at me. I gave a hesitant nod. "Ser Jorah, is something wrong?" "I have a thirst. Open it, wineseller." The merchant frowned. "The wine is for the khaleesi, not for the likes of you, ser." Ser Jorah moved closer to the stall. "If you don't open it, I'll crack it open with your head." He carried no weapons here in the sacred city, save his hands yet his hands were enough, big, hard, dangerous, his knuckles covered with coarse dark hairs. The wineseller hesitated a moment, then took up his hammer and knocked the plug from the cask.
"Pour," Ser Jorah commanded. The four young warriors of Dany's khas arrayed themselves behind him, frowning, watching with their dark, almond-shaped eyes. "It would be a crime to drink this rich a wine without letting it breathe." The wineseller had not put his hammer down. Jhogo reached for the whip coiled at his belt, but I stopped him with a light touch on the arm. "Do as Ser Jorah says," I said. People were stopping to watch. The man gave me a quick, sullen glance. "As the princess commands." He had to set aside his hammer to lift the cask. He filled two thimble-sized tasting cups, pouring so deftly he did not spill a drop. Ser Jorah lifted a cup and sniffed at the wine, frowning. "Sweet, isn't it?" the wineseller said, smiling. "Can you smell the fruit, ser? The perfume of the Arbor. Taste it, my lord, and tell me it isn't the finest, richest wine that's ever touched your tongue." Ser Jorah offered him the cup. "You taste it first." "Me?" The man laughed. "I am not worthy of this vintage, my lord. And it's a poor wine merchant who drinks up his own wares." His smile was amiable, yet I could see the sheen of sweat on his brow. "You will drink," I said, cold as ice. The wineseller shrugged, reached for the cup . . . and grabbed the cask instead, flinging it at me with both hands. Ser Jorah bulled into me, knocking me out of the way. The cask bounced off his shoulder and smashed open on the ground. I stumbled and lost my feet. "No," I screamed, thrusting my hands out to break my fall and Doreah caught me by the arm and wrenched me backward, so I landed on my legs and not my belly.
The trader vaulted over the stall, darting between Aggo and Rakharo. Quaro reached for an arakh that was not there as the blond man slammed him aside. He raced down the aisle. I heard the snap of Jhogo's whip, saw the leather lick out and coil around the wineseller's leg. The man sprawled face first in the dirt. A dozen caravan guards had come running. With them was the master himself, Merchant Captain Byan Votyris, a diminutive Norvoshi with skin like old leather and a bristling blue mustachio that swept up to his ears. He seemed to know what had happened without a word being spoken. "Take this one away to await the pleasure of the khal," he commanded, gesturing at the man on the ground. Two guards hauled the wineseller to his feet. "His goods I gift to you as well, Princess," the merchant captain went on. "Small token of regret, that one of mine would do this thing." Doreah and Jhiqui helped me back to my feet. The poisoned wine was leaking from the broken cask into the dirt. "How did you know?" I asked Ser Jorah, trembling. "How?" "I did not know, Khaleesi, not until the man refused to drink, but once I read Magister Illyrio's letter, I feared." His dark eyes swept over the faces of the strangers in the market. "Come. Best not to talk of it here."
I was near tears as they carried me back. The taste in my mouth was one I had known before: fear. For years I had lived in terror of Viserys, afraid of waking the dragon. This was even worse. It was not just for myself that I feared now, but for my baby. He must have sensed my fright, for he moved restlessly inside her. I stroked the swell of my belly gently, wishing I could reach him, touch him, soothe him. "You are the blood of the dragon, little one," I whispered as my litter swayed along, curtains drawn tight. "You are the blood of the dragon, and the dragon does not fear." Under the hollow hummock of earth that was my home in Vaes Dothrak, I ordered them to leave me all but Ser Jorah. "Tell me," I commanded as I lowered myself onto my cushions. "Was it the Usurper?" "No." Jorah says, "King Robert Baratheon is dead, his son Joffrey Baratheon has been coronated and offers lands and lordship for your death, or your brother's." I asked "Only me? Just me?" Jorah stands for a second in silent before saying "No, you and your child. I don't know how they found out about your pregnancy I never even informed your brother."
"No. He cannot have my son." I would not weep. I would not shiver with fear. The Usurper's son has woken the dragon now, I told myself . . . and my eyes went to the dragon's eggs resting in their nest of dark velvet. The shifting lamplight limned their stony scales, and shimmering motes of jade and scarlet and gold swam in the air around them, like courtiers around a king. Was it madness that seized me then, born of fear? Or some strange wisdom buried in my blood? I could not say. I heard my own voice saying, "Ser Jorah, light the brazier." "Khaleesi?" The knight looked at her strangely. "It is so hot. Are you certain?" I had never been so certain. "Yes. I . . . I have a chill. Light the brazier." He bowed. "As you command." When the coals were afire, I sent Ser Jorah away. I had to be alone to do what I must do. This is madness, I told myself as I lifted the black-and-scarlet egg from the velvet. It will only crack and burn, and it's so beautiful, Ser Jorah will call me a fool if I ruin it, and yet, and yet. Cradling the egg with both hands, I carried it to the fire and pushed it down amongst the burning coals. The black scales seemed to glow as they drank the heat. Flames licked against the stone with small red tongues. I placed the other two eggs beside the black one in the fire. As I stepped back from the brazier, the breath trembled in my throat. I watched until the coals had turned to ashes. Drifting sparks floated up and out of the smokehole. Heat shimmered in waves around the dragon's eggs. And that was all. Your brother Rhaegar was the last dragon, Ser Jorah had said to me. I gazed at my eggs sadly. What had I expected? A thousand thousand years ago they had been alive, but now they were only pretty rocks. They could not make a dragon. A dragon was air and fire. Living flesh, not dead stone. The brazier was cold again by the time Khal Drogo returned. Cohollo was leading a packhorse behind him, with the carcass of a great white lion slung across its back. Above, the stars were coming out. The khal laughed as he swung down off his stallion and showed me the scars on his leg where the hrakkar had raked him through his leggings. "I shall make you a cloak of its skin, moon of my life," he swore.
I inform Drogo what happened at the market. "This poisoner was the first," Ser Jorah Mormont warned him, "but he will not be the last. Men will risk much for a lordship." Drogo was silent for a time. Finally he said, "This seller of poisons ran from the moon of my life. Better he should run after her. So he will. Jhogo, Jorah the Andal, to each of you I say, choose any horse you wish from my herds, and it is yours. Any horse save my red and the silver that was my bride gift to the moon of my life. I make this gift to you for what you did. As members of the Khalasar surrounded us Drogo began saying "And to Rhaego son of Drogo, the stallion who will mount the world, to him I also pledge a gift. To him I will give this iron chair his mother's father sat in. I will give him Seven Kingdoms. I, Drogo, khal, will do this thing." His voice rose, and he lifted his fist to the sky. "I will take my khalasar west to where the world ends, and ride the wooden horses across the black salt water as no khal has done before. I will kill the men in the iron suits and tear down their stone houses. I will rape their women, take their children as slaves, and bring their broken gods back to Vaes Dothrak to bow down beneath the Mother of Mountains. This I vow, I, Drogo son of Bharbo. This I swear before the Mother of Mountains, as the stars look down in witness." His khalasar left Vaes Dothrak two days later, striking south and west across the plains. Khal Drogo led them on his great red stallion, with me beside him on my silver. The wineseller hurried behind us, naked, on foot, chained at throat and wrists. His chains were fastened to the halter of my silver. As I rode, he ran after me, barefoot and stumbling. No harm would come to him, so long as he kept up.
Tyrion POV:
Appearing:
Jaime Lannister

Mentioned:
Robert Baratheon
Eddard Stark
Renly Baratheon
Stannis Baratheon
Varys
Cersei Lannister
Joffrey Baratheon
Tywin Lannister
Daenerys POV:
Appearing:
Khal Drogo
Doreah
Jhiqui
Iri
Jorah Mormont
Wineseller
Aggo
Rhakaro
Jhogo
Quaro
Captain Byan Votyris
Cohollo

Mentioned:
Rhaego
Viserys Targaryen
Illyrio Mopatis
Robert Baratheon
Joffrey Baratheon
Rhaegar Targaryen
CHAPTER 13:

JON SNOW; BASTARD OF WINTERFELL​
We've finally arrived back in Kings Landing, but not to friends. We are met at the docks by Lannister men. They've seen the flag of the stag and have questions. Me and Aurane Waters are brought to the Red Keep where we are brought in front of Joffrey Baratheon as me and Aurane approach the Throne we are given all of Joffrey's titles, it's a short list, his greatest accomplishment is sitting on a chair. Joffrey has his mother beside him and his father on the other side, dressed in his gold. Cersei says "Bastard, your father has been accused of treason and he resides in the black cells." She goes on to spin that he tried to deny the throne to Joffrey, making up blasphemous lies to make him illegitimate. None of this interest me all I want is my father returned and before I can speak my mind Aurane intervenes telling Cersei that I knew nothing of my father's plans and that I was sent to retrieve Stannis.
Suddenly a man emerges from the shadow. Tall, grey hair, piercing blue eyes and a booming voice. "We know that a letter was sent to Stannis telling him he is the rightful heir." Aurane tells the man that Stannis was going to come and swear his fealty to the new king, but his health issued have caused other plans. The man, who is revealed to be Tywin Lannister, the new Hand of the King says "We've received his letter. I'll be replying telling him that the moment he is able, to arrive in Kings Landing to assume his position, and I'll make sure to continue to send them regularly, so he doesn't forget." Tywin turns to me and says "Your father has already stated that he will admit to his crimes against my grandson and the Kingdom. He'll be sent to the Wall, as to keep peace between us and your half-brother. You now have a choice before you bastard. You will not be going back to Winterfell. We have your sister Sansa, but the little one Arya has not been found, it is unlikely that she has escaped the city we have men everywhere keeping watch. From what I've heard from your sister you and the other one are close, she trusts you, so you will find your sister and bring her back. I won't lie to you bastard I could care less for you or sisters' happiness, but just know no harm will befall them." I ask him what he'll do if I refuse to bring her back to them. Tywin looks away almost smirking and says, "Both your sisters are worth more than you bastard. I'm giving you a chance to make yourself useful. If you prefer the black cells then by all means I could just send my men through the back alleys instead and I don't think they'd be as friendly towards her when they eventually find her." I ask him what'll happen if I can't find her. Tywin says, "You WILL find her." Suddenly Tyrion appear. Tyrion looks at me with concern.
Jon has a decision to make.

A. Accept Tywin's offer

B. Decline Tywin's offer
JON POV:
Appearing:
Aurane Waters
Joffrey Baratheon
Cersei Lannister
Jaime Lannister
Tywin Lannister
Tyrion Lannister

Mentioned:
Eddard Stark
Stannis Baratheon
Sansa Stark
Robb Stark
Arya Stark
CHAPTER 14​
Tyrion of House Lannister; Heir to Casterly Rock & The Westerlands
My father has finally arrived in the city. Bringing with him the might of the Westerlands as he prepares for Renly. I will admit that him being here to keep my repulsive nephew in the check is much needed if we are to survive the coming war. Joffrey is a rabid dog with a crown and most certainly would have done something abysmal with Eddard. It seems Stannis is not to be coronated? Varys' little birds have either provided false information or Stannis' "illness" is a smokescreen. Stannis has stated he is sending Aurane Waters to hold his position on the council while he recovers. Renly on the other hand has been crowned at High Garden and has the Reach backing him. Keeping Ned Stark alive is the smartest decision. It keeps the North from rebelling along with the Riverlands who would follow Ned's son.
Since father is here it is time to ask for a position on the small council or at least an advisory role at the very least. Father has not taken long to make the tower of the hand his. I walk up the stairs to his study where he is overlooking something with Pycelle. Pycelle glares at me and then leaves. Father looks at me then asks what I want. I chuckle saying "Why do I need to want something?" Tywin looks at me then says, "You haven't been summoned and Jaime already informed me that you are gonna ask for a position on the small council. At first, I thought it a ludicrous idea, but with the upcoming war I need people by my side I trust, and you are my son. I trust Baelish, Varys, and Pycelle about as far as I could throw them. I don't trust Stannis either, but he is more of a threat on Dragonstone and I'd rather he be here in Kings Landing, surrounded by my men. Renly is a green boy who's never seen war. I will show him war." I inform my father that Renly has the numbers over us and he responds "Yes he does. We need more allies." I agree.
Tywin states "We need allies and there are 3 options for us as of right now." I can think of where he is going with this and I say, "You really think Robb Stark will agree to help us when we hold his siblings and father prisoner?" Tywin says "His father is accused of treason and has admitted to it and will be sent unharmed to the wall to live out his days there. This boy will receive one of his sisters back to cement this peace, once the younger girl is found." I then reply "That ensures peace sure. Gets him to fight with us against Renly? Doubtful." Tywin says, "The boy is unmarried, and we have a Princess." It seems my father means to marry Myrcella to Robb? Tywin says, "It's either Robb, Edmure or Robin Arryn." I reply, "You're forgetting about Prince Doran's son Trystane." Tywin almost smirks and says, "Do you really think the Martells would really assist us?" My father made sense there. Our bannerman Gregor Clegane did murder Elia Martell her child Aegon back during Robert's Rebellion. Tywin looks at me and says, "You always say you know people and you say you want to help this family. You like to drink with scum and bed harlots. Surely you can complete the simple task of talking a lord into taking Myrcella into his bed." I'm shocked he's giving me this task. This certainly wasn't what I expected.
Tyrion has a decision to make.

A. Seek a marriage alliance with Robb Stark

B. Seek a marriage alliance with Edmure Tully

C. Seek a marriage alliance with Robin Arryn
TYRION POV:
Appearing:
Tywin Lannister

Mentioned:
Renly Baratheon
Joffrey Baratheon
Eddard Stark
Stannis Baratheon
Aurane Waters
Robb Stark
Maester Pycelle
Jaime Lannister
Petyr Baelish
Varys
Sansa Stark
Arya Stark
Myrcella Baratheon
Edmure Tully
Robin Arryn
Doran Martell
Trystane Martell
Gregor Clegane
Elia Martell
Aegon VI Targaryen
CHAPTER 15​


Tyrion of House Lannister: Heir to The Westerlands & Casterly Rock​
I have agreed to look for a match for Myrcella. I'm going to approach Robb Stark first. His father is still breathing, and we have his sister, so we have leverage we can use to force his hand and join our side in the war. As I tell father about my plans we are informed that the bastard Jon Snow and Aurane Waters have arrived from Dragonstone. My father heads down to the throne room to greet them. When I attempt to follow I am approached by Varys the master of whisperers. "Forgive me my Lord but may I have a word with you in private?" He gives me little choice as he ushers me into a room. "What do you want Lord Varys?" Varys says, "You must get Lord Eddard out of the Capital as soon as possible." I say "He will be out of the Capital very soon. He's taking the black." Varys says "I fear he may not last that long." I reply, "My father will not let Joffrey touch-." Varys cuts me off saying "It's not Joffrey I'm worried about. I've heard whispers my Lord. The same fate that befell Jon Arryn awaits Lord Eddard if you do not act fast, then your hope of an alliance with Robb Stark is gone if he dies before he reaches the wall." I don't even bother asking Varys how he knows of our plans. I ask "What do you mean? Why would someone want to kill Eddard now he's going off to the wall never to be heard from again?" Varys says, "There are those that do not want to see a Stark-Lannister alliance." I ask "Renly? Stannis? Why are you being so cryptic Lord Varys?" Varys says "I'm not, I've heard whispers that there will be an attempt on Lord Eddard. My birds never lie. I do not however have all the information. I don't know who is behind it, but I fear they will strike soon and you are heading North are you not?" I say "If I was going North? What would you have me do? Hide Lord Eddard in my jacket?" Varys says, "Convince your father to let you escort Lord Eddard north with your men to make sure he arrives in Winterfell alive." Tyrion says, "My father won't send Eddard North until he has the younger stark girl in possession. He means to send her as well." Varys says, "If we don't act fast all of this negotiation will be mute."
Tyrion has a decision to make.

A. Head north without Lord Eddard.

B. Try and convince Tywin to let you take Eddard north with you.

C. Take Eddard north without informing your father.
TYRION POV:
Appearing:
Tywin Lannister
Varys

Mentioned:
Myrcella Baratheon
Robb Stark
Sansa Stark
Arya Stark
Jon Snow
Aurane Waters
Eddard Stark
Jon Arryn
Renly Baratheon
Stannis Baratheon
Chapter 16

Tyrion of House Lannister: Heir to The Westerlands & Casterly Rock​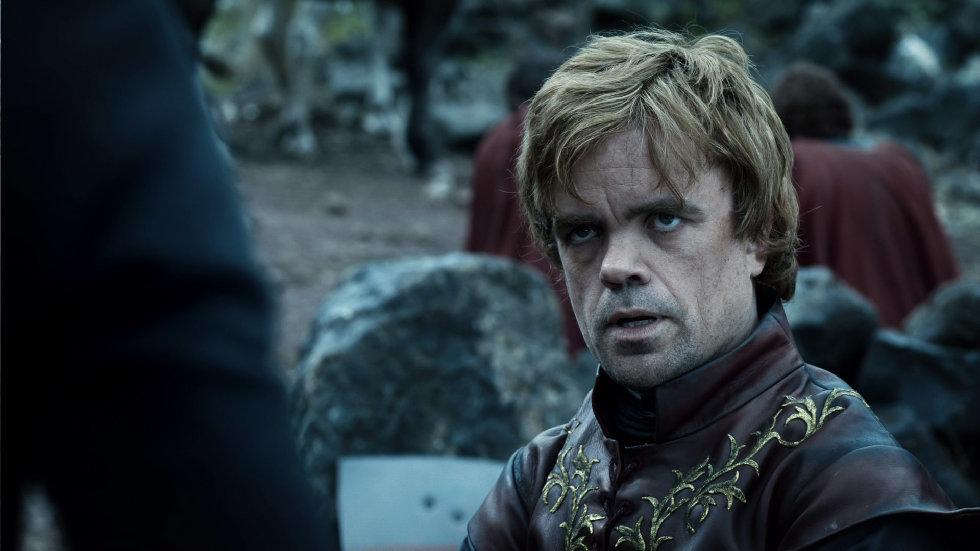 To secure Robb's favor in this war it seems I must steal Eddard, so he isn't killed. I don't tell Varys this as I still don't trust him. I tell Varys everything will be taken care of. I head down to the Throne room where my father is standing over Jon Snow. It seems the bastard has agreed to retrieve his younger sister Arya for us. He isn't as stupid as his father I'll give him that. I prepare to leave for the North. I get a knock at my door. It's a recruiter for the nights watch whose name is Yoren. He tells me that my father has tasked me with seeing that he gets proper recruits from the dungeons. It's almost too perfect. I tell him that I have another task for him as well. I tell him that Eddard Stark has been sentenced to take the black and must be delivered to the Wall safely. I will be accompanying him. I decide that I need actual fighters with me, so I decide to recruit some Lannister men. I head down to the streets where the Lannister soldiers are. Their living conditions are terrible, but some are taking refuge in houses by force. This many man in a city is chaotic but my father could care less what the soldiers do to the people if they will shed blood for our family. I spot a few men that look poor enough. I tell them who I am. They initially laugh saying "Any dwarf can claim to be him." I then chuck gold at their faces and their tune changes. The one's name is Polliver and the other is Vylarr. I tell them they'll be accompanying me to the North. I don't them tell too much yet. The bags of gold I give them make them very agreeable.
I come back to Yoren who I take down to the black cells where Eddard is being kept. I shove a light into Eddard's face. It's probably the first time he's seen another face or light for a bit. Eddard says "Tyrion?" I say "Yes Eddard that is who I am glad to see you haven't gone mad yet. I'm starting to think I have though, so you may still be in trouble." He asks me what I'm doing, and I say, "You are being sent to the Wall and I am accompanying you to meet with your son about a marriage proposal." Eddard says, "Is this a trick?" I say "Yes, but not on you. My father wants to wait to send you to the wall until he can send your youngest Arya to Robb as well, and save a trip, but I've been hearing you're not long for this world if we wait so Yoren here and couple of my men will be escorting you safely North." Eddard seems shocked as he should be. Although if he knew anything about me and my father I'm sure he wouldn't be that surprised that I'm going against him. If only Lord Stark knew about Tysha.
We also take a bunch of other recruits from the dungeons as well. Some fat kid among them claims to have kicked a boy to death and his name is…strange to say the least. Another was a dyer's apprentice whose hands are now mottled green. Before we leave a kid approaches with bags on his back. I ask who he is. Yoren says that his name is Gendry and that he was apprentice to Tobho Mott, a Qohorik armorer down on the Street of Steel. Gendry says his master got sick of him and has sent him away. There are a few nastier fellows that Yoren puts into a cage. I decide not to put Eddard in there. Only me and Yoren know who Eddard is. We have him shave his head and beard completely and put on a hood. He barely resembles the proud rebellious leader who helped topple the Targaryen dynasty. Lips and eyes are sure to see what I am doing so I tell Yoren that we must leave immediately. We head to the gates where Lannister guards inspect our prisoners, looking for Arya. They are not looking for Eddard who now looks like a shriveled bald mess.
We pass through the gates and head north up the Kingsroad. Time is of the essence as my father will soon have to face The Reach and Stormlands in the field. It will take us a month to reach Winterfell. A week has gone by and we've arrived at the Inn at the cross roads. Yoren tells me "By now your father probably knows we've taken Eddard. This Inn has a lot of eyes. You sure you want to stop here?" As he says this I lock eyes with a man who eyeing me up as he is walking into the Inn. The man looks to be a sellsword. Black hair and beard. Maybe I can recruit more men to protect our caravan while I'm here? Or maybe Yoren is right.
Tyrion has a decision to make.

A. Make a pit stop at the Inn at the Crossroads

B. Continue north without stopping at the Inn
TYRION POV:
Appearing:
Varys
Tywin Lannister
Jon Snow
Yoren
Polliver
Vylarr
Eddard Stark
Hot Pie
Lommy Greenhand
Rorge
Biter
Gendry Waters
Bronn

Mentioned:
Robb Stark
Arya Stark
Tysha
Tobho Mott
CHAPTER 17

Tyrion of House Lannister: Heir to The Westerlands & Casterly Rock​
I decide to make a pit stop at the Inn. Staying here would be too risky. I leave Vylarr and Polliver to watch the recruits and the cage while I, Yoren, and Eddard head inside. I spot the man I saw walking in earlier. He is sitting with another companion of his and approach him. I ask for his name. The man's name is Bronn, and he is as I suspected a sellsword. His companion who he walked in with is named Chiggen. I ask Bronn what he is doing in the Riverlands. Bronn says, "Whatever needs done." I say, "Good man." I chuck him and his friend Chiggen both a gold piece and tell them "There's more for you if you accompany us to Winterfell." Bronn and Chiggen both smirk and agree to join us. We all share a drink, except Lord Eddard who asks, "When are we leaving?" Suddenly a bard approaches us and says, "Lord Tyrion, shall I sing of your father's victory at Kings Landing during Robert's Rebellion while you dine?" I tell him nothing would ruin my supper even more. A bard is named Marillion and he asks "I'm surprised to see you so close to Kings Landing still. Your father has the Mountain out hunting for you since you stole Lord Stark from their dungeons." The laughter's at our table stop. Yoren says "We need to get back on the road. Now." I agree with him. We all get up to leave. Suddenly Polliver rushes into the Inn and tells us that they spotted a huge host of men approaching from a far. We head outside and rush back to the carriage to leave. We continue up the road, not stopping to rest. We finally decide to stop for the night as the men cannot push themselves even harder.
As we all sit around the fire I ask Polliver and Vylarr to get more wood for the fire. Eddard finally asks me again why I'm taking him safely north against my father's wishes. Lord Eddard is the curious type it seems. I've come to find Eddard is not as dumb as some may think. He continues to pry at my motives. When they should be clear as day.
Tyrion has a decision to make.

A. Tell Eddard about Tysha

B. Don't tell Eddard about Tysha
Daenerys of House Targaryen: Exiled Princess of the Seven Kingdoms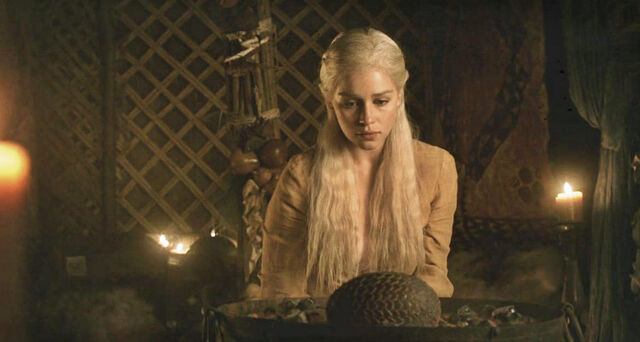 It is a cool night in Vaes Dothrak. Most are asleep, but a few can be heard laughing, drinking, and having sex. I am walking around outside. I look down at my belly which grows bigger with each passing week. I feel the breeze. I spot Jorah approaching me. "Shouldn't you be asleep?" I ask him. He retorts "You shouldn't be out here walking alone." I reply "They all know I am Drogo's wife. They'll not touch me. I cannot sleep my dreams have been strange as of late." Jorah says "That will not stop them. They'll take you into a back alley and do what they like and leave you there, slipping away in the dark nobody would ever know it was them." I agree with his statement. We both stand there looking out at the full moon in the sky. I ask Jorah if he thinks I'll ever see my brother again. Jorah asks "Why would you want to? The man is a snake." I tell him that he is still my brother, and the last of my family. Jorah looks at my belly then says, "Soon he won't be" while smiling. This is true as well.
Jorah starts to ask me about my dreams but suddenly screams are hear from across the city. We look over to see fires spreading. Jorah is confused. He says "Follow me Khaleesi. Stay close." We rush back towards Drogo and my tent. We head inside. Jorah tells me to grab the eggs. "Why?" I ask him, and he says "We have to go Khaleesi. In Vaes Dothrak the men do not carry weapons on them. Whoever is attacking will win this fight." Jorah grabs his sword and ushers me to follow him. "I need to find Drogo!" Jorah nods and they head outside where men are rushing through in full armor and weapons they are slaughtering the Dothrak. We spot Drogo who is fighting men. Drogo is a great fighter using his bare hands to kill men. He finally grabs one of their swords. As he is fighting a few men approach. The one gets off his horse and takes off his helmet. He has blue hair but a red beard. "Khal Drogo." The man shouts. Drogo turns to him. "It's over. Your Khalasar is scattered. Lay down your sword." Jorah's face goes white. "What is it Ser?" Jorah replies "That is Jon Connington. Former Hand of the King to your father back during Robert's Rebellion. I thought he was dead. My god this is the Golden Company I recognize those banners." Connington says "We've come for the girl. Hand her over and we'll let you live to rape your goats and eat your women." A couple of Connington's men laugh at this remark as this angers Drogo who starts rushing towards Connington, but one of Jon's men hands him a crossbow and he shoots Drogo in the chest. My sun and stars. I begin to cry. I want to rush to him, but Jorah holds me back saying we must leave. Jorah drags me away as Jon tells his men to search for me.
Me and Jorah come across many dead Dothraki as we leave the city. Some I recognize including Irri, Jhiqui, and Rhakaro. Most of them were very kind to me. We wait out in the hills and watch as the Golden Company searches the city. Before Dawn they finally give up and head out. After they are long gone we head back into Vaes Dothrak. Now a ruin with corpses as far as the eye can see. The soldiers swept through. I find Drogo's body. I have nothing, even if my son is born I wouldn't be able to raise him without the protection of the Khalasar. Jorah says, "You could sell off the Dragon eggs and live off the money for the rest of your life in one of the Free Cities with your son." Jorah makes sense, but I had a dream the night before last of what I need to do. Me and Jorah spot slaves who survived the slaughter and have them help us build a funeral fire for Drogo. Me and my son will become one with him in the night lands. We spend the rest of the day building a pyre for Drogo. It is dark once again by the time we're done. Jorah knows what I intend to do. He begs me not to. I command the slaves to put the dragon eggs in the fire as well. As they light the fire I ready myself to enter the fire. Jorah continues to plead with me not to do it. I put my hand on his face, which seems the calm him and I tell him everything will be fine. As the fire engulfs Drogo I start walking into it, everything goes dark...
TYRION POV:
Appearing:
Vylarr
Polliver
Yoren
Eddard
Bronn
Chiggen
Marillion

Mentioned:
Tywin Lannister
Robert Baratheon
Gregor Clegane
Tysha
Daenerys POV:
Appearing:
Jorah
Khal Drogo - Shot in the chest by Jon Connington
Jon Connington
Irri
Jhiqui
Rhakaro

Mentioned:
Aerys II Targaryen
Robert Baratheon
CHAPTER 18

Tyrion of House Lannister: Heir to The Westerlands & Casterly Rock​
I suppose there is no harm in telling Eddard about Tysha. Not like it's a huge secret as Lord Renly once jested about it in front of me. I explain the story of how I met Tysha. When I was sixteen years old, Me and Jaime had met Tysha on a lonely road near Lannisport, where she was being accosted by some men. Jaime drove off the men while I took care of her. She was a crofter's daughter, orphaned when her father died of an illness. She was scarcely a year older than I was, dark-haired, slender, with a face that would break your heart. It certainly broke mine. Lowborn, half-starved, unwashed ... yet lovely. That night we made love, the next day I was so deep in love I asked for her hand. One drunken septon later and there we were husband and wife. Until the septon sobered up and told my father. Bronn says, "I suppose that was the end of all that then." I replied, "Not quite." After that my father had Jaime tell me the truth. The girl was a whore, paid by Jaime to make me a man. He had arranged the whole thing. After that my father brought in my wife and gave her to his guards. For each one my father gave her a piece of silver. Yoren, Bronn, Gendry, Chiggen and Eddard are in shock by this. Then after they were done my father made me take her last. Giving her a golden coin saying "Lannisters are worth more." I try to wipe away the tears before they roll down my cheek. The camp goes silent. Bronn says, "I would have killed the man who did that to me." After completely wiping the tears away I say, "I may yet." Before letting out a nervous laughter. Eddard says "I have to say I'm not shocked. Your father has always had a cruel persona. What happened to Tysha?" I reply that I do not know. My father and Jaime never told me. I always assumed that she was dead.
I try to get the camp off the subject trying to cheer them all up. Yoren says "Sorry to say Tyrion but your story has pretty much dampened everything so I'm going to hit the hay." Eddard then says "So you're going against your father since he forced you to have a sex with a woman? I've heard about your exploits over the years Lord Tyrion." Bronn chuckles saying "Exploits?" I laugh as well saying "Lord Eddard, do you think you're better than me? By my count you have more bastards then anyone here." Yoren says "He does have a point there." I decide to ask Eddard about his bastard's mother. Eddard becomes very defensive. I say "Okay, as a man of honor I know you'd rather just kiss and not tell." Bronn chuckles again. Eddard says "We should get some sleep and leave soon. The Mountain could be upon us at any moment." I assure Eddard that I have people watching the southern road for signs of soldiers. Polliver and Vylarr rush back to the camp informing us that they see lights in the distance moving towards us. Yoren says "Time to get moving." I agree. We gather the people back at the carriages. We have the cover of night. We can slip into the woods off the Kings road and move that way. Yoren says "If we can reach the Neck we should be free of your father's mad dog, but if we try to travel with the carriage now they're sure to catch up to us. We lingered here too long." It seems we may have to abandon the carriage and try to travel with everyone on foot. The ones in the cage Rorge and Biter would be problematic to try and transport on foot.
Tyrion has a decision to make.

A. Continue towards the Neck without the carriage.

B. Hide in the woods and wait for Gregor Clegane's party to pass.

C. Continue north with the carriage.
Jon Snow; Bastard of Winterfell​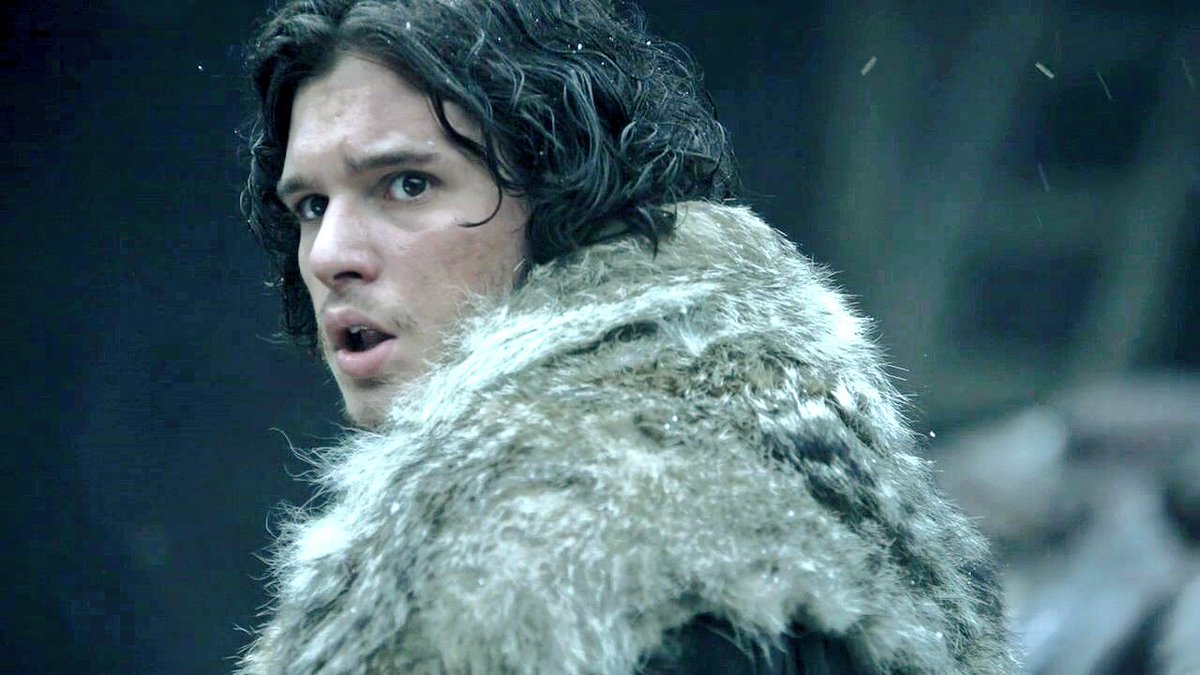 The streets of Kings Landing, smell like shit. The fact that anyone would prefer this to the countryside is beyond me. Now with the entire levy of the Westerlands in the city as well it's gotten even worse. Now there are Lannister soldiers stealing from the common folk and the taking over their homes. My sister Arya is out here somewhere. I'm not yet sure what I'm going to do when I find her. If I bring her back I'm giving her to the Lannisters on a silver platter, but if I don't they may harm Sansa or my father. If only I had ghost with me. The Lannisters killed Lady trying to chain her up, but Ghost and Nymeria are nowhere to be found. I left Ghost here when I went to get Stannis which I now regret as I have no clue what's happened to him. Possibly Nymeria and Ghost are with Arya and are the reason she was able to escape the Lannisters? I'm still half tempted to help Arya escape the city once I find her. I don't want to see her in the hands of Tywin Lannister or Joffrey Baratheon.
Hours have gone by and I have not been able to find Arya. I don't think I'll be able to. Maybe she's escaped the city somehow? I find that hard to believe Tywin has Lannister guards at every exit. Maybe it's pointless. I start seeing more Lannister guards roaming the streets breaking down doors. They seem to be looking for someone. I see Kingsguard colors. It's Jaime Lannister. He spots me and makes his way to me through the crowd. "Bastard. It seems you haven't located your sister, yet I see. My father will be disappointed." I ask him what he's doing out here. "It seems your father has escaped the black cells." I am shocked by this and I ask, "Who helped him do that?" Jaime then replies "Cersei seems to think you had something to do with it, but I doubt it. You're not smart or connected enough to pull it off. My father agrees." The Kingslayer is antagonizing me. Trying to get me to lose my cool, and it's working. Jaime then says "My father said if you can't find her today that you have another day to try and locate your her. After that you'd best hope I'm the one who finds her and not someone like Amory Lorch or Meryn Trant."
Jon has a decision to make.

A. Search near the Sept of Baelor

B. Search down by the Street of Steel

C. Search down in Flea Bottom

D. Give up searching for Arya yourself.
TYRION POV:
Appearing:
Eddard Stark
Bronn
Yoren
Gendry Waters
Chiggen
Polliver
Vylarr
Rorge
Biter

Mentioned:
Tysha
Renly Baratheon
Jaime Lannister
Tywin Lannister
Gregor Clegane
JON POV:
Appearing:
Jaime Lannister

Mentioned:
Sansa Stark
Arya Stark
Eddard Stark
Ghost
Lady - killed by Lannister soldiers
Nymeria
Stannis Baratheon
Tywin Lannister
Joffrey Baratheon
Cersei Lannister
Amory Lorch
Meryn Trant
CHAPTER 19​


Jon Snow; Bastard of Winterfell​
I inform Jaime that I will be checking Flea Bottom. He nods as he heads towards the street of steel. I walk down into flea bottom. I could smell it before I saw it. This place makes the brothels outside Winterfell look like the Red Keep. As I walk through all I can think about is father warning us about Kings Landing and these lower slums. If you're not careful, you'll catch a knife to the throat down here from some petty thief. These twisty unpaved alleys go all the way down the west side of Rhaenys's Hill. I wonder how Rhaenys Targaryen, Aegon The Conqueror's younger sister-wife, would feel about being named for the ground this place stands on. She probably wouldn't take kindly to it. I see pot shops as far as the eye can see where you can get a bowl o' brown. I dare not taste it who knows what's in there. Pig shit I imagine. I see brown everywhere, but I do not see Arya. It seems this was a waste of time. I don't even see any signs of Ghost or Nymeria either.
I start heading back towards the Red Keep. Maybe the Sept of Baelor? Before I can try and make another choice on where to look next I see Lannister men in front of me. Ordering me back to the Red Keep as my sister has been found. I follow them back inside to the Throne room where I see my sister beside Jaime Lannister. I learn that she was in the street of steel attempting to steal weapons. Clearly trying to be a hero. I wonder what happened to her sword needle that she needed to steal weapons? I see tears in her eyes. I ask, "What have you done to her Kingslayer?" Jaime retorts "Nothing, I have not mistreated her, but her wolves weren't exactly gonna let us take her. Nasty beasts, took out 5 of our men before we could put them down, including Boros Blount one of my fellow Kingsguard. Fat fellow certainly was a treat for that white one, before I put a dagger through its skull." The White one, he was speaking of Ghost. It seems Ghost and Nymeria are dead. Before I can go to Arya to comfort her Tywin approaches. Tywin says "It seems my son was able to find your sister before you bastard. I'm disappointed. Take him to the black cells. Tell Ser Amory to ready himself to take Arya north." I've heard the real story of what Amory Lorch did during Robert's Rebellion. He pulled Rhaegar Targaryen's 3-year-old daughter Rhaenys Targaryen out from under her bed and stabbed her half a hundred times during Tywin's sack of Kings Landing. I fear for my sister as they drag me to the cells.
Tyrion of House Lannister: Heir to The Westerlands & Casterly Rock​
I deicide to keep our group going North, but on foot. Yoren lets Rorge and Biter out of the cage. We continue down the road on foot. Our pace is quicker, but we are also tiring easier. It doesn't seem that this is helping our cause at all as the fires in the distance are getting closer. Arrows are coming at us now as recruits fall left and right as our group starts to scatter. Bronn, and I manage to get Eddard into the brush. Horses start surrounding the others. A man among them says "Who is in charge here?" Yoren states "I am and who's asking?" The man in question is thin and handsome with shoulder-length brown hair. He doesn't state his name, but he is not dressed in Lannister gear and he is definitely not the Mountain. "I'm here for Lord Eddard, if you'd be so kind to hand him over I'll spare your life ser." Yoren spits at his feet and says "I'm no Ser." The man retorts back "Well then. It seemed safer to just kill you all anyways." The man orders his men to slaughter everyone there. We watch in horror as Yoren is cut down, along with Chiggen, and many of the recruits including that fat kid and the one with green hands. It seems Gendry, Rorge, Biter, Vylarr, and Polliver are not among the dead as we watch people fall.
Seeing that there will be no survivors I, Eddard and Bronn continue North. I'm sad to say if those men weren't too busy killing the rest of them, they would of surely caught us, but we've made to Moat Cailin We approach the gates with a white shirt symbolizing a white flag. Northmen approaches us from the fort. "And who might you be?" I tell them who I am and that I am transporting Lord Eddard safely to the Wall. One of the men says last they heard Lord Eddard was a prisoner in the black cells. I tell them he is taking the black as punishment for his crimes. Eddard nods to the men agreeing with what I'm saying. Eddard removes the cloak he is wearing, and the men recognize his face as he had come south not long ago with King Robert.
Tyrion has a decision to make.

A. Stop at Winterfell

B. Pass Winterfell and head straight to Castle Black
JON POV:
Appearing:
Jaime Lannister
Arya Stark
Tywin Lannister

Mentioned:
Rhaenys I Targaryen
Aegon I Targaryen
Ghost - stabbed in the head by Jaime Lannister
Nymeria - killed by Lannister men
Boros Blount - killed by Ghost
Amory Lorch
Robert Baratheon
Rhaegar Targaryen
Rhaenys II Targaryen
TYRION POV:
Appearing:
Rorge
Biter
Bronn
Eddard Stark
Thin-Handsome Man
Yoren - killed
Hot Pie - killed
Chiggen - killed
Lommy Greenhands - killed

Mentioned:
Gregor Clegane
Vylarr
Polliver
Gendry Waters
Robert Baratheon
CHAPTER 20

Tyrion of House Lannister: Heir to The Westerlands & Casterly Rock​
I will head to Castle Black first. Don't want to give Young Robb the chance to take back his father. All I have left is Bronn. Eddard needs to reach the wall alive. I don't know who wants him dead which is why I don't trust taking him to a castle like Winterfell. Where spies are everywhere. We go through Moat Cailin. We are given food as the northerns love Eddard. Who says farewell to them as we continue North. I tell Eddard that we will not be stopping at Winterfell. Eddard seems upset by this. Seems he doesn't still doesn't see things from other people's point of views. I cannot walk into that castle with Eddard in tow. He'll be set free immediately by his son and wife and I'll mostly be taken prisoner. I will get to castle black and send a raven to Robb informing him that his father has taken the black and that he has to decision to make. Mentioning Sansa should change his tune. No doubt he's gotten word of Robert's death and his father's imprisonment by now. If word of Eddard's escape has reached the Riverlands then either it's gotten to him or the men at Moat Cailin will send him a raven.
We decide to stay off the main roads. Which turns out to be the best decision. We spot Stark men riding up and down the roads, no doubt searching for Eddard. We manage to make it past Winterfell without being captured and we've made it to Long lake. Luckily, we dressed for this weather before we left. Bronn hadn't but we gave him and his friend Chiggen some extra layers for the trip on the way up. Chiggen didn't make it this far but it does not seem like Bronn has really been moved by his death. Must have been business partners and no more. We should still be wary as we are very close to the Last Hearth, the seat of House Umber, who are very loyal Stark Bannermen and will take us directly to Robb if they find us. If the Boltons found us we just would simply vanish into their dungeon. Roose Bolton is a scary man indeed. Last time I saw Roose was at the tourney at Lannisport, which was held to celebrate Robert's victory over Balon Greyjoy in the Greyjoy Rebellion in 289. As I think back to this tourney it hits me who that man was that attempted to capture us and slaughtered the rest of my party. Lyn Corbray, he's from House Corbray in the Vale. Who hired him? Robert Arryn is the last person I'd suspect to want Lord Eddard dead, being his uncle by law and he's merely a child. Lyn Corbray was one of the jousters in the tourney at Lannisport. None of them lasted against Jorah Mormont, who won the tourney and Lynesse Hightower's favor. Sadly, for Ser Jorah winning her favor and hand would be his downfall and the cause of his exile.
Lyn Corbray is quite a man from what I've heard. Ser Lyn won his knighthood fighting for House Targaryen with Marq Grafton against Lord Jon Arryn at the gates of Gulltown during the opening sequences of Robert's Rebellion. He was pardoned and joined Lord Jon against the Targaryens. At the battle of the Trident, Ser Lyn's father Lord Corbray was badly wounded. In the confusion Lyn took up the family's Valyrian steel longsword, Lady Forlorn, and distinguished himself by leading an assault on the Dornish lines. He personally finished off a wounded Prince Lewyn Martell of the Kingsguard. Honoring Lyn's achievements on the battlefield, his father bequeathed him Lady Forlorn upon his death. His elder brother Lyonel Corbray inherited the rest of the family estate and titles, but still resented the loss of the family blade. Quite a man and I hope I never see him again. I don't think Eddard or Bronn could last against him. We continue north towards castle black. Passing Mole's town. I resist my urge as I can't tale any chances as we are so close. I can see the wall. It's amazing. This is my first time ever seeing it and it is just as glorious as the tales say. We finally arrive at the gates of castle black. We are greeted with questions. As we walk through the gates and Eddard removes his cloak many of the brothers take notice of who Lord Eddard is. Even without his hair. A man who realize is Lord Alliser Thorne approaches with a huge smile on his face. "Welcome home Lord Stark." Eddard glares at Alliser. Alliser seems to be enjoying the fact that Eddard is being forced to take the black. I imagine he doesn't like seeing me either. My father, Eddard and Robert are the reason Alliser is here. Alliser fought on the side of the Targaryens during Robert's Rebellion. When my father sacked the city of Kings Landing he gave Alliser a choice. Death or the Nights Watch. Eddard asks, "Where is Benjen?" We are informed that Benjen took a ranging party north and has not returned. Eddard is distraught by the news. Lord Commander Jeor Mormont approaches. Jeor and Eddard hug. We head inside. I finally have shelter for the first time in a while, and alcohol. Bronn tells me the last time he was this far north was a while ago. I try to ask what for he just simply says "Work." Now I must decide my next move. My father is probably very furious with me and I should probably send a letter informing him I have arrived at castle black with Lord Eddard, but what should I do after that? Should I really walk into Winterfell? I would no doubt be taken prisoner, but with Lord Eddard alive and us holding Sansa Robb should be a little reasonable right?
Tyrion has a decision to make.

A. Go to Winterfell and meet with Robb Stark.

B. Send a letter to Robb Stark asking to meet in Mole's Town.

C. Return to King's Landing.
Daenerys of House Targaryen: Exiled Princess of the Seven Kingdoms
Dragons. I have no explanation. I have awoken holding three baby dragons. Ser Jorah is amazed by this. The remaining slaves dress me. Ser Jorah asks how I knew what would happen and I have no answer to give. I had a dream that told me to do it. Ser Jorah says we should look east and not west. He says we need to get out of the Dothraki Sea and into more civilized lands as the moment my son is born, they will kill him and take the dragons. Plus, it seems the Golden Company is now hunting us trying to take me. They were willing to attack Khal Drogo and his Khalasar to get me. I don't think anything will deter them.
Daenerys has a decision to make.

A. Head West for the Free Cities

B. Head East to Qarth
TYRION POV:
Appearing:
Eddard Stark
Bronn
Alliser Thorne
Jeor Mormont

Mentioned:
Robb Stark
Sansa Stark
Chiggen
Roose Bolton
Lyn Corbray
Robert Baratheon
Balon Greyjoy
Jorah Mormont
Lynesse Hightower
Marq Grafton
Jon Arryn
Lord Corbray
Lewyn Martell
Lyonel Corbray
Tywin Lannister
Benjen Stark
Daenerys POV:
Appearing:
Drogon
Rhaegel
Viserion
Jorah Mormont

Mentioned:
Khal Drogo
CHAPTER 21

Davos of House Seaworth: Lord of Cape Wrath
It seems just as we feared. All the Lords of the Stormlands have rallied to Stannis' younger brother Renly. The brother who was just a boy during Robert's Rebellion. Stannis held Storm's End with 500 men. Mace Tyrell sat outside the walls having feasts in the view of the battlements so that Stannis and his starving garrison could see, but Stannis never gave in. Him along with most of his castle probably would have died of starvation had it not been for me. I treated with a few Lords that would have me these past few weeks to try and make them consider supporting Stannis. Gulian Swann and Lord Penrose would have me. Lord Selwyn Tarth would only speak to me at nighttime when nobody could see. It seems none of them will switch sides and part of me can't blame them. Renly has the might of the Stormlands and Reach backing him, but Stannis has given me and my family everything and I will not abandon him.
I've returned to Dragonstone and now it seems Stannis and others are burning the statues of the seven on the beach. Once Robert died. This red priestess that had made her home on Dragonstone a few years ago and converted Stannis' wife Selyse to R'hollor has started preaching about how Stannis is the Prince that was Promised. How he was born amidst salt and smoke. After the ceremony Maester Cressen approaches me. Maester Cressen, nearly 80 years old, used to be the maester of Storm's End, but after Robert's Rebellion followed Stannis to Dragonstone, which is completely uncommon as maesters are sworn to serve and advise a specific castle regardless of changes in control of that holding, but Maester Cressen had essentially raised the Baratheon brothers and his favorite was Stannis. Cressen saw Stannis as the son he never had. Cressen puts his trembling old hand on my shoulder and says, "You must be the one to tell him Ser Davos, he is heading into a war he cannot win."
Stannis has been trying to gather support since before Robert even died. The moment Jon Arryn died Stannis came back to Dragonstone. This wasn't the only reason. Stannis has always felt resentful of his older brother. Back right after the end of Robert's Rebellion, Robert charged Stannis with building a fleet to go to Dragonstone to captured Aery's wife Rhaelle and last son Viserys. Targaryen loyalists shipped off the last Targaryens before Stannis was even tasked with going to capture them. Robert was furious and told Stannis he can keep Dragonstone and gave Storm's End to his youngest brother Renly.
Later Stannis is deciding what his next move is. Someone suggests that they try and gain support from the other lords who have not officially sided with Renly or Joffrey. Robb Stark is brought up. Cressen tells us that Eddard Stark has escaped the dungeons of Kings Landing and could be heading North to gather strength against Joffrey. Stannis seems open to sending a raven to Robb, making sure he can expect his support, but The Lannisters still hold Eddard's sisters and bastard son as hostages so the Starks may already be subdued and Eddard was possibly allowed to head back North? Cressen then suggests sending Shireen to the Vale to marry Robin Arryn and secure an alliance there as well. Stannis tells us how Jon Arryn wanted to send his son to Stannis to foster. Stannis says he is open to this as well but then his wife Selyse objects stating Stannis doesn't need to beg anybody for support as he has the Lord of Light behind him. Stannis seems to be convinced by his Wife, but he still gives me a glance. Maybe he still thinks Robb Stark is a possible ally? Selyse tells us that the red comet is a sign that Stannis's time has come, and that he must sail from Dragonstone now to conquer. Selyse claims that Renly's men will join Stannis once Renly dies, and that Melisandre has seen Renly dead in her flames. Cressen is horrified by the thought of fratricide and objects. Stannis dismisses Cressen. I inform Stannis that it would be unwise to declare for the Lord of Light, if he wishes to win over the followers of the Faith of the Seven, but Stannis rejects the notion, as he believes Melisandre has power. Before the meeting ends Cressen proposes a toast to the Lord of Light and suggests Melisandre shares a cup of wine with him. I saw we has done. I watched him slip something in it. Melisandre drinks almost the whole cup and Cressen drinks the rest. Cressen falls over chocking on his own blood and Melisandre remains unharmed. Cressen dies as Melisandre states "The night is dark and full of terrors old man, But the fire burns them all away." As they carry Cressen away I take Stannis aside while the Red Woman and his wife are distracted.
Davos has a decision to make.

A. Tell Stannis he needs to ally with Robb Stark.

B. Tell Stannis to make a marriage alliance with The Arryns of the Vale.

C. Let him continue down the path he is on.
DAVOS POV:
Appearing:
Stannis Baratheon
Selyse Florent
Maester Cressen - chokes on own blood after drinking poison in assassination attempt on Melisandre
Melisandre

Mentioned:
Renly Baratheon
Robert Baratheon
Mace Tyrell
Gulian Swann
Lord Penrose
Selwyn Tarth
Jon Arryn
Rhaelle Targaryen
Viserys Targaryen
Joffrey Baratheon
Robb Stark
Shireen Baratheon
Robin Arryn
Chapter 22

Tyrion of House Lannister: Heir to The Westerlands & Casterly Rock
Robb Stark has agreed to meet me in Mole's Town. I have informed him that his father has made it to the wall and is taking the black. We head to Mole's Town. I will not walk into Winterfell. I'd surely be taken hostage. As Bronn and I enjoy ourselves in mole town I am told Stark men have arrived. I go out to greet them, but I am instead met a large man with a grey beard. He has chains across his chest and I recognize his sigil. House Umber. I assume this is Greatjon Umber. "Where is Lord Stark?" Greatjon and his men laugh. Greatjon says "You'll see him soon enough Lannister." The Umber men take us and put bags over our heads. Why didn't I see this coming??
Davos of House Seaworth: Lord of Cape Wrath
I decide not to ask him to consider another alliance. It seems Selyse and the red woman have him believing people will rally to his cause just because he is the rightful King. Stannis tells me he plans to write a letter declaring Joffrey and his siblings' bastardy and that he is the rightful heir of the Throne and he wants to send it to every corner of the realm. I think this is a good idea, but declaring himself now is dangerous. Especially with no big support like the Starks or Arryns. All of the Stormland Lord's that are rightfully his have joined Renly. Stannis has eluded that he has some way to bring the Stormland lords back to his side. I have no clue what he means by this. On the other hand he hasn't listen to anyone's advice but the red woman and his wife so far. This might fall on deaf ears as well.
Davos has a decision to make.

A. Encourage him to send this out now.

B. Tell him to wait to declare himself and announce Joffrey's bastardy to the realm until he has more strength and support.
Daenerys of House Targaryen: Exiled Princess of the Seven Kingdoms​
The red waste is a brutal and inhospitable place. It has been months since The Golden Company slaughtered Khal Drogo and his Khalasar trying to take me. I must find a place to give birth to my child. Jorah says we grow closer to Qarth and we decide to send an emissary to Qarth. Our emissary returns with 3 representatives of Qarth. Pyat Pree, Xaro Xhoan Daxos and Quaithe. The emissaries escort me and my khalasar to Qarth. Upon entering Qarth, I have to say the magnificence of the city cannot be denied. My three young dragons are a marvel in the ancient city.
TYRION POV:
Appearing:
Bronn
Greatjon Umber

Mentioned:
Robb Stark
DAVOS POV:
Appearing:
Stannis Baratheon

Mentioned:
Joffrey Baratheon
Myrcella Baratheon
Tommen Baratheon
Daenerys POV:
Appearing:
Jorah Mormont
Pyat Pree
Xaro Xhoan Daxos
Quaithe
Viserion
Rhaegel
Drogon

Mentioned:
Khal Drogo
Chapter 23

Davos of House Seaworth: Lord of Cape Wrath
I urge Stannis to wait to announce his claim and reveal Joffrey's basterdy, but my advice falls on death ears as at our next council meeting Stannis is having Maester Pylos write up the letter. Maester Pylos was the assistant maester after he was brought to Dragonstone by Stannis when Cressen became to old and frail to carry out his duties.
The letter reads:
All men know me for the trueborn son of Steffon Baratheon, Lord of Storm's End, by his lady wife Cassana of House Estermont. I declare upon the honor of my House that my beloved brother Robert, our late king, left no trueborn issue of his body, the boy Joffrey, the boy Tommen, and the girl Myrcella being abominations born of incest between Cersei Lannister and her brother Jaime the Kingslayer. By right of birth and blood, I do this day lay claim to the Iron Throne of the Seven Kingdoms of Westeros. Let all true men declare their loyalty. Done in the Light of the Lord, under the sign and seal of Stannis of House Baratheon, the First of His Name, King of the Andals, the Rhoynar, and the First Men, and Lord of the Seven Kingdoms.
Stannis commands me to send this letter to every corner of the realm. Not long later Stannis plans to besiege Storms End. We finally set out to do this while we get reports that Renly and his army is marching from Highgarden to King's Landing by the Roseroad, but once Renly hears that we are besieging Storm's End him along with 10,000 of his 100,000 men quickly rush to Storm's end.
The meeting place was a grassy sward dotted with pale grey mushrooms and the raw stumps of felled trees. Stannis's foragers had cut the trees down for his siege towers and catapults. I take notice that Stannis has changed his sigil. Renly would be last to arrive. The first to arrive must wait on the other, and Renly would do no waiting it seems. Stannis wore a crown of red gold with points fashioned in the shape of flames. His belt was studded with garnets and yellow topaz, and a great square-cut ruby was set in the hilt of the sword he wore. Otherwise his dress was plain: studded leather jerkin over quilted doublet, worn boots, breeches of brown roughspun. The device on his sun-yellow banner showed a red heart surrounded by a blaze of orange fire. The crowned stag was there, yes . . . shrunken and enclosed within the heart.
The younger Baratheon was splendid in his green velvet doublet and satin cloak trimmed in vair. The crown of golden roses girded his temples, jade stag's head rising over his forehead. Jagged chunks of black diamond studded his swordbelt, and a chain of gold and emeralds looped around his neck. Stannis' greeting was curt. "Lord Renly." King Renly replies "Can that truly be you, Stannis?" Stannis frowned. "Who else should it be?" Renly gave an easy shrug. "When I saw that standard, I could not be certain. Whose banner do you bear?" Stannis replies "Mine own." The red woman spoke up. "The king has taken for his sigil the fiery heart of the Lord of Light." Renly seemed amused by that. "All for the good. If we both use the same banner, the battle will be terribly confused." Stannis says "The Iron Throne is mine by rights. All those who deny that are my foes."
"The whole of the realm denies it, brother," said Renly. "Old men deny it with their death rattle, and unborn children deny it in their mothers' wombs. They deny it in Dorne and they deny it on the Wall. No one wants you for their king. Sorry." Stannis clenched his jaw, his face taut. "I swore I would never treat with you while you wore your traitor's crown. Would that I had kept to that vow." "If you have proposals to make, make them," Stannis said brusquely, "or I will be gone." "Very well," said Renly. "I propose that you dismount, bend your knee, and swear me your allegiance." Stannis choked back rage. "That you shall never have." Renly insists "You served Robert, why not me?" Stannis replies "Robert was my elder brother. You are the younger." Renly retorts "Younger, bolder, and far comelier . . . " Stannis adds " . . . and a thief and a usurper besides." Renly shrugged. "The Targaryens called Robert usurper. He seemed to be able to bear the shame. So, shall I."
Stannis asks Renly "Did you receive my letter?" Renly snickers. "Oh yes while we were camped at horn hill Lord Tarly received your little letter. It was such a droll read do you think that piece of paper will make you King?" Stannis replies "No." "You may well have the better claim, Stannis, but I still have the larger army." Renly's hand slid inside his cloak. Stannis saw, and reached at once for the hilt of his sword, but before he could draw steel his brother produced . . . a peach. "Would you like one, brother?" Renly asked, smiling. "From Highgarden. You've never tasted anything so sweet, I promise you." He took a bite. juice ran from the corner of his mouth. "I did not come here to eat fruit." Stannis was fuming. "A man should never refuse to taste a peach," Renly said as he tossed the stone away. "He may never get the chance again. Life is short, Stannis. Remember what the Starks say. Winter is coming." He wiped his mouth with the back of his hand. Stannis says, "I did not come here to be threatened, either." "Nor were you," Renly snapped back. "When I make threats, you'll know it. If truth be told, I've never liked you, Stannis, but you are my own blood, and I have no wish to slay you. So, if it is Storm's End you want, take it . . . as a brother's gift. As Robert once gave it to me, I give it to you."
"It is not yours to give. It is mine by rights." Stannis snapped back with. Sighing, Renly half turned in the saddle. "What am I to do with this brother of mine, Brienne? He refuses my peach, he refuses my castle, he even shunned my wedding . . . " Stannis replies "We both know your wedding was a mummer's farce. A year ago, you were scheming to make the girl one of Robert's whores." "A year ago, I was scheming to make the girl Robert's queen," Renly said, "but what does it matter? The Mountain got Robert and I got Margaery. You'll be pleased to know she came to me a maid." Stannis retorts with "In your bed she's like to die that way." "Oh, I expect I'll get a son on her within the year. Pray, how many sons do you have, Stannis? Oh, yes - none." Renly smiled innocently. "As to your daughter, I understand. If my wife looked like yours, I'd send my fool to service her as well." "Enough!" Stannis roared. "I will not be mocked to my face; do you hear me? I will not!" He yanked his longsword from its scabbard. The steel gleamed strangely bright in the wan sunlight, now red, now yellow, now blazing white. The air around it seemed to shimmer, as if from heat. Brienne moved between the brothers, her own blade in hand. "Put up your steel!" she shouted at Stannis. And to think Cersei and Tywin Lannister are probably laughing themselves breathless at the thought of this.
Stannis pointed his shining sword at his brother. "I am not without mercy. Nor do I wish to sully Lightbringer with a brother's blood. For the sake of the mother who bore us both, I will give you this night to rethink your folly, Renly. Strike your banners and come to me before dawn, and I will grant you Storm's End and your old seat on the council and even name you my heir until a son is born to me. Otherwise, I shall destroy you." Renly laughed. "Stannis, that's a very pretty sword, I'll grant you, but I think the glow off it has ruined your eyes. Look across the fields, brother. Can you see all those banners?" Stannis asks, "Do you think a few bolts of cloth will make you king?"
Renly responds "Tyrell swords will make me king. Rowan and Tarly and Caron will make me king, with axe and mace and warhammer. Tarth arrows and Penrose lances, Fossoway, Cuy, Mullendore, Estermont, Selmy, Hightower, Oakheart, Crane, Caswell, Blackbar, Morrigen, Beesbury, Shermer, Dunn, Footly . . . even House Florent, your own wife's brothers and uncles, they will make me king. All the chivalry of the south rides with me, and that is the least part of my power. My foot is coming behind, a hundred thousand swords and spears and pikes. And you will destroy me? With what, pray? That paltry rabble I see there huddled under the castle walls? I'll call them five thousand and be generous, codfish lords and onion knights and sellswords. Half of them are like to come over to me before the battle starts. You have fewer than four hundred horse, my scouts tell me - freeriders in boiled leather who will not stand an instant against armored lances. I do not care how seasoned a warrior you think you are, Stannis, that host of yours won't survive the first charge of my vanguard." Stannis replies "We shall see, brother." Some of the light seemed to go out of the world when Stannis slid his sword back into its scabbard. "Come the dawn, we shall see." Renly replies "I hope your new god's a merciful one, brother." Stannis snorted and galloped away, disdainful. I followed suite. The red priestess lingered a moment behind. I hear her say "Look to your own sins, Lord Renly, the night is dark and full of terrors." she said as she wheeled her horse around.
It seems that these brothers were always doomed to clash. The amount of animosity couldn't be forgotten it seems. Maester Cressen would be massively disappointed and appalled at what was about to happen.
Daenerys of House Targaryen: Exiled Princess of the Seven Kingdoms​
Xaro Xhoan Daxos, a member of the merchant guild of the Thirteen, has offered me the hospitality of his palace while me and my khalasar are in Qarth. Xaro's palace makes Magister Illyrio's manse in Pentos look like a swineherd's hovel. Under his guidance I sought an audience with the Pureborn to plea with them in the Hall of a Thousand Thrones for their fleet of galleys, or at least part of it and some of their soldiers. They say no with great courtesy to be sure, but under all the lovely words the answer is still no. Pureborn Mathos says nothing. Pureborn Wendello praises the way I spoke. The Exquisite refuses me with the rest, but he weeps afterward.
Although the Pureborn have denied me Xaro sees to it that the great and the humble alike offer some token to me. I receive gifts from throughout the known world, selling all except for a crown wrought in the shape of a three-headed dragon given to me by the Tourmaline Brotherhood. Xaro tells me he has interest in marrying me. Although Jorah tells me that the reason Xaro wishes to marry me is so that he can take one of my dragons which is part of a Qartheen marriage custom. Also seems that Xaro may not be interested in woman as Xaro hardly deigns to notice my bare breasts when I am wearing a Qartheen gown. Jorah notices the beautiful boys who surround the merchant prince, flitting through his palace halls in wisps of silk.
Xaro owns eighty-four vessels, including Vermillion Kiss, the galleas Silken Cloud, and his pleasure barge. He tells me that he does not own any warships. He also offers thirteen galleys, including Banded Lizard, Narraqqa, and Pureborn Princess, although I along with Jorah suspect the galleys were provided by all the Thirteen and not specifically by Xaro. Pyat Pree wants to host me at the House of the Undying and I tell him I'd consider it. As I am walking around enjoying the markets I am approached by Quaithe. One of those who led me through the red waste here. While Xaro and all the others offer me promises Quaithe offers only a warning to beware "of all", warning that people would come day and night to see the newborn dragons, and that these spectators would lust to own the dragons and the power connected to them. Quaithe urges me to leave Qarth as soon as possible, warning that if I lingers I will not be permitted to leave the city at all. I notice that my wrist tingles, an effect of Quaithe's touch. When I ask for a clarification on this warning, Quaithe gives a cryptic answer "To go north, you must journey south, to reach the west you must go east. To go forward you must go back and to touch the light you must pass beneath the shadow."
Daenerys has a decision to make.

A. Accept Xaro's marriage offer

B. Go see The Warlocks at the House of the Undying for council.
DAVOS POV:
Appearing:
Stannis Baratheon
Maester Pylos
Renly Baratheon
Brienne Tarth
Melisandre

Mentioned:
Maester Cressen
Steffon Baratheon
Cassana Estermont
Robert Baratheon
Joffrey Baratheon
Tommen Baratheon
Myrcella Baratheon
Cersei Lannister
Jaime Lannister
Randyll Tarly
Selyse Florent
Shireen Baratheon
Margaery Tyrell
Tywin Lannister
Daenerys POV:
Appearing:
Xaro Xhoan Daxos
Pureborn Mathos Mallarawan
Pureborn Wendello Qar Deeth
Pureborn Egon Emeros
Jorah Mormont
Pyat Pree
Quaithe

Mentioned:
Illyrio Mopatis
CURRENT POLL: CHAPTER 23 (OPEN)