So is anybody here familiar with H. P. Lovecraft's work as an author? I've recently been reading on the Cthulhu Mythos and I fucking love it. I'm sure some people here have an idea who Cthulhu is, I've heard the name quite a lot but never really knew who this Cthulhu was until recently. Only for the past few weeks have I bothered looking up some of Lovecraft's work in reading and watching videos here and there and found out pretty much what most people know about this Cthulhu character. I know I'm pretty late to the party, but hey, better late than never eh?
You folks know Cthulhu right?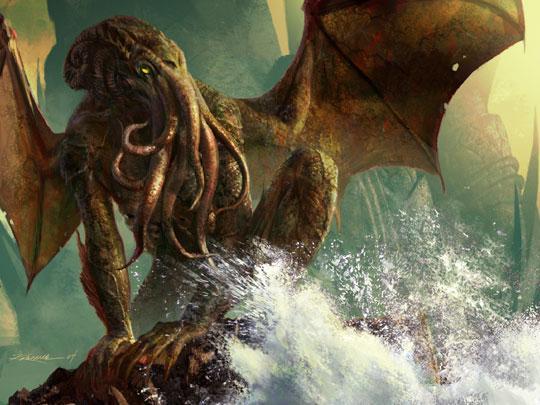 Yeah, that guy.
​
Anyway I honestly I love Lovecraft's fictional universe in which the
"gods"
of the universe are indifferent to humanity mostly because it just seems real. When I first left religion completely, I'd always think that if there was a god or gods they'd be evil or completely indifferent to humans. Lovecraft's made up gods to an extent actually sound believable to me. I don't necessarily believe in any of the fictional beings in Lovecraft's work, I just assume if
"gods"
really did exist they wouldn't really have a reason to give a rat's ass about humanity or anybody on earth really. Also I'm a firm believer that life does exist beyond earth, so I just love Lovecraft's entire
"aliens"
theme he's got in most of his work.
I've heard about stuff like
"The mad Arab Abdul Alhazred"
from Lovecraft's work and yeah, I'm really interested. Other than that I don't know much about Lovecraft's work, but I'm planning on reading more of his stuff soon. God damn I love this shit.
Also holy shit at this Cthulhu shit having actual cult followers who believe Cthulhu really is under the Pacific ocean in a lost underwater city waiting for the stars to align to take over the world. I've fucking heard people worship this guy? What the fuck? :side:
If you're familiar if Lovecraft's books, what are your favorite books? What do you think of those books? What do you think of the Cthulhu myth and the outer gods? Whaddya think of the racist man that was Howard Phillips Lovecraft? Discuss! :dance