·
I wonder what Aeris felt...When she was up on that
DARK SOULS III
Release Date
: April 12th, 2016
Platform(s)
: Playstation 4, Xbox One, PC
Developer
: From Software
Publisher
: Bandai Namco Entertainment
Official Website
Dark Souls (October 04, 2011) - PREPARE TO DIE
Dark Souls II (March 11, 2014) - GO BEYOND DEATH
Bloodborne (March 24, 2015) – HUNT YOUR NIGHTMARES
Prepare to die for the last time. Miyazaki has returned to what promises to be the best game in the franchise. There may be Souls games in the future, but the Trilogy ends here. Grab your uchigatana, refill your flasks, and journey to the Kingdom of Lothric. You will be beaten down, you will be ganked, you will be outwitted, you will be brought to your breaking point, and then, and only then, will you die. You are not alone. This Is Dark Souls.
THE END IS HERE!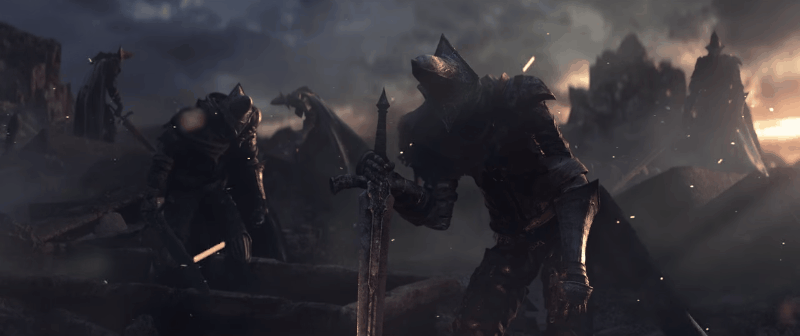 Reviews
Arcade Sushi: 9.5/10
Our return to the Dark Souls series was one steeped in joy, anger, frustration, triumph, fear, and awe. It contains so much of the standard elements and mechanics that play to fans familiar with From Software while introducing nuances that once again raise the bar. Dark Souls III is a world that is absolutely fantastic and worth exploring despite dreary conditions and there's a rich variety of options that cater to whatever playstyle you want to bring to your adventure. There is an occasional lack of variety or oversimplification that comes to the forefront when it comes to enemies or locale, but it is often quickly buried in the amazing visuals, enjoyable gameplay, and rewarding lore of the game. If Dark Souls III is the final visit to this series, then it is the apex the series deserves and certainly one of the most worthwhile adventures we've embarked on in a long time.
Attack of the Fanboy: 4/5
A grand, epic, sweeping, and extremely lengthy adventure awaits players in Dark Souls 3. The switch to current gen consoles has allowed the game to flourish, with the best visuals ever for the series. This comes at a bit of a cost, sadly, as performance can be sluggish on rare occasions. The gameplay is still pure Dark Souls bliss though, and if you enjoyed it in the past, you will eat up every single hour of this game. For those looking to get into the series, this one is a good place to start, as it does a better job of funneling players along the proper path. It is still an open world though, and getting lost is not only inevitable, but also part of the fun. While everything you loved is back, some problems also return, such as a not-so-great targeting system and other missing features. Those seeking something wholly new will be disappointed, but if you want more of the Dark Souls gameplay that you love, this is exactly what you've been asking for.
Destructoid: 8.5/10
If Dark Souls III truly is the last game for now, it makes perfect sense, since it's just as much of a love letter to fans as it is a culmination of the series. I may not have liked this iteration as much as the rest, but it's still streets ahead of most current action games and deserves a warm spot on your shelf by the bonfire.
Digital Spy: 5/5
There's no arguing that the Dark Souls series has mastered the action RPG genre (though The Witcher 3 is a good alternative with a better story). How does Dark Souls 3 match up to the other games in the series? Well, it certainly surpasses the somewhat shonky Dark Souls 2, but Bloodborne is another matter, standing tall with its coherent, strange and sickly Cthulhian world, and subtle story. Dark Souls 3 must bow its head to its Playstation predecessor - but should be proud that it manages to be a gruelling, challenging adventure, pushing endlessly through horror and weirdness.
Easy Allies: 4.5/5
Before playing we felt ready to say goodbye to the series looking forward to whatever From Software gives us next. Yet after finishing, it is hard not to want more. Few companies can craft a world so completely enthralling. Whether you've played every entry, started with Bloodborne, or are brand new, this is a game you should absolutely make time for.
Forbes: 10/10
Dark Souls III is a game that harnesses nostalgia masterfully. There's no doubt that this is a game that's as much love letter to fans as anything else. There's a bit more exposition, tons of familiar faces and nods to the original game, and a sense that we're travelling back to a place we haven't been in a long time. There's a sadness to this adventure, but also a kind of joy.
Game Informer: 9.25/10
Dark Souls III successfully replicates the winning formula of the Souls series, a wondrous combination of majestic boss battles, incredible layered environments full of secrets, and precise combat that can make other action RPGs difficult to play once you've mastered the art. If you've never played the series, this is a great place to begin, offering a bit more direction in the early game before opening up. If you've already played the series, you can feel confident that From Software hasn't lost its touch.
GamesRadar: 4.5/5
Dark Souls 3 is a vigorous tale of sacrifice and cunning. It is oblique, punishing and gratifying in a way mainstream console blockbusters seldom dare to be. But the fires are definitely dying. There's been some uncertainty over whether this is the final Dark Souls title – Miyazaki has suggested as much, but the endings contain dutiful hints about future sequels. As much as I love Dark Souls, and as much as I've enjoyed this one, I think it's time to say goodbye.
GameSpot: 8/10
Dark Souls III is a game of valleys and peaks, down through dungeons and up over castle walls. It's a plummet into places we shouldn't be--an escape from places we don't belong. But of course, we fight our way through the darkness, and find our way out. There are a few stumbles along the way, but in the end, Dark Souls III is well worth the riveting climb.
IGN: 9.5/10
If Dark Souls 3 truly is the last in the series as we know it, then it's a worthy send-off. Weapon arts allow stylish and versatile new moves without tarnishing the purity of the combat system. Lothric's awe-inspiring locations provide visually stunning arenas for rigorous exploration and fierce face-offs with hosts of deadly enemies and even deadlier bosses. While not all the risky changes land as neatly as others, Dark Souls 3 is a powerful journey and the sequel the series truly deserves.
The Jimquisition: 9/10
Any player who's been through this mill is prepared to die, but once more, that fantastic beacon of hope urging players to press forward and overcome each obstacle is shining as bright as ever. Because that's what Dark Souls is all about – perishing, persevering, and prevailing.

No game series comes close to doing what Dark Souls does, and Dark Souls III has done it again.

It's an undead favorite.
PC Gamer: 9.4/10
The added fidelity in Dark Souls 3 could have just been a simple upgrade in texture detail, but FromSoftware treats the extra space like a wider canvas, pushing their themes and story through every possible avenue—sound, music, enemy design, animation, dialogue, item descriptions, environmental cues—with more finesse and frequency than ever before. Dark Souls 3 gracefully pushes the series' notoriously difficult action towards a greater artfulness that tests far more than reflexes. I was challenged to read environments and props like a novel, to empathize with Lothric's imperfect inhabitants, and to ask whether or not I was trying to save anything worth saving. But there are no easy answers here, only 40-plus hours of tense action, awe-inspiring exploration, certain death, and big, bleak, beautiful questions.
Polygon: 7/10
At this point, most Souls players know what they're looking for in a new entry. Your personal expectations for the series will play a key part in your enjoyment of Dark Souls 3. If you play these games for the intense, controller-clenching combat and the excitement of invading other players' worlds, then there's a lot here to keep you busy and happy. But in so many important ways — its world design, its pacing, the technology powering it — Dark Souls 3 falls short of the mark. Do you play for the joy and stress of exploring dangerous, intricately crafted places full of hidden elements and endless side paths? Then I suspect you'll join me in being a little let down with the direction this sequel has gone in.
Twinfinite: 5/5
As the final game in the series, Dark Souls III delivers a fantastic, no holds barred, 30-hour experience that will satisfy longtime fans. Dark Souls III polishes its gameplay mechanics to a shine, and delivers the lore in droves to those who hunger for it – the perfect mix for an action RPG. Praise the Sun.
How to Co-Op with Wrestlingforum Members
Coming Soon
​