Discussion Starter
•
#1
•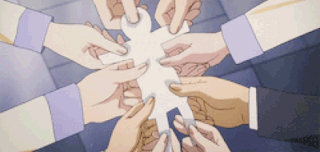 "I'm sure you're a bit confused about the situation you're in right now. After all, its not every day you just wake up on the cold wooden floor of a very obviously haunted elementary school with no idea how you got there. Well, allow me to explain what's happened.
So, right about a half an hour ago, or something like that, time works weirdly in here, you people decided to perform the a Sachiko ever after ritual for whatever reason. You also fucked it up somehow and have angered the spirit that rules this halls that is Sachiko. As punishment, she's transported you here so that you can die in these halls for her amusement. What kind of death? Well, she might choose to end you violently, or maybe one of you people will kill each other before then, or perhaps she just leaves you alone as you slowly starve yourself to death until you're forced to feed on the many corpses which are littered around. Oh did I mention that death doesn't free you from this place and that your soul stays here for all eternity doomed to suffer the pain you felt in the moment death forever? Why do you think I'm still here and haven't fucked off
Well, that's the bad news. The good news is that Sachiko sometimes gets bored and tries something different. Notice that you've all woken up here together, that's not usual. Sachiko and the other ghosts have disguised themselves among some of you and its up to you to try and figure out who they are and kill them, before they kill you. And who knows, maybe if you win this game, she'll let you escape. Well, the ones who survive by the end of it anyway. Just try and don't become, like us."
Nothing in the above will affect the game. Its completely flavour.
RULES
- Day 1 will be 36 hours with all subsequent days being 24 hours.
- Night phases will be 12-16 hours at the discretion of the host.
- I've tried to clearly explain role interactions in your PMs, but feel free to ask if you have any questions. I won't be held responsible if you wrongly assume I would resolve something in a certain way.
- Don't discuss the game outside of any designated QTs and the thread itself.
- Don't be a chode and threaten to rep out unless it's for legitimate reasons.
- Mafia have been given somewhat specific fakes for their role and characters, and other extra less detailed fakes if they choose to use them.
- Do not directly quote your role PM.
- Play to your win condition.
- When sending out some roles, sometimes I put the picture above the quote and sometimes I put it below. I'm not sure if its possible to use this to cheeze the game but just putting it out there.
- Some roles and/or fakes may not have quotes.
Here's a sample mafia role and the corresponding town fake. I would've put this in the game if the game started at 20 people.
Yoshie Shinozaki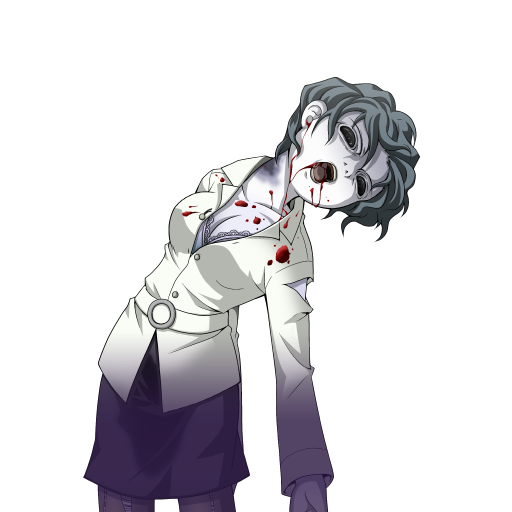 "SACHI IS MY PRIDE AND JOY / She'd do anything for me / I don't think she even recognizes me anymore / But I still love her with all my heart"
Roles:1xPGO/qt-less
You will be able to choose a night for which anyone who visits you on that night will die. You can only do this once. You also do not have access to the mafia qt.
Affiliation: Heavenly Host Elementary School
Goal: Kill all non-Heavenly Host affiliated players in the game.
Fake:
Tohko Kirisaki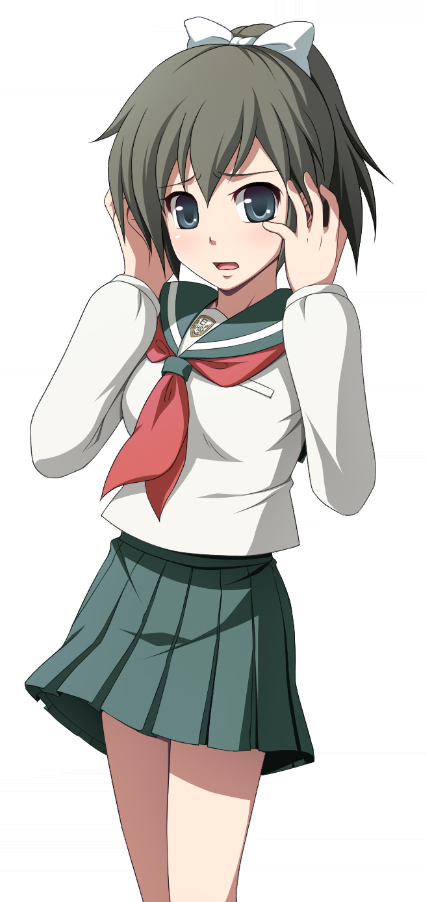 "*hic* ...Everyone... ...Everyone's going to go crazy in here!"
Roles:1xPGO
You will be able to choose a night for which anyone who visits you on that night will die. You can only do this once.
Affiliation: Byakudan Senior High School
Goal: Kill all Heavenly Host affiliated characters and anyone else that may threaten the survival of you and your affiliation.
1-Poyser
2-Curry-Killed Night 1
3-Odo-killed night 3
4-Sky
5-Junk-lynched day 2
6-Lawls
7-Doddsy-Janitored night 1
8-Peter-Killed night 4
9-Rugrat-lynched day 3
10-Smark-martyred night 2
11-Rop-killed night 3
12-Moony
13-Magic/Big Man-Killed night 4
14-Lethal-killed night 3
15-Mikey-lynched day 4
Rep:
1-Big Man
Day 1-
https://www.wrestlingforum.com/mafia-games/2396192-corpse-party-mafia-game-10.html#post77392128
Night 1-
https://www.wrestlingforum.com/mafia-games/2396192-corpse-party-mafia-game-post77395368.html#post77395368
Day 2-
https://www.wrestlingforum.com/mafia-games/2396192-corpse-party-mafia-game-18.html#post77399390
Night 2-
https://www.wrestlingforum.com/mafia-games/2396192-corpse-party-mafia-game-20.html#post77401722
Day 3-
https://www.wrestlingforum.com/mafia-games/2396192-corpse-party-mafia-game-28.html#post77404292
Night 3-
https://www.wrestlingforum.com/mafia-games/2396192-corpse-party-mafia-game-post77406134.html#post77406134
Day 4-
https://www.wrestlingforum.com/mafia-games/2396192-corpse-party-mafia-game-39.html#post77409202
Night 4-
https://www.wrestlingforum.com/mafia-games/2396192-corpse-party-mafia-game-41.html#post77413552
Day 1 ends 36 hours from now. It will take 8 votes for a lynch