Discussion Starter
•
#1
•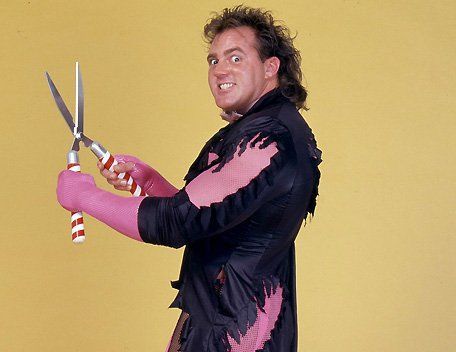 Ringside News said:

"Brutus "The Barber" Beefcake or #BTFBB as he's known nowadays has been a part of the pro wrestling world for decades and used to be Hulk Hogan's best pal. But that relationship seems to have washed away a bit as Beefcake's autobiography on his career exposed a ton about how things went down even down to how Hogan was able to secure HGH from overseas to assist Brutus in his recovery after his awful parasailing accident.

Beefcake is still around and he's been known to drop in on a convention or two and sign some items or take a selfie with someone for cash. He is also fodder for many stories on the Something To Wrestle With podcast too as that podcast's popularity seemed to have driven up Brutus' asking price.

But it seems that one indie promoter and fans who showed up to a recent event won't have the best Brutus stories to tell after the former WWE Superstar no-showed an event after the promoter paid in advance. CWE got stiffed by Brutus and he no-showed the last few dates of their recent tour.

But Jimmy Jacobs was able to fill in for him so he's thankful for that on this day of turkey, being thankful for things, and starting Black Friday at 2:00pm on Thursday.

Jacobs, who is a former WWE writer and brilliant mind in pro wrestling wrote on Twitter: "And a special thanks to Brutus Beefcake for getting paid up front then skipping out on the last few days of the tour, thereby allowing me to fill in as a last minute replacement and have a blast these past three days returning to CWE Canada."

It's pretty unprofessional for BTFBB to no-show dates after being promoted and paid in advance. But at least it worked out well for The Zombie Princess.
http://www.ringsidenews.com/2018/11/22/brutus-barber-beefcake-skipped-events-promoter-paid-advance/
Promoter wrote a mini-book about the ordeal
Brutus Beefcake said:

Dear fans:

Regarding recent bad business practices… I have been travelling, wrestling and doings promotions for 40+ years; obviously far longer than CWE's 10 years of operation. In all my years on the road, however, I have never had one such flagrant, pedantic complaint like this – and frankly, I have never had any real issues at all and my record is pretty good.

I will say this however, this tour for me was by far one of the worst I have ever been on in all my years on the road. Thank you for this Danny. Now, I've seen it all.

Danny had an issue from the very beginning. It all started with the very normal request for a deposit to reserve the dates. He said, the word "deposit" makes him cringe, but that makes no sense to me. As a wrestler or any performer, it is often protocol and a required protection to ask for something to hold the date. I don't know how many wrestlers out there have held dates for events that never happen, but I know it's a lot. This practice is professional and helps the performer know that someone is serious about doing business. It is not cringe-worthy at all, unless you are not professional to start with.

I never texted, negotiated or ever spoke to DANNY before the deal he made with my wife. I don't know Danny and I don't know why he thinks that anyone should waive a deposit for him if they hadn't done business before. In retrospect, I can only imagine it's because he thinks that the talent is a commodity for him to exploit and treat poorly (because I know I was!)

Other than the deposit, very reasonable requests were made in the negotiation; Extra leg room on the plane as I am recovering from knee surgery… Ample room in a vehicle as I knew there would be lots of travelling by car throughout Canada. These are both reasonable requests as I am not as young as I used to be, and I thought that he respected these requests. To make the deal happen, Danny said that he would provide me with a driver so that I wouldn't have to sit around for hours before and after the shows.

Right from day one, Danny didn't meet our agreement with respect to travel accommodation. Once the tour started, I got a driver alright, but that was about it. But I don't know if I would call that a car. His car was the worst piece of crap ever; it looked so unsafe, and he drove unsafe. After a few hours of that torture, I honestly told "Danny that I refused to die in it anymore after this trip." He said he wanted to pull over and leave me on the side of the road in the cold. Nice, right?

So after that, he made me ride in the ring truck. I mostly travelled with 6 men, all in the same vehicle that was actually towing the ring in a trailer. The others in the car itself pointed out that our travel accommodations were technically following illegal guidelines. It was so bad that at one point the referee was sitting on the center console where there was no seat. The only thing worse would have been if I had to hold a live chicken on my lap for the duration of the trip. Trust me, this was no luxury trip by any means. But I remember when I was new, and travelling the road. I felt I bonded with the guys I was travelling with, and I never said a word about the lack of accommodations.

There were times we would drive 10 hours to get to a town, and we would pull up to some fleabag motel at the side of the road, and I was the lucky one who got to check in to such a treat. The other guys, had to sleep in the basement of some hall, with no shower, no bed, but maybe just air mattresses. However, I began to wonder if they had the better deal.

My rooms were the cheapest filthiest, stinkiest rooms that you could ever imagine. One of the rooms had no lock anywhere. There was no working telephone. There were electrical wires hanging out of the wall. There was rust in the sink. The lights would flicker in and out. The lamps had no lightbulbs. The headboard was broken off the bed leaning against the wall. And this was THE BEST ROOM!

The worst night was when we drove 10 hours to find my prepaid rented room. When I finally went in the room, there was a half naked guy sitting on the bed with everything hanging out. I went back to the front desk and told the lady that someone was in that room and asked her for another room key. She kept telling me, "I know someone else is in the room. You share." I replied that was not the deal and the lady wanted to talk to Danny, but Danny wasn't answering his phone and he had already driven off into the night.

These shady cheap conditions went on and on and on for the entire trip. I mean, he's clearly the kind of guy who brings a jacket to the dry cleaners but stuffs a sock first each of the pockets, of you know what I mean.

One night, I asked Danny if I could just stay at the Days Inn, and I offered to pay the difference for the room. I wasn't asking for anything crazy! We were still talking affordable accommodations, just without the cockroaches and free roommates. Danny reluctantly agreed, but got mad that he had to bring everyone there because I put him on the spot. After that, I think Danny decided he wanted revenge on me.

Danny kept pushing for me to get in the ring at his shows. He knew from our initial negotiations that I didn't wrestle anymore. I explained to Danny that I was retired and could not get into the ring. I was also recovering from surgery, but none of this mattered. He continually tried to force me into the ring to do the sleeper hold and cut another wrestler's hair. I thought this was an autograph tour! It was completely unprofessional. With hindsight being 20/20, this guy thought I was his horse and pony show.

In no way did Danny get screwed financially. I worked every event that I was paid to do. And didn't run out on him. I did 27 of 30 events – that by no means is a no show! In fact, Danny actually owes me money. For a few shows he set up, we were going to split 50/50 and I have never seen a dime for any of that, of course.

One night, I had no reception in the filthy cave of a room that Danny booked me to sleep in, so while the news was coming in that a family member was off to a hospital, Danny hijacked all communication between me and my wife about this.

Eventually, I got the news. It was near the end of the tour, and I did not just get up and flee the country. I had a family emergency and my wife left messages. Danny got the news from my wife and he chose to ignore it. (I guess he is so cheap, he wouldn't PAY attention. Get it?) In reality, I think he was hoping my problem would just go away if he didn't tell me. But rather than my problem going away, I did. Family is more important to me than making a crooked promoter some extra money.

But family emergency aside, I had many other reasons to cut this tour short. From the unprofessional treatment, to the filthy hotels, to the complete lack of regard for my health and well-being, to the poorly planned traveling schedule, to the inclement conditions in an unsafe vehicle while Danny travelled around in a regular car chasing tail while his pregnant girlfriend was home… the tour was brutal.

Normally, I would just have a private conversation about this unprofessionalism with my family and friends. But not Danny. He clearly likes drama on his social media. Since Danny chose to put total lies out there, I must speak and decided to hit you with the didactic details as I have above, just as he did. Now people know just how cheap he is.

In closing, I will also attach a picture of the lovely rims that my ride had on this tour. I really had time to appreciate them and see them nicely as I say on the side of the road waiting for a repair.

But anyhow, seriously, I will be briefer than the Sheldon Cooper of promoters and end here, far less than the ten pages of OCD BS he decided to crap out over the Internet today. If you want to hear more about this, I'll address it on the podcast with Jay Miller and Justin Credible this weekend.

This is just another typical case of a cheap promoter trying to screw one of the boys… Thanks again to all my friends for understanding!

Brutus Beefcake
- Vic