·
I wonder what Aeris felt...When she was up on that
Bloodborne (March 24, 2015) – HUNT YOUR NIGHTMARES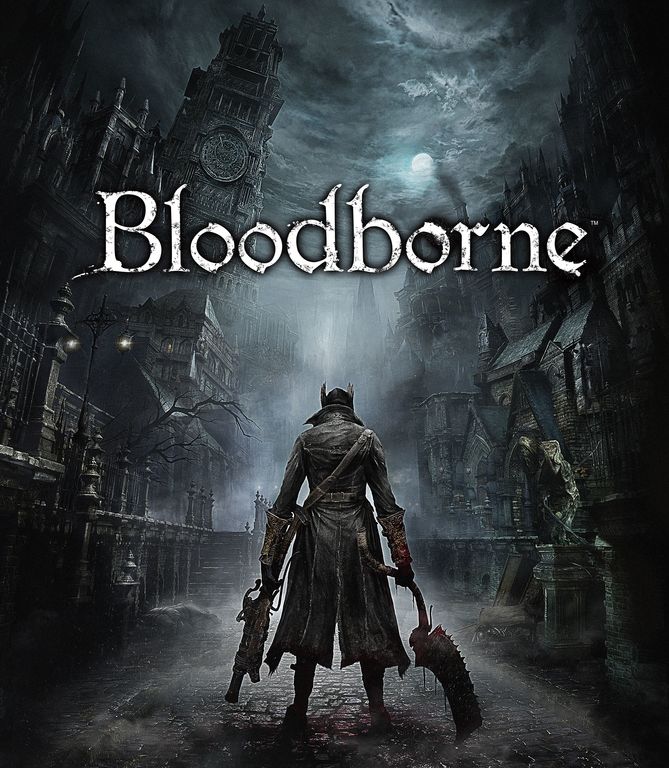 BLOODBORNE
Release Date
: March 24th, 2015
Platform(s)
: Playstation 4
Developer
: FROM Software
Publisher
: Sony Computer Entertainment
Official Website
Dark Souls (October 04, 2011) - PREPARE TO DIE
Darks Souls II (March 11, 2014) - GO BEYOND DEATH
The hunt begins again! The spiritual successor to Demon's Souls, Dark Souls, and Dark Souls 2, Hidetaka Miyazaki is back in the Director's chair to bring the first major exclusive for the PS4 that is going to fucking deliver. Bloodborne is very much akin to the best of its predecessors but with a new emphasis on offensive gameplay. Trick Weapons and Guns bring a new dimension to the gameplay that emphasize the relentless slaughter of your foes. Continuous successful attacks offer chances to regain lost health or to stun enemies from attacking. The new dashing mechanic, in addition to rolling, offer tactical advantages when facing several enemies or very fast enemies. Exploring the new city of Yarnham, the Hunter, you, will fight off its denizens that are inflicted with a curse and uncover the mysteries of the dark and gothic world. With a bigger emphasis on co-operative gameplay, players can now directly play with their friends using passcodes for each other and Chalice Dungeons, new procedurally generated multi-level dungeons designed specifically for jolly cooperation.
New undisclosed features include a possible "Beast Mode", where you can transform into something different, something unlike the Souls games have seen.
Edit: Beast Mode just increases damage output.
:lelbrock
Pictured: Beast Mode
Everything about Bloodborne is grander, more macabre, and more unrelenting than the past Souls games. If you're a casual or still playing it easy in Pussy Souls, this game might not be for you. For anyone with a penchant for masochism and the satisfying feeling of actually accomplishing something in a video game, don't miss what is going to be one of the best games of 2015.
PREPARE TO DIE! UMBASA!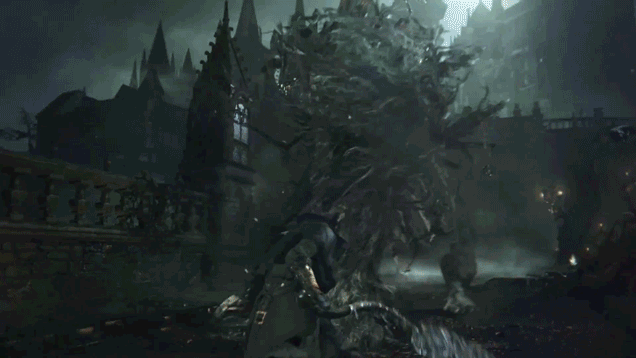 Reviews
Attack of the Fanboy: 4.5/5
It's safe to assume that not everybody is going to enjoy Bloodborne. It's such a harsh and unforgiving game that newcomers might be turned off by some of the vagueness in the story and the soul crushing losses that will inevitably occur over its course. Those that are up for the challenge of Bloodborne are going to find a game that plays better, looks better, and has more to keep you occupied than any of the Souls games had. From Software has refined that formula in many spots, and completely overhauled it in others. Leaving us with what is probably the best exclusive to hit the PlayStation 4 since launch, and the best action-RPG to arrive since, well, Dark Souls 2.
CGM: 9.5/10
All in all, the game is exactly what Souls fans have been hoping for in this new generation of consoles. It's gorgeous, terrifying, relentless and highly addictive. There's so much depth to this game that it's impossible to go over everything, and there will be many surprises in store over the next few months as swarms of Hunters descend on Yarnham and explore its twisted alleyways and endless secrets.
Umbasa my friends…
Destructoid: 9/10
Bloodborne is an interesting mix of everything From Software has learned throughout its storied developmental career. Not everything will gel with fans old and new, but for the most part, the shift towards a combat-oriented game is a net positive. From Software is still one of the only developers left that makes you work for your satisfaction, and Bloodborne is damn satisfying.
Digital Spy: 5/5
Bloodborne may not be a Souls game and it doesn't fall into the horror genre, but it captures everything that makes the series so satisfying, so terrifying and so magical.
I want to keep playing, I want to discover its secrets, I want to fight every monster, try every weapon, discuss theories and explore as many of the community dungeons as possible. To put it bluntly, I want to bleed the game dry.
EGM: 9.5/10
Ultimately, though, the Chalice Dungeons are entirely optional. As much as I found them lacking, they can't put much of a blemish on an otherwise stellar From Software offering. Bloodborne is probably Sony's first truly great exclusive of the new generation, and it's certainly the most enjoyment I've gotten to date out of my PlayStation 4. Whether you're a Souls diehard, a fan of demanding gaming experiences, or just someone looking to add a superb title to their currently lacking PS4 library, you've got every reason to give Bloodborne a shot.
In fact, you'd have to be insane not to.

The Escapist: 4.5/5
All things considered, Bloodborne is an absolute must-buy for fans of the Souls series and for fans of games that push a player's skill to the absolute limit. It's easily the best PS4 exclusive title yet, a game that's more than worthy to be considered a part of the fantastic Souls series, and it's one of the best games of 2015 thus far.
Game Informer: 9.75/10
Bloodborne is a blood-drenched horror gem that has only the faintest of cracks in its façade. Bloodborne succeeds through sparse storytelling, lush atmospheres (conjuring up notions of the best of Lovecraft's work), and tight combat that forces you to be aggressive. While this new IP doesn't stray far from the established Souls franchise, it is a magical, wondrous work that admirably instills both terror and triumph in those brave enough to delve into it.
Gamesradar+: 4.5/5
Bloodborne lies somewhere between Dark Souls and Dark Souls 2, better than the latter but not quite as good as the former. The fourth time following the same template means the master strokes, however masterful they are, are anticipated. But take nothing away from this brilliant, brooding, brutal reinvention, because almost as great as the best game ever is pretty bloody great.
Gamespot: 9/10
The finest treasures are found within the city of Yharnam and the forests, lakes, and purgatories beyond it. Only Bloodborne would be so bold as to bury an entire factional player-versus-player mechanic within an optional region, which is in turn buried within a series of oblique steps you might miss if you aren't exploring every nook and cranny, or ignore the game's enigmatic hints. I finished Bloodborne in less time than I did Dark Souls II, yet I treasure it more in spite of its few missteps. In death there is life, and in blood, there is redemption. More hyperbole, yes, but for a game this theatrical, only hyperbole will do.
Gametrailers: 9.6/10
Between the expansive story, PvP, Chalice Dungeons, the significantly harder new game plus mode, and the countless number of secrets, Bloodborne seems almost limitless. Yet breadth wouldn't matter if the game wasn't so captivating. Several moments had us in awe, making us feel things we haven't felt since the original Dark Souls. Whatever it takes, find a way to join the ranks of the hunters.
God is a Geek: 10/10
While it's certainly no great revolution, Bloodborne is further evidence that From Software are true masters of game design. The city is vast, but as you progress you'll open up shortcuts, lifts, ladders, hidden gates and, of course, lanterns, and you'll never need a map to find your way around. Quite how they manage to make something so complex feel so straightforward is way beyond me. The fact that you can save and exit anywhere and resume where you left off is a welcome change, so if you must stop halfway through a tough area to take a break you won't have to begin it again.
Bloodborne is an immensely intricate and tightly-designed game that arguably surpasses what From have produced before, thanks to a handful of new ideas and tweaked mechanics. A system that promotes repetition to refill your consumables, and a difficulty that encourages level grinding in the opening few areas and at various intervals throughout feel like minor missteps, but they're tiny ones at that. Despite a few minor performance issues, Bloodborne is an epic, compelling, heart-pounding triumph.
The Jimquisition: 10/10
Bloodborne is as glorious as it is grotesque, a harsh and unyielding exercise in getting battered mercilessly while feeling encouraged the whole painful way. While very much a Souls game through and through, the switch from methodical and slow progression to a faster, ultimately more savage environment provides just enough of a twist to give it a wholly unique feel, a more empowering journey, for both the player and the opposition. Bloodborne is something truly special – a barbaric horror RPG that will giveth and taketh away in perfect measure, wrapped up in a perverse world that will refuse to let you go.
Metro: 9/10
Of course no game is perfect, but Bloodborne does come tantalisingly close. And yet we admit it's not a game for everyone; it's too demanding for that, although the only absolute requirement to master it is time and patience. Give it that and Bloodborne will reward you a thousandfold, for this is not just the best game on the PlayStation 4 – this is one of the best games of all time.
NZGamer: 89/100
Bloodborne lends heavily from its forebears, but transforms the combat into a fast-paced dance of death. It rewards aggression rather than hanging back and waiting for opportunities to present themselves. While some technical, design, and pacing issues mar parts of the experience, Bloodborne is the freshest playing entry in a genre that has very narrow gameplay constraints.
RPG Fan: 95/100
But Bloodborne is more than just gameplay systems and stats. There's a real sense of accomplishment and player growth that I haven't even felt in the other Souls games. I started Bloodborne scared and unsure, quaking in my boots every time a new enemy showed its ugly face. I was horrified, timid and alone. But now, I have a confidence and strong sense of self. I am a hunter in Yharnam. I'm confident in my abilities, I know my weaknesses, and I trust my instincts. There's a real bloodlust that builds up in you once things start to click. You'll want to hunt, you'll want to kill, and you'll thirst for blood to make you more powerful. I find Bloodborne intoxicating, and I trust you'll find the same should you let it get into your system.
How to Co-Op with Wrestlingforum Members
Password
: Reigns
:reigns2
Co-Op With A Friend

New to Bloodborne is the ability to link up with friends. It's not as easy as sending an invite, but once you know how it works, it's easy enough to battle the darkness with someone you know.

Basically, the game accomplishes matchmaking through a password system. Hit option on your controller, and head over to the settings section on the right side:

Scroll down to network:

Change your region from "local" to "worldwide."

Now, set a password. Important: both players must use the same password for this to work!

Once you've done that, one player rings the Beckoning Bell, while the other player rings the Small Resonant Bell. If you're hanging out in the same area, after a few seconds (and sometimes minutes, so be patient) of waiting, the game will find a way to bring you across the void and...

Voila! You can now slaughter beasts with someone you know. If you defeat a boss, the person invited into the world will be banished, and you'll have to start the process all over again.

Heads-up: if you're still having trouble connecting with a friend, it's possible your levels are too far apart. When asked, Sony recommended players were within 10 levels of one another.

http://kotaku.com/a-helpful-guide-to-bloodbornes-confusing-multiplayer-op-1693582137