Discussion Starter
•
#1
•
Quarter Finals

- Same as normal drafts: randomizer picks opponents, you put your cards up against each other, voters determine who moves on.
- Timings/match-ups will be determined and posted before the Booking Rounds commence.
- The winner each round will get to take up to two members of their opponents roster, and is allowed to drop up to two members of their own roster.
- Anyone from the draft can vote for one person in each matchup, excluding themselves. Anyone who isnt from the draft must leave 50 words explaining why they voted for the people they did (dont want people asking for votes).
- Each round will last 2 days, with 2 days inbetween to sort out cards for the next round.
- The 4 winners of each matchup will go through to the SFs.
​
AwShucks
NWA in WF: The Return

NWA Championship
Ric Flair vs. "Rowdy" Roddy Piper
This match was already badass, it being for the NWA Championship just makes it that much more badass. Match of the year potential here.

Street Fight
Undertaker vs. The Iron Sheik
This won't be as technically sound as the two matches it's sandwiched between, but it will be bloody brutal... and it will be glorious.

NWA European Championship - 2 Out of 3 Falls
Dean Malenko vs. Rick Rude
Match of the year potential along with the main event. The 2 out of 3 falls stipulation and the European Championship being on the line makes it even greater, if that's possible.

Singles Match
Dusty Rhodes vs. Mark Henry
Battle of the behemoth and the a little more than a heavyweight.

No Disqualification Match
Lou Thesz vs. Gorgeous George
The No Disqualification Match makes this interesting. Lou Thesz will attempt to find new ways to bring harm to his opponent, whereas Gorgeous George will be searching for an even more unorthodox way than usual to win.

NWA United States Championship
Verne Gagne vs. Ted Dibiase Sr
It's ridiculous that these guys are in the third match on the card. Way too good for an undercard match and it's for the US Championship.

Triple Threat Match
Dory Funk Jr vs. Barry Windham vs. Rocky Johnson
This match is kind of disrespectful to these men. They're far too good to be in the second match of the card, but it will be awesome to watch. Pretty Darn Good for a Triple Threat Filler, if you ask me.

NWA World Tag Team Championship - Elimination Tables Match
The Brain Busters (Arn Anderson & Tully Blanchard) vs. The Brisco Brothers (Jack & Gerald Brisco)
The rematch no one asked for... with a twist! I found a way to make it even more exciting and unique! Who doesn't love having a Tables Match open the show?​
-------------------------------------------------------------------------------------------
Principino
Hulk Hogan vs Brock Lesnar

Sure Lesnar dispatched Hogan before and sure he did it quite easily, but how would he fair against a prime Hogan during the height of Hulkamania? Brock comes up against a man during a time where he seemed almost invincible but Brock is a different kind of monster, will Hogan be able to overcome this super athlete?

Daniel Bryan vs The Dynamite Kid vs Chris Benoit
World Heavyweight Championship

The similarities in the fighting styles between these 3 is almost identical. These 3 men have all been cut from the same cloth and all employ a high intense wrestling style. Expect a 5 star match from 3 wonderful athletes.

Bret Hart vs The British Bulldog Intercontinental Championship

Long time friends Bret Hart and The British Bulldog lock up with the Intercontinental Championship on the line.

Animal vs Hawk
Tables Match

Animal and Hawk have always been seen as equals, there was never a Marty Jannetty/Shawn Michaels situation. However, this once in a life time match will go some way to determining who the better Road Warrior truly is. However,there is no doubt that despite who wins, these brothers in arms will shake hands and embrace one another after they attempt to break each other through tables.

Bam Bam Bigelow vs The Great Muta

Bam Bam will test his skills and his reputation as the most agile big man in history against the legendary Great Muta of Japan.

Nick Mondo vs Shane McMahon vs Vader
Barbed Wired Ring Match
Hardcore Championship

Shane and Sick Nick went through hell in their Extreme Rules Match but this time the stakes just got a little more...hardcore. The ropes have been replaced with barbed wire, and to make things worse,the 400lb Vader has been added in to the mix.

Magnum TA vs Dos Caras
Ladder Match
United States Championship

Magnum TA defends not only his United States Championship, but also the pride and honour of America against the Mexican legend that is Dos Caras in a Ladder Match.
​
Zombo
ZOMBO PROFESSIONAL WRESTLING PROUDLY PRESENTS

ZPW 2: RIDICULOUSLY ENTERTAINING
*Last show, Christopher Daniels interfered in Low Ki's Cruiserweight Title Elimination Tournament qualifying match, costing Low Ki a chance at gold. Now, the former RoH and TNA rivals are set to compete in a fast-paced, action-packed opener.
*
SINGLE'S MATCH


Christopher Daniels vs. Low Ki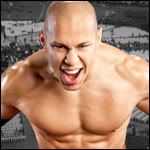 Low Ki wins after hitting Warrior's Way leading to a pinfall victory @ 13:32.
*Following their loss at the hands of APA on the last show, the Natural Disasters have been on a collision course of catastrophic proportions. Caught in the eye of the storm is team manager Jimmy Hart, who's desperate pleas for unity have fallen upon deaf ears. Only one way to settle this feud, and that's to put these behemoths on a collision course. Prediction: DISASTER!!*
JIMMY-HART-ON-A-POLE MATCH


Earthquake vs. Typhoon
After two Earthquake Splashes, Earthquake manages to climb a reinforced ladder to the forklift platform where a bound Jimmy Hart lay for the duration of the match. Earthquake is your winner @ 9:02.
*Backstage, the APA are drinking and playing poker with a seemingly drunk Nigel McGuinness.*
Nigel:
Ahh piss off ya bloody numpties! Nothin' but cheaters it seems.
Bradshaw
(pronouncing Nigel's name similar to how he pronounces MAGGLE Cole's name):
Well listen up NAGGEL, we don't take kindly to cheatin' accusations around here. If you got a problem, we oughta settle it out in the ring.
Nigel:
That's a bloody good idea. I guarantee I throw a better lariat than that embarrassment you call a Clothesline from Hell!
Faarooq:
:damn
*Masahiro Chono arrives and is seen stealing some beers from APA's cooler. Nigel laughs, which gives Chono away.*
Faarooq:
:damn
Chono:
Ahh so solly so solly! I vely vely thirsty! Need some arcohor!
Bradshaw
:
Well boys, looks like we got a score to settle with both of ya. Let's to take care of business!
TAG TEAM MATCH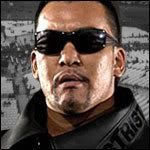 APA vs. Nigel McGuinness & Masahiro Chono



A hard-hitting match-up, McGuinness and Bradshaw hit simultaneous clotheslines while the other two are the legal men. Faarooq ducks under a Yakuza Kick from Chono, and hits the Dominator for the pinfall @ 12:45. All four agree to head back for some beers together after beating the hell out of each other.
*Following KENTA's successful Cruiserweight Title win on the inaugural show, ZPW Commissioner ZOMBO has borrowed a vaunted concept from TNA in order to up the ante in the division. Against 3 high-flying competitors in a match filled with spills and thrills, can KENTA hang on to his recently-won title?*
CRUISERWEIGHT TITLE 4-WAY ULTIMATE X MATCH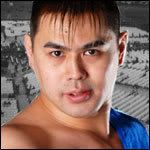 KENTA vs. Prince Devitt vs. Taka Michinoku vs. El Hijo Del Santo



All four competitors take some crazy risks in this match, living up to it's billing as "Ultimate". Devitt actually goes down awkwardly during the match, and never recovers to become a factor down the stretch. Del Santo has his hands on the title, but a desperate KENTA begins clawing at Del Santo's mask, which has never been removed. Del Santo panics, flailing at KENTA and his mask. Santo goes down, but so does KENTA! This opens the door for Taka to secure the belt and become your NEW CRUISERWEIGHT CHAMPION @ 15:54!
*After that thrilling match, there HAS to be a break in action, right? Well, sure, we'll throw you a ladies match, but BEWARE, this match is a LOSER GETS HER HEAD SHAVED match! So much for a piss break, you don't want to miss this!*
WOMEN'S MATCH - LOSER GETS HER HEAD SHAVED!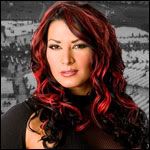 Victoria vs. Molly Holly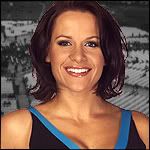 Victoria hits the Widow's Peak and defeats Molly Holly by pinfall @ 9:47. Molly gets her head shaved bald!
*Following Bruno Sammartino's title loss to Stone Cold Steve Austin on the inaugural ZPW show, the Italian Strongman challenged anyone in the locker room to a good old fashioned WRESTLING match. Fresh off his victory over Nigel McGuinness on the first card, William Regal answered the call. Old-school wrestling fans must be salivating to see this match where each opponent will be looking to stretch the other one out in a variety of painful ways.*
SUBMISSION MATCH


William Regal vs. Bruno Sammartino
This match is ground-based, with plenty of brawling and submissions being applied back-and-forth all match long. Regal breaks out every villain trick in his extensive handbook, but Sammartino never surrenders. In the end, Sammartino locks in a Bearhug that Regal can't break despite numerous eye rake attempts. Regal eventually passes out, and Sammartino is declared the victor @ 28:34.
*One of - if not THE - greatest rivalries in Japanese wrestling history is renewed here. Former tag partners AND bitter rivals, with three ***** singles matches on the record, not to mention countless ***** tag matches where each was involved, this match is must-see for any fan of wrestling, and especially so for any Japanese wrestling enthusiast.*
SINGLES MATCH


Mitsuharu Misawa vs. Kenta Kobashi
A display of wrestling excellence, with both men trading their traditional finishers, Kobashi is able to put Misawa away with a Burning Hammer. Kobashi wins via pinfall @ 41:25.
*To announce his arrival at ZPW, Booker T brought a camera crew with him and jumped ZPW Champion Stone Cold in a grocery store. After hounding Austin for weeks, the Six Time Heavyweight Champ gets a shot at ZPW gold. In his way, the Texas Rattlesnake.*
ZPW HEAVYWEIGHT CHAMPIONSHIP MATCH


Stone Cold Steve Austin (c) vs. Booker T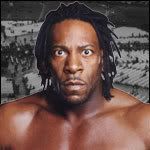 Booker T kicked out of a Stunner, and rallied long enough to hit an Axe Kick and a Book End. However, he did a Spinarooni after the Book End before going for the pinfall. Getting a 2-count, Booker went for another Book End, only to have Austin reverse the move and hit Booker with a Stunner. 1-2-3. Austin REMAINS your ZPW Heavyweight Champion via pinfall @ 25:32.
​
-------------------------------------------------------------------------------------------
Aid180
Buried Productions presents:
Ring of Hunter Hearst Helmsley: Enter The Cabal​
Sponsored by
*Triple H's music hits and out comes several beautiful women carrying Triple H's throne. The women place the throne in the middle of the ring. Triple H's next song hits and he comes out with the RoHHH Championship to sit on his throne*
Triple H: Ubi amici, ibi opes. For the uneducated, like you here in attendance, that means "where there are friends, there is wealth." And believe me, I'm a wealthy man. Every great king has followers. Every great leader has soldiers. Allow me to introduce to you guys my soldiers. My followers. My friends.
*RybAxel's music hit and Triple H guy Curtis Axel the Big Guy Ryback walk out,*
Triple H: Curtis Axel and Ryback. One of the most promising young teams in the world. Together they will dominate the tag team division.
*Axel proceeded to chop the air and shouted: SHAH!*
*Sheamus's music hits.*
Triple H: The Celtic Warrior, Sheamus. Sheamus is one of my dear friends and workout buddies. He is loyal, honest, and great at telling stories.
Sheamus: Aye boss fella. I got your shovel right here for ya.
*Batista's music hits.*
Triple H: The Animal, Dave Batista. Dave and I go way back. We may have had our arguments in the past, but there isn't another man I want standing next to me in war.
Batista: Sup BEST friend. These losers here in the crowd and those losers in the back will regret facing us. They will all lose and they will all have to deal with it.
Triple H: Finally, I want to introduce the final member of our organization. This man is the future. This man is...
*
Romeo, Oscar, Lima, Lima, India, November, Sierra.
Rollins.
Seth Rollins new music hits and he joins Triple H and friends in the ring.*
Triple H: Together, my soldiers, my followers, my friends, we form. We will dominate RoHHH. We are the Cabal. Nothing can stop us.
*The Cabal pose and then leave for the back so the first match can start.*
TLC Qualifier Match: Cryme Tyme (JTG & Shad) vs. The American Wolves (Davey Richards & Eddie Edwards)​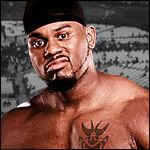 vs.
Cryme Tyme attempt to go for the win when The Briscoe Brothers run out and distract them. The Wolves take advantage of the distraction and hit JTG with a superkick and a german suplex combo move for the win. The Wolves move on and Cryme Tyme is fuming while Dem Boys laugh at their expense.
TLC Qualifier Match: The Briscoe Brothers vs. The Major Broskis (Curt Hawkins & Zack Ryder)​
vs.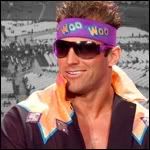 The Briscoes heel it up and use cheap tactics. Eventually Hawkins and Ryder get the upper hand. Suddenly Cryme Tyme run in and attack Dem Boys. Hawkins and Ryder are disqualified. The Briscoes move on. Hawkins and Ryder are mad. They confront Cryme Tyme while Dem Boys sneak out.
TLC Qualifier Match: The Hardy Boyz vs. RybAxel​
]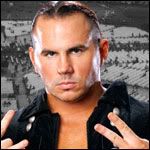 vs.
Matt and Jeff reunite to try and gain another tag team championship. Ryback and Matt Hardy both steal chicken legs, brought to you by our sponsor KFC, from members of the audience and they have a quick eating contest. Ryback starts choking on a bone and tags in Axel, who subsequently runs into a Twist of Fate by Matt and a Swanton Bomb by Jeff. The Hardys win and move on.
Straight Jacket Abyss vs. Crazy R-Truth​
vs.
R-Truth breaks down and grabs a cigarette and a microphone. He spouts out conspiracy theories about how the moon landing was staged, the JFK shooting was an inside job, Rellik is killer spelled backwards, and how Abyss and Joesph Parks are the same person. Abyss then freaks out and attacks Truth. Truth counters and hits the black guy finisher that WWE kept passing down from Shelton, to MVP, and then R-Truth. Truth wins and speaks loudest.
Sheamus vs. Bray Wyatt​
vs.
Sheamus and Bray Wyatt trade blows. In another life, Bray was a tank with a Ferrari engine. Unfortunately for Bray, Sheamus has a past felony for stealing fancy cars. Sheamus dodges the senton from Wyatt and hits him with Triple H's shovel when the ref isn't looking. Sheamus then hits the Brogue Kick, picking up the win.
Batista vs. Jeff Jarrett​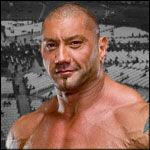 vs.
Batista comes out with the power moves early. However, Jeff Jarrett endures and takes advantage during Dave's breather after he got gassed doing all of those spinebusters. Jeff Jarrett reaches for the guitar, but it is intercepted by Sheamus, who comes out to give Batista moral support. Batista then hits the Batista Bomb and defeats Jeff Jarrett. Sheamus and Batista hit a double powerbomb on Jarrett for good measure and then celebrate.
*Dolph Zigger comes out with a microphone in hand*
Dolph Ziggler: You know, I'm sick and tired of the way I am treated around here. I am the showoff. I am the show-stealer. I am the best talker, the best looking, and the best damn wrestler in this company. I ask, no, I demand, that Triple H gives me a title shot and what I deserve. If he doesn't give me my shot now, I'll...
*Seth Rollins hits Ziggler from behind with a chair.*
Seth Rollins: You have earned nothing Dolph. Triple H, the Cabal, and myself do not appreciate how you are running your mouth. So Triple H has now made our match a street fight. Believe in the Cabal.
Street Fight: Seth Rollins vs. Dolph Ziggler​
vs.
Rollins and Ziggler fight all over the arena. Seth Rollins jumps off of the railing and onto Ziggler below. Ziggler eventually ups it by jumping off of the titantron and onto Rollins below. Rollins then ups it again by jumping off of an even higher spot onto Ziggler. Eventually, Rollins hits the curbstomp onto a chair and defeats Dolph Ziggler.
TLC Match for the RoHHH Tag Team Championship: The Hardy Boyz vs. The American Wolves vs. The Briscoe Brothers​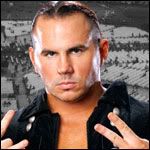 vs.
vs.
Tables, Ladders, and Chairs. A match the Hardyz help made famous. And it paid off for them. The Briscoes hit a double conchairto on Eddie Edwards, knocking him out. Jeff Hardy hits a Swanton Bomb off of the ladder and onto Mark Briscoe who was laying on a ladder on the outside, knocking them both out. Matt Hardy finishes Davey Richards and Jay Briscoe off by pushing them off the ladder, knocking them out of the ring and having them crash through the table outside of the ring. Carnage everywhere. Matt grabs the titles and the Hardyz win.
I Quit Match: Dean Ambrose vs. Mankind​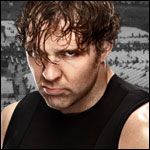 vs.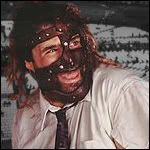 Dean Ambose, Mankind; two of the most psychotic and unpredictable wrestlers in the world. Mankind slowly tortures Ambrose, ripping his shirt off, wrapping him in barbed wire, and slamming him onto thumbtacks. Dean Ambrose is a sweaty, bloody mess. Ambrose fan girls who have a blood fetish are about to pass out. Dean Ambrose turns the tables and throws Mankind into the pyrotechnics, causing a small explosion. Ambrose then wraps Mankind in barbed wire and hits him with a chair until he quits. Ambrose win.
RoHHH Championship Iron Man Match: Triple H vs. Randy Savage​
vs.
The King of Kings Triple H gets the early advantage by hitting a huge spinebuster. The Macho King turns it around with a huge crossbody. Concerned, Triple H brings out the sledgehammer and hits Savage with it multiple times. Macho Man is up 1-0 by DQ. Triple H takes advantage of the woozy Savage and hits a Pedigree for his first fall. Tied 1-1. Macho Man recovers and fights back. He knocks Triple H out with a huge latiat and sets up the Elbow Drop. It hits. Savage is up 2-1. Time is running short and Triple H hits everything he can. Triple H pokes the eye and scores a rollup. Tied 2-2. Macho Man once again sets up an Elbow Drop and connects. Time however expired before the pinfall. We are going to over time. Before the ref hits the bell, the Cabal come out to support their King. Overtime starts, first fall wins. Randy Savage knocks Triple H down with a huge crossbody. He goes up to the top rope for the elbow drop, but is distracted by Sheamus. Triple H hits the ropes, bringing Savage's crotchal region into the top turnbuckle. Triple H hits the Pedigree and scores the overtime fall. Triple H wins 3-2 in OT.
Curry
Hardcore Tornado Tag Match
The Stasiaks (Stan and Shawn) v Kane and Kevin Thorn

Pedro Morales v Mil Mascaras

Elimination Chamber Match for the US Championship
Antonio Cesaro v Bob Backlund v Billy Graham v Lance Storm v Sgt Slaughter v Grado

Cruiserweight Championship Match
Ultimo Dragon v Rey Mysterio

Last Man Standing Match
Antonio Inoki v Vince Mcmahon

World Heavyweight Title Match
Owen Hart v Shawn Michaels​
-------------------------------------------------------------------------------------------
Ratman
WWE Championship
John Cena (c) vs. Sting
Singles Match
The Rock vs. Roman Reigns
World Heavyweight Championship
Hardcore Match
Edge (c) vs. Goldberg
Women's Championship
Velvet Sky (c) vs. Kelly Kelly
Triple Threat Cruiserweight Championship
Jushin Liger (c) vs. Billy Kidman vs. Juventud Guerrera
United States Championship
Shelton Benjamin (c) vs. Matt Morgan
TNA X-Division Championship
Ultimate X Match
Jerry Lynn (c) vs. Psicosis vs. Super Crazy​
Cotmas
Kurt Angle defeated Chris Jericho
Andre The Giant defeated Big Show and Yokozuna
Randy Orton defeated Diamond Dallas Page
James Storm defeated Bobby Roode
Ken Shamrock defeated Mike Tyson
The Fabulous Freebirds vs The Midnight Express ended in a double count out
Hardcore Holly defeated Al Snow, The Sandman and Tommy Dreamer
CM Punk vs Kurt Angle for the WWE Championship
Eddie Guerrero vs Randy Orton for the World Heavyweight Championship
Andre The Giant vs Yokozuna
The It Factor vs The Best In The World
Bobby Roode vs Chris Jericho
The Worlds Largest Athlete vs The Worlds Most Dangerous Man refereed by The Baddest Man On The Planet
Big Show vs Ken Shamrock with special referee Mike Tyson
WCW Champion vs TNA Champion
Diamond Dallas Page vs James Storm
The Fabulous Freebirds vs The Midnight Express in a Falls Count Anywhere match
Al Snow vs Hardcore Holly for the Hardcore Championship in a Parking Lot Brawl
The Sandman vs Tommy Dreamer for the ECW Championship
-------------------------------------------------------------------------------------------
Klee
THE EKLEEMINATION
PAY PER VIEW!

Elimination Chamber Match for the World Heavyweight Championship

The last man standing, after all other men have been defeated, will become the World Heavyweight Champion

Ultimate Warrior // The King Harley Race// Jimmy Superfly Snuka
Cowboy Bob Orton // Larry Zybysko // Mr Wonderful Paul Orndorff

***

Submission Only Grudge Match

Greg Valentine broke Jay Strongbows leg in 1979 and they return here to wage war once again.

Chief Jay Strongbow vs Greg The Hammer Valentine

***

VACANT World Tag Team Championship Match

Dream Tag Team match up to decide the NEW World Tag Team Champions.

D-Von Dudley and Bubba Ray Dudley (The Dudley Boys) vs Kevin Nash and Scott Hall (The Outsiders)

***

Classic Posedown - The Beefcake vs Buff Stuff

There literally are no words! Whoever makes the ladies hotter will be declared the victor.

Brutus The Barber Beefcake vs Buff The Stuff Bagwell

***

Elimination Chamber for The Unification of The Intercontinental Championship and The United States Championship.

Only one man can survive the pack and become the Unified Champion

Pat Paterson // Michael PS Hayes // Mr Perfect (Curt Hennig)
Ricky The Dragon Steamboat // Jake The Snake Roberts // Tito Santana

***

First Blood Rivalry Match

First man to bleed loses the match.

Jerry The King Lawler vs Hacksaw Jim Duggan

***

Opening Contest

Winner is the one who defeats his opponent.

Nikita Koloff vs Junkyard Dog​