I grew up watching WWF RAW and WARZONE 1996 and up. Huge fan as a youngster. So anyways as time goes i stopped watching around 03 04 ish (school, girls, etc etc} So I recently got back into watching wrestling again and wow its fn AWFUL what happened to the wrestling show i once loved. we went from guys like bret, owen, golddust, vader / hbk/ the godfather / taker / DX /kane/ x pac/shamrock/ The rock/ STONE FN COLD / the list goes on SO MANY memorable guys and GIRLS.
to Hornswoggle/Khali/Dancing Dinosaurs/El Matadors/Santino/ WTS is this bull **** is this Wrestling now a days? Im embarrased to even tell people I even WATCH wwe. Its tough. Im Flipping over to other channels HALF the time i watch. On top of that they JOB some of the guys who can actually wrestle its a shame because they have guys who can be top players Cesaro Wyatts Ziggler Sandow and a few more but not many. but instead boring non talented guys are the focus Cough CENA aka GOLDEN SHOVEL. it just baffles me how SHIT wwe has become.
I'm glad i found an alternative just as WCW and ECW was to WWF which i loved all 3. For those who dont know its called TNA Wrestling. Im not saying its the best WRESTLING show iv ever watched truth be told it was WWF and ECW. But its a hell lot better than WWE these days. Its Fast paced in your face Wrestling and its pretty damn good. Has some well known guys such as STING / KURT ANGLE / JEFF HARDY / TEAM 3D / HOGAN but enough of those guys they have some SICK ASS WRESTLERS AJ STYLES / SAMOA JOE / AUSTIN ARIES/ CHRISTOPHER DANIELS / BOBBY ROODE/ KENNY KING the list goes on.
Truth be told these guys are some of the best in ring workers iv seen in my life [TNA ROSTER] any ways im HOOKED thats how much WWF has fallen its a shame really. I recommend some of you guys that are fed up with WWE to atleast check them out every THURSDAY 9pm Est 8c on SPIKE TV.
Defiantly check out there Biggest PPV of the year in less then 2 weeks Oct 20 its like there WRESTLEMANIA. its called TNA Bound For Glory and its going to be FN GOOD . btw its way cheaper than the 55 bucks some of you dish for the Shitty WWE PPVs. Only 45 bucks, trust me if you have not heard or watched give this company a shot and ORDER the PPV Oct 20th you guys will get your Moneys worth. THX for reading this REAL WRESTLING FANS.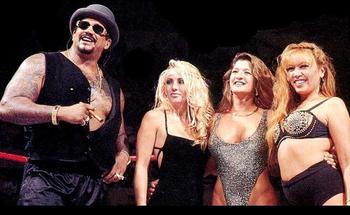 WWE Pg era
TNA WRESTLING