·
A wallaby? Well it's like a kangaroo but smaller.
Ok, here is a different spin on the threads here people seem to like, but I wanted to talk about an actual PPV this time, rather than an individual wrestler, just to make it that little bit different.
I wanted to start with Wrestlemania VII, simply because this one is very special to me, it was the first ever WWF/E showing I EVER saw, the first match being The Rockers Vs Haku and Barbarian being the first ever WWF/E match I watched, from that point I was hooked!!
So what I will do, is go through the matches, which you guys can also review each match too if you would like, then at the end of the post, I'll add a few questions, for you to give some vibes on this PPV for you personally, so here goes.
Match Card
The Rockers Vs Haku & Barbarian
This was, as mentioned above, the first ever match I saw of WWF/E wrestling, so I'd pretty much say that it was this match that started it all for me and got me hooked, I found this match to be an absolute solid tag team match, where both teams performed exceptionally well, I instantly loved The Rockers after seeing it, I think it was to do with how a lot of things they did were so in sync that got me on this one, I remember them both being clotheslined too, by I think The Barbarian, and I can pretty much remember everything within this match when I watch it back, such a great match and a great start up to a PPV, the Barbarian and Haku were strong as ever, Barbs performing some great top turnbuckle moves also, loved this match and thought both teams did an excellent job on this one, without a doubt!!!
Texas Tornado Vs Dino Bravo
I remember this being a pretty good match, though it was of course just one of those filler matches within the PPV, not a bad match, but nothing to overly rave about either, it did it's job on the PPV nicely.
British Bulldog Vs The Warlord
I actually really enjoyed this match, I think that both these guys worked the match well, I remember The Warlord putting on his big full nelson and Davey Boy breaking out of it, later to give him the running powerslam within the match, I thought this was a good, good match, despite the fact that people often seem 50/50 in regards to The Warlord ring ability, everything was set in place and right and the match was a pretty solid match I thought personally, great match!!!!
Nasty Boys Vs Hart Foundation
So this was the first time I saw the heels win the tag team belts, of course with the help of a megaphone and a manager in the name of Jimmy Hart, again, this was also another good solid match, with both teams performing really well within the match, I thought The Hart Foundation were cool straight away and The Nasty Boys were also an interesting team, again a great match on the PPV which was for the tag team titles.
Jake 'The Snake' Roberts Vs Rick 'The Model' Martel
Ok, so the concept of this could be seen as being pretty silly, specially if you didn't know the storyline previously to this (Martel blinding Jake with his arrogance etc...) but both Jake and Rick, really made this match work well, using crowd participation to it's best, the crowd went crazy once Jake hit Martel with the DDT, one of the most memorable feuds from the history this seems to be, and was the first time I ever saw Rick Martel also, which as you can tell, this guy is the bee's knee's I think and way way too under appreciated in the wrestling world (though he is getting there), again, a great solid match, with a difference too and it worked well in the end.
The Undertaker Vs Superfly Jimmy Snuka
This is where it all started in regards to The Undertaker and his Wrestlemania streak (I wonder if they knew at this point they were going to do this?) .... it was an ok match, but seemed to me a little like the Tornado/Bravo match up on the card, The Undertaker was new to the WWF/E at the time, after Dibiase introduced him at The Survivor Series, but was an ok match none the less and had it's right place on the card also.
Ultimate Warrior Vs Macho King Randy Savage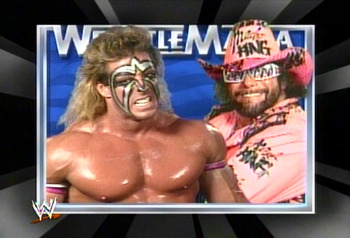 This turned out to be an AWESOME match, the sweat that was given into this match was unreal, Savage performed exceptionally well and carried the match in my opinion, a lot can be said about this match but it really was one of the greats, under appreciated maybe in the all time great matches rankings, but none the less, this was a good, good match and one of the best on the card!
Genichiro Tenryu and Kōji Kitao Vs Demolition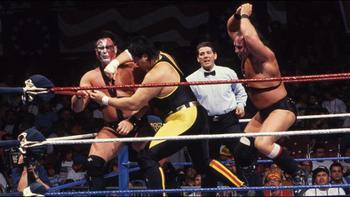 Nothing more than a filler match, however this did introduce me to Demolition, although I saw to prefer them as Ax and Smash, I do remember thinking these guys were awesome, nothing outstanding on this one though, however was a nice little match to see, none the less.
Big Boss Man Vs Mr Perfect
Two great workers together in a match, which worked out really well also, The Boss Man getting the win after a great match up, but both these guys have gone on to be fan favourites to this day, which says it all really in regards to these two, great match up on the card.
Earthquake Vs Greg 'The Hammer' Valentine
Filler match, nothing special, with Earthquake squashing Valentine for the win, nice little filler that served it's purpose really.
Legion Of Doom Vs Power & Glory
Now, this turned out to be a great match also I thought, two very good and very dominant teams in their own right, LOD coming in as they do just made you go wow, everything they did was spot on with these guys and Power & Glory actually worked well together when Roma and Hercules teamed up with each other, probably should have had a longer run in the WWF/E at the time maybe, however this match turned out to be a good solid match on the card, great match up between the teams.
Virgil (with Piper) Vs The Million Dollar Man Ted Dibiase
This was one of the matches building up towards when Dibiase put his Million Dollar Belt on the line at Summerslam 91 (which of course Virgil won), it turned out to be a great match also (what Dibiase match doesn't?) .... but I really loved and enjoyed this match too, Piper was great throughout the whole feud, bigging up his friend Virgil within this and this also turned out to be a greta match, which of course lead up to the Summerslam match too, which again, was a great great match!!!
The Mountie Vs Tito Santana
This was a very very short match, which looking back, I would have liked to have seen these guys have more time on the card with a much bigger and longer match, but it served it's purpose, The Mountie getting the win quickly after shocking Tito with his cattle prod, as short as the match was, both these guys, as always, performed really well, however it was just a short filler match really before the main event started.
Hulk Hogan Vs Sgt Slaughter
I thought this match was really good, I was never a fan of Hogan, and never really became a fan of him either, despite the fact he was the popular choice for kids, but none the less I thought this match turned out to be a great match, Slaughter playing the role that he did, at the time that he did too took some serious guts, I commend him so much on this and I do feel he should get a lot more credit for this than he seems to get, burning the American flag to a very patriotic country, supporting the gulf war at the time during the whole thing going down, was madness looking back on it, I can give him nothing but praise for this, I feel that Slaughter also really sold the match well too, he took some bumps, he made Hogan look good (no offense to Hogan by the way) ... and I thought it turned out to be a great main event match, quality and solid throughout and it ended the PPV nicely.
So yeah, those are my thoughts in regards to Wrestlemania 7, all in all I thought it was solid PPV, and one of my favourite PPV's of all time (alongside the 1991 Royal Rumble too, which I also love!!), of course I have the whole side where it was the first thing I ever saw in regards to WWF/E in my favour, but none the less, I loved this PPV and thought it was a great and solid PPV throughout, so add your thoughts and vibes in regards to this also, as well as some of the following questions you may want to consider :
1. How would you rank this PPV over all?

2. Favourite match from the PPV?

3. Most memorable moment from the PPV?
Thoughts and enjoy