·
A wallaby? Well it's like a kangaroo but smaller.
Ok, so where I am right now, it's 7:45 am, I'm eating scrambled egg and I've just put the Survivor Series 91 DVD on, so thought I might as well go through this one here for some discussion also, as it's a pretty solid PPV I feel.
So it's brought to us from The Joe Louis Arena, Detroit, Michigan ... and starts off showing us that awesome scene where Jake Roberts gets his snake to chew on Randy Savages arm, that happened just before the PPV, followed by an announcement from Jack Tunney talking about how Randy Savage isn't able to compete, and how reptiles are banned from ringside (however both Savage and Jake do appear to cut some promo's later in the show) ... Randy Savage is reinstated within the WWE, with a match announced at This Tuesday In Texas, leaving Savage and Jake to not compete at the event, meaning that Legion Of Doom and The Big Boss Man face off against The Natural Disasters and IRS.
Match Card
Ric Flair, The Mountie, Ted Dibiase & The Warlord Vs Roddy Piper, Bret Hart, Virgil and The British Bulldog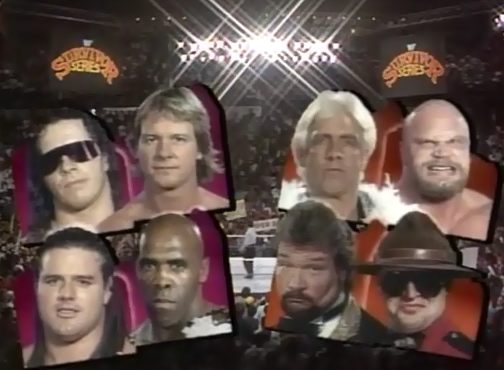 With Flair (accompanied by My Perfect) and Piper being the team captains, this match is absolute jam packed with top top talent, it seems that back then WWE always had GREAT GREAT opening matches, and this one if of no exception ... you've got the tension between Dibiase and Virgil in there, after Dibiase had got back his Million Dollar Belt from Virgil, The Warlord and Davey Boy also, Piper/Mountie/Flair, it's a great great set up ... the match is constantly fast flowing too, the crowd pop big for Piper also here, while Roddy kicks off the match against Dibiase, and a sly dig from Flair, the match starts pretty action packed, with lots of quick tags on the face team, working on Dibiase's arm, the team work looks great between these guys, Sensational Sherri is also at ringside to accompany Dibiase and gets some involvement (and a kiss from Piper) during the match up, the crowd pop BIG when Virgil gets in the ring with Dibiase, as well as when Davey Boy gets in with The Warlord, it's a great great match and such a good start to an event, the crowd are electric throughout, the finish is unique also.
Hacksaw Jim Duggan, Sgt Slaughter, Texas Tornado and Tito Santana Vs Col. Mustafa, The Berzerker, Skinner and Hercules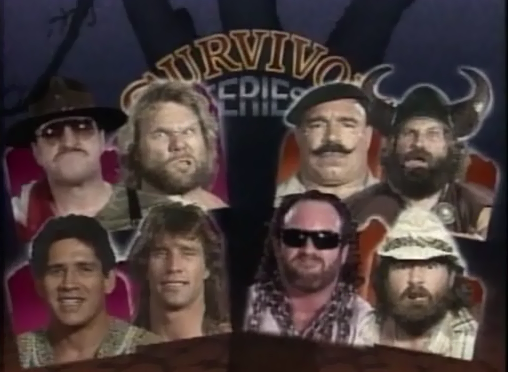 The match starts off with Tito and Skinner (who I thought was a GREAT character), they lock up and Tito performs fantastically well (as always), with lots of speed, great holds and agility throughout the match, it's obviously a very patriotic type match with Hacksaw and Slaughter being on the same team (as Slaughter had now turned face by this point) and of course Mustafa (aka Iron Sheik) on the opposing team with his dangerous looking boots on, it's a nice little match that added a great addition to the PPV.
Undertaker Vs Hulk Hogan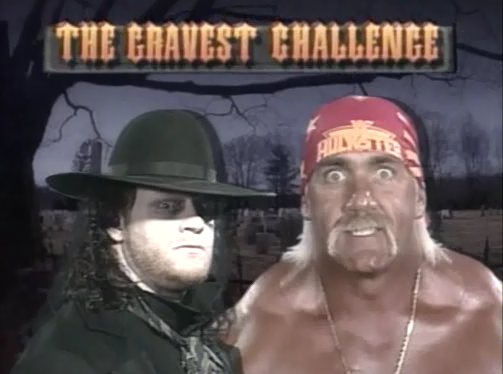 This match came along due to an interview Hogan did on The Funeral Parlour with Paul Bearer, only to be interfered by Flair and a beat down from The Undertaker, who came out of the casket, the match is an ok match, but I found it quite slow paced a little, resulting in Hogan being Tombstoned onto a chair, with help of Flair's interference, so the result was great really, as everyone expected Hogan to get the win on this on here.
Nasty Boys and Beverly Brothers Vs The Rockers and The Bushwackers
This was the match that started The Rockers break up, leading up to the famous Barbershop window incident, due to Marty accidentally knocking Shawn with one of the Nasty Boys, resulting in Shawn being eliminated, The Genius and Jimmy Hart are at ringside accompanying The Beverly Brothers (respectively), a pretty action packed match, which I feel The Rockers and The Beverly Brothers both put on great performances, Marty is left at the end against The Nasty Boys and Blake from The Beverly Brothers, which the heels get the victory on this one, great little match.
Legion Of Doom and Big Boss Man Vs Natural Disasters and IRS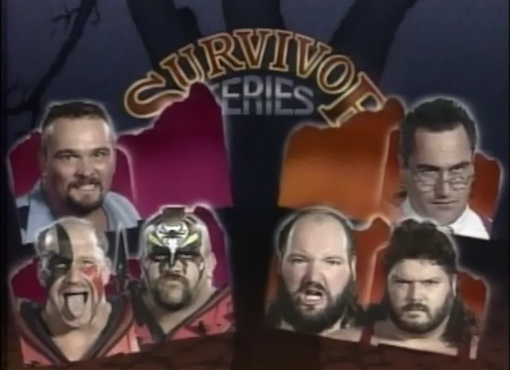 So IRS gives his regular speech at the beginning of the match, as he would, while the Boss Man and LOD both come in to great pops, LOD look amazing and all the guys in this match perform well, it's actually a pretty fast paced match too, so the action is constant within, Boss Man and IRS start the match with a few lock up's and quick fast maneuvers, leading into Animal squaring up against Earthquake in regards to the whole strength part of the teams, I was actually surprised this match was the main event, and not the Hogan/Undertaker match (which I have no complaints about there!), turned out to be a pretty decent and pretty good fast paced match, with the final result going to The Legion Of Doom at the end.
So yeah, give me your thoughts in regards to this PPV, for me personally I thought this was a pretty decent PPV on a whole, however some questions for you to consider :
1. How would you rank this PPV over all?

2. Favourite match from the PPV?

3. Most memorable moment from the PPV?
Thoughts and enjoy