·
A wallaby? Well it's like a kangaroo but smaller.
Discussion Starter
·
#1
·
Ok, so The Royal Rumble is by far my favourite WWF/E PPV of all time, every year I look forward to this, specially the actual rumble match, with the countdown, seeing who comes in next, who almost gets eliminated, who does get eliminated, I don't think there is any other match type in WWE history that can create as much on the edge of your seat viewing as The Royal Rumble can, so I wanted to go through one of my favourtie Royal Rumble's of all time, the 1991 Royal Rumble.
The talent around this time was absolutely jam packed, most mid carders could main event (specially in todays product), however those guys all played their part and made the mid card field just as strong as the upper card also, such a great, great time for wrestling on a whole.
Match Card
The Rockers Vs The Orient Express
I remember being really impressed by this match, both The Rockers and The Orient Express, really knew how to carry a match, the chemistry between these teams was real good also, The Rockers seemed to always put on GREAT opening PPV matches (just like Wrestlemania 7), and this match was no exception, they're already worked together at Wrestlemania 6 and this proved once again how good these teams were when put in the ring together, a great great opening match that started off the card just nicely.
The Big Boss Man Vs The Barbarian
Probably seen as one of those filler matches, but these two guys also I feel paired up well when put in the ring together, The Barbarian was such a great high flyer from the top turnbuckle and he had great chemistry with The Boss Man also, the match was again one of those filler matches, but it served it's purpose and served it's purpose well I thought, a nice little filler to say the least.
Sgt Slaughter Vs The Ultimate Warrior
This was also a great match, the thing that stands out the most for me on this one was Randy Savage's interference, not forgetting that very painful sounding scepter to the head of The Warrior within the match, helping gain Slaughter the win, Savage running around the arena picking up props from the crew onto Warrior ... it all worked really well, which brought us to that amazing match at Wrestlemania 7 that these two guys had.
The Mountie Vs Koko B Ware
Again, this match was added to the card as one of those filler matches, I think this went on for around 10 mins or so, from what I can recall, so was much longer than the one Mountie had with Tito at Wrestlemania (which could have been a great match!), I really like The Mountie and feel he is WAY too underrated also, but this match was just thrown in as a filler match, I don't overly remember too much about it right now, but from what I do remember it was an ok little filler match, nothing amazing, but not bad either from what I recall.
Ted Dibiase and Virgil Vs Dusty and Dustin Rhodes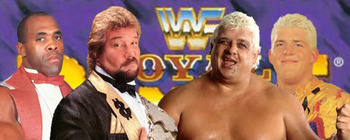 Vintage Goldust eh? .... this match I thought was great .... anything with Ted Dibiase in usually turns out to be decent anyway, and of course he got the win in this one too .... so was a great great match, it's nice to see The Rhodes Family being involved in things as they are right now in today's product, kinda gives us this what they had back then too, a great match, and very enjoyable for me personally.
The Royal Rumble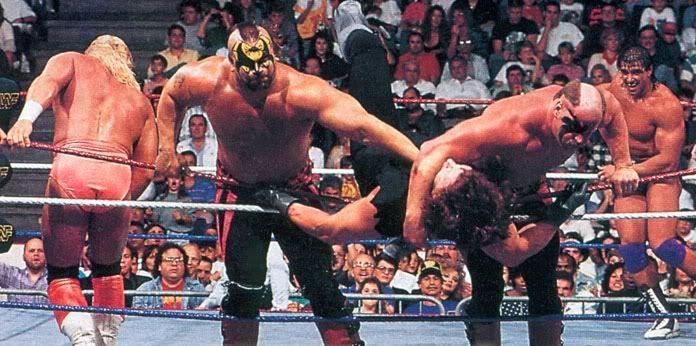 The original intro including the participants (with a GREAT introduction from Vince!!!!)
Now, this match was jam packed with talent, the WWE at the time was packed with huge talent as mentioned above, but it made this Royal Rumble very special, a couple of low cards such as Saba Simba for example, but on a whole it was GREAT, it had big guys, small guys, technical guys, high flyers, the lot, many who came in was pretty much an entry where you're like 'woaah' kinda thing, started off with Bret Hart and Dino Bravo, which I know Bravo wasn't much of a favourite for Bret to work with, the guys battled it out and I remember earlier entries from Greg Valentine, Texas Tornado, Paul Roma all coming in to the match, you had talent such as Legion Of Doom, Demolition, Earthquake, Mr Perfect, British Bulldog, Jimmy Snuka, Haku, Hart Foundation, Tugboat, The Undertaker, Tito Santana, Randy Savage (who I will talk about in a bit), The Warlord, Jake Roberts and of course Rick Martel, who broke the longest running participant that year lasting in the rumble for over 53 minutes, only to be eliminated by Davey Boy towards the end, the thing that impressed me so much about this match was Rick's endurance he had throughout the whole event, he didn't sit and hide in a corner, he was constantly at it, which is why I reference this event in regards to showing Martel's incredible endurance that year, Randy Savage was also due to be a part of the rumble but he didn't show up, I remember it being a back near entry and there was only a few participants left, before we could work out that Savage didn't show up into the match (this made great viewing also, cause it had you wondering who it was throughout), of course the winning result went to Hulk Hogan (blah blah), but despite the predictable winner, the rumble itself was a solid, great, full on performance with lots of 'Oh no' moments and 'Yeeah' moments when people were eliminated, or close to being eliminated, it really did keep you on the end of your seat for quite a while and had lots of exciting moments while watching it, such a great great Rumble, the first one I ever saw and a favourite for me by far, the talent within this rumble was absolutely spot on!!!
So yeah, give me your thoughts in regards to this PPV, for me personally I thought this was absolutely spot on!!!!! However some questions for you to consider :
1. How would you rank this PPV over all?

2. Favourite match from the PPV?

3. Most memorable moment from the PPV?
Thoughts and enjoy