·
A wallaby? Well it's like a kangaroo but smaller.
Discussion Starter
·
#1
·
Ok, so for me, I don't think at the time I really noticed how good a wrestler IRS actually was, he was just 'there' so to speak for me back then, where as now ... looking back, when you watch his matches you can see how well he works in the ring and how good he is at executing and selling moves also, his promo work was also very solid (Possibly why Bray Wyatt is so good at his promo's also) and he did work well alongside Ted Dibiase too as part of Money Inc, which I thought their title run was a pretty decent run, and they held some great matches with people such as Legion Of Doom, Natural Disasters etc..
I think IRS shined the most, during his singles run though, he'd always cut his speech about tax cheats before every match (even as part of Money Inc he did this) ... but I think cause Dibiase was just so awesome and one of the greatest of all time in every way ... while these guys were GREAT as Money Inc, they both were best during singles runs I feel.
So we know IRS is now still working with WWE (You often see him come out on Raw alongside Arn Anderson to break up a fight or whatever), he's often appeared on shows as his IRS character again ... and of course Bo Dallas and Bray Wyatt, his sons, are currently having good runs on the main roster and on NXT, so he's very clearly very active within the business, however what are your thoughts of IRS during his active wrestling years?
Again, some questions to answer :
1. Fave match IRS was involved in?
2. Who do you think he had the best chemistry with?
3. Fave memory of all time in regards to IRS?
4. Thoughts on his promo and in ring ability?
5. Hall Of Fame worthy? .... Discuss.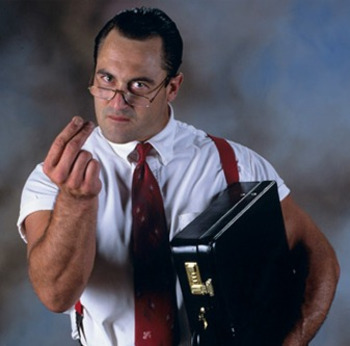 A collection of IRS promo's
A good little squash match from IRS