WWE was in Tucson, Arizona Friday the 20th, and they hardly come to Arizona anymore let alone Tucson, so I was excited for the Road to WrestleMania tour to come by.

Adam Rose vs. Jack Swagger

Rose came out first to a mixed reaction. Swagger was over and not just the "We the People" chant. Decent way to open a show, but nothing great. Rose played cat and mouse with Swagger rolling to the outside three times before Swagger followed and brought him back in. Rose took control for most of the match with Swagger getting just little bits of offense in at a time. Rose hit a nice missile Dropkick for a two count. Swagger finally got going and nailed a Swagger Bomb. He went for the Gutwrench Powerbomb but Rose slipped out only to get launched in the air and have his ankle caught by Swagger and tapped out pretty quick. Swagger got a nice pop from the crowd.

Bo Dallas vs. Erick Rowan

Bo got a pop when his music first hit but later got booed. He cut a promo saying he will be victorious tonight but needs us to all Bo-leive.

Rowan got a rather good reaction. Bo attacked him before he got all the way in the ring. Bell rang and Rowan went off on Bo. Rowan nails a Full Nelson Slam for the quick win in under a minute. Bo then got on the mic and said he will still be a winner tonight and challenged anyone to come out and if he doesn't win he'll never come back to Tucson ever again, which got cheers from the crowd. Out comes Zack Ryder to a slightly bigger pop then Rowan. Bo goes after Ryder only to get hit with a middle rope dropkick, the Broski Boot and then the Rough Ryder losing another short match in under a minute. Gets the mic again but drops it without saying anything and goes up the ramp doing a thumbs down instead of his usual thumbs up.

Fandango & Stardust vs. R-Truth & Goldust

Fandango comes out minus Rosa to a small reaction with mostly boos. Truth was pretty over as was his "What's up". But before he could even cheap pop the crowd Stardust attacks from behind, joined by Fandango. This brings out Goldust to a loud pop. Goldie cleans house and Truth says, "it looks like he have a tag team match on our hands". Really good action, but Truth worked most of the match that went nearly 15 minutes. Stardust and Fandango were funny when they were on the apron. Fandango was moving his hips and dancing and Stardust was making his strange noises and running from one post to the other. Truth would get the hot tag and Goldust worked over Stardust even hitting him with the Cross Rhodes, but Fandango broke up the count. Truth would handle Fandango and Godust got the win on his brother with a crucifix pin just like at Fastlane. Truth got Goldust to dance with him in the ring after their win.

U.S. Title: Rusev (c) vs. Roman Reigns

Rusev, still without Lana, got massive heat from the crowd. Reigns was super over with Tucson. Very few boos, I'd say 95% cheers. Very good match that went about 20 minutes. They face off in the middle and lock up. Rusev gets the advantage the first two times, knocking Reigns down. They would trade shots and power moves. Reigns got control after a reverse hot shot along the top rope setting up his apron dropkick. They would brawl outside and Reigns slammed Rusev's head into the apron 10 times. Rusev then knocked Reigns off the apron into the guardrail and tried to walk off with the Title but Reigns brought him back to the ring. Rusev hits a kick for a long two. Then proceeds to parade around the ring with the Russian flag to a round of jeers. This gave Reigns time to recover and he made a come back. He went up top but Rusev tried to Superplex him only to get pushed away. Reigns then went for a Superman Punch from the middle rope but Rusev moved and Reigns rolled through and got caught with a spinning Heel Kick. Rusev went for the Accolade but Reigns powered out and hit the Superman Punch and the crowd went nuts. We he went for the Spear but Rusev hit him with the Belt to get DQed. Reigns would end up hitting the Spear when Rusev went to hit him again. Roman was really over with the crowd.

WWE Tag Team Titles: Cesaro and Tyson Kidd (c) vs. New Day vs. The Ascension vs. Prime Time Players

The champs were out first to a mixed reaction. They cut a promo about being the best Tag Team of All-Time. Naming off teams and saying "fact" after every team. New Day came out to interrupt and Woods said that Kidd and Cesaro were not better then any of the teams they claimed to be better then, including New Day. PTP and Ascension filled out the match. Woods and Kofi were head banging and air drumming to Ascensions theme as they made their way to the ring. Young started with Viktor and tagged in Woods (who was teaming with Big E. w/ Kofi Kingston at ringside) and then Konor and Viktor took control of Woods for the next few minutes. Titus would finally get tagged in and he and Young cleared house and Titus pinned Konor with his Sky High Clash of the Titus move. Young would then get tagged in and eliminated. Leaving New Day with the Champs. Kidd and Cesaro had been hiding for the whole match so they were fresh. Big E. got the hot tag and did two Belly to Belly over head release suplexes on Kidd. Cesaro would get involved but suffered a Press Slam. Big E. then got Kidd up for a another Press Slam but threw him onto Cesaro and followed it up with a Warrior Splash that got broken up by Cesaro. Woods would go after Cesaro and this distracted Big E. leaving him open to getting rolled up by Kidd who used the ropes for help. Fairly good match. Kind of disappointed that Kidd and Cesaro didn't do much.

WWE Divas Championship: Nikki Bella (c) (w/ Brie) vs. Paige

Solid outing by the Divas. Not as good as their match on Raw this past Monday, but it was alright. Paige was very popular. The Bellas got the home state pop, but still played up the heel role leading to more boos as the macth went on. Brie distracted Paige and got a kick to the gut letting Nikki get the win after a big forearm and a hand full of trunks. Everybody seemed to be into the Divas.

Main Event Street Fight: John Cena vs. Seth Rollins

The crowd was all over Rollins, but when Cena came out the place went crazy. Cena was not quite as over as Reigns, but it was close and the boos weren't as loud as you'd think. Mostly positivesfor Cena. Rollins kept dodging out of the ring from Cena and got on the mic and said "Shut up town!" (I guess that was supposed to be insulting that he didn't even know where he was) "I'm the future and my time is now and John Cena is not better then me."

The match got started and Rollins rolled back out to grab a chair, Cena would do the same. They both swung and hit the chairs together, both dropping their chairs. Rollins would pick his back up and nail Cena with it then wedge it in the corner. Cena then got the other chair and hit Rollins pretty hard. Cena brings a table in and sets it up in the corner. Cena then launch Rollins to the floor where Rollins would take control. He got on the mic again and continued to say he was the future and better then Cena and we could cheer Cena all we want, but it does no good because he is bulletproof. He then hits Cena with the mic for a close two. He tried to intimidate the ref but Cena makes his usual comeback and sends Rollins through the table in the corner. Cena nails an AA for a 2 count. Cena gets another table and slides in into the ring and awkwardly crawls back in on all fours and gets hit with a Curb Stomp. but kicks out. Cena then goes for the AA again but Rollins counters by landing on his feet and kicks Cena in the face. Rollins puts Cena on the table and climbs to the second rope but Cena cuts him off and slams him though the table with an AA for the win. Good Street Fight and good main event.

Overall a very good show with a hot crowd. The arena was probably 70-75 percent full. But it is a smaller arena, so I'd say 4 to 5 thousand people were there.

Biggest Pops:
1. Roman Reigns (by far the biggest and loudest reaction)
2. John Cena
3. Paige

Most Heat:
1. Rusev
2. Seth Rollins
3. Bo Dallas
http://www.wrestlinginc.com/wi/news/2015/0321/591584/wwe-live-event-results/
Here's video of the huge reaction the Bellas recieved from their homestate:
https://instagram.com/p/0eg8VxwiSB/
Pics: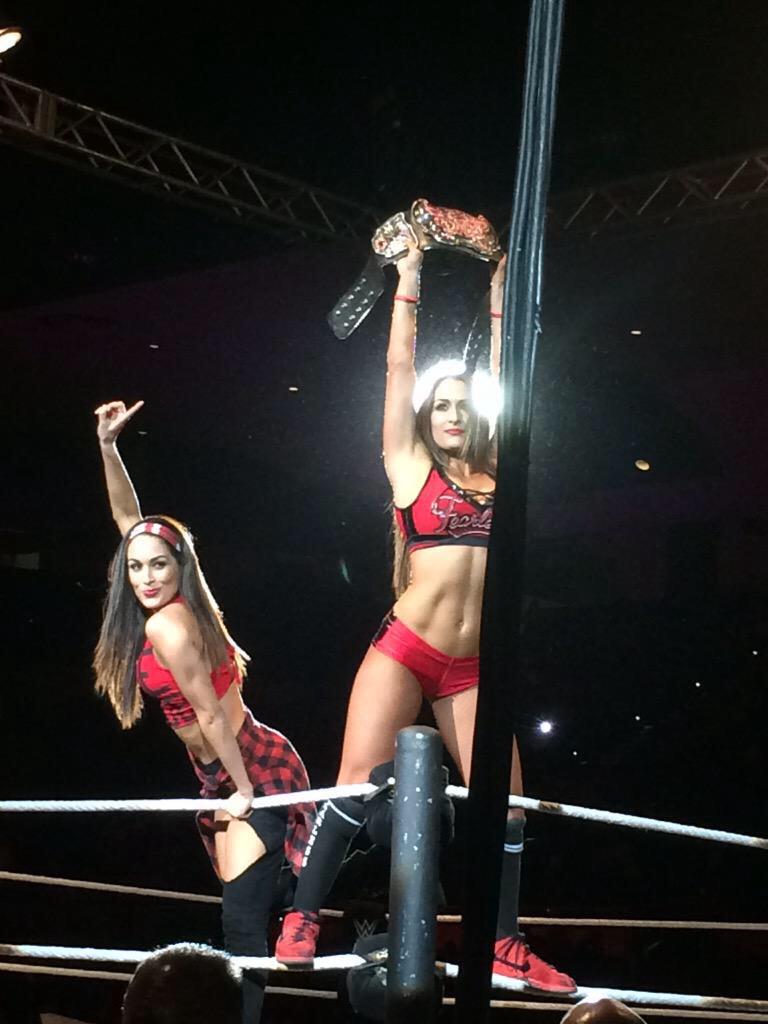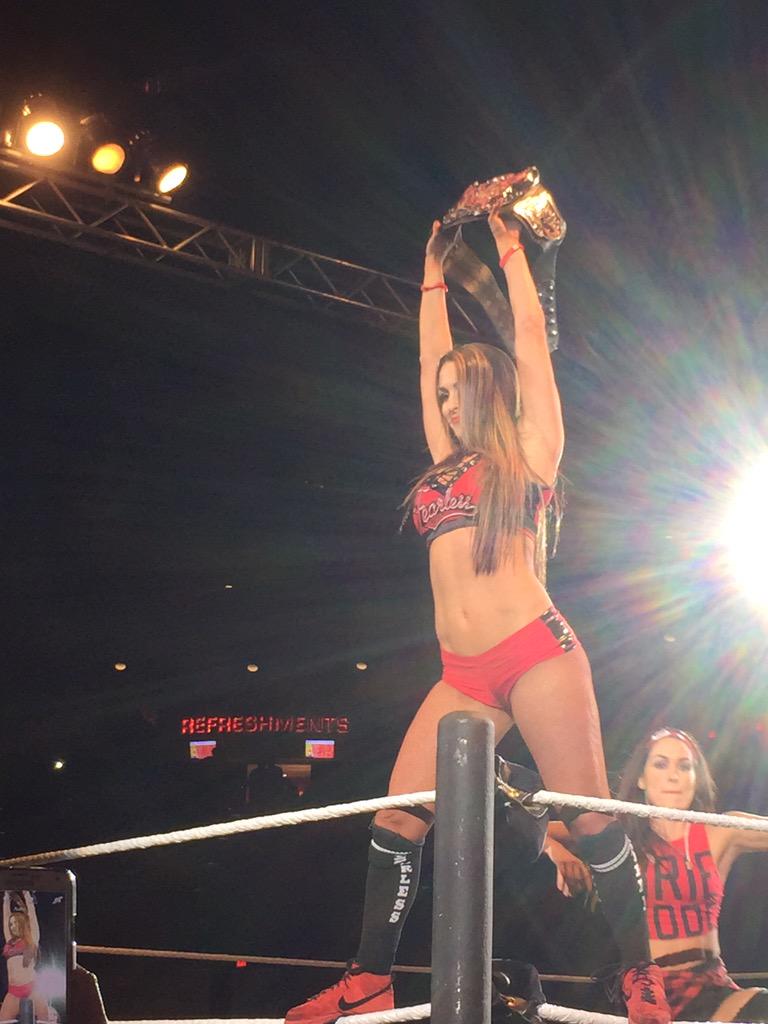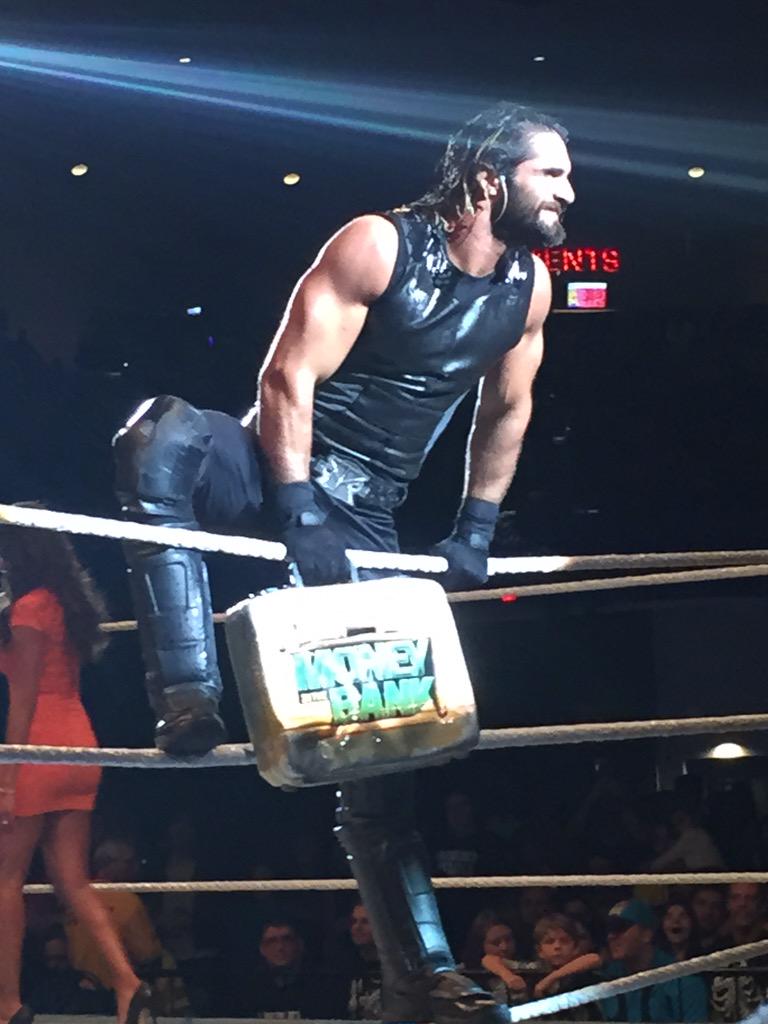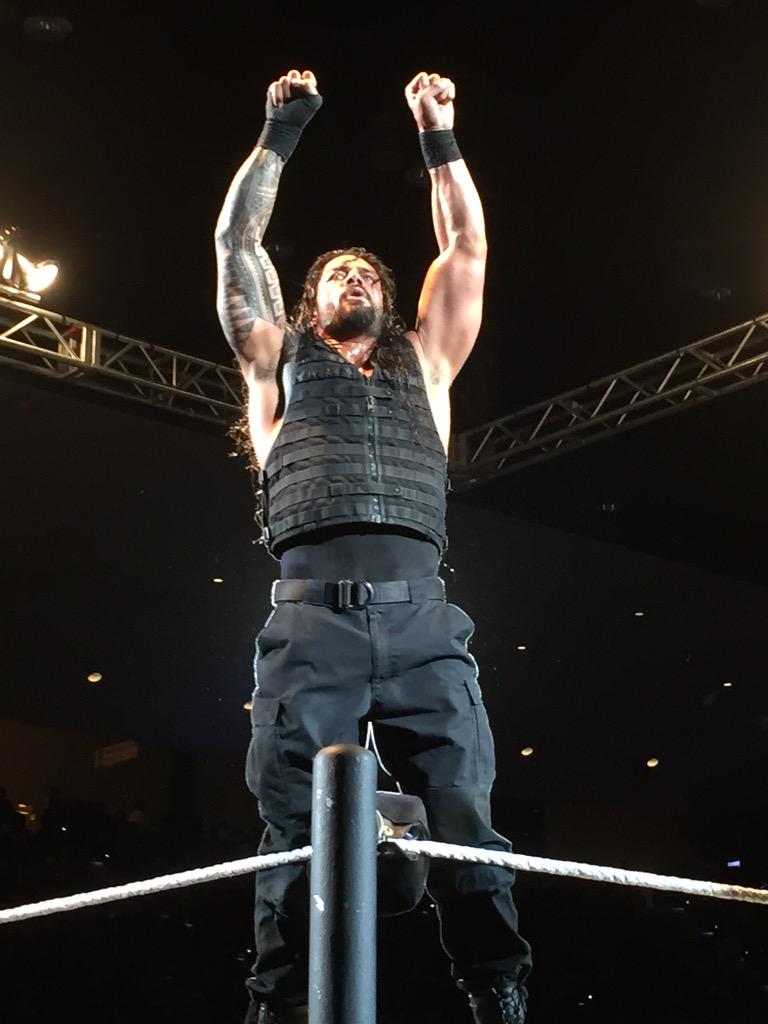 :bryanlol But seriously, :mj2.
AJ Lee continues to work the lightest schedule out of any full-timer.
This is the last weekend for the Road to Wrestlemania tour:
WWE's final weekend tour before WrestleMania continues Saturday in Arizona and California.

- John Cena headlines Saturday's show in Phoenix teaming with Randy Orton against Seth Rollins and Big Show in the main event.

Also advertised is Rusev vs. Ryback for the U.S. Title. Plus, New Day, Goldust, Stardust, Fandango, R-Truth, Zack Ryder, WWE Divas, and more stars.

- Daniel Bryan and Roman Reigns headline the other tour at the Honda Center in Anaheim, Calif., home of WrestleManias 12 and 16. The advertised line-up includes:

-Bryan vs. Kane in a Street Fight
-Reigns vs. Bray Wyatt
-IC champion BNB vs. Dean Ambrose
-Also scheduled: Dolph Ziggler, The Usos, The Miz, Damien Mizdow, WWE Divas, and more stars.
http://pwtorch.com/artman2/publish/WWE_News_3/article_83988.shtml#.VQ2ZuuHdezU