Dragon Gate Kobe Pro Wrestling Festival 2019 7/21/2019
---
Quote:
Date:
July 21st, 2019
Place:
Hyogo, Kobe World Kinen Hall
Event:
Kobe Pro Wrestling Festival 2019
Where:
Dragon Gate Network Live - 15:00 JST/6:00 GMT
This show will be available with English commentary on the Dragon Gate Network
dragongate.live
Contract signing stream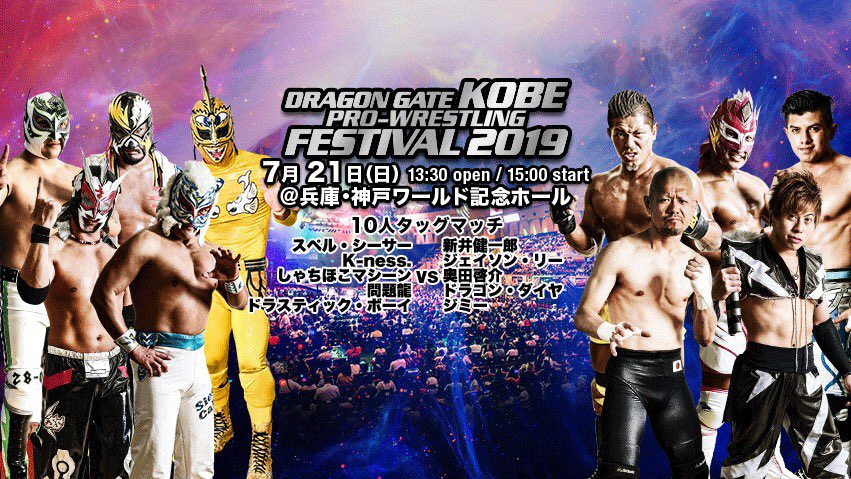 1. 10 Man Tag Team Match
Super Shisa, K-ness., Shachihoko Machine, Mondai Ryu and Draztik Boy vs. Kenichiro Arai, Jason Lee, Keisuke Okuda, Dragon Dia and Jimmy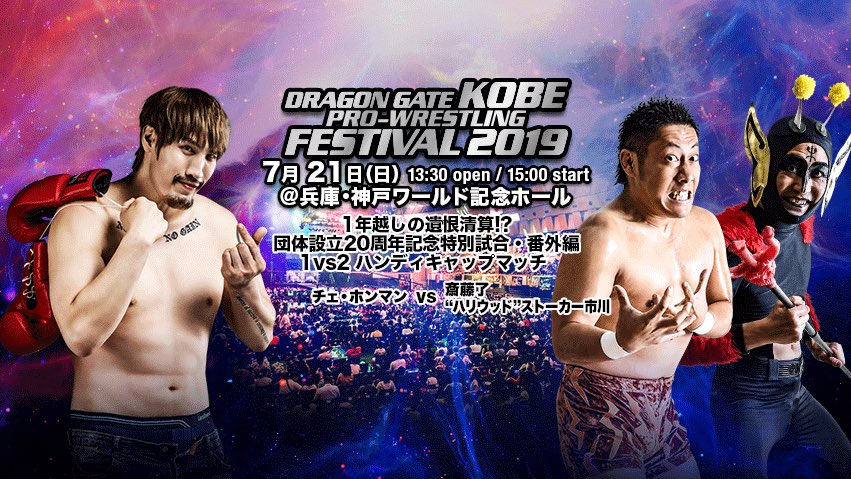 2. Dragon Gate 20th Anniversary Celebration Series 2 vs. 1 handicap Match
Choi Hong-man vs. Ryo Saito and "Hollywood" Stalker Ichikawa
Notes: After failing to take Yoshino's spot in the match with Ultimo Dragon, "Hollywood" Stalker Ichikawa was left without a path to World. Naruki Doi remedied that later when he announced his latest behind the scenes bombshell. He made a call to his close friend Choi Hong Man, who agreed to come and face not only Ichikawa, but also Ryo Saito in a 2 On 1 handicap match!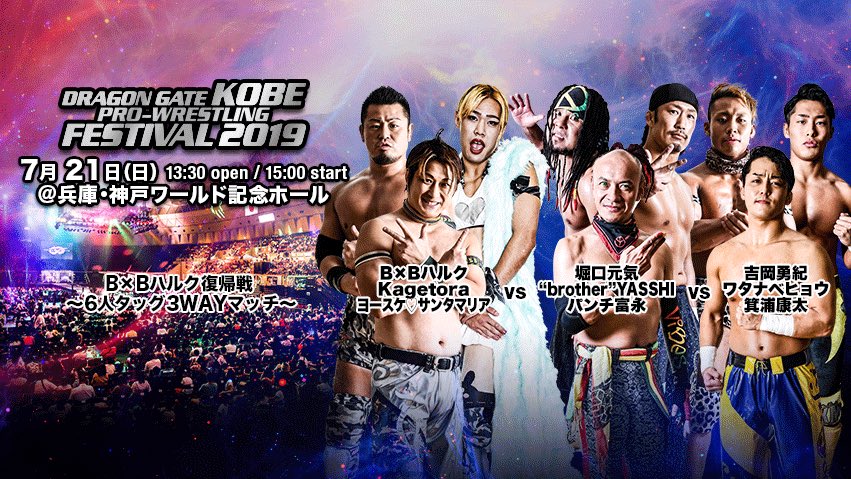 3. BxB Hulk Comeback Match - 3 Way 6 Man Tag Team Match
Tribe Vanguard (BxB Hulk, Yosuke♥Santa Maria and Kagetora) vs. Natural Vibes (Genki Horiguchi, "brother" YASSHI and Punch Tominaga) vs. Mochizuki Dojo (Yuki Yoshioka, Hyou Watanabe and Kota Minoura)
Notes: BxB Hulk has been cleared by his doctors and will make his official return to the ring this Sunday at Kobe Pro Wrestling Festival 2019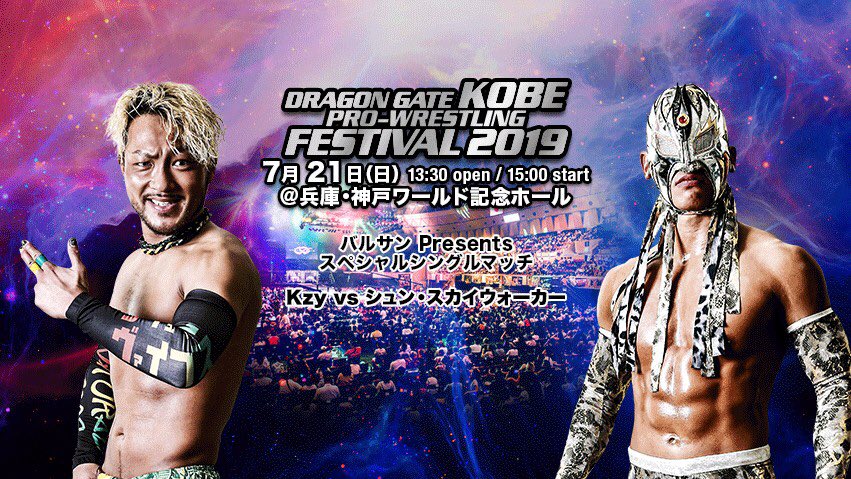 4. Barusan Presents - Special Singles Match
Kzy vs. Shun Skywalker
Notes: Two of the brightest future stars in Dragon Gate collide in this special singles match.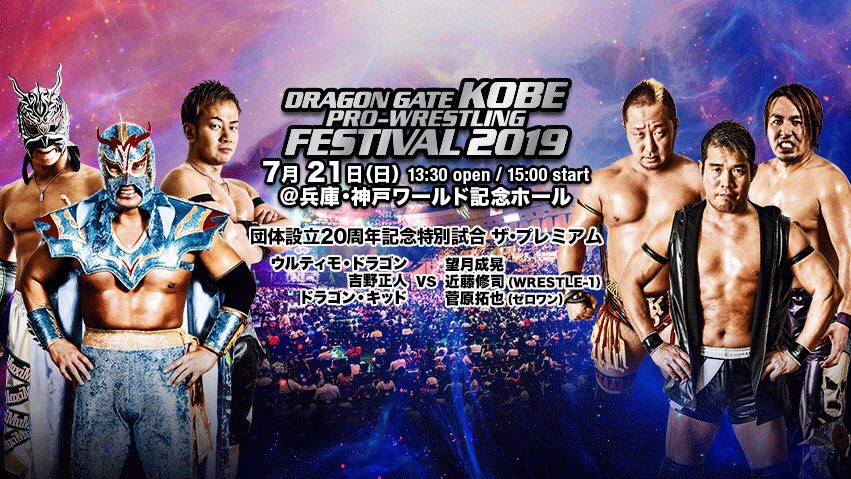 5. Dragon Gate 20th Anniversary Celebration Series Premium Match
Dragon Kid, Masato Yoshino and Último Dragón vs. Masaaki Mochizuki, Takuya Sugawara and Shuji Kondo
Notes: Ultimo Dragon Made his first appearance at Dragon Gate since 2004. The creator of the Toryumon system will now make his in ring return to the promotion he created. Teaming with 2 of his students to take on the reunited Aagan Iisou unit.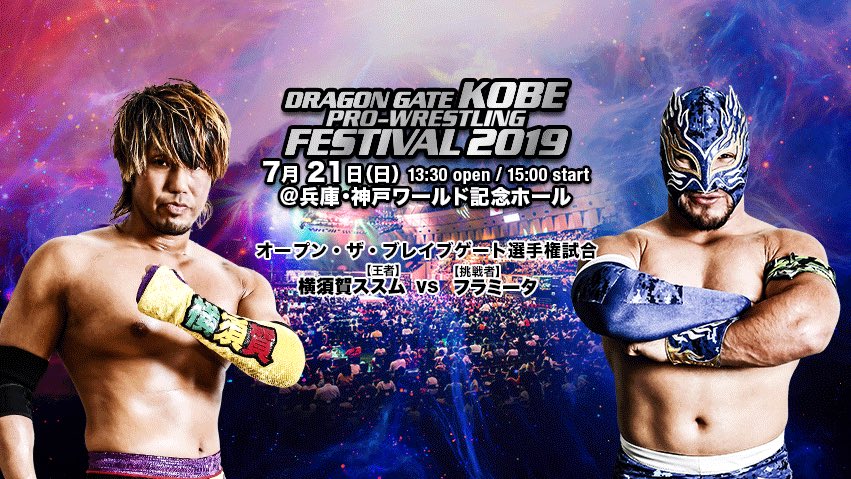 6. Open the Brave Gate Championship Match
Susumu Yokosuka (c) vs. Flamita
Notes: After losing his 3rd straight match to Flamita and not receiving any sort of challenge for his title, Brave Gate champion Susumu Yokosuka took it upon himself to make the challenge. Flamita accepted.

7. Open the Triangle Gate Championship Match
R.E.D (Kazma Sakamoto, Takashi Yoshida and Yasushi Kanda) (c) vs. Machine Army (Strong Machine J, Strong Machine F and Strong Machine G) (with Shogun KY Wakamatsu)



8. Open the Twin Gate 3 Way Championship Match
Tribe Vanguard (YAMATO and KAI) (c) vs. MaxiMuM (Naruki Doi and Kaito Ishida) vs. R.E.D (Eita and Big R Shimizu)
Notes: R・E・D interfered at the end of the Open the Twin Gate title match and forced a no contest. Eita & Big R Shimizu named themselves the next challengers, but both the champion and challenger teams were not satisfied with the conclusion and wanted to face each other again. They also wanted revenge on R・E・D, so all three teams will face off in a 3 way championship match.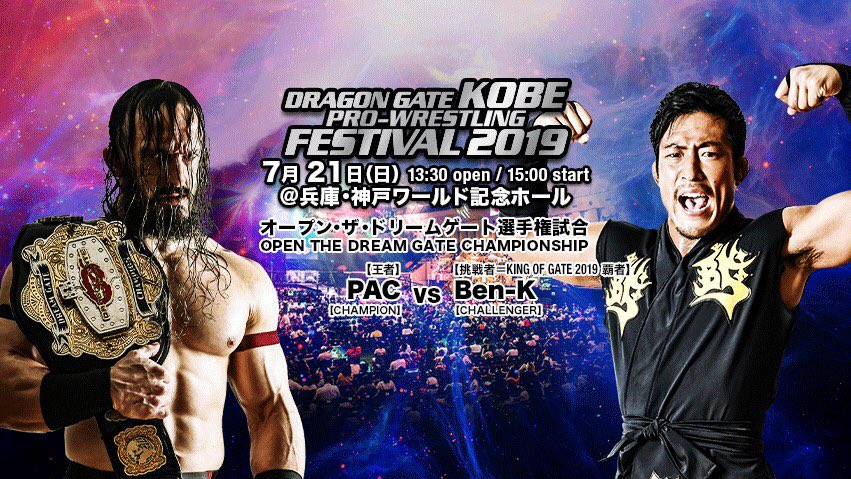 9. Open the Dream Gate Championship Match
PAC (c) vs. Ben-K
Notes: After winning King of Gate 2019, Ben-K wasted no time in calling out Dream Gate champion PAC. The champion told Ben he was the weak link during his time in R・E・D, but accepted the challenge.
---
Last edited by Genking48; 07-19-2019 at

06:17 AM

.
Join Date: Mar 2013
Location: N/A
Favourite(s): HBK, Rock, Austin, Sting, Foley, Savage, Flair
Posts: 4,733
Points: 14,235
Re: Dragon Gate Kobe Pro Wrestling Festival 2019 7/21/2019
---
The card for this show fucking rules. On the spectacle front, Ultimo Dragon showing up in Dragon Gate after all these years away is absolutely huge & on the match quality front, Kzy/Shun, the Twin Gate match & Ben-K/PAC all have potential to be something awesome.
Hoping for Ben-K to dethrone PAC here. His rise to the top has been incredible & there's no better spot for DG to pull the the trigger on a new young ace than the 20th anniversary.
---
27th Open The Dream Gate Champion - Masato Yoshino
Re: Dragon Gate Kobe Pro Wrestling Festival 2019 7/21/2019
---
The contract signing is over.
Now to check the fashion of the participants on this night of festivities.
Probs to Kzy for having the wtf outfit of the night.
Not even 24 hours until the event goes down!
---
Last edited by Genking48; 07-20-2019 at

10:12 AM

.
Die Neon Czarina
Join Date: Apr 2006
Location: Life in the vivid dream.
Posts: 44,945
Points: 37,458
Re: Dragon Gate Kobe Pro Wrestling Festival 2019 7/21/2019
---
Feeling like it is Ben-K's time. PAC's run has delivered, they built up the best challenger possible post-Kzy, I say lets see them do it.

Ultimo being back is noted at how huge that is.

Speaking of Kzy, glad he got himself a singles match on here. Their taking to Shun is REALLY showing here.
---
You suck the blood of the afflicted.
Those lacking imagination take refuge in reality.
Re: Dragon Gate Kobe Pro Wrestling Festival 2019 7/21/2019
---
Event was amazing. Everything fit, every match had it's purpose and did what it needed to.

Checked out the English stream after having watched the show in Japanese, Larry Dallas and Rich Bocchini did a good job in my opinion. There were some silent moments and times where they just couldn't keep up with the action, but I never expected them to be able to since this was their first time calling a Dragon Gate show. I guess they had notes on the promos or someone translating for them since they were able to give a summary of what was being said, that was nice.

Celebrated the past, present and showcased the future of the promotion, with English commentary I think this is the Dragon Gate show that has had most international viewers watching it. Show of the year candidate for me.
Posting Rules

You may not post new threads

You may not post replies

You may not post attachments

You may not edit your posts

---

HTML code is Off

---