Re: Hell in a Cell Discussion Thread
---
Everybody is saying that it was one of the worst finishes to match on a PPV, BUT most ppl are saying that the show until then was kinda ok.
Well, I beg to differ. The show sucked from the start till the end. And it's no wonder, since 2 days ago, we only knew about 4 of those matches.
Lynch vs. Banks >>> Even though it was a good match, the wrong woman won. Sasha came back with a lot of momentum, but she lost her first feud. Now what ? Is she going after the tag team belts with Bayley ?
Bryan & Reigns vs. Rowan & Harper >>> So a face turn doesn't mean anything in WWE anymore. Those are the kind of moments that make you love wrestling, but now Bryan turned without a single reason. Why waste a face turn like that ? And a face turn by Daniel fucking Bryan ?
Bayley vs Charlotte >>> 10 world championship reigns in 4 years, and all of them are forgettable. Again, a waste of a heel turn by Bayley. I don't understand why a wrestler who just turned loses the first feud.
Bliss & Cross vs. The Kabuki Warriors >>> I guess the right team won, but since when are they heels, coz that's how they acted during the match ? No foreshadowing, no hints, no nothing... They are heels now. Ok.
Gable vs. Corbin >>> The king of the ring lost his first PPV match. Corbin sucks, but that's the wrong decision.
Vikings & Braun vs. The OC >>> That's a house show match. But they put it here just so they show us that Braun can measure up against Tyson Fury. But they sacrificed AJ for that, in a stupid comedic spot.
Seth vs. The Fiend >>> You guys said everything there was to say about the match, but this question still hunts me. How is The Fiend gonna lose a match form now on, after escaping so many finishing moves from Rollins?
So yeah, one of the worst shows EVER.
---
Internet is fake Shadow is real
---
Last edited by ShadowR; 10-07-2019 at

12:40 PM

.
Re: Hell in a Cell Discussion Thread
---
Very much the only outcome on this PPV that I really cared about and which I thankfully got was this...
Love it.
Reigns/Bryan's match vs the Rowan/Harper was good and it was cool to see Reigns and Bryan hug too. But I need Reigns to move on to something more...substantial now.
Parks and Recreation Dept.
Join Date: Aug 2011
Location: Small town Saskatchewan
Posts: 7,294
Points: 12,246
Re: Hell in a Cell Discussion Thread
---
HHH: "We need to salvage the fans' good faith and make it up to them!"

Vince: *yucking it up* "Well, what'd you have in mind, pal?"

HHH: "I don't know just yet, but we just need to give them something satisfying and STAY AWAY from controversy right now! What show do we have next?"

Vince: "Well, we're herding our talent like cattle back over to Saudi Arabia, pal!"

HHH: "FUCK!"
---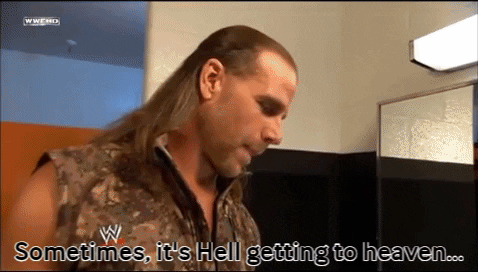 Re: Hell in a Cell Discussion Thread
---
The story was okay but that main event was a finisher spam fest. The ending was woat.

Im feeling sorry for the fans,rollins and wyatt.

Gesendet von meinem SM-G955F mit Tapatalk
---
If anyone is interested having a WWE Network Account for 1 Year for just 40 Dollars PM me!
Re: Hell in a Cell Discussion Thread
---
Sasha vs Becky ****1/2 Bonus points for creativity, obvious MOTN
Tornada Tag ***1/4
Ali vs Orton ***
Womens Tag Team Championship ***1/2 Heel kabuki is awesome
Gable vs Corbin ***
Bayley vs Charlotte ***
Rollins vs Wyatt ***1/2
---
SKULL KING KNUCKLES


6x PWA WORLD CHAMPION [current]
2x PWA INTERCONTINENTAL CHAMPION
9x PWA TAG TEAM CHAMPION [current]
13x PWA PURE CHAMPION
2x PWA WOMENS CHAMPION
15x PWA PRESTIGE CHAMPION [current]

JOIN PWA TODAY
Posting Rules

You may not post new threads

You may not post replies

You may not post attachments

You may not edit your posts

---

HTML code is Off

---