View Poll Results

: Who will you be rooting for in the Rematch Of A Lifetime?

Rock
306
62.58%
Cena
183
37.42%
Voters: 489. You may not vote on this poll
Re: Official The Rock vs. John Cena Thread: Greatness vs. Redemption, TWICE IN A LIFE
---
Quote:
WWE does not cater to YOU. John Cena WILL defeat The Rock and they will shake hands whether you like it or NOT!!
No they should cater to the 80 thousand in attendance and millions watching around the world, wake up, the 'Smarks' on the internet want Cena to win and Rock to go away, in the real world The Rock is going to receive one of the best pops you'll ever hear while Cena will get more heat than some of the greatest heels.
The buyrate is going to be 1M+ not because its John Cena wrestling but because The Rock is along with Brock Lesnar to boot.
The actual audience tuning in are supporting The Rock, the people that cheer Cena? they watch every week anyway!
---
Re: Official The Rock vs. John Cena Thread: Greatness vs. Redemption, TWICE IN A LIFE
---
Quote:
This may be Rock's last Mania, as he's not confirmed yet for WM30.Would love if WWE allow him to retain,as it's just a shame that the very best this industry has ever seen has never EVER retained at Mania:(
That last sentence doesn't even make sense. If he was the best ever he would have at least retained once at mania before this. Obviously he is not as great as you make him out to be. He won't be retaining here either as he will go back to Hollywood with his tale tucked between his legs courtesy of John Cena
---
Cena is still the #1 guy in the business
Re: Official The Rock vs. John Cena Thread: Greatness vs. Redemption, TWICE IN A LIFE
---
http://espn.go.com/blog/playbook/fan...talks-the-rock
Quote:
WrestleMania 29: John Cena talks The Rock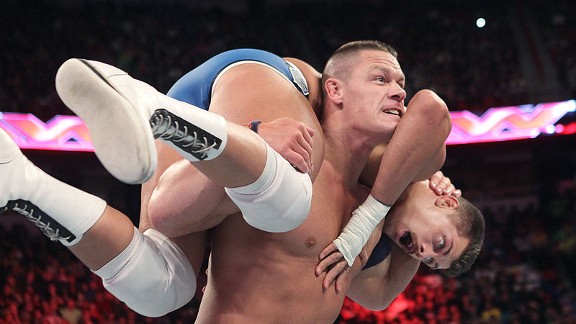 EAST RUTHERFORD, N.J. -- Boo all you want, John Cena isn't listening.
"I learned at a very early age that you can't please everyone," the WWE's top draw says when I ask him if he takes all the "Cena sucks!" chants personally. "That's where all the 'hustle, loyalty, and respect' thing comes from. When people show loyalty to you, you take care of those who are with you. It's how it goes with everything. If you have a small circle of friends, and one of those friends doesn't stay loyal to you, they don't stay your friend for very long.
"I'm not trying to brainwash my critics. If they're critics, they're critics, and that's their job to be critical, but I certainly enjoy the involvement I have with my fans. I enjoy the time I get to spend with them, and I don't waste time with someone stubborn who is not going to come around."
This Sunday at WrestleMania 29, hate all you want, but Cena gets his second shot against WWE champ and Hollywood megastar The Rock in a rematch of the highest-grossing main event in WWE history.
Cena sat down with ESPN Playbook to give his thoughts on the match, his character and whether or not he sees himself turning heel in the near future.
ESPN Playbook: As a fan, what's the one WrestleMania match you remember that blew your mind?
John Cena: That's easy, WrestleMania III, the Pontiac Silverdome, Hulk Hogan versus Andre The Giant. The enormity of the event was so awesome, I still remember all of the little things like the little rings the guys rode out to before the match. Everything about that night was different, and it made the whole event feel more special.
When did you first realize that you wanted to be a professional wrestler?
As a kid, I certainly imagined it pretty much every waking day of my life. But it became an attainable goal when you realize when you grow up, there's a place you can go and they'll teach you how to do it. When I was in my 20s, there was a place in California that was right around the corner from where I was living at the time. As soon as I found out there was a school you could go to to become a WWE superstar, I was immediately hooked.
When fans look at professional wrestling from the outside, what do you think is the biggest misconception they have about your job?
I think a lot of people think that we only do two shows a week. But in reality, we're on the road keeping such a hectic schedule, doing show after show 52 weeks a year. We do so many shows, it almost feels like we're at home when we're on the road because we're so rarely at home. We bust our butts at every show to entertain all of our fans, and our fans come in every race, religion, creed, and color. We entertain everybody to the best of our ability every night we step foot in that ring.
How about the biggest misconception fans have about John Cena, the person, not the character?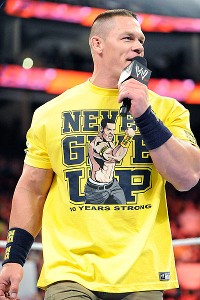 Courtesy of WWE
While some WWE fans have called for Cena to turn heel, he doesn't see it happening.
I'm not really sure, because I think I've been pretty vocal about my personality on TV. I don't play a character. It's totally just an extension of myself. Sometimes I'm excited, but I've also been humbled, I celebrate, I've had great failure. When you see me on TV, that's about as close to my real personality as you can get. There are a certain amount of folks who admire me, there are a certain amount of folks who don't, and I'm not going to try and change their mind. Nothing I can do will change their mind anyway, because they already have a good gauge of who I am as a person.
You're facing The Rock at WrestleMania in what's now the "Twice in a Lifetime" main event. Why should fans be excited to see this rematch?
This WrestleMania is much different. The reason the whole "Once in a Lifetime" perception started is because the WWE Universe and everybody inside WWE thought the same thing: We thought The Rock would be back for this one match and then he'd be gone. But despite being this huge movie star, The Rock said, "I'm not leaving, I'm staying," and that really gave me a ray of hope that I'd get another shot. This match is for the WWE Championship, and he debuted a new WWE title a few weeks ago that was made specifically to help define his legacy. He wants to defend this belt at WrestleMania, and I have nothing to lose this year. This match is going to be something special.
So if you win, are you bringing back the spinner belt the next night on Raw?
No, no. I like the change in the championship belt. The championship needed to be changed. It took the right set of circumstances, and I really, really want to be the one to take that belt off of him. Believe me, I know how special that championship is to The Rock, and for me mentally, it's situations like being the one who could take that custom belt away from him, that's one of the things that makes this rematch both different and better than last year. It's about that championship, and me being the one who wants to take it from him. The Rock has so much to lose this year.
When you held the belt, your whole motto was: The Champ is here. Is there resentment backstage with The Rock being the champ and essentially not being here on Raw for weeks at a time?
No, because that was my whole base of resentment last year. I really thought he was coming back for maybe a yearlong campaign to remind people, "Hey guys, I have some new movies coming out," and he wanted to let the WWE fan base know that he was still around. But he came back, he stayed back, and he's competing. Even if he's not on every Monday Night Raw, you have to understand, this guy is the most driven individual I know. The fact that he can do what he can do and still compete in the ring -- go film a commercial, go film five movies, go film a TV show and then come back and not leave WWE on the back burner, but still be the champion -- it's admirable. He's doing more for WWE by trying to do both those things at once and being on Raw some of the time, than focusing on WWE and being there 100 percent of the time. Just like I have my critics, Dwayne "The Rock" Johnson has critics, and I was one of the biggest "Hey man, you're never here" guys around, but not anymore. He's completely committed to WWE.
I know you said you're not playing a character earlier, and how you're playing yourself, but a lot of fans continue to clamor for a John Cena heel turn. I know in the past you've said you're against it, but what if it was the best written script possible, something that would completely change the landscape of WWE? Would you go full-out heel and make the kids cry for maybe a year, or is that just not in the plans?
I just don't see me getting there in order to please a very small group of 30-year-olds. To be very honest with you, every single week I meet kids with life-threatening illnesses and they'll tell me how much I mean to them, and their parents will tell me how inspirational I've been to their kids. We raised a million dollars last year for breast cancer. I'm helping spearhead the Hurricane Sandy relief fund at this year's WrestleMania. I've been able to give back to the military in Tribute to the Troops. And I'm currently working on a program to help America shave 5 million pounds. All of this stuff I would have to stop if I was a "bad guy." To be a bad guy, you actually have to be a bad guy. I just don't have it in me, personally. So although you might get a great story out of it for nine months, doing it would just take away so much, and I don't have that club in the bag.
---
Re: Official The Rock vs. John Cena Thread: Greatness vs. Redemption, TWICE IN A LIFE
---
OK, he has me convinced he believes this shit and isn't turning
---
Moron
Join Date: Dec 2010
Location: NY
Posts: 13,709
Points: 17,030
Re: Official The Rock vs. John Cena Thread: Greatness vs. Redemption, TWICE IN A LIFE
---
Quote:
OK, he has me convinced he believes this shit and isn't turning
why would he say in an interview 2 days before wm "yea im willing to turn heel" hes not gonna say it. he will keep making every excuse in the book not wanting to turn heel so when it does happen it will be a big shock to us all. Also remember its not his choice if Vince & HHH want him heel thats it he has no choice but to comply
Regularly Beating Up James Ellsworth
Join Date: Aug 2011
Location: In The Game
Posts: 3,747
Points: 0
Re: Official The Rock vs. John Cena Thread: Greatness vs. Redemption, TWICE IN A LIFE
---
Cena does what he wants to do. What would Vince do fire him?
Re: Official The Rock vs. John Cena Thread: Greatness vs. Redemption, TWICE IN A LIFE
---
True it is a ESPN article so its more 'mainstream' than some 'wrasslin' site and they talk about the 'heel turn' quite a bit so its possibly a swerve but Cena worries me more than others that he's in a bit of a 'bubble' when it comes to this stuff.
---
Registered User
Join Date: Jul 2011
Posts: 22,517
Points: 1,410
Re: Official The Rock vs. John Cena Thread: Greatness vs. Redemption, TWICE IN A LIFE
---
I don't even bother reading Cena's comments on a heel turn. It's always the same shit.
And lol @ Ziggler's comments. Shut your mouth, jobber.
Quote:
That's an awesome pic, Vince with his GOAT and the current face of the company:
But the best thing about it is Vince finally going back to his old hairstyle
Looks 10 years younger.
The jealousy and bitterness burning inside the average looking pedestrian.
And Vince truly looks younger with that haircut.
---
Last edited by Choke2Death; 04-05-2013 at

02:03 PM

.
Winning World titles, Custom Made Clothes
Join Date: Jan 2008
Location: chatbox
Favourite(s): I
Posts: 15,429
Points: 371
Re: Official The Rock vs. John Cena Thread: Greatness vs. Redemption, TWICE IN A LIFE
---
looks more like he's disappointed in john for getting on his knees
---

#BELLA&HOOPLA
Re: Official The Rock vs. John Cena Thread: Greatness vs. Redemption, TWICE IN A LIFE
---
Cena really is insufferable. I can't take it anymore.
---
Quote:
Originally Posted by
Living Tribunal
View Post
Hahaha no. I don't care how many crippled kids he visits each year he needs to go to hell.
Posting Rules

You may not post new threads

You may not post replies

You may not post attachments

You may not edit your posts

---

HTML code is Off

---