WrestleMania XXX Confirmed for Mercedes-Benz Superdome in New Orleans
---
Quote:
Originally Posted by wwe.com

NEW ORLEANS — It's official: WrestleMania XXX will be held at the Mercedes-Benz Superdome on Sunday, April 6, 2014, as confirmed by New Orleans, top WWE officials and a host of WWE Superstars in an all-star press conference live-streamed on WWE.com, the WWE App, WWE's Facebook page, and YouTube.com/WWE.

"We are happy to announce that New Orleans will host WWE's premiere event, WrestleMania XXX, right here in the dome on April 6, 2014," New Orleans Mayor Mitch Landrieu said at the conference, which took place at the Superdome itself. "This is just an unbelievable experience for us. WWE and New Orleans are going to be a perfect match. We are a perfect city for sports-entertainment. I don't think anybody does it better than us."

Joining Mayor Landrieu at the Superdome for the historic announcement were WWE Chairman Vince McMahon, WWE COO Triple H, Executive Vice President of Creative Stephanie McMahon and a cavalcade of Superstars, including WWE Champion Dwayne "The Rock" Johnson, World Heavyweight Champion Alberto Del Rio, John Cena, Big Show, Mark Henry, The Great Khali, Brodus Clay and WWE Divas Layla, Cameron and Naomi.

"WrestleMania is a celebration; it's what we do," Mr. McMahon said. "People from all over the world come to New Orleans and they're going to celebrate the grandeur, the spectacular nature of WrestleMania … that's what WrestleMania is, and there's no town in the world that personifies celebration more than New Orleans."

Also taking part in the press conference were Rita Benson Leblanc, New Orleans Saints owner and vice chairman; Stephen Perry, president and CEO of New Orleans Convention and Visitors Bureau; Jay Cicero, CEO of the Greater New Orleans Sports Foundation; and Alan Freeman, general manager of the Mercedes-Benz Superdome and New Orleans Arena.

"WWE is all about bringing smiles to people's faces the world over," Stephanie McMahon said, speaking moments after her father took the podium. "And that is what we're going to do right here in the city of New Orleans, because we are going to have one heck of a party 30 years in the making."

WWE Champion The Rock also spoke on the significance of WrestleMania week, calling it an "unduplicated" experience for the host city. "The bottom line is, it's fun," The Great One said, grinning from ear to ear, "and I am so, so proud to bring WrestleMania to New Orleans." He then led the assembled members of the media in a chorus of "When the Saints Go Marching In."

John Cena, who will challenge Rock for the WWE Title at WrestleMania 29 in East Rutherford, N.J., in just a few weeks' time, echoed his opponent's sentiments.

"[WrestleMania] will give people around the world the chance to enjoy the hospitality I have enjoyed," the 10-time WWE Champion said. "Every tourist who comes to New Orleans always leaves with a story about New Orleans.

"I promise you when WrestleMania XXX comes to New Orleans, we will give you a celebration worthy of this great city."

Aside from WrestleMania XXX itself, the festivities in New Orleans will include WrestleMania Axxess, the annual, four-day fan festival, taking place at the New Orleans Morial Convention Center, the 2014 WWE Hall of Fame Induction Ceremony, Monday Night Raw, be a STAR anti-bullying rallies, the WrestleMania Reading Challenge Finals, hospital visits and other pro-social activities designed to give back to the community. The pay-per-view event will be televised to more than 100 countries.

Last year, WrestleMania XXVIII in Miami generated more than $100 million in economic impact for Miami and Miami-Dade County, a new record for WrestleMania. This year, WrestleMania 29 takes place at MetLife Stadium in East Rutherford, N.J., on Sunday, April 7.

Ultimately, though, and perhaps rather fittingly, it was Mr. McMahon who gave the perfect summation of his signature creation's 30th birthday, with a bit of local flavor to boot.

"I believe there's an expression you use here in New Orleans," Mr. McMahon said at the conclusion of his remarks. "I will not attempt to say it in French, but: let the good times roll."
Link -
http://www.wwe.com/shows/wrestlemani...-2014-26092312
Superdome in New Orleans, Louisiana: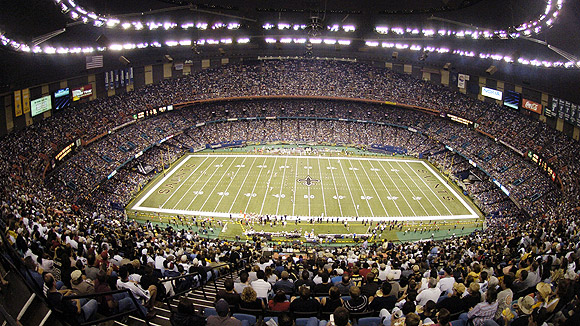 ---
#The2ndComing
---
Last edited by Clique; 02-18-2013 at

08:39 PM

.
Re: WrestleMania 30 Location Almost Confirmed...
---
What are the crowds in that area usually like?
---
Playing Backstage Politics
Join Date: Jun 2012
Location: Best in the world: CHICAGO
Posts: 10,029
Points: 1,613
Quote:
Originally Posted by
SmokeAndMirrors
View Post
What are the crowds in that area usually like?
doesn't matter, people from all over travel for wrestlemania
---
Top 10 all time favorites:

Stone Cold Steve Austin
The Undertaker
Shawn Michaels
Chris Jericho
Brock Lesnar
Kurt Angle
HHH
Edge
CM Punk
Kane (98-04)
Re: WrestleMania 30 Location Almost Confirmed...
---
Quote:
doesn't matter, people from all over travel for wrestlemania
Yeah I know, but still nice to have an idea.
---
Re: WrestleMania 30 Location Almost Confirmed...
---
Tbh, I know MSG is tradition and all but that actually looks like an awesome place to host WrestleMania THIRTY! It's big and fancy looking! Tbh you can't go from 8 WM's that were held in big stadiums in a row, back down to MSG can you?
---
#The2ndComing
Moron
Join Date: Dec 2010
Location: NY
Posts: 13,709
Points: 17,030
Re: WrestleMania 30 Location Almost Confirmed...
---
Bourbon Street + WM = one fun weekend. Im there
Re: WrestleMania 30 Location Almost Confirmed...
---
Would have preferred just having WM in New Orleans in 2013 then at MetLife in 2014. Guess they couldn't cause of superbowl.

WWE doing opposite of NFL. NFL in New Orleans in 2013,and New York/NJ in 2014.
---
Re: WrestleMania 30 Location Almost Confirmed...
---
WrestleMania 31 to be in the Rogers Center (formally the Skydome), home of WrestleMania 6 and 18, calling it now!
---
#The2ndComing
Re: WrestleMania 30 Location Almost Confirmed...
---
This is probably the way it will go from now on. Big football stadiums for Wrestlemania. With most of the professional football teams in America building new stadiums or renovating existing stadiums into modern type buildings, there will be plenty of choices all across the country as the years go by.

For example Jerry's World in Dallas, the new Santa Clara Stadium being built, etc.

Also what's interesting is Summerslam seems to annually be in LA now, and if LA gets a football teams and builds the 75,000 seat stadium they're talking about, I'd imagine Summerslam will be an outdoor big stadium event in that new stadium as well, every year.
Re: WrestleMania 30 Location Almost Confirmed...
---
New Orleans would be a great city to host Wrestlemania in.
---
Courtesy of yours truly
Posting Rules

You may not post new threads

You may not post replies

You may not post attachments

You may not edit your posts

---

HTML code is Off

---