Re: Official WWE Hall Of Fame Discussion Thread
---
I don't condone the over the top booing but what do you expect from MSG? They're always rowdy, no matter what they are watching.
Tag Teaming With James Ellsworth
Join Date: Mar 2013
Location: Looking at Jaime Lannister's hair and sighing wistfully
Posts: 1,264
Points: 18
Re: Official WWE Hall Of Fame Discussion Thread
---
If those MSG fans literally booed the lovely, charming, delightful Maria Menounos until she was in tears, I'm going to go out today and give a stunner to everyone I see. #disgraceful
---
Nothing is True. Everything is Permitted
http://www.wrestlingforum.com/.....................fillion4lyf My piano videos on youtube - frequently updated
ALL THE DUCKS ARE SWIMMING IN THE WATER
Join Date: Sep 2011
Location: Das it, Maine
Posts: 8,854
Points: 6,062
Re: Official WWE Hall Of Fame Discussion Thread
---
Kinda feel bad for Maria, she is a genuine fan but NY crowds are merciless. Plus she's really hot
Can only imagine what the atmosphere would've been like if they held Mania at MSG this year
---
Asking JAMES ELLSWORTH for Wrestling Advice
Join Date: Dec 2012
Posts: 367
Points: 0
It shows you just out of touch wwe is with certain parts of their audience. Ask anyone on here what the reaction of the fans there would have been to a cena video and we'd have predicted it. The wwe have got to stop putting themselves in that position just to try to garner some sympathy for the face if the company that people have got sick of. They must know how the fans feel after cenas recent reactions especially Monday's boring chants, lay off shoving how great a guy cena is towards the fans .


If they didn't want to add to the boos don't show cena. They did and it was their fault they got boos, simple as.
---
Last edited by AntUK; 04-07-2013 at

09:19 AM

.
Re: Official WWE Hall Of Fame Discussion Thread
---
Maria was booed simply for being a celebrity and an 'outsider'.
---
Mid-Card Champion
Join Date: Nov 2012
Location: Everywhere in the middle of nowhere
Posts: 5,013
Points: 3,535
Re: Official WWE Hall Of Fame Discussion Thread
---
I really can't wait to see the Hall of Fame. Especially Bruno's speech.
Quote:
Sounds like it was a great ceremony

The Foley/Jericho stuff sounds like gold

Not a fan of the booing at events like this, it isn't about the characters it's about the people and what they have contributed to the business. Maria is a huge fan and loves Backland, why boo another fan? She was asked to do it, it's not like she demanded WWE let her do it or anything. Trump was involved in Mania 4 and 5 in hosting the event and then was part of one of the feature matches at Mania 23, not too many other celebrities that have had that much of an impact.

It's not the time or place for booing a Be a Star video, just forget about the Cena hate for one night, if you don't like it then don't react, just stay silent, it would have had a much bigger effect having a dead crowd after that video than an arena booing.
Well said.
---
Re: Official WWE Hall Of Fame Discussion Thread
---
Foley elbow-dropped Jericho on the stage. Can't wait to watch this as an extra on the WM blu ray!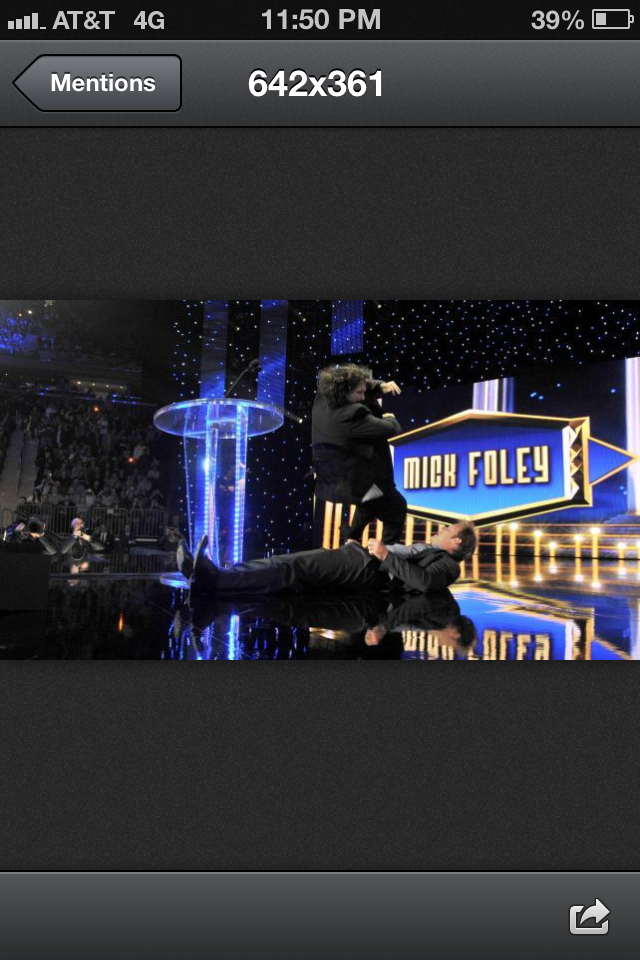 ---
Credit for Sig &
Avy to CJ
Captain
Join Date: Mar 2011
Location: Dancing on Alf-Inge Håland's Grave
Favourite(s): AJ Styles, The Rock, Steve Austin, Sting
Posts: 14,252
Points: 10,093
---
Not Removing Until Jason Garrett is Fired as the Head Coach of the Dallas Cowboys.
Moron
Join Date: Dec 2010
Location: NY
Posts: 13,709
Points: 17,030
Re: Official WWE Hall Of Fame Discussion Thread
---
I dont care if Austin was there or not he's retired and is not obligated to be there anymore. I dont see any of you complaining Edge wasn't there so u shouldn't complain if austin wasn't there. Also yea Rock is a huge superstar but hes the wwe champ he should be in attendance at the hof. Hell is mom was even sitting there. I guess she was filling in for him. And i think Undertaker is a guy who wants to be at the HOF ceremony at front but wwe is too protective of his character to let him come out of character to be at the HOF. He was out of character for 2 autograph signings at axxess why cant he be out of character for the hof?
Posting Rules

You may not post new threads

You may not post replies

You may not post attachments

You may not edit your posts

---

HTML code is Off

---