View Poll Results

: Wrestlemania Predictions?

The Rock
4
10.26%
John Cena
34
87.18%
HHH
23
58.97%
Brock Lesnar
13
33.33%
The Undertaker
34
87.18%
CM Punk
4
10.26%
Jack Swagger
9
23.08%
Alberto Del Rio
26
66.67%
The Shield
31
79.49%
Big Show/Orton/Sheamus
4
10.26%
Dolph Ziggler/Big E Langston
16
41.03%
Team Hell No
18
46.15%
Jericho
11
28.21%
Fandango
24
61.54%
Tons of Funk
27
69.23%
Team Rhodes Scholars
8
20.51%
Henry
4
10.26%
Ryback
31
79.49%
Multiple Choice Poll. Voters: 39. You may not vote on this poll
Avoiding THE LIST!
Join Date: Jun 2012
Location: I'M FROM WINNIPEG, YOU IDIOT!
Posts: 8,480
Points: 222
Re: CM Punk - From the Rock to Wrestlemania
---
I pray they do CM Punk vs Undertaker or John Cena vs Undertaker.this year.

Sure, Punk has had a feud with Undertaker before but hey, look at Triple H/Undertaker. They had a feud and match back in the Attitude Era days, and they did it last year and earlier this year. + Not many people remember the Punk/Taker feud anyway.

And as for Cena/Taker, they also had a feud back in the day at Vengeance 2003 but not many people remember that either, and that was when Cena was somewhat green and that was when Undertaker was still doing the Biker-American Badass gimmick, Cena's never faced the Deadman and Undertaker's never faced the current Cena, Undertaker's only faced the Rapper-D.O.T Cena.

Although I still wonder how they're gonna go from Cena doing an AJ/Ziggler feud to Undertaker, or how they're gonna go from Punk facing The Rock and losing the title to Undertaker. But then again, they've done it before. HBK went from doing that stupid JBL feud (I think it was? I don't remember, I stopped watching WWE around then) to Undertaker. BUT, get this, they could ALSO have CM Punk go out there and do a little promo the night after Rumble and brag about how he's faced everybody, He's faced John Cena, (maybe even Lawler before his heart attack to gain heat lulz), Randy Orton, etc and just brag about how he's faced one of the best in this industry today and how he's gonna take a few months off because he feels like he deserved it after holding the championship for over 400 days, and then the gong hits, Taker comes out, and just has a stare-down like HHH/Taker did, CM Punk walks away, Undertaker raises his hands up, fire pyro hits the stage, and Punk gets scared, then we get the WWE logo and RAW's over. That would be fucking awesome.

But I'm just rambling and ranting.
---
Re: CM Punk - From the Rock to Wrestlemania
---
Right.Destroy the most legendary gimmick in pro wrestling - The streak,for a nobody like CM Punk.
---
Last edited by BKsaaki; 12-20-2012 at

10:33 AM

.
Re: CM Punk - From the Rock to Wrestlemania
---
I still yet to accept that rock won't win the title. And if he does, that means cena won't win the rumble because it would be too stupid for them to do rock v cena a second time after all that once in a lifetime garbage. WWE also cant put ryback in a match with a person like rock or taker because ryback isnt talented enough to hang with them for a 40 minute match or carry them.

Rock beats cm punk for title, cm punk wins royal rumble, cm punk wins at wresltemania due to interference. That leaves cena/brock vs taker. Ryback can face Big D Slongston.
Re: CM Punk - From the Rock to Wrestlemania
---
The Rock will win, no doubt about it. I imagine that Cena will win the Royal Rumble and challenge Rock, whilst Punk will invoke his rematch clause to make it a triple threat at Wrestlemania.
---
Tag Teaming With James Ellsworth
Join Date: Jan 2007
Posts: 1,737
Points: 0
Re: WrestleMania XXIX Match Card Predictions
---
Bonus Wrestlemania Battle Royal - Winner will be added to tonight's U.S. Title Match, making it a triple threat
Winner: Santino
Will get stars including Tensai, Khali, Santino, etc. on the card

I Quit Match
Kane vs. Daniel Bryan

I think this could be done in an interesting way without making either superstar seem weak. Bryan is obviously famous with his "no" catch phrase, so I think that an I Quit match could make this vocal and interesting. In the end Kane picks up the victory as Bryan is being "tortured" and when the red asks "do you quit?" he begins screaming "no! no! no! no!" followed by Kane grabbing his throat. The referee asks Bryan again, "Daniel, do you quit?" and Bryan, so shaken up by the wrath of the Big Red Monster, gives Kane a low blow and then starts to scream "yes! yes! yes!" as he is on a streak... However, the referee takes this as a sign to ring the bell, giving Kane the victory, having a very controversial finish, of course leading to a rematch post mania.

Wade Barret vs. Seamus

World Heavyweight Championship
Ryback vs. The Big Show

United States Championship
Antonio Cesaro vs. The Miz vs. ???
The ??? is Santino, the winner of the bonus battle royal

Immediately following the ending of this match, The Shield attack these 3 competitors. Cesaro slips away (with his championship, as the victor) leaving The Miz and R-Truth to get a beating... hence putting him over as a heel, but also giving way to a 3 on 2 handicap match the following night on RAW

John Cena vs. The Undertaker

Hardcore Match for the Diva's Championship
AJ Lee vs. Kaitlyn

Their backstage segment and their attitudes lend themselves to extraordinary female entertainment, something we haven't seen since Survivor Series 2002 with Trish/Victoria in a hardcore match. This match can redefine the Diva's division.

Triple Threat Tag Team Championship
Prime Time Players vs. Rhodes Scholars vs. Del Rio/Ricardo Rodriguez

Intercontinental Championship Scramble Match (20 minutes)
Kofi vs. Dolph Ziggler vs. Rey Mysterio vs. R-Truth vs. Alberto Del Rio

The Reunion of Evolution
Randy Orton, Ric Flair, Triple H vs. The Shield
It is possible for them to do it, I think it should be done. Orton is a face, Flair is in the picture, Triple H isn't full time so this wouldn't require as extensive of training. This could keep the Shield into the main event picture due to the star power. This could end with a victory for Evolution, but then The Shield going on an extreme rampage... This could lead to HBK's music hitting, and seeing Evolution + Shawn eliminate the Shield from the ring... Then these 4 men, with HHH and HBK in the center, doing the DX suck it chop. Just for a WM moment, with nothing more than a backstage segment laughing about it the next night on RAW

WWE Championship
CM Punk vs. The Rock vs. Brock Lesnar
Re: WrestleMania XXIX Match Card Predictions
---
The Rock (c) vs. John Cena
Winner: Cena

CM Punk vs. The Undertaker
Winner: This is tempting, because I have a feeling Undertaker will want Punk to end the streak. But I'm going to say Undertaker.

Randy Orton (c) vs. Sheamus
Winner: Orton

Triple H vs. Brock Lesnar
Winner: Triple H (Lesnar dominates the match, ref is knocked out, The Shield does a runin, HBK for the save and fights of the Shield)

Big Show vs Ryback
Winner: Ryback

Team Hell No (c) vs. Rhodes Scholars
Winner: Rhodes Scholars

Wade Barrett (c) vs. Kofi Kingston
Winner: Barrett

Cesaro (c) vs. The Miz
Winner: Cesaro

AJ Lee vs. Eve (c) vs. Kaitlyn
Winner: AJ Lee

Sin Cara vs. Rey Mysterio
Winner: Rey

I don't think they do a MITB anymore, so that eliminates the other people not mentioned. Tough luck for them. Unless a face Del Rio fight Ziggler in a singles match I'm having a difficult time placing them to be honest.
---
Last edited by Oakue; 12-20-2012 at

11:17 AM

.
Bossing Around Jobbers
Join Date: Aug 2011
Posts: 9,549
Points: 4,387
Re: CM Punk - From the Rock to Wrestlemania
---
Punk won't end the streak unless Undertaker is retiring. There's just no way you'd have him win before John Cena gets his hands on him. That's flushing millions of dollars down the toilet.

FTR Undertaker v Punk for the title
Triple H v Lesnar 2
Rock v Cena 2

Is this worse card WWE could ever come up with.
Re: CM Punk - From the Rock to Wrestlemania
---
Quote:
It makes absolutely no sense to have such a longstanding champion drop the title at the Royal Rumble when Wrestlemania is right around the corner. If they want Cena to win the title at Wrestlemania, we don't need a middleman in the Rock, especially when we have a still unresolved feud between CM Punk and Cena that has been going on for over a year. This is a historical reign and it needs a historic ending.
I agree. I think that Punk needs to hold the title until Wrestlemania. 505 days as champion is a Hell of a legacy. He could get past the Rock with the help of Brock Lesnar, setting up a match between them at Wrestlemania. John Cena could challenge CM Punk, capping off their ongoing rivalry in an epic way. If not Cena, then maybe Punk should put his title on the line against Undertaker's Streak at Wrestlemania. Punk strikes me as the kind of guy who would
want
to end the streak, as well. I could see him doing it.
---
Re: WrestleMania XXIX Match Card Predictions
---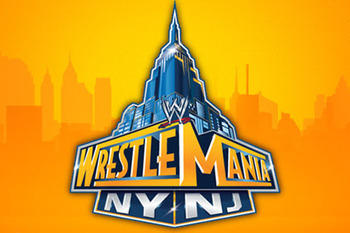 WWE Championship
The Rock (c) vs. CM Punk

Triple Threat Match
World Heavyweight Championship
Randy Orton(c) vs. Sheamus vs. Christian

The Streak
Undertaker vs. Ryback

Hell In A Cell
Triple H vs. Brock Lesner

John Cena vs. Big E. Langston

WWE Tag Team Championships
Rhodes Scholars(c) vs. Team Hell No

Rey Mysterio vs. Sin Cara

Intercontinental Championship
Kofi Kingston(c) vs. Alberto Del Rio

Diva's Championships
Eve(c) vs. AJ (DON'T REALLY CARE ENOUGH)

Pre Show Battle Royal
Dolph Ziggler, Miz, Antonia Caesar, Big Show, Mark Henry, Jack Swagger, Wade Barrett, Santino Marella, Tensai, Shield, 3MB, R Truth, and others.

---

World Championship Wrestling 1999
Changing of the Guard
http://www.wrestlingforum.com/booker...l#post42003170
Re: WrestleMania XXIX Match Card Predictions
---
This is what I'd pay money to see, and I haven't bought a WWE PPV since forever
The Streak
The Undertaker vs. John Cena
Winner:
The Undertaker (25:00)
WWE Championship
CM Punk (c) vs. The Rock
Winner:
CM Punk (20:00)
World Heavyweight Championship - Triple Threat
Big Show (c) vs. Ryback vs. Dolph Ziggler (MITB)
Winner:
Dolph Ziggler (12:00)
Grudge Match
Brock Lesnar vs. Sheamus
Winner:
Sheamus (23:00)
Six Man Tag Team Match
Triple H, Randy Orton and Ric Flair vs. The Shield
Winners:
The Shield (15:00)
Divas Championship Triple Threat
Eve (c) vs. AJ Lee vs. Kaitlyn
Winner:
AJ Lee (10:00)
WWE Tag Team Championship - Street Fight
Team Hell No (c) vs. Team Rhode Scholars
Winners:
Team Rhodes Scholars (15:00)
WWE United States Championship
Antonio Cesaro (c) vs. Christian
Winner:
Christian (15:00)
Battle Of The Luchadores
Rey Mysterio vs. Sin Cara
Winner:
Sin Cara (10:00)
---
---
Last edited by Flux; 12-20-2012 at

01:40 PM

.
Posting Rules

You may not post new threads

You may not post replies

You may not post attachments

You may not edit your posts

---

HTML code is Off

---