View Poll Results

: Who Wins This Unexpected Bout?

Ryback & Team Hell No
72
39.13%
The Shield
112
60.87%
Voters: 184. You may not vote on this poll
Heel Turn on James Ellsworth
Join Date: Jun 2006
Location: Somewhere in the Jersey wasteland
Posts: 2,132
Points: 0
Re: The Shield vs. Team Hell No & Ryback - MOTY
---
The match kept me on the edge of my seat throughout the entire thing and I absolutely love how all six guys came out looking great. I thought the finish with the big Powerbomb off the turnbuckle through the table as Ryback stumbled back to the ring was great. Halfway through the match I just stopped caring about who would pick up the win because The Shield already had such a great showing that it didn't matter but them actually giving them the win makes their future very interesting.
Making James Ellsworth GET MY BAGS
Join Date: Jun 2011
Location: London, England
Posts: 4,988
Points: 2,701
Re: The Shield vs. Team Hell No & Ryback - MOTY
---
Was Marking out the whole match. Just everything about it was brilliant, from begginning to end. By far the match of the night. I was marking out throughout the whole match, everyone involved did great. And to cap it off, the right team won... don't ruin this WWE.
---
All Time: Taker/HBK/Punk/Christian
Current: Ambrose, Bryan, Wyatt, Owens, Becky, Barrett, Rollins, Banks
Re: The Shield vs. Team Hell No & Ryback - MOTY
---
I just loved everything about this match! It couldn't be more awesome!

Ambrose = Amazing! the stand out of the whole match!

Rollins bump was hellacious! and Reigns is a beast!
---
Plotting time travel mission.
Join Date: Oct 2010
Location: Future Chicago that is run by Sentinels.
Posts: 8,641
Points: 90
Re: The Shield vs. Team Hell No & Ryback - MOTY
---
Only Kane can be considered the veteran WWE guy in that match, so we can definitely feel somewhat comfortable with the future of WWE.
---
Re: The Shield vs. Team Hell No & Ryback - MOTY
---
I like how Kane was the sensible old vet, going for pins.
:beer::what::what::screwy:
---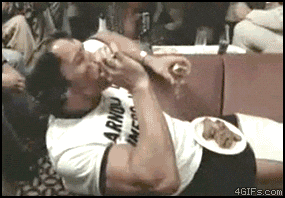 WF Dictionary:
Burial
bur·i·al
Noun
#1 - A wrestler I like losing to a wrestler I don't like.
#2 - A wrestler I like being insulted in promos by a wrestler I don't like
Re: The Shield vs. Team Hell No & Ryback - MOTY
---
This match was incredible. Have no problem calling it MOTY. No other match had me
'ing the entire time. Plus, three young talents got put over huge.
---
Re: The Shield vs. Team Hell No & Ryback - MOTY
---
had a weird feeling in my stomach when watching this match the whole time. I was trying to think of why my stomach feels weird until i remembered it was my mark-out feeling from when i was younger. feelsgoodman.jpg
Re: The Shield vs. Team Hell No & Ryback - MOTY
---
Just got to watch TLC now, enjoyed the PPV A LOT more than I expected to. I was barely motivated to even watch Raw last week.

Holy shit was this match awesome. Reminded me of the good oul' days. All 6 guys did great, even Ryback and Reigns (the greener guys) put on a great show and nobody came out losing any credibility from this match. The future is very bright for the company if these guys stick around (Kane the exception due to his age, but he was great too last night), i'm even warming to Ryback!
---
Quote:
you guys are losers, i cant believe you actually watch wrestling

i just sit at home and watch the tickets being sold off the ticketmaster website to see whos drawing

sometimes if the show is in town, i feel extra daring and go to the arena and watch them sell tickets IN PERSON

other day i started jerking off in the ticket both at all that DRAWING and had to be escorted out of the arena
Tag Teaming With James Ellsworth
Join Date: May 2010
Posts: 1,250
Points: 0
Re: The Shield vs. Team Hell No & Ryback - MOTY
---
That match truly contains the future . We have the powerhouses , the technical workers and Ambrose whois the total Package.
---
Posting Rules

You may not post new threads

You may not post replies

You may not post attachments

You may not edit your posts

---

HTML code is Off

---