Sly as a fox, ferocious as a lion
Join Date: Jun 2010
Location: Houston breh
Posts: 3,024
Points: 286
Re: WWE '12
---
Quote:
Aside from graphics, that entrance looks alot better than the WWE 12 one.
That's because they didn't focus on lengthy entrances with bush league mocapped animation.
---
Re: WWE '12
---
The frog splash is terrible it looks like a mix of RVD and Chavo's frog splash. why did they change Drew McIntyre special the downward spiral? It was perfect now it looks like Mr. Anderson's Mic Check awful.
---
If You Can't Trust Sphynxx Who Can You Trust???
Re: WWE '12
---
I hope Swagger's old entrance is still there so I can change it back to that. His new one looks really bad. I wasn't expecting them to change it either. I thought they were going to be lazy.
---
Bears - Bulls - Braves - Blackhawks - Bulldogs - America
"You are ready to be taught the new way."
Re: WWE '12
---
Excuse me if this was already posted(I don't feel like going through 100's of pages to make sure)...
---
Lets go to the old mill anyway, get some cider!
Join Date: Mar 2007
Location: Stuck On This Prison Planet
Posts: 13,287
Points: 4,121
Re: WWE '12
---
So the list of achievements seem to confirm creating your own show in universe, a draft show in universe, being able to interfere in AI vs AI matches, and a momentum meter for superstars in universe as well. That all sounds pretty awesome to me.
---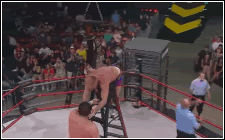 Do I really have to say anything?

Sig: Kingcrash
Moron
Join Date: Jul 2011
Location: Mississauga
Posts: 13,410
Points: 0
Re: WWE '12
---
Why do they like fucking things that are already good, yet leave the stuff that aren't?
Re: WWE '12
---
Quote:
God damn.

The Create an Arena mode actually had me tempted to eat my words on this game and just buy it, but what the hell was Eddie's finisher supposed to be? It sure as hell didn't look like any frog splash he ever performed.

This is why these games are so damn horrible to play; year after year, they rehash and re-release an old feature as something 'new' whilst completely ignoring the core gameplay, which is the biggest problem the series has right now. Sure, they've made guys sell differently this year and you can break up moves, but that's it.

Still the same old animations, ancient engine, awful audio, the abortion of a game mode in Road to Wrestlemania and just... ugh.
Couldn't have said it better myself. They think Create a Ring can sell the game -- not for me. Fire Pro Wrestling Returns which was released in 2007 had both Create a Ring AND the move break ups. Look back at the animations from Shut Your Mouth and you'll see that they are much better.
Someone needs to give those mo-cappers a talking to. They're doing a shitty job. No one should have to "act" like a wrestler. Either animate it or get the actual wrestlers in. Also the fact that they don't add in entrance attires for half of the wrestlers pisses me off. Edge with no t-shirt or coat? Ryder has the headband but is lacking the glasses and coat. What was the point in adding the headband? Seriously. THQ pisses me off sometimes.
---
I mark for
PRO WRESTLING
Re: WWE '12
---
Quote:
From THQ Tank:



So.... He's alive then.
Its probably Foley then because only real reason I see THQ holding it off, is so that when Foley returns to WWE, they can reveal him as the mystery superstar and make their game look up to date.
---
Men of Mayhem
Join Date: Jun 2007
Location: Charming, Central California, USA
Posts: 7,330
Points: 46
Re: WWE '12
---
Quote:
Why do they like fucking things that are already good, yet leave the stuff that aren't?
Because THQ/Yukes were 'completely shaking things up'.
If I had to give this situation a single word it would be overzealous. But who knows, it could come out and we may be pleased.
Re: WWE '12
---
Quote:
You know what's funny? The first SVR game had Eddie Guerrero's car go through the FUCKING RAMP! Nowadays it's baffling to see why they can't get it past the stage.


hell in smackdown 2 you could go backstage and shit now you cant so much for advancement. Makes Falls count anywhere a pointless match type in these games
---
Posting Rules

You may not post new threads

You may not post replies

You may not post attachments

You may not edit your posts

---

HTML code is Off

---