Re: WWE '12
---
Quote:
Originally Posted by
Tyrion Lannister
View Post
To be honest, I shouldn't even get this one after seeing that, but I already have it pre-ordered and there's some guys I've been wanting to use forever like an updated CM Punk, Wade Barrett and Alex Riley that I can use online, but no more. I mean, they can't even do a frog splash right. Fuck this shit.
An unreleased game has bugs?!
---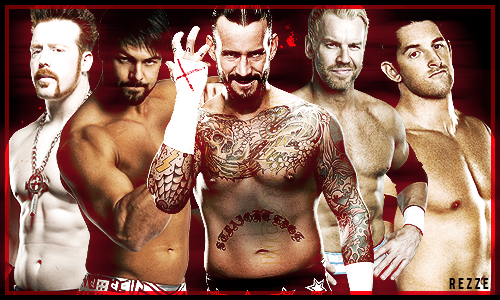 Fav 5: Chris Jericho, CM Punk, Wade Barrett, Dolph Ziggler, Justin Gabriel
Fav 5 Divas: AJ(
), Natalya, Beth Phoenix, That is it because the rest are useless.
Rezze's wishlist
( ) Sheamus becomes WHC
( ) Justin Gabriel wins a singles title
( ) AJ becomes the Diva's champ
(x) Truth changes his attire
(x) Cody Rhodes becomes "Dashing" again
(x) Ivelisse gets signed to a WWE contract.
( ) Matt Striker does commentary on TV again.
( ) Big Show retires/gets fired
( ) An AJ and Kaitlyn lesbian angle.
(I know it isn't going to happen, but let a man dream)
Sig Graphic by: Scorpion
The air filled with sadness and grief when sorrow sang softly and sweet.
Join Date: Nov 2004
Location: Nos Astra, Illium
Favourite(s): Dr. Fate, Darkseid, Batman, Scarecrow, Harley
Posts: 82,965
Points: 24,293
Re: WWE '12
---
Quote:
An unreleased game has bugs?!
That isn't a bug...
---
"Young wrestlers, those of you hoping to make a career of this and get into this business somehow, I cannot stress this enough, be as tall as you can" - Vinny V on Baron Corbin
Re: WWE '12
---
People complain, yet year after year, keep buying the game, so it's no wonder they keep offering the same rehashed game with a new title each year. When sales slow, then they'll change - but they won't slow.
Re: WWE '12
---
The minute they stopped using animations and started with this mo-cap bullshit, is when this series went in the shits. If you're gonna mo-cap, get the actual wrestlers and not some indy nobodies. MVP mo-capped last year and his entrance & moves looked amazing. What did they do with Miz and Swagger's entrances? Bourne runs into the ring like he just pooped his pants. Daniel Bryan waves his arms around like a retard. AND WHY IS THERE STILL CARS ON THE STAGE?!

Ugh. There was so much anticipation for this game and in the dying moments, they let me down. I'm not buying this shit.
---
I mark for
PRO WRESTLING
Re: WWE '12
---
- WFT was that ? looked more like a 5 star frog splash.
- That entrance can't be for Swagger, it just can't.
- Another car appearing on the stage.
---
Currently Watching: Lucha Underground & NXT
Re: WWE '12
---
at the frog splash. releasing a video where there's a fucked up finisher plain to see. nice one thq
---
Re: WWE '12
---
you know you can change eddie's finisher right?
---
RICARDO WORLD ORDER
Re: WWE '12
---
you know you shouldnt have to
---
Re: WWE '12
---
I'm surprised they even made a custom Frog Splash for em.
Thought they'd go the lazy rough (which they did anyway) and give em Chavo finisher.
---
Currently Watching: Lucha Underground & NXT
---
Last edited by bme; 09-28-2011 at

02:06 AM

.
Re: WWE '12
---
What the fuck happened to Swagger's entrance?
The rest looks okay, and I'll still buy the game, but holy hell, that entrance is ugly.
---
Last edited by Kalashnikov; 09-28-2011 at

04:05 AM

.
Posting Rules

You may not post new threads

You may not post replies

You may not post attachments

You may not edit your posts

---

HTML code is Off

---