Sly as a fox, ferocious as a lion
Join Date: Jun 2010
Location: Houston breh
Posts: 3,024
Points: 286
Re: WWE '12
---
I do however, like the new "Create-An-Arena" feature. It's nice to create arenas featuring classic logos.
---
Re: WWE '12
---
Quote:
I don't care who the publisher or who the developer is, just fix the damn ranking system for WWE Universe mode in this WWE 12 game, lol. Have they addressed that yet?
They've not said anything about Universe mode yet as far as I'm aware.
Re: WWE '12
---
Quote:
They've not said anything about Universe mode yet as far as I'm aware.
I read on wwegaming.com that Universe Mode & RTWM will be revealed in October.
---
1x Tag Team Champ (with Sonic Slash) as Air-Slash
1x Tag Team Champ (with New Guy) as New Trouble
Join the Forum Championship, a pay-per-view prediction contest!
http://www.wrestlingforum.com/mitb/8...oney-bank.html
Re: WWE '12
---
A load of new stuff:
Quote:
There are a total of 10 Comeback moments In WWE'12 Videogame, which can assigned to ANY Superstar or a DIVA in Create-a-moveset mode
Quote:
According to THQ Tank, Special Referee is confirmed NOT to be in WWE'12 Videogame
Shame.
Quote:
THQ Tank has hinted us again on the mystery superstar, according to him the mystery superstar is NOT a part of active WWE Roster right now
Jericho please.
Quote:
Unfortunately Kane won't have his Comeback moment in WWE'12 Videogame and it has been confirmed. This is a sad news for Kane's Fans but we can always hope for the next year
Don't care, I won't use him anyway.
What the FUCK is that?
Lets go to the old mill anyway, get some cider!
Join Date: Mar 2007
Location: Stuck On This Prison Planet
Posts: 13,290
Points: 4,130
Re: WWE '12
---
The fact that we are less than 2 months away from release and we still know jack shit about universe concerns me. I get that they know it's the biggest draw to the game so they wanna keep it somewhat under wraps but you would think that if it's as improved as we'd like it to be then they'd be touting it up as much as possible and as often as possible.

I think theres a good chance alot of people will be dissapointed cause they're not gonna blow their whole load on universe just yet. They have to keep releasing a new game every year so even though they could give us everything or atleast a large majority of things they know people want, it's just not gonna happen.

CAA is a great feature and being able to download them and implement them into universe is even better. That combined with being able to defend titles at any moment and hopefully a fixed rankings systerm would be enough to appease me atleast.
---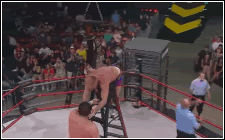 Do I really have to say anything?

Sig: Kingcrash
Re: WWE '12
---
Has to be Jericho, lol @ 10 comeback moves, couldn't care less about Kane and Takers winning celebration is terrible.

Also no special ref? For shame.
Craziness. Insanity. Stupidity
Join Date: Aug 2003
Location: In my own little world
Posts: 22,003
Points: 5,629
Re: WWE '12
---
at that Undertaker celebration. The fuck is he doing at the end? Looks like he's about to fucking roar rather than the pose he does on one knee. Plus, could they have at least gone to the effort of showing it in an arena that doesn't look like it's used as a porn set?
So anyway, I haven't really been keeping up with the game, so could someone be so kind as to fill me in on any new info that doesn't involve wrestler's attires, entrances and celebrations?
---


New Update - June 11th - The Amazing Mystery Box Unboxing!!!

Follow me!!!
Facebook || Twitter || Instagram

I used to be jealous of Arron Afflalo
Join Date: Jan 2006
Location: Boston
Favourite(s): Summer Rae, Chris Hero, Stardust & Tyler Breeze
Posts: 23,786
Points: 1,166
Re: WWE '12
---
Question:

Are the moves that are done in people's comebacks still in their moveset too? I'd really hope so.
---


Rusev | Sami Zayn | Dean Ambrose | Alberto Del Rio | Jack Swagger
Timothy Thatcher | Chris Hero | Scott Dawson | Dash Wilder | Roderick Strong
Summer Rae | Charlotte | Carmella | Becky Lynch | Paige

Panthers - Red Sox - Nuggets - Mets

Posting Rules

You may not post new threads

You may not post replies

You may not post attachments

You may not edit your posts

---

HTML code is Off

---