Re: WWE '12
---
D Bryan looks awesome, love how seamless it is when it goes from the wake up taunt to the finisher
Re: WWE '12
---
I hope Daniel Bryan can also do the Guillotine in WWE 12.
Re: WWE '12
---
I wish they would have shown Cattle Mutilation. I will definitely use that instead of the Crossface.
---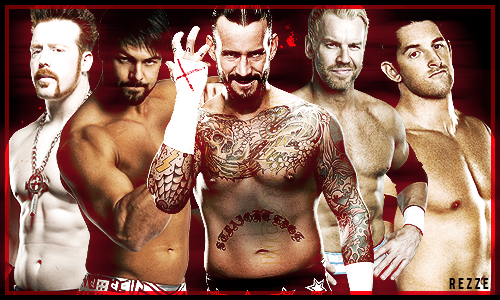 Fav 5: Chris Jericho, CM Punk, Wade Barrett, Dolph Ziggler, Justin Gabriel
Fav 5 Divas: AJ(
), Natalya, Beth Phoenix, That is it because the rest are useless.
Rezze's wishlist
( ) Sheamus becomes WHC
( ) Justin Gabriel wins a singles title
( ) AJ becomes the Diva's champ
(x) Truth changes his attire
(x) Cody Rhodes becomes "Dashing" again
(x) Ivelisse gets signed to a WWE contract.
( ) Matt Striker does commentary on TV again.
( ) Big Show retires/gets fired
( ) An AJ and Kaitlyn lesbian angle.
(I know it isn't going to happen, but let a man dream)
Sig Graphic by: Scorpion
Plotting time travel mission.
Join Date: Oct 2010
Location: Future Chicago that is run by Sentinels.
Posts: 8,641
Points: 90
Re: WWE '12
---
Daniel Bryan looks sweet, seems THQ put alot of effort to his model and move-set. Plus one of the guys from THQ said that Daniel Bryans comeback is one of the best for the game.
---
Re: WWE '12
---
I can't wait to see a full Daniel Bryan match on WWE 12. So who do you guys think will be revealed on Friday? My guess is John Morrison, Cody Rhodes, Stone Cold and Eddie Guerrero.
---
Bears - Bulls - Braves - Blackhawks - Bulldogs - America
"You are ready to be taught the new way."
The air filled with sadness and grief when sorrow sang softly and sweet.
Join Date: Nov 2004
Location: Nos Astra, Illium
Favourite(s): Bray Wyatt, Y2J, Dean Ambrose, Kevin Owens
Posts: 82,795
Points: 23,783
Re: WWE '12
---
I don't know but I want Sheamus. Not because I'm interested in Sheamus, but I'm interested in seeing if they've corrected his finishers, which they horribly botched last years. Horribly botched.
---
Re: WWE '12
---
That's obviously not Daniel Bryan in his entrance. Ugh... he looks so stupid. I hate it already.
---
I mark for
PRO WRESTLING
Re: WWE '12
---
Quote:
Daniel Bryan looks so stupid coming down the ramp
Quote:
That's obviously not Daniel Bryan in his entrance. Ugh... he looks so stupid. I hate it already.
I agree. We could've done with out the arm spasms
Quote:
D Bryan looks awesome, love how seamless it is when it goes from the wake up taunt to the finisher
So does Punks. It flows so easily from wake up to GTS.
---
Credit:Tenacious.C.
---
Last edited by Batman; 09-02-2011 at

02:57 AM

.
I used to be jealous of Arron Afflalo
Join Date: Jan 2006
Location: Boston
Favourite(s): Summer Rae, Chris Hero, Stardust & Tyler Breeze
Posts: 23,786
Points: 1,166
Re: WWE '12
---
Dunno if this has been posted yet but it looks awesome how well this transitions.



Edit: nvm lmao it was done via editing I guess.
---


Rusev | Sami Zayn | Dean Ambrose | Alberto Del Rio | Jack Swagger
Timothy Thatcher | Chris Hero | Scott Dawson | Dash Wilder | Roderick Strong
Summer Rae | Charlotte | Carmella | Becky Lynch | Paige

Panthers - Red Sox - Nuggets - Mets

Re: WWE '12
---
Holy jesus is Bryan's entrance terrible. He's like a retarded ragdoll coming down the ramp. Couldn't they use fucking mo-cap?

The model, kick combo and LeBell Lock look nice though.
---
Quote:
smarks like to suckle from the diseased milk of Ric Flair's sagging tits
Posting Rules

You may not post new threads

You may not post replies

You may not post attachments

You may not edit your posts

---

HTML code is Off

---