MDickie's Wrestling MPire 2008
---
It's a pretty good game. It's for the PC and it's free
---
Lets go to the old mill anyway, get some cider!
Join Date: Mar 2007
Location: Stuck On This Prison Planet
Posts: 13,287
Points: 4,121
Re: MDickie's Wrestling MPire 2008
---
I actually just downloaded this recently along with the latest mod for it, it's ok but the controls are really hard to master. Perhaps with a controller it would be alot better but with the keyboard it's really hard to string together consistent offense.

Plus it lags quite a bit and the hit detection can be all over the place at times, but the idea is great and if a console wrestling game were to incorporate everything this game has to offer than I would buy it in a second.
---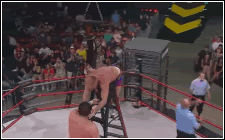 Do I really have to say anything?

Sig: Kingcrash
Re: MDickie's Wrestling MPire 2008
---
It's a pretty decent game, however it gets stale pretty fast.
Moron
Join Date: Aug 2010
Posts: 30
Points: 0
Re: MDickie's Wrestling MPire 2008
---
thanks
Posting Rules

You may not post new threads

You may not post replies

You may not post attachments

You may not edit your posts

---

HTML code is Off

---