Re: EWR/TEW Discussion Thread
---
Quote:
The charisma rating is the mic skill and if the trainer box is checked that means he can become a trainer when he retires. (y)
Kk, thanks.
Quote:
Just make sure you don't use a superstar more than twice on a show. Usually when I do it (no matter who it is), I'll always end up getting a message saying the fans got sick of seeing them because I overused them too much, so watch out for that.
Yeah, I got that both for Cena and Punk.
I'm annoyed that the event report doesn't show the stipulations and the length of the match, but hey minor stuff.
---
Quote:
Really, really enjoyed this week's Superstars. Honestly, the fans who are too snobbish to watch it, dismissing it as 'Jobberstars' really miss out.
Quote:
This post really makes you too smart for a '12er, doesn't it? Your new join date is 2008.
Tag Teaming With James Ellsworth
Join Date: May 2011
Location: Bristol, United Kingdom
Posts: 1,752
Points: 0
Re: EWR/TEW Discussion Thread
---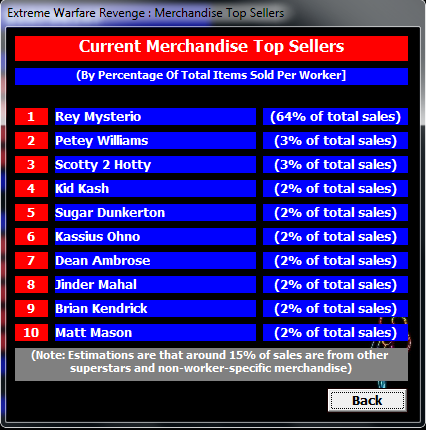 Dat CZW merchandise spread. I don't know how Matt Mason got in there, as he's like 40 over and is basically another tag team jobber.
Although, on that subject, I have been trying to make some form of Tag Division in CZW. When I started the game, I fired the tag team champions at the time and the belts were vacant for a loooong time. Basically I'm too lazy to book the division.
I think they were vacant for 3 months, until Seth Rollins and Petey Williams randomly won them on a TV show and then I vacated them 3 weeks later. And they remained vacated for 6 months until I started booking the tag division again.
It's still pretty poor though. First champs were Dr Cube and Takeshi Morishima, who dropped them after 2 weeks to the
Leaders of the New School
(Zack Sabre Jr and Marty Scurll). Unfortunately, Zack Sabre Jr injured himself so they were vacated again, until
Justice and Devastation
won them, who are the awesome team of Dick Justice and Sweet Daddy Devastation.
I only have 2 other teams aside from them -
Hi Def Supernovas
(who are another real team, same with Leaders of the New School, consisting of Matt Mason and Robby Starr) and
Franky and Wellington
, the team of Beef Wellington and Franky the Mobster.
So yeah it's not great, but it's a start.
Wheelman for James Ellsworth
Join Date: Oct 2007
Location: London, UK
Posts: 957
Points: 0
Re: EWR/TEW Discussion Thread
---
Have had to start again with EWR because my saves corrupted, so decided to go with a WWE game instead, I've now played through SummerSlam and NoC to Survivor Series; here's the results


WWE
Survivor Series 2012
Live from Madison Square Garden | Live on PPV | 826,000 Buys

"Only the Strong can Survive" - No Disqualification Match
Brock Lesnar (with Paul Heyman) defeated Randy Orton (with Triple H)
via submission at 22:10 with the Kimura Lock

Following months of anticipation, back and fourth confrontations and vicious attacks; the match was set, a main event that would define a moment in history when Triple H took on Brock Lesnar at SummerSlam. After a long hard thought battle, Triple H finally fell victim to Brock Lesnar's devastating F-5. Triple H managed to find humility and admit that the better man won the following night on RAW; but that wasn't enough for Lesnar, he wanted to make a statement by taking out the WWE COO indefinitely and rebroke Triple H's arm. Heyman then made it clear that Lesnar was not to be stopped and was not coming back to the WWE without making his own mark in history and that started by becoming the most dominant WWE Champion in history once again. Every week leading up to Night of Champions; Lesnar made victims of each contender for the WWE Championship; Cena, Ziggler, Jericho and even the champion himself CM Punk. Until Vince McMahon had to step in, saving the work force of his organisation by granting Lesnar his wish and placing him in the five man championship scramble at Night of Champions. With all hope seemingly lost for the WWE Championship, Lesnar poised ready to become the next and seemingly last WWE Champion. Just as Lesnar was about to recapture the WWE Championship, The Game's music hit and Triple H headed to ring covered in an arm brace wielding his patented sledgehammer in hand. Triple H successfully managed to save the WWE Championship by scaring Lesnar from the ring and allowing the four rightful challengers to gain their chance. The following night Triple H explained his actions and admitted that he was nowhere near ready to take on Lesnar again, but before Triple H could finish Lesnar wasted no time attempting to make Triple H pay; until Randy Orton made his surprise return to the WWE saving his former mentor and Evolution stable mate. Randy Orton claimed that he is back stronger and more deadlier than ever but Lesnar was unfased. The following week Heyman appeared without Lesnar and claimed Lesnar would not be back in the WWE until Orton officially apologised to Lesnar for ambushing him. With Lesnar seemingly out of the picture Orton proceeded his momentum by becoming number one contender to Daniel Bryan's World Heavyweight Championship; and as Orton seemed to come close to reclaiming the World Heavyweight Championship, Lesnar returned to the WWE to cost Orton the World Heavyweight Championship. An irate Orton later made a challenge to Lesnar to take him on at Survivor Series; whilst Heyman declined to let Orton and Triple H call the shots, Lesnar's desire to beat Orton caused him to ignore Heyman and he signed the contract for a match.


Traditional Survivor Series Match - Championship Challenge
CM Punk(c), John Cena, Chris Jericho, Dolph Ziggler and Zack Ryder defeated Daniel Bryan(c), Sheamus, Alberto Del Rio, Christian and Cody Rhodes
via pinfall at 34:51 when Dolph Ziggler pinned Christian following the Zig Zag (Dolph Ziggler and CM Punk survived)

On each brand the World Champions have been extremely busy fending off contender's, with every man on the roster hungry to be the best but no contender getting the edge. This is where Vince McMahon stepped in and announced a new concept that would mix traditional values with a modern twist. Vince McMahon announced the Survivor Series Championship Challenge. Where the champion of each respective brand would team with the top four contender's for their championship. Vince McMahon noted that if the champion survived alone winning the match then the four contender's would not receive another championship match until 2013, whereas if a contender survived regardless if the champion was a survivor then those contenders would receive a championship match at Armageddon. This added animosity to each side, as not only where the competitors fighting their opponents for an opportunity to become number one contender but they also needed to see their team mates fall in order to gain a more successful chance at the championship at Armageddon. The stakes were high for all men including the World Champions who had the opportunity to extend their title reigns by two months by eliminating their contenders.

Casket Match
Wade Barrett defeated The Undertaker
via trapping The Undertaker in the casket at 16:33

The Undertaker made his full-time return to the WWE just after No Way Out, with his intentions set on reaching the World Heavyweight Championship, but his return only made him a target for one man on a mission; Wade Barrett. Wade Barrett made his surprise return two weeks before SummerSlam when he turned the lights out on The Undertaker and confronted him in a trench coat and hat that mimicked Undertaker's signature attire; laying The Undertaker out with a Wasteland. Barrett wasted no time in making his intentions clear by challenging The Undertaker to a match at SummerSlam claiming he would finally rid the WWE of the dark shadow that over hangs. Barrett and The Undertaker fought to a classic match that stole the show to the surprise of many, with Barrett coming so close but falling short to the Deadman. And whilst many would admire Barrett's fight and coming so close to beating the veteran, this wasn't enough for Barrett who proceeded to attack the Undertaker. Barrett continued to persue the Undertaker for another match at Night of Champions, and the stage was set. In another classic encounter, Barrett managed to put The Undertaker what seemed to rest but delivering a Wasteland off the stage ending the match by stoppage; a feat very few have managed. Having not been seen since Barrett's attack, Barrett held a funeral for The Undertaker with a dark ceremony and a casket in the ring. Barrett claimed that The Undertaker was finished and at Night of Champions the final nail was put in his coffin. Suddenly lightening hit the casket in the ring; blowing the casket open. The Undertaker sat up and proceeded to lay into Barrett with punches, then set up for the Tombstone but Barrett fled the ring. The Undertaker then challenge Barrett to the match he made famous at the event that made him famous.


WWE Intercontinental Championship - Ladder Match
John Morrison defeated The Miz (c)
via retrieving the championship at 18:02

Since winning the intercontinental championship, The Miz has found his dominating streak again and has managed to defeat every challenge that has come his way. Just before Night of Champions, The Miz claimed that there were no challengers left; until Morrison's music hit and he made his return after a hiatus from WWE action. Morrison earned his shot at The Miz by defeating Cody Rhodes and Christian in a triple threat match, claiming he would not only take The Miz's championship but pay him back for taking him out of the WWE. John Morrison seemed close to gaining the Intercontinental Championship until The Miz cheated to reclaim his championship. John Morrison unhappy, challenged The Miz to face him again and although he declined; SmackDown GM Booker T said that it was only fair Morrison got a non-title shot to prove himself. In another hard fought match, Morrison managed to pin The Miz becoming number one contender again. Wise to The Miz's cheating ways, the former tag partner challenged The Miz to a ladder match but The Miz declined; Booker T once again stepped in and made it that Miz and Morrison would choose two wrestlers to face eachother and whoever won for their respective manager would allow them to choose the stipulation. The Miz thought he was smart by choosing the high flying Hunico to fight for him only for Morrison to stump him by choosing The Great Khali. After Khali dismantled Hunico, Morrison finally got his ladder matcb with The Miz.


WWE World Tag Team Championship - Four Way Elimination Match

Kane and The Big Show (c) defeated Kofi Kingston and R-Truth, Justin Gabriel and Tyson Kidd and The Briscoe Brothers
via pinfall at 14:41 when Kane hit the chokeslam on Jay Briscoe

Still hot of the heels of defeat at the newly realigned monsters; R-Truth and Kofi Kingston were trying to regain their WWE Tag Championships. But Smackdown GM Booker T contested RAW having all of the WWE Tag Title matches by claiming he should be allowed to give his two warring tag teams a shot at the gold.


WWE United States Championship - Singles Match

Kassius Ohno defeated Rey Mysterio (c)
via pinfall at 11:09 when Ohno used The Roaring Elbow

Kassius Ohno made his mark on his debut by getting a clean pin over Santino Marrella; after the match Marrella extended a hand to Ohno who cockily laughed his hand shake off. Ohno continued his streak by gaining a pin over Sin Cara the following week, again continuing his reign of disrespect by spitting in the face of Sin Cara. Rey took exception of Ohno's continuous disrespect and told him to bring a partner next week to face himself and Sin Cara. Ohno managed to get Antonio Cesaro to team with him to face the duo of Mysterio and Cara; where in the match Mysterio gained a pin over Ohno. Tasting his first defeated in the WWE; Ohno not only refused to shake Mysterio's hand but attacked him after the match. RAW GM Mick Foley booked the two in a single match for the US championship at Survivor Series

Traditional Survivor Series Match
Sin Cara, Santino Marella, Scotty Goldman, Ted DiBiase and Alex Shelley defeated Jack Swagger, Hunico, Antonio Cesaro, Drew McIntyre and Heath Slater
via pinfall at 15:30 when Alex Shelley used the superkick on Jack Swagger (Shelley, Cara and Marella survived)

This traditional survivor series match came about when Swagger formed a union of unhappy workers who felt overshadowed by the more "popular" superstars and claimed that both GM's were putting the cool guys on TV over guys who have pure talent. As the week's went on Swagger managed to rally up more and more disgruntled wrestlers, leaving RAW GM Mick Foley and Smackdown GM Booker T to agree to a match that allowed Swagger's union to show what they are about and prove their worth.
Tag Teaming With James Ellsworth
Join Date: Mar 2012
Posts: 1,010
Points: 0
Re: EWR/TEW Discussion Thread
---
After signing Sting, Steph went from loving me to hating me because I signed him from a promotion rated Cult or above and because he's over 35.

Oops.
---
Last edited by kopitelewis; 08-21-2012 at

01:52 PM

.
Tag Teaming With James Ellsworth
Join Date: May 2011
Location: Bristol, United Kingdom
Posts: 1,752
Points: 0
Re: EWR/TEW Discussion Thread
---
I'm a little bit screwed in my game now. In one fell swoop at the end of September, I lost both my TV shows due to complete idiocy on my part.
CZW Zero was running out of contract and I was holding off on renewing it and seeing if I could get to the start of the next month before doing so to see if I was going to get a better TV offer. I didn't make it and the contract ran out on the 30th of September as I totally forgot to renew it. Fuck, but no biggy I thought, as I still have my main show.
Nope. CZW on Fox was cancelled about 4 days later due to poor ratings. Again, I forgot the ratings on it were shit because the market was falling so I forgot to move it down a slot and keep it alive. A great show cancelled. CZW is Arrested Development.
So yeah, I'm running weekly PPVs now and I think they're going to cripple me financially. 0.14 buyrates aren't going to pay Rey Mysterio's contract.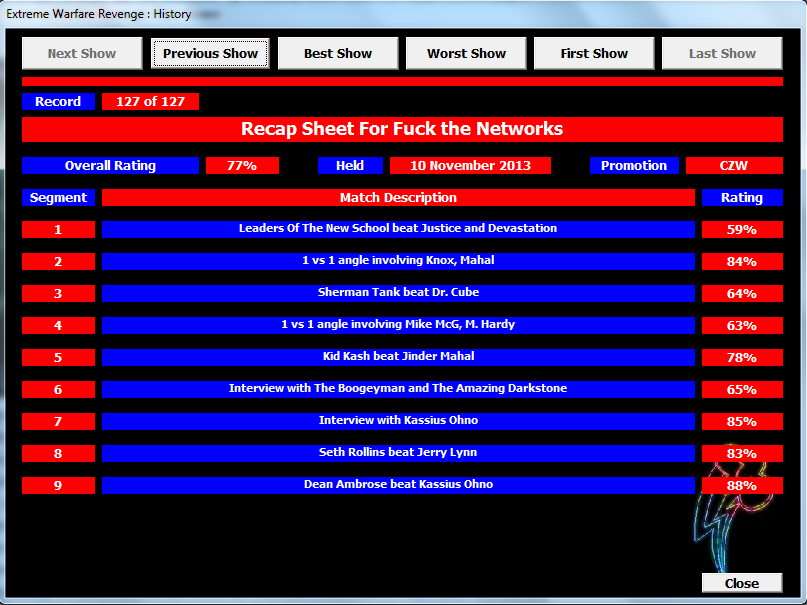 I also forgot to book Mysterio on this show. Good job me.
Winning World titles, Custom Made Clothes
Join Date: Jan 2008
Location: chatbox
Favourite(s): I
Posts: 15,429
Points: 371
Re: EWR/TEW Discussion Thread
---
you're slippin dude. Vince McMahon level dementia setting in.
---

#BELLA&HOOPLA
Re: EWR/TEW Discussion Thread
---
Scrilla, where did you get your WWE background imagery from for EWR?
Tag Teaming With James Ellsworth
Join Date: May 2011
Location: Bristol, United Kingdom
Posts: 1,752
Points: 0
Re: EWR/TEW Discussion Thread
---
Quote:
you're slippin dude. Vince McMahon level dementia setting in.
"CZW? What is that, some kind of breakfast cereal?"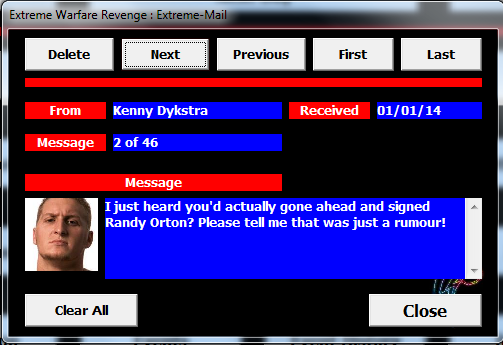 No Kenny, I'm afraid it isn't a rumour. Orton's Christmas present was being released by WWE so he's coming to CZW.
First match will be against Kenny Dykstra
rton
EDIT: First blood match.
rton
rton
Re: EWR/TEW Discussion Thread
---
Quote:
"CZW? What is that, some kind of breakfast cereal?"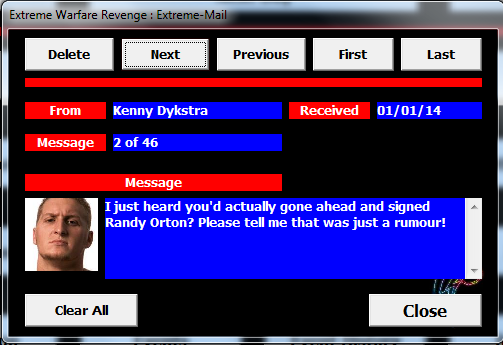 No Kenny, I'm afraid it isn't a rumour. Orton's Christmas present was being released by WWE so he's coming to CZW.
First match will be against Kenny Dykstra
rton
EDIT: First blood match.
rton
rton
Damn man, Mysterio and now Orton? You need to get them in some matches against each other. I've read, on this very forum no less, that they can have a very amazing fight with lots of stunt! It has to be done.
Also "Fuck the Networks" is a pretty hilarious show name.
In my game Big Show and Kane have upset me greatly...
They've only been here 2 months and they were next in line for the UK Tag Team Titles (I incredibly had resisted putting the belts on them almost immediately).
This is not how we do business here in the UK. An example
had
to be made of these two. I had them for one more show before they left, and they won't forgot about it in a hurry. This show was also my return to London for the first time since the London Showdown event 4 months ago, and I'm sure they won't forgot this one in a hurry either.
Mahal and Cesaro are future stars, and the first in line to win my soon to be introduced Euro Tag Team Title. It was
vital
that Show and Kane put them over very strongly. So much so that both matches were instructed to be burials where Cesaro and Mahal both won by knock out.
The next day...
I can already picture it in my head. It's next Monday night and TNA On Your TV is on the air (Impact got cancelled ages ago). An explosion goes off, unfamilar music hits and Tenay shouts out:
"OH MY GOD TAZ! WHAT ARE GLENN JACOBS AND PAUL WIGHT DOING IN THE IMPACT ZONE?!?"
Pfft.
Oh and on an unrelated final note:
Vince must of had a stroke or something for this to go down. Nash must of got paid a lot of dough for this job I'd imagine.
Edit: I've also recently signed Gregory Helms, Seth Rollins and Mike Sanders to the roster. Sanders will be an authority figure mainly. I keep forgetting to book them on the show though and I signed them all 3 weeks ago. I forgot about them so much that I also forgot to mention them in this post the first time round.
Perhaps I should make a stable based on "the bookerman overlooking them" at this point?
---
Last edited by N-Zone; 08-21-2012 at

05:04 PM

.
Re: EWR/TEW Discussion Thread
---
Just got a new show on Wednesday's after NXT was cancelled a long time ago, thinking of making it a all Cruiserweight's show and bringing back the Cruiserweight Title. Does anybody know any good name for it? I'm shite at that kind of thing.

I've signed Adam Cole, Sami Callihan, Chuck Taylor and a few others, plus I can move guys like Gabriel, Evan Bourne, Hunico etc to it aswell.
---
Last edited by DoubleDeckerBar; 08-21-2012 at

05:00 PM

.
Posting Rules

You may not post new threads

You may not post replies

You may not post attachments

You may not edit your posts

---

HTML code is Off

---