Just an FYI: Class of Heroes 2 (for PSP and VITA) presale is April 29 - May 8 ONLY
---
http://www.gaijinworks.com/GW_presale_reg.htm
Only chance to buy a physical copy of the game (unless you want to pay insane prices within a month or two of the UMD release), otherwise it'll be $24.99 on PSN. The physical copy will be $36.99 and will include shipping and come with a download voucher for the game on PSN in case you don't want to open your copy and keep it factory sealed new.
The kickstarter failed, but they garnered enough interest to get it released here. Then they did a preorder tally to see how many people would be interested in ordering. The goal was 2,500 people (they got 3,000) so they are only expecting to sell at most that many. There will be no reprints or another chance to get a new copy from the publisher.
Original kickstarter backers get a special cover, but everyone else gets this one: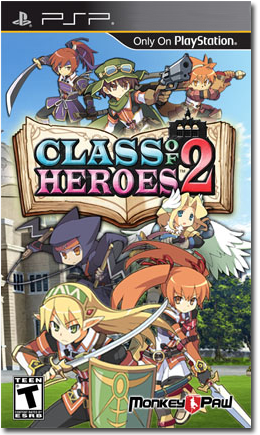 ---
As long as there's a Triforce, there will be a Zelda;
as long as there's a prosperous kingdom, there will be an evil bent on destroying it;
and as long as there's an oppressive force threatening Hyrule, there will be a boy...
in a green tunic, silver shield, and magic blade to stand against it.
Posting Rules

You may not post new threads

You may not post replies

You may not post attachments

You may not edit your posts

---

HTML code is Off

---