We get morons asking the same question week in week out about the same topics. These people never bother to look and see that their questions have been answered many times over.
These are the way I do things, others may have their ways and are free to post alternative methods.
Downloading Videos From YouTube
The easiest way is to use the add-on for Firefox.
Download in HD. (Tutorial borrowed from Demonseye Torrents.)
This is a very easy process all you need is , For this tutorial i am going to download the New Harry Hess Video in 720p
First Signal Featuring Harry Hess - This City
(link Below)
Link For YouTube Downloader HD
http://www.youtubedownloaderhd.com
YouTube Link
Code:
---
http://www.youtube.com/watch?v=eSaNiJjTVRk
---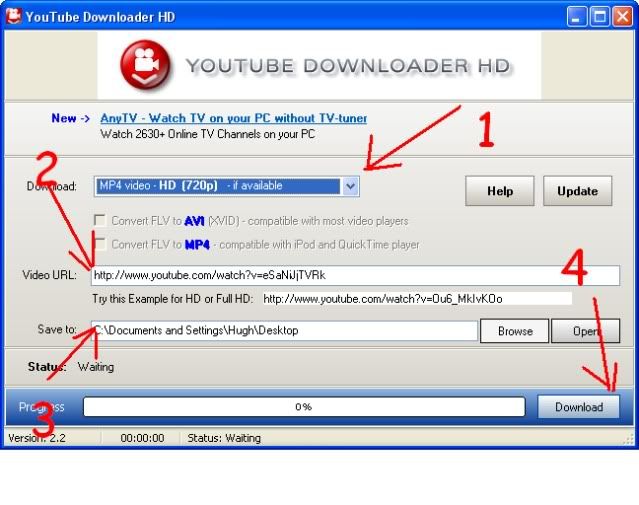 1. Select the resolition you want (for this video the max available is 720P)
2. Copy the link from the top of your browser
3. Select the save location on your hard drive
4. Click Download
Screen Shot Below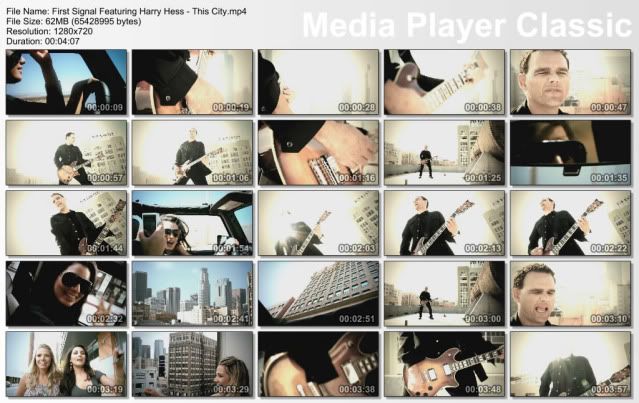 This guide was posted by WWE Star, so credit goes to him.
****How to Rip Videos from WWE.com****
STEP # 1
Download A Software Called SDP from its official site.
http://sdp.ppona.com/zipfiles/SDP2_0_0.zip
(Edit - Jan 29th, 2007) - If that doesn't work, try this site -
http://sdp.ppona.com/
I just did a Google search and hopefully that's the same program.
STEP # 2
Open up the video from WWE.com that you want to rip.
STEP # 3
Right Click On the page and go to view source
STEP # 4
Find The WVX link... For Example
wvx=http://wmsvod.wwe.com/raw/200608/090406dxmcmahon' + speed + '.wmv
STEP # 5
Make some changes
Convert the domain wmsvod to livewms
Convert ' + speed + ' to 300
The Link Becomes like this
http://livewms.wwe.com/raw/200608/09...mcmahon300.wmv
STEP # 6
In SDP, Click OPEN. Paste the link and Click OK. Then click GO, save the file at your desired location, then click Save. The file should start to download.
Enjoy ripping from WWE.com People. :cool:
****How to get Flashes from WWE.com****
Here's how.
Go to WWE.com and find a flash that you want, then right click somewhere on that page, then go to View Source and find this bit of info, var so = new SWFObject("/content/media/touts/medium/29068/2563764", you just need this part of the info, /content/media/touts/medium/29068/2563764, then add this
http://www.wwe.com
in the front of it, then it should become like this.
http://www.wwe.com/content/media/tou.../29068/2563764
And there's the flash.
Using Winrar files
Winrar is a compression program, similar to Winzip. You cannot change the file. All you need to do is open it using Winrar. If you do not have Winrar you can obtain it
here
. Winrar requires all the files to operate correctly. If one file is damaged or corrupt you won't be able to open any of them.
Ripping DVDs to your PC
DVD Decrypter will rip encrypted DVD video files onto your hard drive for further processing. It removes region code protection and macrovision.
You can download it
here
. The site in the link also gives you a guide on how to use it.
The files will be saved to your computer as DVD files. You'll need a another converter, not sure which one, to convert them to an AVI/MPEG file if that's what you want it for. I only use it to rip movies then burn them to DVD.
Burning DVDs
Some people use
DVD Shrink
in conjunction with Nero. I personally don't like it and prefer to use
CloneDVD
and
AnyDVD
. Neither program is free, nor is Nero for that matter, but you get a full 21 day trial usage from their main site. If you decide you like them they are easy available through P2P sites with working cracks.
Clone DVD enables you to choose what features from a DVD you wish to copy - audio and video - then lets you burn using the one program, unlike the DVDShrink/Nero combo. You can set it read and write, come back in 20 minutes and it's all done with a few mouse clicks. Why use 2 programs when you can use one.
Clone DVD also compresses the files to fit on a standard 4.7GB DVD. AnyDVD runs in the background and removes encryption.
Their program CloneCD is good for burning Playstation games as well as audio CDs.
Video & Audio Codecs
People have posted they downloaded a video and they get sound but no picture. You might need additional codecs. Free-codecs has all you'll need, but the most popular is the
K-Lite Codec Pack
. The Full Version, 7th down on the list, is an 18.6MB file but has all the codecs you'll need.
You can also use the
VLC
media player which will play most video files, as is.
Anti-Virus
If you use the internet and don't use anti-virus you are asking for trouble.
AVG Free
offer a free and reliable anti-virus that has regular updates.
Spyware & Adware.
The following programs -
Spybot
and
Ad-Aware
are 2 very popular programs.
There are better ones available but these 2 are free and widely used.
Cleaning Cookies and History
CCleaner
is a free cleaner that cleans Internet Explorer Cache, History, Cookies, Index.dat.
Recycle Bin, Temporary files and Log files, recently opened URLs and files.
No-one will know where you've been surfing. :D
Once you run this program you will have to re-login to sites like this so make sure your usernames and passwords are up to date.
HijackThis
This program is for advanced users, You could quite easily remove something important from your registry which could result in the need to format your computer. Trust me, been there done that.
HijackThis
is a general homepage hijackers detector and remover. It will hopefully remove nasty things that Ad-aware and Spybot can't.
Install the program and run it. Save the log file, then post the log file on
this site
. This will then scan your log file and tell what needs to be removed. Be careful with it though.
Using Torrents With BitLord.
As with the other threads I've done in the past, this is the way I do things as it works for me. It's not the absolute right or wrong way to do things. As long as you download the torrents that's all that matters. If anyone feels like doing a thread for another torrent client I'll be happy to add it to this one.
My torrent client is BitLord. You can obtain it
here.
.
I use version 1.1, never bothered with the Pro version. No idea why.
Download and install the program. Once you've opened it, click on
Preferences
, located on the far right of the top toolbar.
Set your upload and download speeds. I have my downloads set to Unlimited, and because of my slow uploads and limited bandwidth I have my upload speed at 3kB/s.
Click
Task
and set your destination folder.
Now you are ready to roll.
Visit a torrent site, I'll use
Mininova.org
as an example.
You can either browse the site, or do a search. In this case we'll search for Stone Sour.
Here are the results.
In the far right column you will see Seeds & Leechers. Generally the more seeds the better. A Seed is someone who is sharing the file completely. A Leecher is someone who is currently downloading the file.
Click the small green arrow next to the torrent file you want, and it will give you the option of Opening the torrent file or Saving it. I never bother saving them, I just open them.
Bitlord will open as your default torrent client, and this will appear.
You can leave all the boxes checked, and it will download all the files, or you can selected which files you want. You don't have to download the entire file if you don't need it.
Click OK and the file will start to download. Torrents can start off slowly then they move faster.
You can the right-click the downloading file, and set the priority to High, Normal or Low. I always set mine at High.
As you can see below, the torrent had 31 seeds and was downloading at a rate of 391kB/s. Nice and fast.:D
Once the task is finished, you'll see an orange arrow. You can either close the program; remove the task and close the program; or seed the file for other users.
Not all torrents download that quick. It depends on how many seeds there are, the upload speed of those seeders and the tracker that is used. Some people seed their original torrents slowly which forces leechers to share more.
Try to download a file that has a few seeds. If you have no seeds you will not get the file, simple as that.
Here's a listing of other torrent sites you can try.
www.mininova.org
www.torrentspy.com
www.isohunt.com
For detailed list,
check here.
There are many torrent sites out there.
If you have any further questions, don't hesitate to post them. Don't post other torrent sites just for the sake it.
If I think of any more I'll add them.