Re: How can anyone hate Ryback?
---
I think that people either hate or just don't like Ryback too much because of all this comparing with Goldberg.He's not Goldberg,and he's not ever gonna be.

If you see Ryback without trying to compare him with someone,then you can have a crystal clear opinion.Personaly i don't hate him but i don't like him either.
---
""Real life is faker than pro wrestling."
-Mick Foley
Re: How can anyone hate Ryback?
---
I actually find Ryback's matches entertaining sometimes, and while I think there was some sloppy booking involved, the event desperately needed someone new and he fills this role well. That being said, the guy's moveset isn't far off from someone like Khali in my opinion, big guy that just does clotheslines, that thing where he bangs your head on the mat, and the Shell Shock - you'd expect something cooler from a dude so big.

Also, the fact that they are thrusting this dude into the main event while also protecting his sloppy in ring work and his inability to wrestle a 10 minute match, well it feels wrong lol. Add the Goldberg stuff to him, and there you go. Goldberg pretty much played that character as best as you possibly can, hate it or love it, Ryback is really re-hashing it.

I'll be the first to admit that this guy is put under a microscrope by the IWC, he probably doesn't care as he continues to get a monster push and he is starting to get over (although smarks still give him the Goldberg chants lol).
Crumbled
Join Date: Jun 2011
Location: Infraction City
Posts: 12,539
Points: 0
Re: How can anyone hate Ryback?
---
Quote:
Ah the excuses.

"He can't talk on the mic" Neither can Brock or Goldberg or IWC favs like Benoit, Shelton or currently Tyson Kidd. His character isn't supposed to talk.

"He can't wrestle" Depends what's your definition of "wrestling". Newsflash: it ain't just about putting on 4-5 star technical/high-flying classics.

"He's overpushed" So was Brock, Sheamus, ADR, Austin Aries, etc. It's not like he's won a belt yet. Plus he hasn't won a PPV match in how long? So technically he isn't overpushed.

"He gets gassed; can't work long minutes" Tell me when guys like Kane worked "long matches" besides with Taker and Benoit. Warrior, Goldberg, Batista to an extent also.
Brock Lesnar was a freak of nature. Had the look of a main eventer, yet moved in the ring quicker than anyone his size. Was a superb wrestler and looked a legit badass.
Goldberg had an aura about him. A silent charisma where he simply didn't need to talk. Plus I found him a lot more entertaining in the ring than Ryback, he was probably more agile too. Another freak of nature, freakish strength. One of a kind.
You're right those were over pushed but in case you didn't realise del Rio and Sheamus were fucking hated on this board. Brock was getting Goldberg chants for months, then The Rock put him over and Lesnar became a legit main eventer. They did it so perfectly with Brock, back when the writers were some what creative and patient.
Re: How can anyone hate Ryback?
---
lol Ryback is a beast. Indy loving little smarks love to hate on buff guys no matter how much they deny it.
Moron
Join Date: Dec 2011
Posts: 2,045
Points: 0
Re: How can anyone hate Ryback?
---
Is this a thread to find ways to turn him heel?
Re: How can anyone hate Ryback?
---
i'm not a fan of the 'big guy' look, lets just get that out of the way.
HOWEVER
thats not the reason why I don't like him. Its his lack of stamina and charisma that turns me right off him. he looks awkward and clumsy, he is terrible on the mic, he has a very limited moveset and he naps at any given opportunity if there is an available table to go through.
also his faces...they are funny...but i don't think thats the point that vince wants us to get.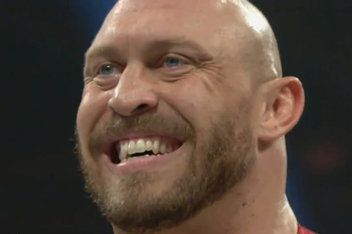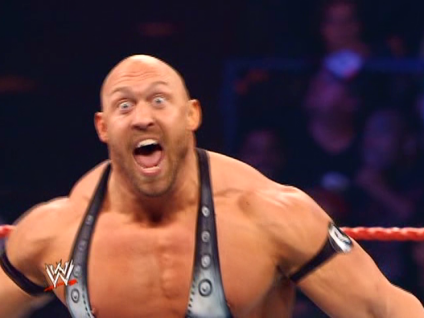 I prefer Big E. he doesn't play "Mr big monster RAAAWWRR no 4532214". he plays a cocky, unscrupulous bad guy that just happens to be big.
---
TEAM AMBROSE
Re: How can anyone hate Ryback?
---
I dont Ryback because he sucks in all facets. He cant cut a promo and cant have a decent match. Im sure most of you have noticed that in most his ppv matches he usually gets attacked and has his lil 10 breather like the triple threat and the TLC match. Thing is guy has been booked perfectly but what I hate is that I understand hiding someones weakness. Like having Orton talk less on the mic or giving someone shorter matches but for Ryback it just seems they have to hide everything. Last Raw when everyone was coming out and giving their case, did Ryback do so at all no. you even had PTP on the mic but yet Ryback ran out with all the jobbers just so he wouldnt talk?

ive just never saw someone get this kinda push before. he squashes 100 pound Indy jobbers for Weeks upon Weeks then moves onto WWE jobbers and somehow he then gets a title shot against the best wrestler in WWE atm.he just seems so forced, he chants Feed Me More till the crowd start everytime he has the mic. You have DB who got super over naturally and is far superior in every way yet is stuck doing comedy. Overall I just dont get it, I thought it was either ringwork,mic work or you had loads of charisma which warranted pushes. Ryback.doesnt have any of those so it it just looks that get you pushes now.
---

Undead Legion 4 Life
Sig by @CJ
Re: How can anyone hate Ryback?
---
Quote:
lol Ryback is a beast. Indy loving little smarks love to hate on buff guys no matter how much they deny it.
I guess the opposite would be loving buff guys no matter how much I deny it
I think I'm comfortable with my choice
---
PS4 - BeerMonkeyPlays

fav 5 - Rollins, Ambrose, Bray Wyatt, Lesnar, Cesaro

Cant stand - Cena, Reigns, Hornswoggle, Los Matadoes

ALL time - Stone cold, Undertaker, HHH, Shawn micheals, Punk

Im the REAL H2O Delirious
Posting Rules

You may not post new threads

You may not post replies

You may not post attachments

You may not edit your posts

---

HTML code is Off

---