Main Event + 4/25 Smackdown Spoilers
---
http://wrestlinginc.com/wi/news/2014...wwe-smackdown/
Quote:
DARK MATCH:

1. Bo Dallas beat a local wrestler. The match was held prior to the Smackdown taping. The local wrestler was Mike Mondo or Mike Mundo (our reports vary) and he was billed as being from Hershey. Dallas won with a double-arm DDT.

2. Sami Zayn pinned Heath Slater. This match was held after the WWE Main Event taping (it aired on a short delay on WWE Network).

SMACKDOWN:

* SmackDown opens up with Vickie Guerrero, Cesaro, Jack Swagger, Paul Heyman and Zeb Colter in the ring. There are two podiums set up. Vickie announces the main event tonight will be The Shield vs. 11 other Superstars. She then announces The Great Debate between Heyman and Zeb. Zeb says he wants to debate with Cesaro on turning his back. Zeb asks Heyman why he stole Cesaro. Heyman says Brock Lesnar ended The Streak about 20 times. Zeb asks again why he stole Cesaro. Heyman asks when was the last time a Zeb Colter Guy won. He said by the time Cesaro won the Andre the Giant Memorial Battle Royal, he was already a Heyman Guy. Zeb pushes over the podium and shoves Heyman. They start to get into it but are broken up.

* Cesaro defeated Jack Swagger with The Neutralizer. After the match, The Shield's music hits and they come out. Roman Reigns hits a Superman punch on Swagger and then they hit him with the triple powerbomb. Dean Ambrose said it looked like Swagger failed to adapt.

* Tamina Snuka defeated Natalya with a kick that was botched. This match was described as not smooth at all.

* Backstage segment with 3MB talking about how they are in tonight's main event. The Shield shows up and destroys them.

* Vickie Guerrero is backstage in her office on the phone with Triple H. He asks her about The Shield. She says she called them to her office but they didn't come. Triple H tells her to take the night off and in comes Brad Maddox.

* Curtis Axel defeated Jey Uso.

* The Wyatt Family comes out and cuts a promo inside a steel cage that's lowered. Bray Wyatt talks about John Cena and gets the crowd to sing "whole world in his hands" with him.

* Erick Rowan and Luke Harper defeated Cody Rhodes and Goldust. During the match, Bray taunted the crowd and asked them if they are unimpressed with what we see from the Rhodes brothers, saying they are not the future. Cody goes for a moonsault but Goldust runs into him. Goldust gets upset, leading to him getting pinned.

* Backstage segment with Brad Maddox on the phone. The Shield comes in and destroys him. Ambrose jumps on Maddox behind the couch and beats him some more.

* Emma and Santino Marella vs. Layla and Fandango is up next. The match never starts as while Fandango is dancing on the stage, The Shield attacks him. Fandango takes a triple powerbomb off the stage, through two tables. A "this is awesome" chant starts up.

* The Shield vs. Titus O'Neil, Ryback, Alberto Del Rio, Damien Sandow, Bad News Barrett and Curtis Axel is next. The Sheild ends up clearing the ring except for Barrett, who ran to the back Axel takes a Superman punch. Sandow takes a spear and The Shield wins the match. Ryback and Titus also get speared. Ryback takes the triple powerbomb. The Shield stand tall in the ring.

MAIN DARK SEGMENT:

The Shield fought with The Wyatts
http://www.prowrestling.net/article....and-more-36790
Quote:
-The lights were off when "EXCUSE ME" rang through the Giant Center. It was easily the loudest heat I have heard in a looooong time.

-The only thing the crowd really boo'ed Paul Heyman about during his allotted debate time was the first time he mentioned his client "Brrrroock LLLLesnar" being the 1 in 21-1. He then proceeded to say it again and again and again about 8-9 times, and the crowd was completely into it and laughing it up the whole time. The crowd was then cracking up BIG TIME when he mentioned his new client, Cesaro, won the Andre the Giant Memorial Battle Royal-at least 15 times.

-Many Audible ECW and Paul-E chants during that segment.

-Oddly enough, nobody really got behind Cesaro in the way I think WWE wanted them to during the course of the opening match, but when the end seemed to be imminent, a King of Swing chant started up and the place went nuts for the Giant Swing/Neutralizer finish.

-The Shield came out to easily the biggest reaction of the night, and laid the Smackdown on Jack Swagger.

-After Dean Ambrose said they weren't finished, the crowd was visibly looking to the stage/audience steps for them throughout the rest of the show.

-Bray Wyatt is just so incredibly gifted on the microphone, he cuts the best promo hands down - not just currently, but may be top 5 all time in my honest opinion. He had the crowd in the palm of his hand, and the WHOLE arena was singing along with him at the end. Awesome.

-Loud "This is Awesome" and "Holy Shit" chant for Fandango being Triple Powerbombed off the stage.

-During the main event, a very loud CM punk chant started up, to which Ryback turned to the crowd and yelled "SHUT UP". Funny.

Overall, it was a very enjoyable edition of Smackdown, regardless of the lack of star power. The very selfish part of me was disappointed that Bryan wasn't there, but I completely understand why he wasn't and my thoughts and prayers go out to him and his.

Biggest Pops:
1. The Shield, and it wasn't even close
2. Paul Heyman, Cesaro
3. JBL

Biggest Heat:
1. Vickie-and again, not even close.
2. Zeb Colter
3. Ryback/Axel
Hershey, PA (7 ET PM, 4 PT PM)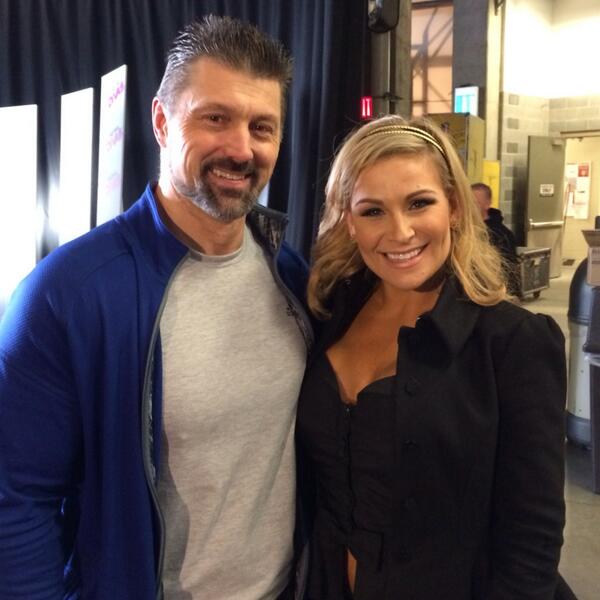 Steve Blackman hanging out backstage
Also Steel Cage hanging above the ring:
http://www.wrestlezone.com/news/4712...ackdown-taping
---
---
Last edited by JY57; 04-23-2014 at

12:29 PM

.
Moron
Join Date: Apr 2013
Posts: 1,657
Points: 0
Re: Main Event + 4/25 Smackdown Spoilers
---
Main Event card still hasn't been announced.
Re: Main Event + 4/25 Smackdown Spoilers
---
Quote:
Tonight at 8 ET
A MAIN EVENT OF EPIC PROPORTIONS
Tonight on WWE Main Event, the heated rivalry between Hornswoggle and El Torito takes center stage as the pint-sized WWE Superstars face off in tonight's featured contest! Don't miss the action, live at 8/7 p.m. CT only on WWE Network!
-
---
Moron
Join Date: Apr 2013
Posts: 1,657
Points: 0
Re: Main Event + 4/25 Smackdown Spoilers
---
I was happier before the Main Event card was announced.
Moron
Join Date: Dec 2013
Location: England
Posts: 1,599
Points: 2,472
Re: Main Event + 4/25 Smackdown Spoilers
---
Are they fucking serious?
Re: Main Event + 4/25 Smackdown Spoilers
---
might have to watch main event this week
---
Moron
Join Date: Apr 2013
Posts: 1,657
Points: 0
Re: Main Event + 4/25 Smackdown Spoilers
---
After this feud concludes, Swagger should be buried by losing to El Torito clean.
Trying to Impress Vince McMahon
Join Date: Jul 2009
Posts: 6,394
Points: 5,560
Moron
Join Date: Apr 2013
Posts: 1,657
Points: 0
Re: Main Event + 4/25 Smackdown Spoilers
---
Big E vs Del Rio wasn't bad. Hopefully this midget match is quick.
Trying to Impress Vince McMahon
Join Date: Jul 2009
Posts: 6,394
Points: 5,560
Posting Rules

You may not post new threads

You may not post replies

You may not post attachments

You may not edit your posts

---

HTML code is Off

---