| | |
| --- | --- |
| STEVE E. DANGEROUSLY | 02-19-2013 04:13 PM |
---
Jump the bandwagon, join the Cenation.

Join the Cenation now, and don't regret later. Jump the bandwagon right now, its not too late yet. Why? Okay, I'll educate you a bit.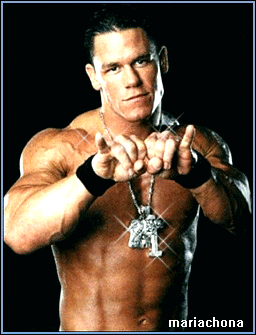 I just dont understand where to start from, the leader of Cenation reeks awesomeness all over. Okay, lets start with his theme song.



Uh sorry, that wasn't the video I was talking about. I was speaking about his theme song, I mean his real theme song. Anyone who's familiar with pro wrestling has heard Cena's theme atleast once. And the funny part is, nobody knows what he exactly shouts in the beginning. :cena2 It sounds like apple pie or something like that. Nevermind, the song's real awesome so it doesn't really matter. Moving on..

"He is one of the greatest of all time", quoting the real GOAT from this past Raw. :rock Yeah, he definitely is. I'll tell you why




This man is about principles, this man is about honor. And his motto of life is HUSTLE, LOYALTY and RESPECT. He's a real good guy who is loyal to his fans and his business, which is why he is still standing strong even after 10 years. He also encourages people to show tolerance and respect and be a STAR and not a BULLY. Sorry, Bully. :cena2




He depushes guys, but that's because he doesn't want to lose the top spot. He's too loyal to that spot. And LOYALTY my friend, is one third of his motto of life. And I heard he's quite loyal to Kendra Lust nowadays. :cena2

Unlike other guys, he doesn't whine or bitch about losing, he just smiles. And smiles. And smiles. :cena3




Speaking of losing, John Cena hardly loses. He has won 12 World Championships with just 5 moves. Can your favorite superstar do that? NOPE! :cena3




When it comes to in-ring skills, this man can go toe to toe with LEGENDS.... like Hulk Hogan and Ultimate Warrior. :cena





And that's not it, there's plenty of such epic videos on Youtube, its just that I'm too lazy to link them. Moving from ring skills to mic skills. Cena's got some epic mic skills, and no one can argue about that.



Yeah. And here's another look at the same promo. This one's specially for Blue and all the cumshop fanatics :cena2



Apart from being solid on the mic and in the ring, he is also a marketable face. Look at this guy, he's one of the most handsome and sexiest guys to step foot in this business.




They say he also has a nice ass :cena3



:datass

I guess you now know quite a lot about the hip hop version of Sgt. Slaughter. Now moving from the Cenation leader, to the Cenation!


Okay, you might agree with me by now that John Cena is indeed great. But then you might also ask me, 'Why join the Cenation?'
Well there's one solid reason.
We've got the John Cena Garden Gnomes! :mark:
We, the members of Cenation don't need to worry about bad storylines, bad booking or poor outcomes. Cause we know that no matter what, our favourite superstar overcomes the odds. :cena3
Well guess what? I've got some huge spoilers regarding John Cena. Fuck Meltzer, the report you are about to read isn't confirmed by Wrestling Observer or Meltzer or anybody else but believe me, its 100% true.
See? That's what happens when you're a member of Cenation, you're confident about your leader. And even you people know that the thing written in the spoiler tag is true. See, even an Anti-Cena guy believes in Cena now. :cena3
Everyone knows that Wrestlemania is just 6 weeks away from now. Which means we are just six weeks away from another John Cena title reign! :mark: And on that night, the forum's gonna crash. DATABASE ERRORS. DATABASE ERRORS EVERYWHERE. People will whine. People will bitch. People will cry and upload those sick reaction videos on Youtube. People will moan. People will be totally pissed when Cena wins his 11th WWE title. And that's when we, the members of Cenation will be rejoicing and dancing in joy. We will be celebrating our hero's victory while you people do what you do best - bitch about it. We will be laughing at your meltdowns and you won't be able to do anything about it.
Ah wait, there's one thing which you can do. Jump the bandwagon. :cena2
Join the Cenation!
Let's Go Cena!
Let's Go Cena!
Let's Go Cena!
:cena3
fin. :cena