| | |
| --- | --- |
| BULLY | 09-25-2012 04:23 PM |
---
Why be a real sports fan when you can just...

Quote:
---
Originally Posted by Samantha™ (Post 12060210)
Ok?? I stopped being a raider fan days ago..
---
Quote:
---
Originally Posted by Samantha™ (Post 12060438)
Tha fuck??? I had my reason's why I switched teams,ok.You people act like I cheated on my husband or like I switched from being christian to worshiping satan or something.It's a sport I don't take it as serious as you guys, stop hating on me for switching teams.Yeah I'm not a true sports fan.:rolleyes:
---
Quote:
---
Originally Posted by Headliner (Post 12060801)
So you guys are jumping on her because she's not a diehard sports fan and isn't as invested into teams as real sports fans are. Sounds pretty stupid.
---
Yehnah you're right headliner, you can support who you want to support, that's your right. But hang on a minute, if the entire world thought like this wouldn't that mean?? Yes, That's right the entire world would be supporting this team:
That's right everyone, this is the only team worth supporting. Man overboard. if everyone had this stinking way of thinking, every team that has rough patches would lose their fans, lose their members, noone would buy their merchandise, noone would go to their games, and every team would just die out like the dinosaurs.
For me personally, the greatest ever moment was when Australia qualified for the world cup after years and years of disappointment.
Now if I was a bandwagoner, I could just barrack for a team like Brazil who always does well. Oh Brazil just qualified again. yay.
Don't follow football? That's okay, just replace football with the team that you follow it doesn't matter, only the team that is successful would be able to stay afloat, whilst the others would drown in a sea of mediocrity. GLUG GLUG GLUG.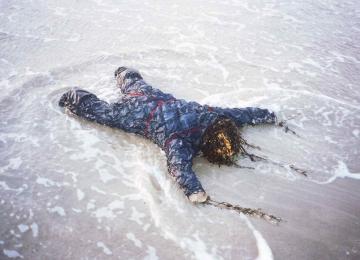 In closing, don't be a dirty bandwagoner. Sure there are going to be times when your team doesn't do well and you are going to get constant ribbing by your mates. But take it from me, when they finally do make it, it will be well worth it.