Learning to break kayfabe
Join Date: Nov 2012
Posts: 148
Points: 60
Re: Indy Wrestler Question
---
Being in the business for a couple years I can tell you it isn't easy for most guys, many have other work besides wrestling (some are construction workers, some are bartenders, bouncers, factory workers, etc. you name it. Granted the indy I worked with wasn't prominent and I was on the very bottom as far as pay. The most I ever got payed for a show was $80, other times it was zilch and just to gain experience and "pay my dues" but it definitely was not enough to make a living on if you did 1 show per week. I know some of the other guys took home higher amounts. At the time (2000-2002) Jake and Honky took home from between 1k-2k per night and would try to work twice a week at various promotions and at the time they were a couple of the higher paid guys on the indy scene, you can make a decent living off of that. So really it depends, for anyone just starting out its going to be peanuts and some of the more prominent guys can make a decent living if they're smart with the money.
Re: Indy Wrestler Question
---
We get paid very little. Of course, the bigger names make like $500-$1,000 per show. Chris Masters is $500 a show, just to put an idea of how much indy workers make. Someone like myself gets about $50 a show, depending on draw and how the promoter views you as an asset.
---
Get
SUEDED
with some
SUEDERADE
Twitter - @SuedeThompson
http://www.youtube.com/watch?v=d2XSio6N-Uw
Mid-Card Champion
Join Date: May 2009
Posts: 5,661
Points: 3,232
Re: Indy Wrestler Question
---
I would say Colt is one of few, someone who has big name status and probably earns upwards of $250 per show/session and can possibly get at least 3 or 4 bookings per week, as well as having highly publicized roles in other ventures such as 5 dollar wrestling, the advertisements on his website/podcasts and other things I'm sure.

Hey think of it, if you're working 2 nights locally at $50 a pop then you're earning decent money in the modern indy world I would suspect. I've read people travelling hundreds of miles to do 5 minute match for $15. Have to love the sport!
Re: Indy Wrestler Question
---
Damn I didn't know it was that bad, but then again WWE top guys don't make much compare to their work schedule and other major sports athletes.
Re: Indy Wrestler Question
---
Quote:
Hey guys, I was just wondering what the life of an indy wrestler is like. For example if anybody had an idea of how much they earn and if they make a living by wrestling..
Depends, top tier guys can charge a couple hundred to a thousand dollars depending on the opponent, the house, whether they blade/do hardcore stuff.
Quote:
I have a huge doubt for the like of Necro Butcher and Colt cabana, if they can retire knowing they´re economically safe....
You'd be surprised with Necro. With hardcore/light tube matches, Necro can command top dollar because promoters know people will show up just to see him.
---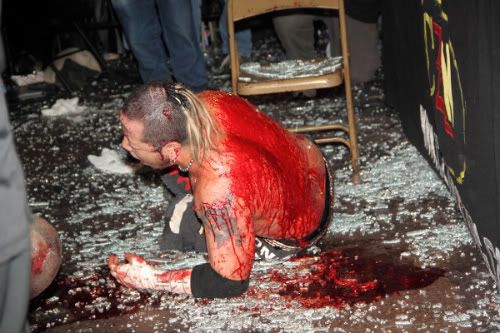 Jun Kasai > You
Re: Indy Wrestler Question
---
On the indies, the more you work and the bigger your name, the more you get paid.
---
Posting Rules

You may not post new threads

You may not post replies

You may not post attachments

You may not edit your posts

---

HTML code is Off

---