Re: CZW's Brain Damage Passes Away
---
Quote:
I'm having a hard time understanding what emotion that smiley is trying to convey.
It's more of a "meh" I agree with you.
---
Hit me up on that Twitta Muhchine @LTxDJK
Re: CZW's Brain Damage Passes Away
---
R.I.P
Asking JAMES ELLSWORTH for Wrestling Advice
Join Date: Mar 2012
Posts: 303
Points: 0
Re: CZW's Brain Damage Passes Away
---
Quote:
He was hardly active. He wrestled one match with them a year ago and did I can't remember the last time he wrestled with them before that.

I'm honestly not even sure if working CZW is all that more dangerous than doing other shows. CZW has one show a month and they average 2 death matches per-show (some are all death matches and some have 1. It's not like the same guys are working all the death matches so in actuallity the guys there are working a death match every other month tops. I'm not sure if that's a bigger strain than being on the road all the time and wrestling 4 or 5 times a week in WWE.

Wrestlers are dying from just about every company. I don't think there really is one style that contributes to wrestlers dying more than an another.
Like I mentioned above, the only guy that actually died from anything that could be remotely related to his in-ring antics was JC Bailey. Joe Bailey, JC's dad, puts the blame on Ian Rotten for getting JC into deathmatch wrestling in the first place. THAT was an amusing interview...
Re: CZW's Brain Damage Passes Away
---
Just heard about it now. From what I've seen, it appears he killed himself. Drake Younger said on his facebook page that Damage had a lot of problems with addiction, so I'm guessing that played more of a part than any wrestling did.
---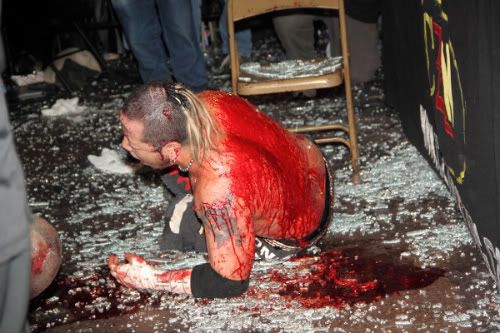 Jun Kasai > You
Re: CZW's Brain Damage Passes Away
---
If him wrestling for CZW had anything to do with it than every BJW guy ever would be dead in 2 months of their wrestling schedule where they wrestle atleast 3 times a week and the same guys doing deathmatches.
Heel Turn on James Ellsworth
Join Date: Jun 2011
Location: @MATTHARDYBRAND.COM
Posts: 2,297
Points: 112
Re: CZW's Brain Damage Passes Away
---
My thoughts and prayers go out to Brain Damage and his loved ones.
---


I
for Matt Hardy (A Matt Hardy guy since '99):
https://twitter.com/MATTHARDYBRAND
WWE-TNA-DragonGate-Toryumon-FMW-MPro-AAA-LU-WCW-ECW
Playing Backstage Politics
Join Date: Jul 2011
Location: Far Away From Uncle Ole
Posts: 13,332
Points: 2,870
Re: CZW's Brain Damage Passes Away
---
Not sure if this is correct but didn't Brain Damage used to be a school teacher?

I might be wrong but it was a deathmatch worker from the past 5 years who was a school teacher and I thought it was him.


As far as the addiction goes, indy's don't do drug testing. They have to enforce the rules on their own, big reason why Trent Acid got kicked out of a few indy's before he got locked up. It sucks what the guys put themselves through but at least Vince is making an effort to keep his guys clean and help out his former employees overcome addiction.

But then again, BD could have had those demons before he began wrestling. Nothing can get so bad where you have to commit suicide, it's not worth putting your family through the grief.
---
Re: CZW's Brain Damage Passes Away
---
An unfortunate and tragic loss of a young man. As others have said, he was one of the most believable babasses on the deathmatch scene, and will be missed. Since the tributes started pouring in, Iíve been quite surprised by the amount of people saying he was a gentle, humbe and respectful guy outside of the ring. It just shows you how good he was in that he could make us all believe that he was the complete opposite of that when he got in the ring.
Quote:
Shit, I saw him wrestle in person less than a year ago I think. Scary that he's just gone now.
Was this his match against Matt Tremont back at the arena by any chance? Iíve seen a couple of wrestlers in action live that have since passed away (Eddie Guerrero, Chris Benoit, Trent Acid) but once I actually met, shook hands and posed for photos with a wrestler who is no longer with us. It was Bison Smith, who wrestled extensively for NOAH in Japan. It certainly gives an eerie feeling, looking back at the photo.
Quote:
Am I the only one not surprised to read someone died young, and is a current CZW wrestler? Is anyone else seeing the connection here.
He hadnít wrestled for CZW for almost a year.
Quote:
Brain Damage should've done what Dean Ambrose did and got out while he could.
And done what? Get signed by Vince? Are you mental? Shouldnít every wrestler in the whole wide world just do that, if itís that simple? Should he have just sacked CZW off and headlined Wrestlemanina? Ambrose would still be going on the indies if he hadnít have had the amazing fortune of being picked up by the WWE.
Brain Damage was a straight up deathmatch guy. He chose his style and worked as stiff and tough as hell. Can you really see him fitting into mainstream wrestling? Itís not right to try to paint deathmatch wrestlers of victims of the promotions. They donít have to do it. They chose to be involved with the style. Some people, like Mad Man Pondo have been doing it relatively safely since the 90ís.
---
Re: CZW's Brain Damage Passes Away
---
Wow this is absolutely terrible news. I instantly become a fan of his the first time I watched CZW (TOD 9), he just looked so badass and had a great presence. He could legit make you believe he knocked someone out with a right hand.

Even though he apparantly retired and wasn't going to wrestle anymore anyway I'll still miss him in a wrestling ring. I actually thought he was in jail, but this is way worse.
---
Go suck a dick, bitch.
Join Date: Jul 2006
Location: Hugh Jackman's pants
Favourite(s): Rowdy Roddy Piper
Posts: 10,203
Points: 5,066
Re: CZW's Brain Damage Passes Away
---
Quote:
Dude was a pure beast. As unstoppable as an ultraviolent star gets.

"With a last name like Damage, you almost have to name your kid Brain, right?" - Eric Gargiulo(?)

R.I.P. man, thanks for your work over the years.
I hope that idiot knows Brain Damage was just his wrestling name.
---
Posting Rules

You may not post new threads

You may not post replies

You may not post attachments

You may not edit your posts

---

HTML code is Off

---