Making James Ellsworth GET MY BAGS
Join Date: Jun 2006
Location: Melbourne, Australia
Posts: 4,185
Points: 243
Re: ROH "Death Before Dishonor X" - 9/15/12 Chicago Ridge, IL
---
But Gabe has more problems to worry about rather than nobody buying his iPPV because their scared of buying iPPVs.. He should probably look at getting people interested in his product and actually drawing decent crowds on a regular basis.
Re: ROH "Death Before Dishonor X" - 9/15/12 Chicago Ridge, IL
---
Maybe this will force ROH to pull back and reconsider its business model? If that's what comes from this, then perhaps it's a blessing in disguise. They should consider keeping the DVD business and building it back up to the point where it's profitable. Of course, that would expose the much larger problem that is the quality of their shows. Which isn't that good, unfortunately. Nobody's going to go out of their way to buy these DVDs, and if they won't pay $15 to watch it on their own (and guaranteed to work), then why would they take a gamble and pay $15 for the iPPV stream? Fact is, ROH really pushed themselves back in their heydey, and they always busted their asses to push the envelope. Can't say the same for them right now. I understand that they're trying to build stars, but being honest with yourself, you can sort of tell who's going to be a big deal and who isn't. Of their current crop, I think Coleman and Alexander, Cole, O'Reilly, ACH and a few others have a chance to blow up. Elgin's already positioning himself for an ROH Title run, and he's still young.

I dunno, it's like being a Cubs fan this year. There's not a lot of actual name talent there, but you can tell they're in the process of rebuilding and it's still a question whether or not it's going to take hold or if it's going to fail and force them to blow it up all over again. I think the first thing ROH needs to do, though, is ask themselves the question of why haven't been so successful and take it from there. There's honestly no reason that a Chicago crowd should be dead for a span or two or three matches, as it was during the last couple before the main event. They need to remember what it took to get the original guys over with the crowd, because a lot of the current roster simply does not make a connection with the crowd. Honestly, that's all it takes to turn chicken shit into chicken salad. (Would PWG shows be half as good without the always-lively Reseda crowds?)
Re: ROH "Death Before Dishonor X" - 9/15/12 Chicago Ridge, IL
---
BTW Martini's hair was one of the best things in the show.
---
Cutting a Shoot Promo To Get Over
Join Date: Mar 2010
Location: Saskatchewan
Posts: 7,975
Points: 9,172
Re: ROH "Death Before Dishonor X" - 9/15/12 Chicago Ridge, IL
---
To say my interest in ROH has wained in the last year would be a major understatement. I barely follow the product at all. I kind of keep up to date and follow what's happening on the internet, but I don't actually watch much ROH these days.

The iPPV problems just add to my disinterest.
Re: ROH "Death Before Dishonor X" - 9/15/12 Chicago Ridge, IL
---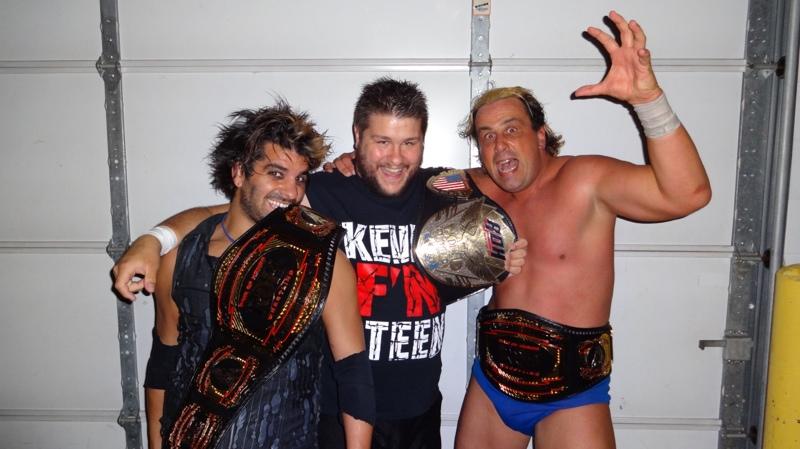 ---
Heel Turn on James Ellsworth
Join Date: Jun 2011
Location: @MATTHARDYBRAND.COM
Posts: 2,297
Points: 112
Re: ROH "Death Before Dishonor X" - 9/15/12 Chicago Ridge, IL
---
Damn those Tag Straps look class, much better than the previous versions. Got to say that I love Corino's old ass but really... bring the goatee back man.
---


I
for Matt Hardy (A Matt Hardy guy since '99):
https://twitter.com/MATTHARDYBRAND
WWE-TNA-DragonGate-Toryumon-FMW-MPro-AAA-LU-WCW-ECW
Bossing Around Jobbers
Join Date: Dec 2010
Location: Bronx, NY
Posts: 9,867
Points: 448
Re: ROH "Death Before Dishonor X" - 9/15/12 Chicago Ridge, IL
---
Those new titles look sexy, and I liked the old ones.
Heel Turn on James Ellsworth
Join Date: Nov 2011
Posts: 2,542
Points: 0
Re: ROH "Death Before Dishonor X" - 9/15/12 Chicago Ridge, IL
---
Quote:
Originally Posted by
EmbassyForever
View Post
What...
Quote:
Who the fuck wants Grizzly over those two? He's not even been a lumberjack for like 2 years.
Grizzly Redwood! Best in the World !!!
No seriously, I don't know who those guys are, they might be really good. The thing is though, watching the TV show, those are the guys that I know. I don't know those other guys.
Redwood stuck out to me. He's good in the ring.
Winning World titles, Custom Made Clothes
Join Date: Jan 2008
Location: chatbox
Favourite(s): I
Posts: 15,429
Points: 371
Re: ROH "Death Before Dishonor X" - 9/15/12 Chicago Ridge, IL
---
Quote:
Dear Fans,
We apologize greatly those that had issues with the internet pay per view on Saturday evening. The issue turned out to be that there was a glitch with the auto-switching between different quality streams in an effort to deliver the best possible stream to all viewers based on their internet speed.
Because of the lack of incident at any of our staffed locations, and favorable technical reports, it became difficult to isolate the issue. Still, we were able to ultimately solve the problem and all viewers were able to watch the pay per view from that point onward.
In stopping the stream to rectify the issue, we were not able to save it as one file therefore right now, only the second half of the show is available as a replay. The full show will be up as soon as it can be rendered into one file.
We do realize that for some fans, you may have missed a significant portion of the first half of the show, and while we hope that the action in the second half of the show was more than worth it, we would like to offer a make-good for the first half by sending everyone that purchased the iPPV up until 9:00pm on the night of the event, a FREE copy of the DVD when it is released. In addition, and as always, the FULL replay will be up as soon as it is ready.
We also hope you understand, that with any production, a number of issues can occur, and that our ultimate goal is to prevent these issues and continue striving to deliver to you, our devoted fans, the BEST wrestling and internet pay per view in the world.
If for some reason, it is felt that the free DVD and continued access to the replay for a year are not a fair make-good for the issues that occurred on Saturday, refund requests will be honored until 12:00 NOON EST on Tuesday, September 18th, 2012. Please send ALL requests to
help@rohwrestling.com
. Any processed refunds will nullify the free DVD offer and access to the replay.
Thank you for your continued loyalty and support. We do hope that you will join us for our next iPPV, Saturday October 13th, 2012.
lol really wish Sinclair would just euthanize ROH at this point. let some other company step up and become the #3 in North America. they've really become beyond embarrassing.
---

#BELLA&HOOPLA
Re: ROH "Death Before Dishonor X" - 9/15/12 Chicago Ridge, IL
---
Not even offering the next iPPV as compensation lol. I guess the last time they had to do that really killed it for them. Safe to say barely anyone is watching the next iPPV even with a strong card by their current standards. Just get a refund and grab a download of the show if you still have interest in it.
Posting Rules

You may not post new threads

You may not post replies

You may not post attachments

You may not edit your posts

---

HTML code is Off

---