The Ultimate 'escapist' match?
---
A little backstory first. I'm getting married on Friday, and the morning of the wedding I just want to chill out with a little bit of wrestling before getting ready. But I'm looking for something to take my mind off everything so I don't start getting too nervous haha.

What would you guys say is the ultimate wrestling match in terms of escapism? The sort of match you can throw on and forget about everything.

See, one of my favourite matches ever is Bryan Danielson vs Nigel McGuinness from ROH Unified, but that's too intense for a casual watch. Similarly I probably wouldn't go for a Misawa/Kobashi bout, despite them being absolute classics.

So does anyone have any suggestions/thoughts on a great match that doesn't require too much from the viewer and is just a lot of fun?
And the rain will kill us all...
Join Date: Dec 2011
Location: Where the Lines Overlap
Posts: 11,640
Points: 8,518
Re: The Ultimate 'escapist' match?
---
Take Colt Cabana. Put him in PWG. Sit back and enjoy.
---
I accept rep.

Headbanging is crucial.
Tag Teaming With James Ellsworth
Join Date: Jun 2011
Location: commentary booth shaped like a couch
Posts: 1,263
Points: 838
Re: The Ultimate 'escapist' match?
---
For some reason my mind went straight to Austin & Pillman vs Flair & Anderson 2/3 Falls from Clash 23.
---
Re: The Ultimate 'escapist' match?
---
Watch some Chikara show from 2012. If you are talking about only one match so Archibald Peck vs Chuck Taylor no doubt.
---
Re: The Ultimate 'escapist' match?
---
Kenny Omega and Kota Iibushi vs Danshoku Dieno and Yoshihiko

Quite literally the greatest comedy match ever.
---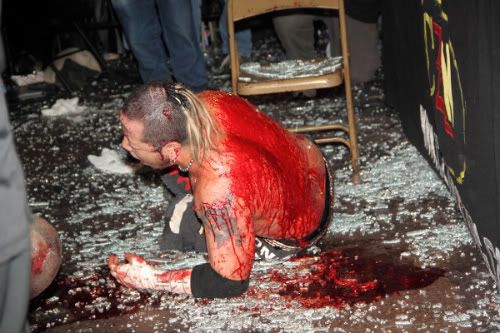 Jun Kasai > You
Regularly Beating Up James Ellsworth
Join Date: May 2009
Location: Halifax, NS
Posts: 3,280
Points: 49
Re: The Ultimate 'escapist' match?
---
Austin/HHH vs. Jericho/Benoit, for clear face/heel dynamics, hot crowd, simple storytelling.

Or Young Bucks vs. 2 Skinny Black Guys, for the same basic thing.

Or Midnight Express vs. Southern Boys, again same idea.

Basically for me it's usually some fast-paced tag team stuff with good guys and bad guys.
---
Quote:
This is the other wrestling section. It's still fake to us.
---
Last edited by jawbreaker; 07-31-2012 at

09:39 AM

.
Posting Rules

You may not post new threads

You may not post replies

You may not post attachments

You may not edit your posts

---

HTML code is Off

---